The horrid grades for the New York Giants offensive line in 2018 prove quarterback Eli Manning isn't the issue.
Heading into this offseason, many fans of the New York Giants are focused on the quarterback situation. It's understandable. I'm big on Eli Manning and think he has success left in him, but I get it.
Winning eight games in two seasons forces many to wonder about life without Eli. How it could be different and how it could maybe be better.
And don't get me wrong, I like Dwayne Haskins. I think the Buckeyes quarterback could be a great pick in the draft for Big Blue. Again, I do think Eli has some success left in him, but he's also 38-years-old. The time is ticking, nonetheless, for the long-time Giants quarterback.
However, I said many fans think the number one focus from an offensive standpoint this offseason should be the quarterback. Not all fans. I am one of those who thinks there's a different offensive position that should be the number one priority on fixing. And that my friends, is the offensive line.
Let's look at some of the facts here.
In 2018, the Giants offensive line was the 21st ranked offensive line in the NFL, according to Pro Football Focus. They allowed 47 sacks, which was tied with the Tennessee Titans for 23rd in the NFL. Those 47 sacks were also the most in one season Manning has had to take in his long and storied 15-year career in New York.
There were also numerous offensive line rotations/groupings throughout the year. The big thing about an offensive line is chemistry and the ability to work with one another. When guys are switching in and out of the starting lineup, it tends to make things a little more difficult for the line as a whole.
The five-lowest Pro Football Focus graded players for the Giants included three starting offensive lineman. But more on that later.
Let's now look at some of those hog-mollies individually:
The Left Tackle Position
The Giants front office made the absolutely wild decision to pay Nate Solder $62 million last offseason. It made him the highest paid offensive lineman in the entire NFL … and he's never been to one Pro Bowl. If a front office is ready to make someone the highest-paid at his position, they better make sure he's going to perform like he's the highest paid. And, to say the least, he didn't perform that way most of the time.
Through the first half of the regular season, Solder allowed six sacks and 20 total pressures on the quarterback. Not good for a guy that's getting paid that much. Not good at all. It was an upgrade from Ereck Flowers at left tackle, sure, but didn't seem like too much of an upgrade initially.
He did finish with an above average Pro Football Focus grade of 74.2. That's only because he improved greatly in the final eight games of the season. He only allowed one sack and 13 pressures within that time period.
Solder did play every offensive snap for the Giants this season, which is usually a plus. But that doesn't mean there isn't improvement to be made.
The Left Guard Position
So by now, you can see the general feeling I have with the offensive line. I don't like them for the most part, nor am I satisfied with how they've performed. However, the left guard position I'm actually happy with.
Guard Will Hernandez came in as a rookie and did everything the Giants could've asked him to do. A second-round selection out of UTEP, Hernandez was the starting left guard since day one. He thus continued to be the guy for the job all year, as he played every single offensive snap for Big Blue in 2018.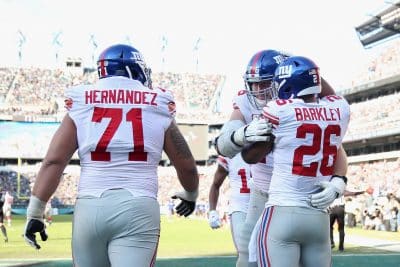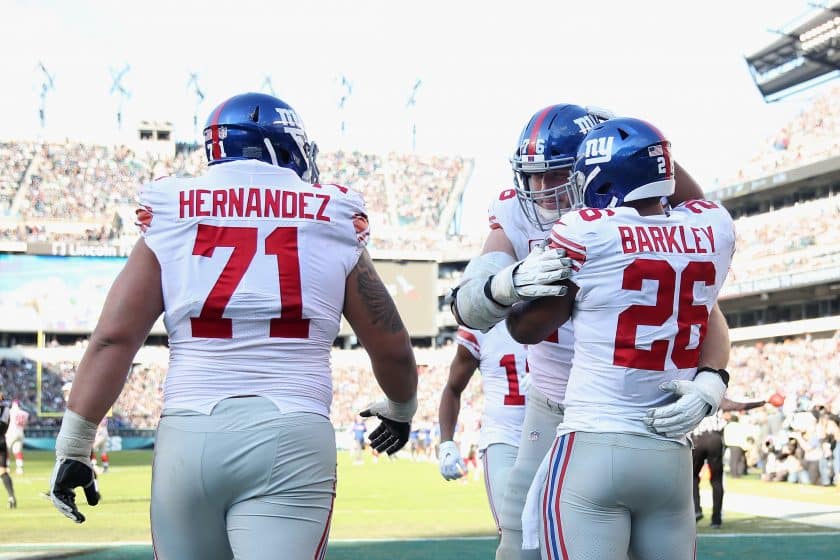 His PFF grade of 65.8 could be improved, but is designated as above average. I have confidence that Hernandez will continue to grow and prosper as an NFL offensive lineman. You should, too.
The Center Position
The Giants came into the 2018 season with who they thought would be their main guy at the center position, Jon Halapio. However, Halapio suffered a lower leg injury and ankle fractures in a week two game in Dallas. This put him on season-ending IR, which very well could've been the worst thing to happen all year to the Giants offensive line. Because then came Spencer Pulley and John Greco.
Pulley and Greco split some time at the center position the rest of the season for the Giants. To say the least, both weren't all that special.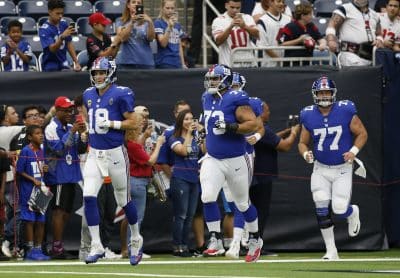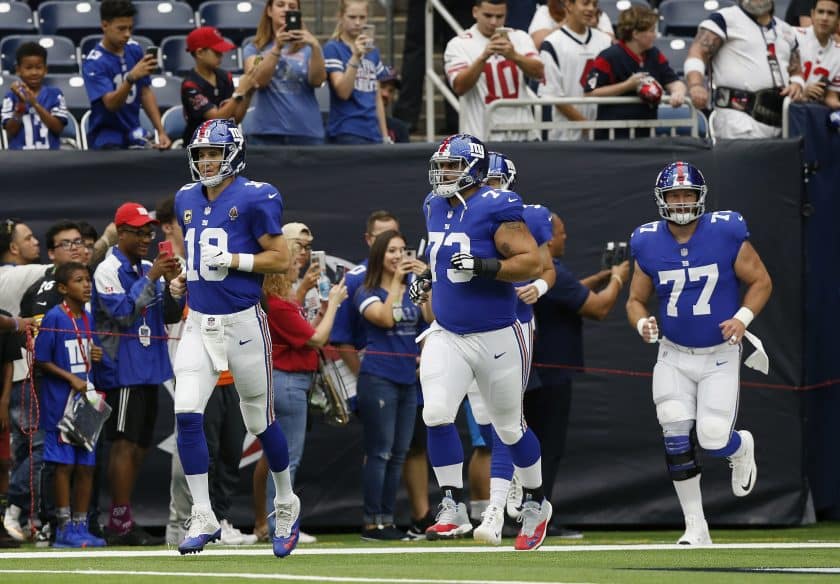 Pulley finished the year with an average PFF grade of 55.9, which was the fourth-lowest on the team. Working right in the middle of that offensive line, Pulley allowed 12 pressures and two sacks throughout his time as the Giants starter.
Greco, on the other hand, achieved an average PFF grade of 57.8 and didn't stand out too much from his counterparts on the line.
They're average PFF grades, yes. However, they need to be better. The fourth-lowest grade on your team isn't a great start for Pulley, especially.
The Right Guard Position
The right guard position was the basis for the second-biggest mistake the Giants front office made last offseason. Before the regular season began, the Giants gave guard Patrick Omameh a three-year $15 million contract. He thus played seven games before he was released midway through the season. Not a great financial decision for this offensive line made by GM Dave Gettleman, once again.
However, they moved on and picked up former Rams guard Jamon Brown off of waivers. Brown, if we're being honest, wasn't that much of an improvement.
The former Ram allowed 19 pressures and three sacks of Eli Manning. Not horrible numbers, but not great either. It amassed to a PFF grade of 51.7, a below-average mark for that specific position. It became the third-lowest grade on the entire team.
The Right Tackle Position
Okay, I get people like to overlook how bad tackle Chad Wheeler was all year. When you get rid of Ereck Flowers and replace him with anyone, you're gonna be excited either way.
After Flowers was benched after week two, it wasn't much different at the right tackle position. Chad Wheeler came in as the new starter and didn't do too much for the Giants to have success on that side of the line.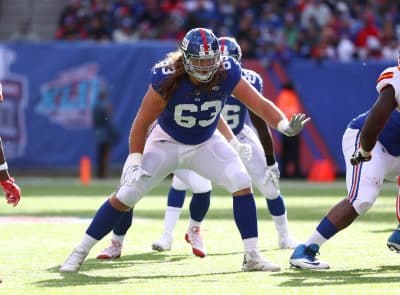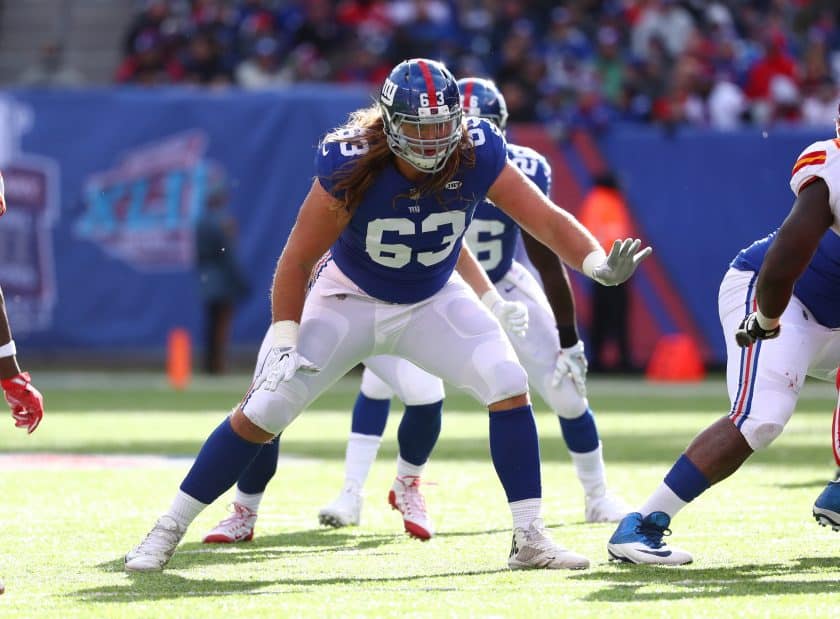 Wheeler allowed 45 pressures on Eli Manning along with six sacks. Yes, you read that right. Forty-five hurries. Not a great number to allow while attempting to be an every-week starting right tackle in this league.
The grades Wheeler received at the end of the year were very concerning as well. Through the 14 games he started for Big Blue, Wheeler had the lowest PFF grade out of anyone on the organization. With a total grade of 47.1, Wheeler also was the lowest graded tackle in the NFL when it came to run blocking. Again, not ideal for a guy trying to make a name for himself on the offensive line. The right tackle position should without a doubt be an issue looked at by this organization going into the offseason.
Eli's Production in 2018
To conclude, we'll look at some of Eli's numbers from this past season. Keep in mind, he was dealing with this very below-average offensive line that we've been discussing.
To start off, he finished the year with a 66 percent completion rate. This is the highest season-ending completion rate Eli has ever had throughout his now 15-year career.
He also threw 11 interceptions this year, the third-lowest total of his career. It's actually his second-lowest if you take out his rookie campaign in 2004 where he only played in nine games.
While doing this, Eli also gained 4,299 yards through the air and achieved a quarterback rating of 92.4. Both statistics are the fourth-highest in his career in their respective categories. It was also the seventh time in Eli's career where he surpassed 4000 passing yards in a single season.
All of these above average numbers were achieved while dealing with this low-productive mixed-bag of an offensive line. But, as I've said before, keep thinking the quarterback is the problem for the New York Giants. I'm sure you have your reasons.