A crucial offseason awaits the New York Jets after Sunday. Granting four more years to Quincy Enunwa was the best way to start things off.

FLORHAM PARK, NEW JERSEY—Holiday shopping may be over, save for those pesky returns and exchanges. For the New York Jets, it's only just begun.
On Friday afternoon, Quincy Enunwa was asked to stay for the Jets' potential return to glory, the invitation coming in the form of a four-year contract extension worth up to $36 million. While Enunwa is out for the Jets' season finale on Sunday in New England (1:00 p.m. ET, CBS), he becomes the 30th player under contract for next year. He also becomes the first purchase the Jets make with their offseason purse of over $100 million.
As the Jets prepare to enter what will be one of the scrutinized offseasons in recent NFL history, the first move they made was to lock up the veteran receiver Enunwa. Like countless transactions before it, vocal Jets fans have criticized opening a potential new era by guaranteeing $20 million to a receiver that has topped 500 yards in a season only once. In a football era where passing is king, some were a bit disappointed that the Jets' first big signing wasn't as flashy.
The sealing of Enunwa's future, however, was the best way this vital era of Jets football could open.
There are practical reasons for the extension of Enunwa. For one thing, the receiver free agent market is relatively low. Secondly, Enunwa has a built a rapport with rookie quarterback Sam Darnold, one he expounded on when discussing his extension this week.
"I have a young quarterback that I can mold!" Enunwa jokingly declared. "I think Sam is an amazing player. As a receiver, that's who you want to play with. I think we have so much talent around at every position. Being here for so long, this is what I know and what I've grown to love. I want to continue growing with this team."
"Me and Sam had a relationship in the beginning (of the season). I'm looking forward to continuing that next and years to come."
With a new coaching staff potentially coming in, Darnold is going to need a sense of continuity, as well as a cast of reliable veterans to assist in his development. Enunwa is the perfect candidate.
If the Jets are finally able to put things together after five decades of trying, it will be a victorious era of perseverance and strength. No one on the current Jets roster has exhibited those traits better than Enunwa. The 449 yards acquired on 38 receptions over 11 games this season seems pedestrian compared to his NFL contemporaries. For Enunwa, it's a personal victory that gave him the confidence to seal his Jets fate.
During April's draft, Enunwa was the Jets' team representative to announce their third-round pick live in Dallas. Four drafts prior, there was little fanfare for his own selection, a sixth-round pick out of Nebraska. But he endeared himself to the Jets with some strong performances as the Jets sought some clarity in their non-Brandon Marshall receiving picture.
2016 served as his breakout, as he became a rare silver lining that eliminated any momentum the Jets were trying to build out of a 10-win season. There's no concrete date on Enunwa's official coming out party. It could've been the 69-yard touchdown pass against Baltimore, one that became the final score of Geno Smith's Jets career. Maybe it was his first career 100-yard game, doing so against the mighty Patriots. Either way, it was clear the Jets had a hidden gem, one that led the team in receiving with 857 yards and four scores.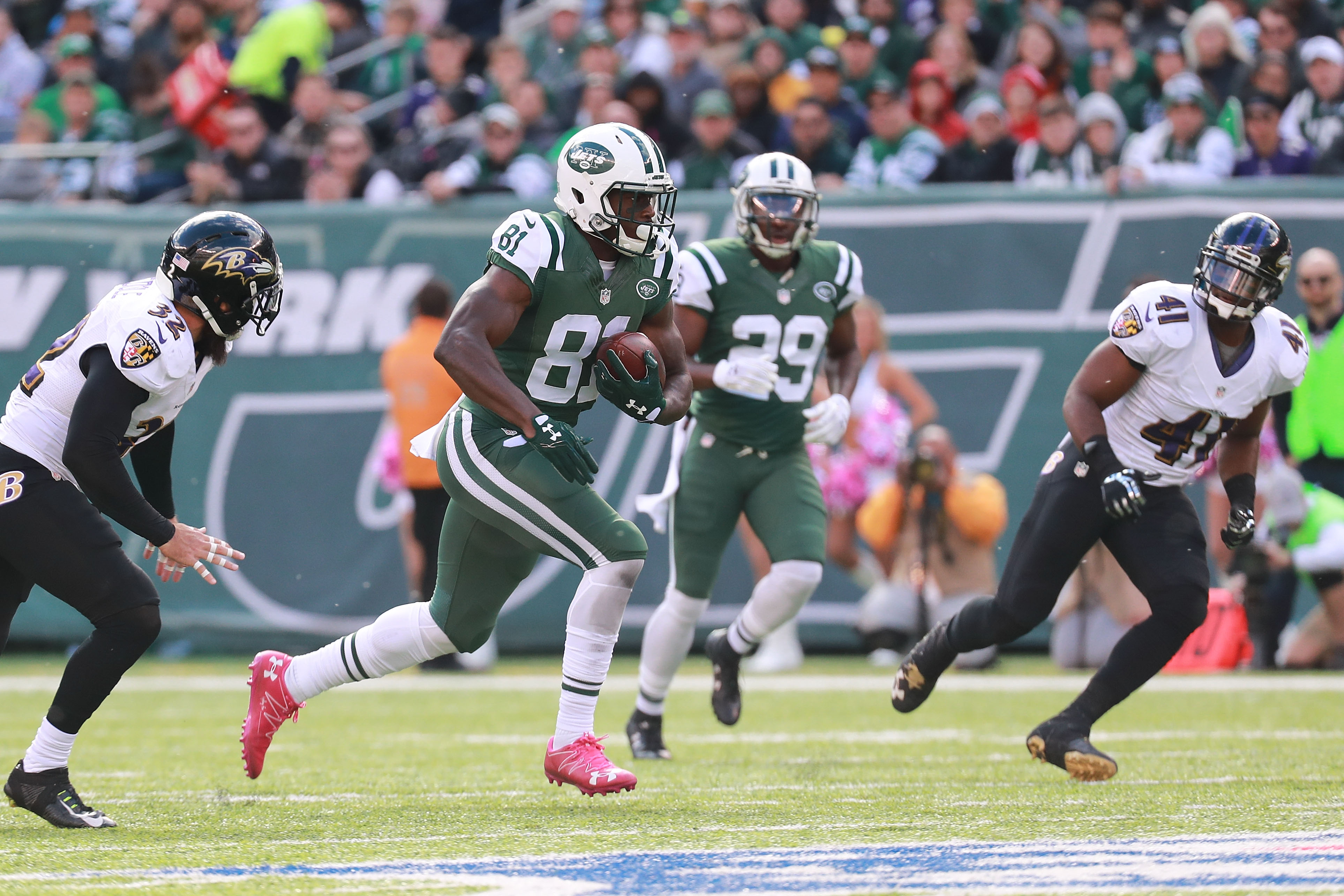 That could've been the last we saw of the receiver.
A neck injury that kept Enunwa out for the entire 2017 season was not spontaneous, rather sprung from lingering ailment sustained in a 2015 game. Diagnosed with bulging discs that ended his fourth season before it began, Enunwa had a mission this season: reprove himself to the unforgiving eyes of the National Football League all over again.
With the extension, he can firmly say mission accomplished.
"I just put my head down and tried to practice perseverance," Enunwa said of his lost 2017 campaign. "For me, I've dreamt of this day. All it did was give me more incentive, more motivation to make this day happen. I'm just excited."
Enunwa admitted that he knows there's work to do. But, locked up for the next four years, he can't wait to get started.
[membership level="0"]
The Jets are going to be a team with many new faces on their roster. In joining a squad seeking to end a playoff drought approaching a decade, the newcomers, and maybe even some of the returnees, players will need someone to look up to. They could use the guidance and strength of a player who has overcome innumerable odds to succeed on the NFL level.
Enter Enunwa.
His current teammates see the inspiration. Hours before Enunwa was granted his extension, he was awarded the Ed Block Courage Award, a league-wide initiative that features a representative from all 32 teams. The winner is determined via a player vote.
The respect and love for Enunwa in the locker room was perhaps best seen through the constant interruptions of his post-signing media statements. Andre Roberts gave him a hug. Chris Herndon shook his hand. Jamal Adams sang the chorus from The O'Jay's song "For the Love of Money".
The smile Enunwa brandished through the distraction was the perfect proof that he knew he made the right decision. But he was more than happy to confirm it verbally.
"I think that me and the team came down to a great agreement," Enunwa said. Further expounding on the Jets' future, he clarified that he's ready to give it his all, no matter who is in the management role. "The team itself was kind of my focus, on my brothers. Whoever comes in, whether it's a continued coaching staff or a new coaching staff, I'm excited for the future."
Follow Geoff Magliocchetti on TWITTER