As he prepares for what could be his final NFL game, the quarterback spoke with ESNY about his two-year tenure with the New York Jets.

FLORHAM PARK, NEW JERSEY—There are few certainties left in the modern National Football League. The New England Patriots will win the AFC East. Aaron Rodgers will make a fourth-quarter comeback. The name "McCown" will appear on an NFL roster.
Somehow, the New York Jets will have gone through each of these absolutes over the final month of the NFL season. Their 2018 campaign, in fact, concludes with a visit to the division champions on Sunday afternoon (1:00 p.m. ET, CBS).
For one player on the Jets' roster, it could more than a Week 17. It could serve as the coda to his career, ending another one of those assurances.
Josh McCown has been an NFL quarterback depth chart staple since 2002. Football has been at the forefront for McCown and his Jacksonville, Texas, family. Even when the third-round pick of the Arizona Cardinals took a 2010 detour in the short-lived United Football League, the family was still represented in the NFL by his younger brother Luke.
Beginning with oldest son Randy, a four-year thrower at Texas A&M, the McCown family name has been synonymous with football. After Sunday, McCown, the New York Jets' backup quarterback, plans to have a discussion with his family about the potential end.
Once again he will be a free agent at the end of the year, and he seems aware of the finality Sunday could carry. But, for now, it's just another Sunday afternoon.
"I'm going to prepare myself to get ready to go, just to be ready to play in case I'm needed. That'll be my focus," McCown told ESNY. "I'll do everything I've done every time I've gone out there these last few years: appreciate every opportunity…appreciate every snap."
"That'll be the approach, and I'll try not to make it too different. But I do appreciate what this weekend could be. We'll soak it up."
Some players are lucky to play 14 downs in the NFL. McCown has played 14 seasons. He is the third-oldest quarterback in the NFL and one of two "survivors" of the 2002 draft (Carolina's Julius Peppers is the other).
His resume doesn't match that of the men ahead of him on the age list (Tom Brady and Drew Brees). But it's impressive enough to see him still throwing at age 39, even taking big hits on an NFL field.
Retirement is a tantalizing prospect to McCown. The definition of a journeyman quarterback, McCown has spent at least portions of a season with 10 different NFL teams. Even his college career was defined by a change in wardrobe, as he transferred to FCS school Sam Houston State after three years at Southern Methodist.
Such travels do not allow for long tenures. After four years with Arizona, he has not spent more than three years with a single squad. Two years with the Jets might as well be a decade.
A return to family life would be most welcome for McCown. He remarked that his family is currently in North Carolina, where his son Owen attends high school as multi-sport athlete.
A father of four alongside his wife Natalie, McCown himself even poked fun at his numerous destinations with the help of his daughter Bridget, who had enough jerseys to share with her friends when her school encouraged students to wear athletic garb.
McCown smiled when discussing the impact his family has had on his career and on his future.
"(The discussions about the future have) been ongoing. We talk about it all the time," he said. "They're very supportive of me. My life's been incredible in this whole ride. More than anything, just where their ages are and where they're at, it's just understanding that you can't (get) this time back, when they're in high school, obviously, with the dynamic that we have, especially with my boys playing ball.
"Where they're down in North Carolina and I'm up here working. Those are a lot of things that we'll talk through. But obviously, I understand where their support is, always. They've been great with me."
A rare multi-year stay has offered a welcome sense of stability and familiarity. McCown has returned the favor by leaving his mark on the Jets' latest rebuild. By the time the Jets are ready to reap the benefits of their renovation, McCown could be long gone. But his legacy will live on after he goes through Sam Darnold, the most crucial piece of Jets' franchise puzzle.
The Jets brought McCown in during a turbulent year of desperation. Homegrown throwers Geno Smith, Bryce Petty, and Christian Hackenberg were not the answers. Ryan Fitzpatrick's magic had run out.
The Jets brought McCown in to oversee a young team that some saw as incapable of earning even one win. He responded with career-best marks, including 2,926 yards and 18 touchdowns. A 94.5 passer rating went down as the fourth best in Jets history.
Along the way, McCown helped the Jets build some hope for the future. In 13 starts, the Jets went just 5-8, but six of the eight defeats came by single digits. The Jets, in fact, got off to a surprising 3-2 start, including a win over future AFC finalist Jacksonville, before reality set in.
Either way, the Jets had a foundation and hope for the future thanks to McCown.
"We haven't won as many games as we're supposed to, but I feel like last year there were some good things that we did," he said.
Under his guidance, the Jets found hidden gems, diamonds in the rough at skill positions that could help pave the way for the future. Robby Anderson became a top target. Sixth-round rookie Elijah McGuire became a good transition away from Matt Forte.
Their talents were discovered by McCown, the wily veteran who earned several green-colored accolades at the end of the year. At the forefront was the Curtis Martin Award, the MVP voted on by the players, for his on-field antics. The players also bestowed the Kyle Clifton Good Guy Award on him, while the media named him the team's most "media-friendly" participant.
In turn, New York has become another home for McCown, who enjoyed a visit from his family this weekend. He played catch with his sons on the MetLife Stadium field prior to Week 16's kickoff. Last New Year's Eve, he and his family ice skated in Rockefeller Plaza's famous rink.
"They've meant the world to me," McCown said of the Jets. "The people in this organization, they treat each guy with respect and treat people the right way. It starts from the top down from (Chairman/CEO Christopher Johnson) down to management, coaches, everybody. It's been a great experience and I appreciate that."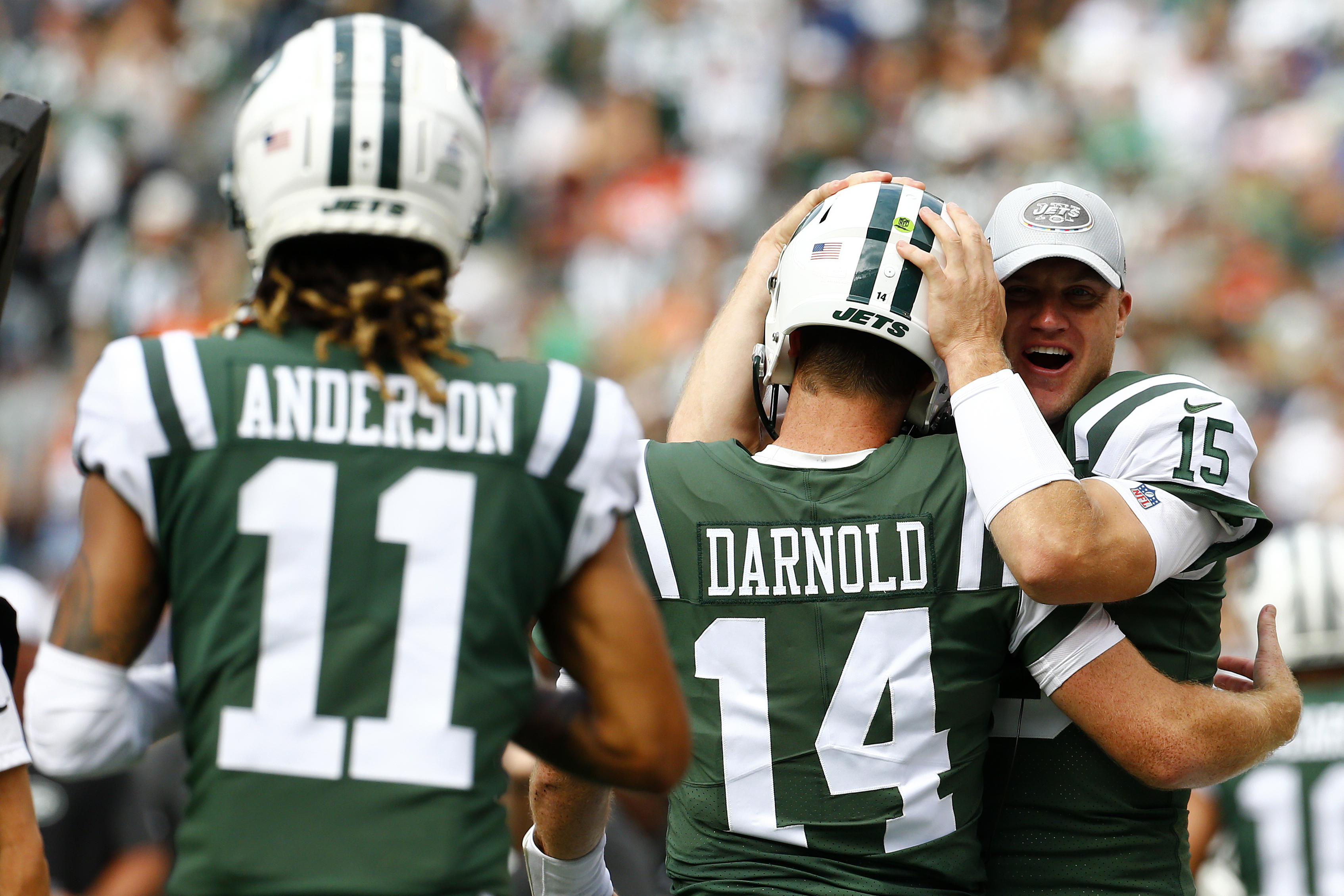 McCown signed another one-year deal this offseason, but his chances of reclaiming the starting job were slim. He almost became an afterthought in the preseason, as Darnold and veteran Teddy Bridgewater, each with something big to prove, took center stage.
He wound up throwing a mere nine passes over the exhibition quartet, missing two games entirely. Bridgewater was then traded off, leaving McCown as Darnold's backup.
McCown knew what he was getting into in 2018. The mentorship of Darnold was set to be one of his final NFL assignments. If that's the lasting image he leaves on Jets fans, he's pleased with that.
[membership level="0"]
"This year, for me, my focus has been on Sam and his growth," he said. "To see him, especially these last few weeks, kind of start to take off and improve every week, that's heading in the right direction, and I'm proud of that. I'm just grateful to have been a part of this."
The chemistry between Darnold and McCown hit almost comedic levels, with the two getting caught adjusting their hair in sync on the sidelines during a preseason game. On the field, however, it has been all business. Barely a week goes by without Darnold mentioning what McCown has done for him. Lately it appears that McCown's tutoring is finally paying dividends.
Over the past three weeks, Darnold has been among the league's top-rated quarterbacks, besting plenty of names with plenty to play for. Last week against Green Bay, Darnold set career highs in yardage (341), touchdown passes (3), and passer rating (128.4).
He knows exactly who to thank for his late-season push.
"I really do just think it was just watching Josh," Darnold said earlier this month, answering a question about what changed for him since a November foot injury. "Just the way he went about studying the plays that are in the game plan, it's literally everything—walk through, practice, how he treated everything. I think it was just awesome to be able to learn and watch him. That's the reason for me playing a little bit better these last couple games."
McCown, hearing the news of Darnold's praise, jokingly remarked that he hoped Darnold was taking lessons beyond "what not to do."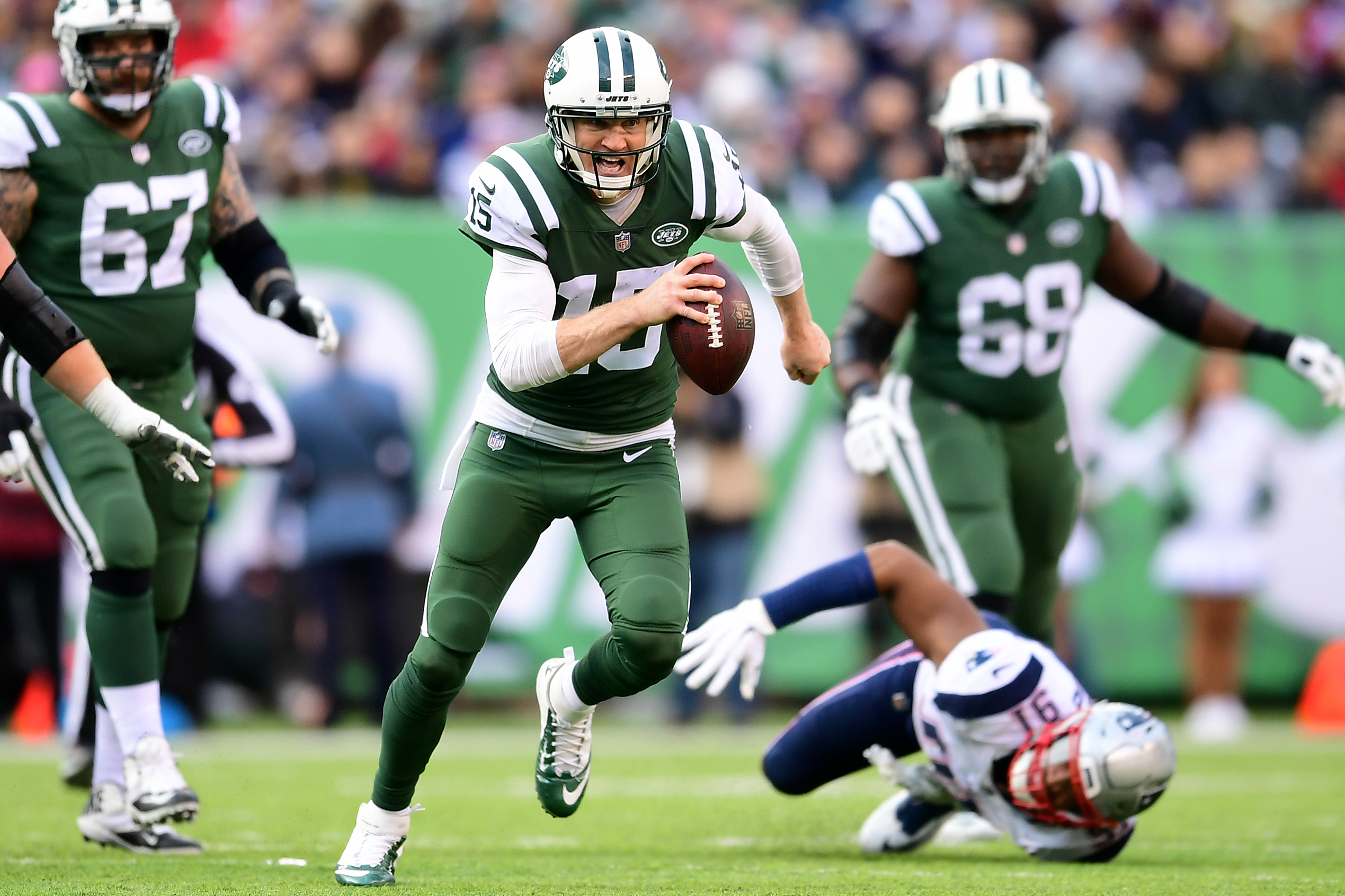 McCown's final on-field action potentially came in a three-game stretch that Darnold missed due to his ailment. It was Darnold's turn to observe from the sidelines, and he liked what he saw.
In November, Darnold brought up a thrilling moment during McCown's start against the Patriots that made him smile. In a third down scramble, McCown took a big dual hit from Duron Harmon and Stephon Gilmore. The Jets would wind up getting a field goal on the drive.
Despite the visuals of the hit, McCown popped back up and signaled for a first down. The MetLife Stadium crowd approved, as did McCown's USC-bred protege.
"I thought for sure he would slide on that but just the competitor in Josh," Darnold observed. "At the same time I was kind of expecting him to go for that first down, so it was fun to be able to see him go for that first. It was funny right when that happened, (backup quarterback Davis Webb) on the sideline buckled his chin strap… It was funny to see Josh kind of go after it because we all know the competitor that he is, so that was awesome."
Time will tell if McCown clears out his Jets locker for good on Monday afternoon. If his NFL journey ends in New York, pending the all-important discussion with his family, it appears he feels like it will be enough of a storybook ending.
A championship won't follow, but his experience and mentorship could be the most appropriate ending for a man with a unique position in NFL quarterback lore.
"Going back to last year, when I came here, my goal was to stabilize this position by any means necessary in the short-term and long-term, whether it was with young quarterbacks on the roster last year or this year," he said. "It seems like we're headed in that direction with Sam's growth. In that regard, I would be pleased and excited about the future."
Follow Geoff Magliocchetti on TWITTER