Former New York Giants defensive end and Hall of Famer Michael Strahan is rooting for Rams DT Aaron Donald to break his sack record.
A Big Blue legend is showing love for a current NFL great.
Retired Giants defensive end Michael Strahan is rooting for Rams DT Aaron Donald to break his single-season sack record. The Hall of Famer previously set the record of 22.5 sacks during the 2001 season. Now, he's looking forward to someone else taking the throne of that specific milestone.
"The sack record is fantastic and it's great," Strahan said Thursday per Sam Farmer and Gary Klein of the LA Times. "But I hope Aaron does break it. There have been guys who have gotten close, but I just want it to be a good guy who breaks it. Not some jerk, or some guy who doesn't care about it or take pride in what he does and just kind of luckily rolls through."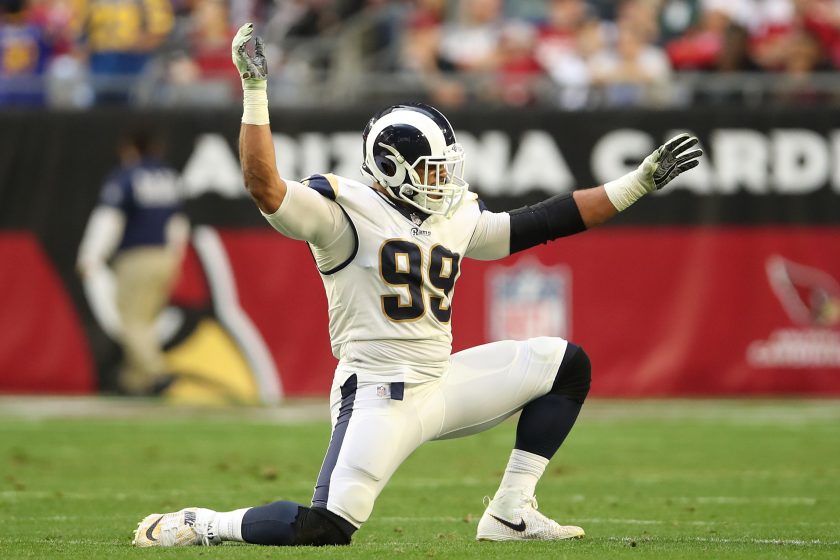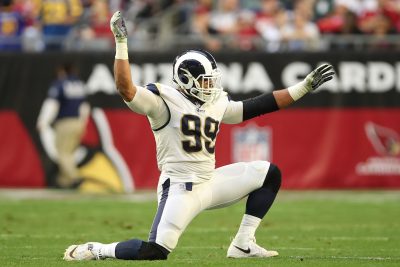 Donald currently sits at 19.5 sacks for the 2018 season. He needs three to match Strahan's record in a Week 17 game against the 49ers this Sunday. To be honest, it isn't too much of a reach. The Rams interior defensive lineman just had three sacks in a win against the Cardinals in week 16.
"He's on the interior, and that's kind of like fighting your way out of a phone booth because you get surrounded on all sides," Strahan praised. "When people know you're the guy who gets sacks and creates all that stuff, not only are you fighting in a phone booth, but they're constricting the walls of the phone booth by making sure everybody's really paying attention to you. You kind of have that double trouble."
As far as Donald is concerned, he's grateful to be receiving praise from a Hall of Fame defensive lineman. "Any time you get a Hall of Fame player that even knows my name, you're going to be pumped up about that," the 2017 NFL Defensive Player of the Year mentioned. "So it means a lot coming from a guy like that."
The Rams play the 49ers in Los Angeles at 4:25 p.m. EST this Sunday. With the Rams already in the playoffs, many eyes will be on Donald this weekend.