The New York Jets are missing the playoffs, but the emergence of the offense has created excitement in an otherwise meaningless December.

FLORHAM PARK, NEW JERSEY—Officially unable to improve on matching 5-11 marks from the last two seasons, the New York Jets obviously did not punch their ticket to the NFL playoffs. Yet, their December slate has become must-see television.
Sunday's home finale against the Green Bay Packers was one of the few games on the Week 16 NFL slate with zero playoff implications. An exciting back-and-forth showcase was punctuated with typical Jets antics, ones that were both preventable and beyond their control. When all was said and done, the Jets (4-11) were on the wrong side of the scoreboard yet again, falling 44-38 in overtime.
In the aftermath, pessimism reigned as players cast aside personal accomplishments to dissect another loss. But the fact there were so many positive exploits to ignore serves as a rare victory in and of itself.
Sam Darnold earned 341 yards and three scores, both becoming infantile career-highs. His connection with Robby Anderson improved further, as the veteran had 140 yards on nine receptions. Darnold's fellow rookie, TE Chris Herndon, likewise had an early career day, with the tight end tallying 82 yards and his first touchdown since October. Running back Elijah McGuire set yet another season-high, recording 85 yards of offense and two end zone visits.
The Jets have played open, exciting and dicey football over the past month. While the results have yet to blossom in the form of wins, they've reestablished themselves as one of the league's more exciting teams. Furthermore, while some jobs are still beyond saving, they've opened up an opportunity to label 2018 a relatively successful season.

The upward trend has coincided with the Jets' mathematical elimination from the playoffs. Another tally was added to their personal drought on Dec. 6, when the resurgent Tennessee Titans topped Jacksonville. While frustrating, the extension to eight seasons provided the darkest of silver linings: a chance to tinker and experiment over the final four games in hopes of determining who gets to stay for the potential upcoming resurgence and discovering new formulas that can translate to success in 2019 and beyond.
With one game left, it's safe to say the young Jets are taking full advantage of this opportunity bestowed upon them.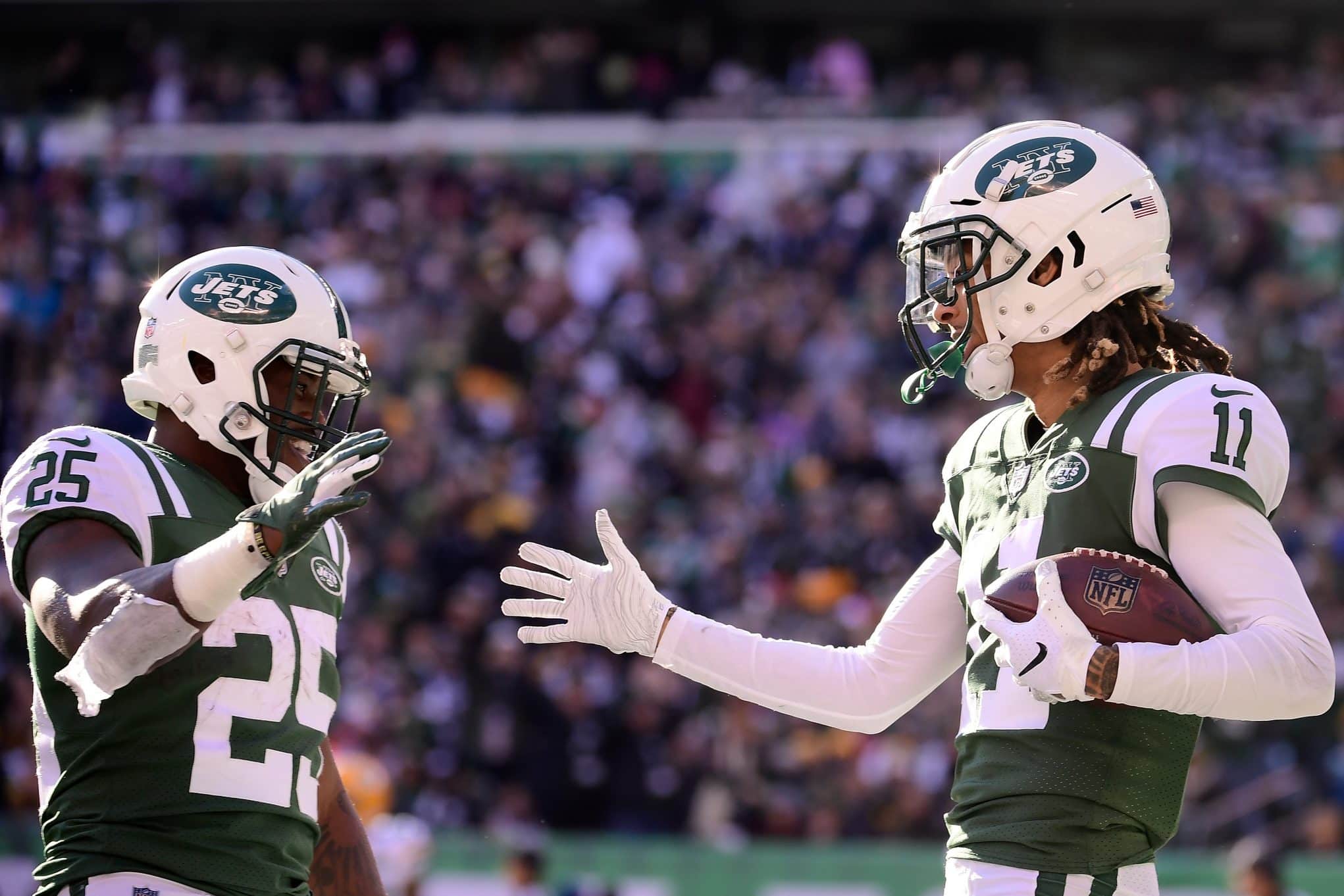 Chances have been taken. Opportunities have been seized. Points have been posted. As a result, the Jets are better off at Christmas than they were at Thanksgiving. When the season inevitably ends on Sunday afternoon in New England (1:00 p.m. ET, CBS), the Jets can feel ever so slightly better about themselves heading into what will be one of the NFL's most scrutinized offseasons.
The Jets are going to have over $100 million in cap space to spend this offseason. With great offseason power comes great responsibility. Some players may have won a chance to stick around. Again, some individuals are too far gone. Some names on the coaching staff, for example, might have 60 minutes left.
But chemistry and balance have been formed over the past few games. The young man assigned to oversee it all for the hopeful future is seeing it play out on the field over these December weekends.
"I think me and Robby, along with all the other receivers, are starting to feel each other out and get a really good connection going," Darnold said after a narrow loss to the Houston Texans on Dec. 15.
[membership level="0"]
Expounding on his connection with Anderson, Darnold remarked: "I think for me and Robby it's just about taking the plays when they're there, but at the same time if I'm able to extend the play or doing anything to that nature, I think he's done a really good job finding the open windows. Me kind of having a good feel of when he's going to do that and having good timing on that end."
The Jets' hopes and dreams, fairly or not, begin and end with Darnold. In this modern NFL, quarterback has become the most vital and valuable position in the four major North American sports. The Jets have been searching for their long-term solution at the spot for decades, and are desperately hoping Darnold will be the last to occupy the spot for a while. He went through his growing pains, but, since returning from a November foot injury, he is slowly starting to fulfill the prophecies Jets fans have told about him.
As the season winds down, Darnold has been one of the league's most consistent quarterbacks. His 106.2 passer rating is highest in the league over the past three games, impressively ranking far beyond quarterbacks fighting for playoff spots and positioning. Most impressive has been a newfound scrambling ability and a lack of turnovers.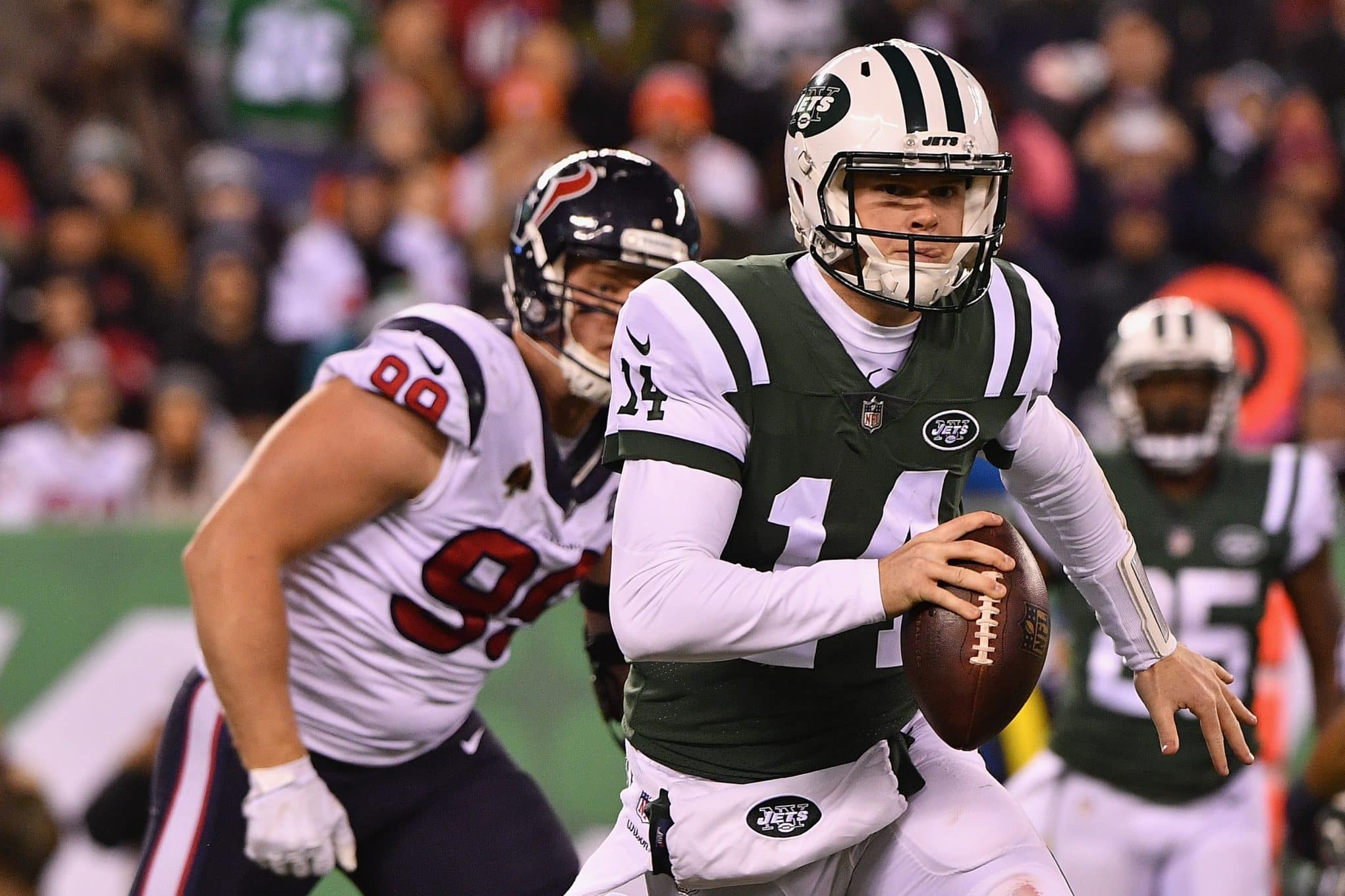 Impressive as his ability to extend plays has been, Darnold's crackdown on his oft-cited turnover issues have been perhaps the biggest development his game has seen. Over the past three games, Darnold has lost the ball just once and has actively gone nine full game periods without an interception.
But, as Darnold has continuously made clear, only two stats matter: wins and losses.
"I'm happy with myself and the way that I have been playing," Darnold admitted on Monday, before adding, "wins and losses are the only things that matter."
Darnold will have one more chance to earn an elusive victory on Sunday in Foxborough.
Missing the first matchup with the Patriots due to the aforementioned injury, Darnold knows the Patriots and their AFC East monopoly was one of the reasons he was brought in. He's looking forward to continuing the building at Gillette Stadium, but would love nothing more than to go into the offseason with a win over the Patriots under their belts.
Should they pull off a rare upset in New England, last doing so in 2011, the Jets would potentially keep the Patriots out of a first-round playoff bye for the first time since 2009. Darnold, however, is only concerned about the repercussions on the New York side.
"It's a division game, but, at the same time, it's just another game," Darnold said. "We want to go out there and win. Last week it was against (Aaron) Rodgers, this week it's against (Tom) Brady, two great quarterbacks. But, for us, we're obviously we are looking at the (Patriots') defense. We're just going to go about it that way."
Follow Geoff Magliocchetti on TWITTER