There's plenty on the line for the Army Black Knights in Saturday's Armed Forces Bowl, as they go for a program-record 11th victory.
The Game: Lockheed Martin Armed Forces Bowl
The Venue: Amon G. Carter Stadium, Fort Worth, Texas
The Teams: Army Black Knights vs. Houston Cougars
The Time/TV: Saturday at 3:30 p.m. ET, ESPN
It used to take the Army Black Knights' football program four seasons to reach 11 wins. Now, it could only take four months.
The Black Knights (10-2) will go for their first 11-win season in program history on Saturday, as they partake in their second consecutive Armed Forces Bowl. Descending on Amon G. Carter Stadium in Fort Worth, Texas, they will battle the Houston Cougars.
Seasons So Far
Army (10-2) 
The Black Knights continued their football renaissance in 2018, earning back-to-back 10-win seasons for the first time in program history. They also continued their success at Michie Stadium, adding to an active home winning streak that stands at 13. That trek is good for the third-best active streak in the nation, behind only Alabama (26), Clemson, Central Florida (15 each), and Washington (14).
In their fifth year under head coach Jeff Monken, Army continued its trend of a rush-heavy offense. Their average tally of just over 296 ground yards per game ranked second in the nation behind Georgia Tech. The run game was headlined by two rushers of over 800 yards. Fullback Darnell Woolfolk led the way with 885 yards. This season, Woolfolk became the 12th rusher in Army history to tally over 2,000 yards for his career. Junior quarterback Kelvin Hopkins, in his first year as a starter, was the other, earning 847 yards. The pair likewise combined for 26 touchdowns.
In yet another program-first, Army earned back-to-back Commander-in-Chief's Trophies outright. They earned the honor via a 17-14 win over Air Force at West Point on November 3, and a 17-10 win over Navy in Philadelphia on December 8. Other notable Army victories include a 28-21 September victory over fellow-Saturday-bowl combatant Hawaii, and a dominant 42-13 win over MAC East division Buffalo on the road. The Black Knights also took College Football Playoff participant Oklahoma to the brink in Norman, as the Sooners needed overtime to earn a 28-21 victory.
The Black Knights enter Saturday in the 22nd slot of the Associated Press poll.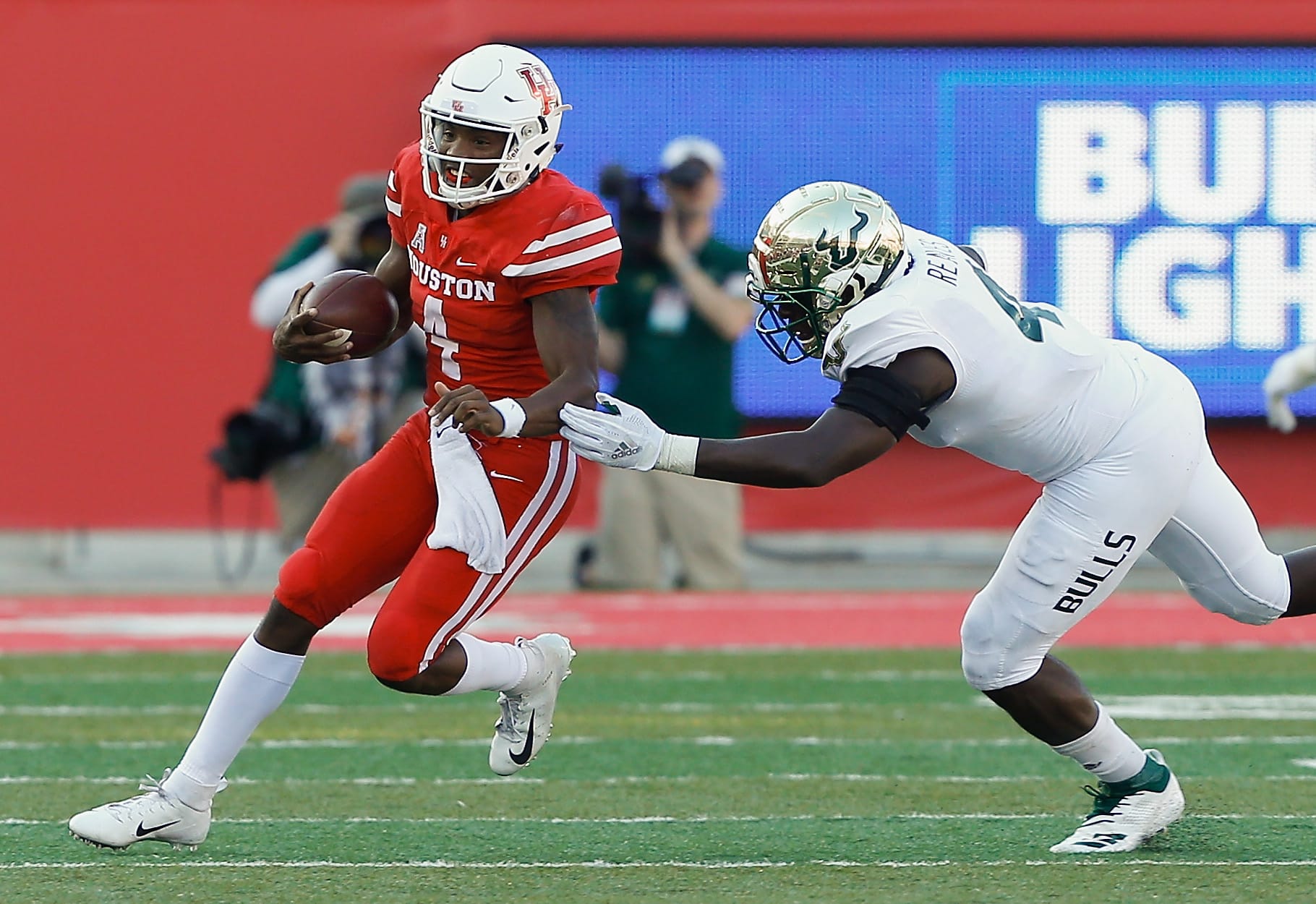 Houston (8-4, 5-3 AAC) 
Houston will appear in its sixth consecutive bowl game, but enter Fort Worth reeling after a 7-1 start. The high point of their season came on October 27, when they welcomed in an undefeated South Florida team to TDECU Stadium. Behind 635 yards of offense from junior quarterback D'Eriq King, the Cougars walloped the Bulls by a 57-36 final. King was responsible for seven Cougar touchdowns. In the ensuing Associated Press poll, the Cougars ranked 17th.
However, the Cougars lost three of their next four, losses that cost them a spot in the American Athletic Conference championship. They would end the regular season in a three-way tie for the division lead, alongside Memphis and Tulane. The former would earn the conference championship spot based on tiebreakers. With King missing the season finale against the Tigers on November 23, the Cougars fell in a 52-31 defeat.
The Cougars are coached by former Texas quarterback Major Applewhite, who is in his third season at the helm.
The Series
This will be the eighth all-time meeting between the Black Knights and Cougars. Each of the games took place between 1998 and 2004 when each partook in Conference USA football. Houston leads the set by a 5-2 tally, creating the margin by winning the final three meetings.
Players to Watch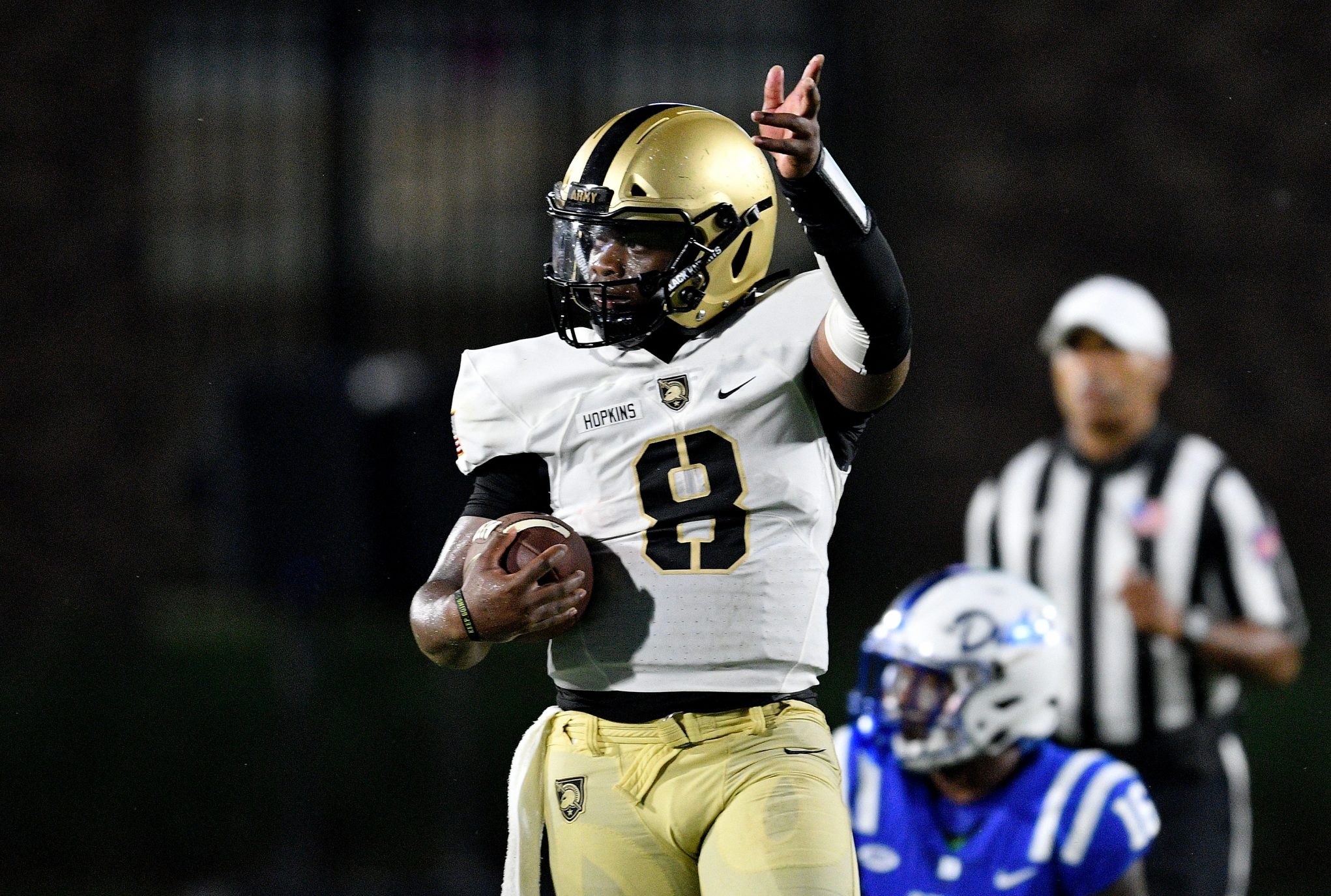 Army
QB Kelvin Hopkins Jr.-Army remains a run-first team, but has enjoyed aerial antics via the arm of Hopkins. Should he throw for 56 yards on Saturday, Hopkins would become the first Army quarterback to throw for 1,000 yards in a season since 2007.
LB James Nachtigal-Black Knights defensive coordinator Jay Bateman has departed to take the same position on Mack Brown's staff in North Carolina. It's up to the senior Nachtigal, tops on the team with 81 tackles and five sacks, to take on a leadership role on the field. It will be important for the Knights to establish pressure early, especially with inexperienced freshman Clayton Tune at quarterback for the Cougars.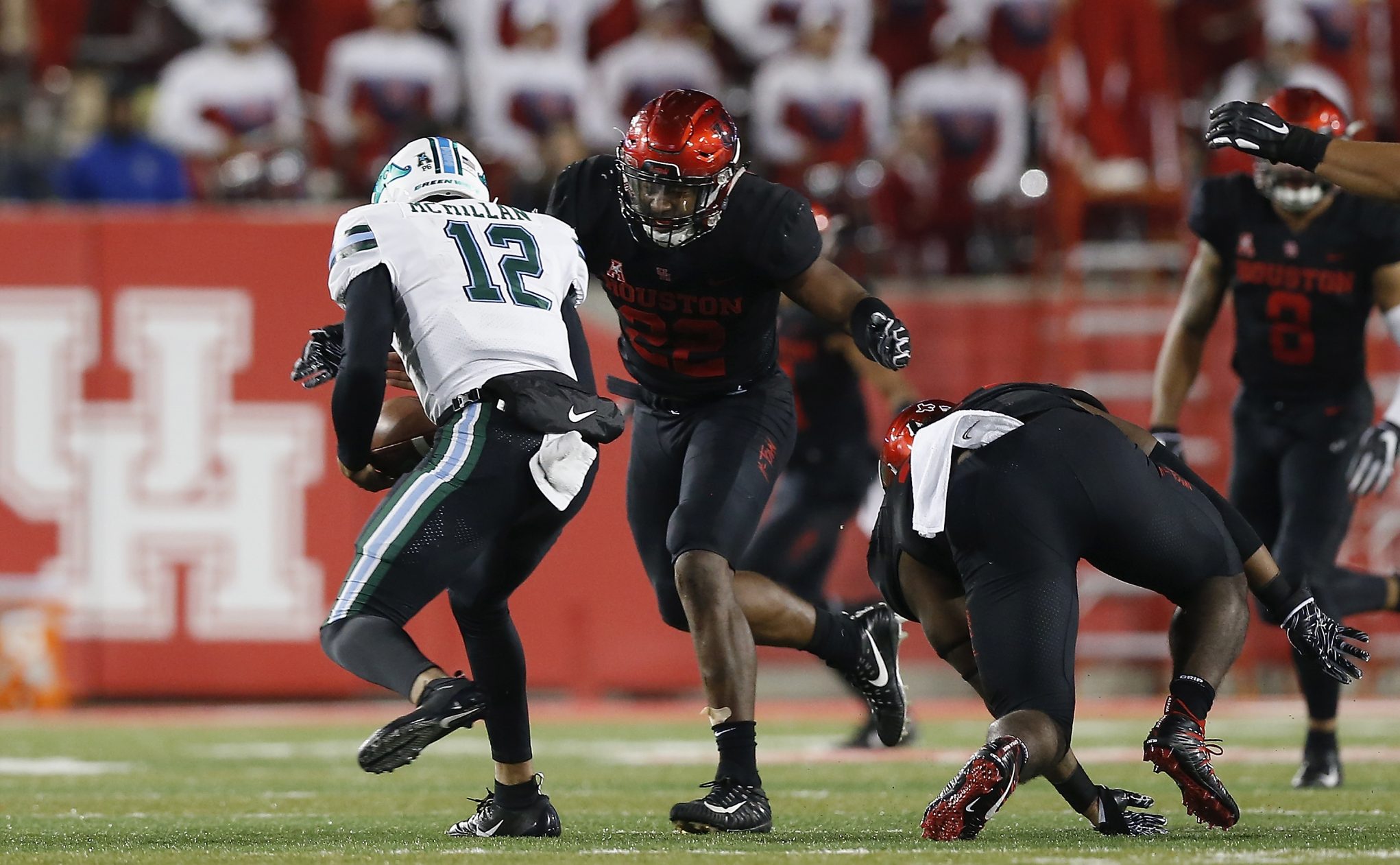 Houston
RB Patrick Carr-With King done for the year thanks to an injury, the Cougars may have to put their offensive load on Carr. When King left a November win over Tulane, Carr took over yardage duties and put up his first 100-yard game in a Cougars uniform.
LB Austin Robinson-Notable names on the Cougars' defense, namely defensive tackle Ed Olivier and cornerback Isaiah Johnson, are missing the game to prep for the NFL Draft. Under the radar, Robinson put up solid numbers with a team-high 70 solo tackles and six sacks. A senior, Robinson is looking to add to the senior class' win total. One more would tie the most by a class in Houston history.
Bowl History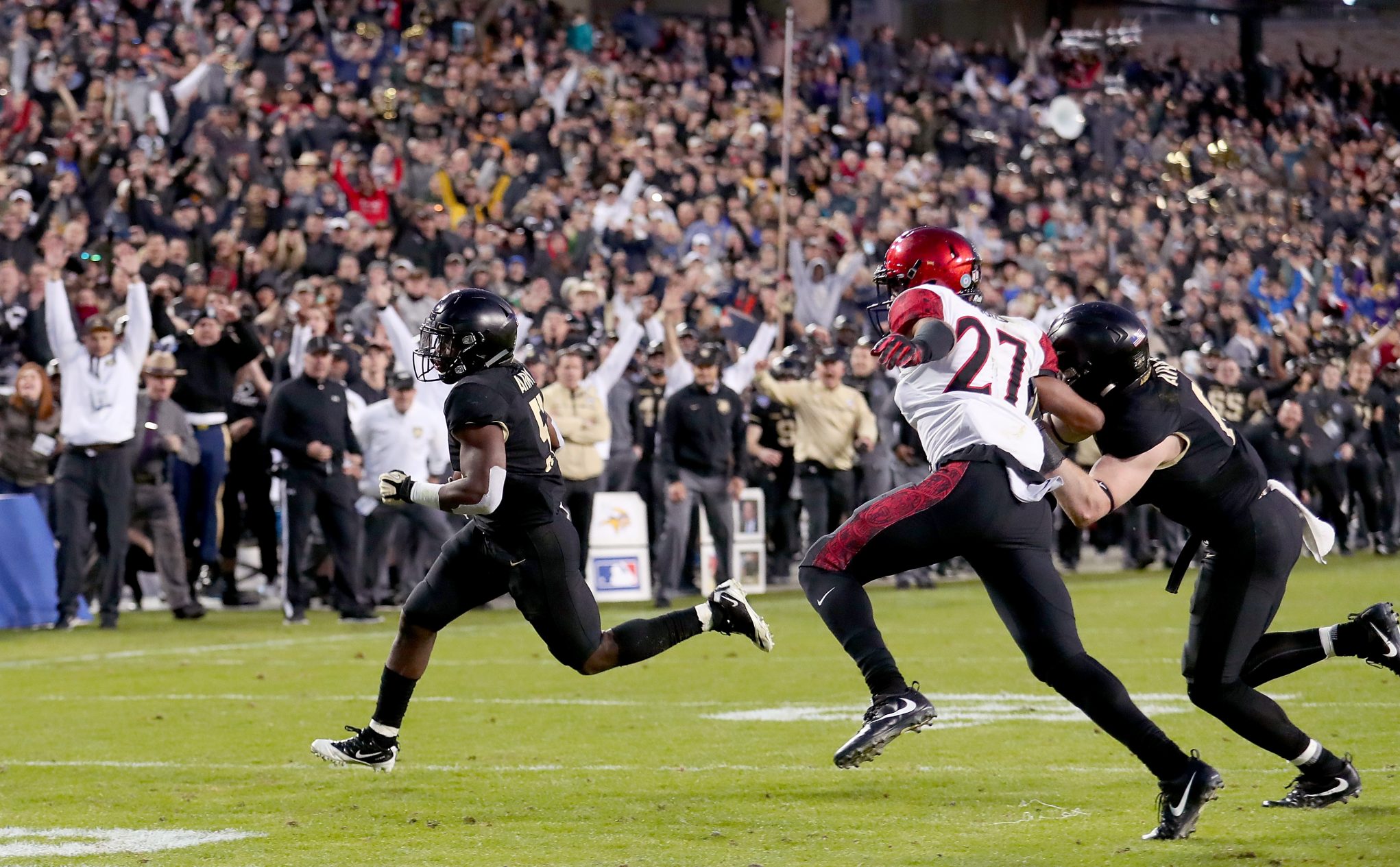 Army
Stop me if you've heard this one before, but another program first could be on the line for the Black Knights. They have an opportunity to win a bowl game for a third consecutive season, having won close thriller over each of the past two seasons. In 2016, Army took a narrow 38-31 decision in overtime from North Texas in the Heart of Dallas Bowl.
Sandwiching the win at the Cotton Bowl are a pair of victorious appearances in the Armed Forces Bowl. In 2010, Army ended a quarter-century of postseason futility with a 16-14 win over Southern Methodist, using three Mustang turnovers to their advantage. Last season, the Black Knights partook in one of the most thrilling games of the postseason, earning a 42-35 win over San Diego State. Returning from last season's game is Woolfolk, who put in a one-yard score with 18 seconds left, and Kell Walker, whose ensuing two-point plunge won it. The Black Knights held a potent Aztecs offense to 11 first downs.
Army owns a 5-2 record in bowl games overall.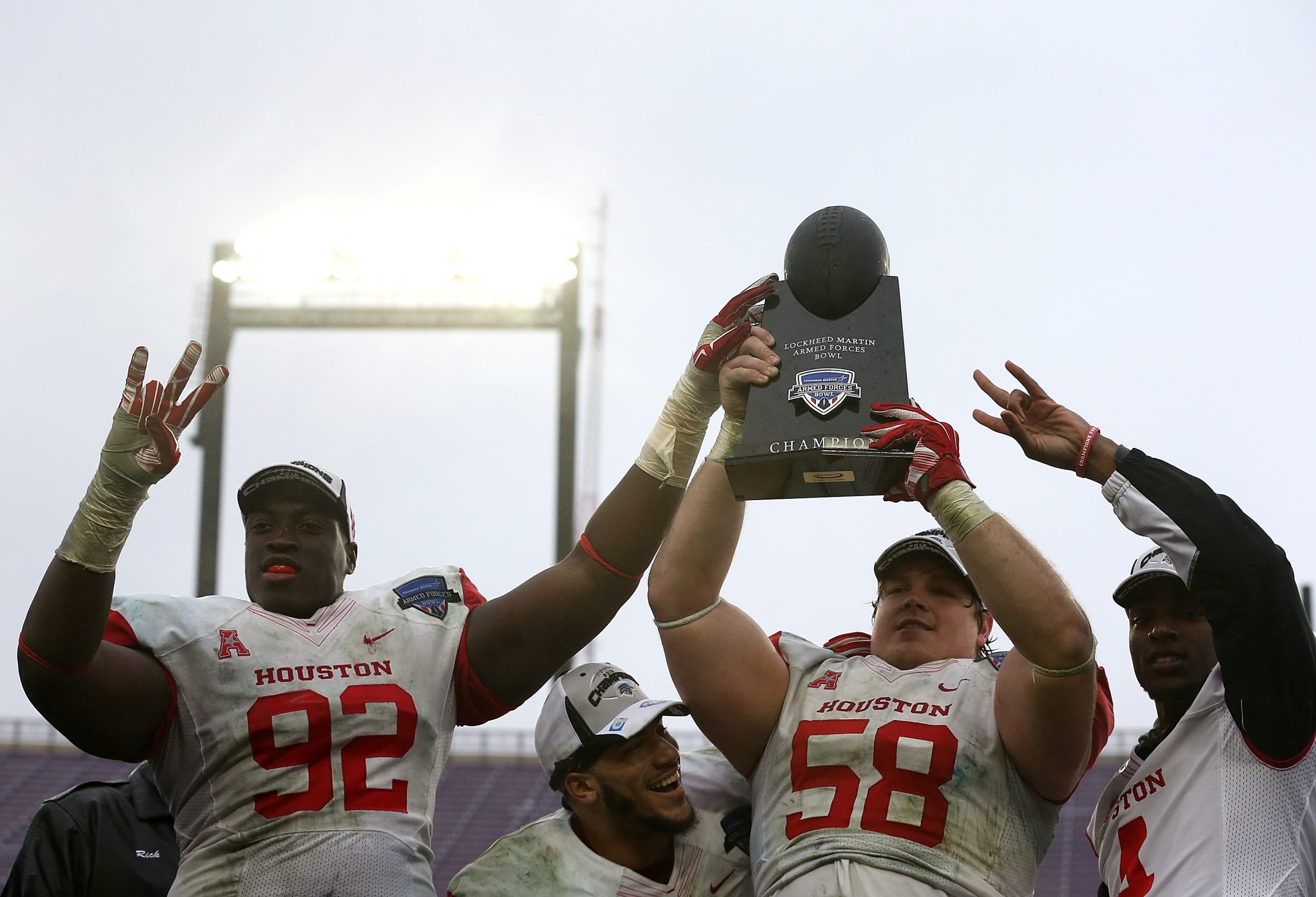 Houston
The Cougars likewise have a history in the Armed Forces Bowl, having reached the game four times. The most notable occurrence came in 2015 when Houston battled Pittsburgh of the ACC. Trailing 31-6 with just under 11 minutes to go, the Cougars scored 29 quick points to escape with a 35-34 win. This will be the third time they've played a service academy in the game, splitting matchups with Air Force in back-to-back years (winning in 2008, losing in 2009). Their first appearance was a 42-13 loss to Kansas in 2005, when the game still bore a Fort Worth Bowl moniker.
Houston is 11-14-1 in 25 prior bowl games overall, the last victory coming in the aforementioned thriller against Pittsburgh. Last season, they dropped a 33-27 decision to Fresno State in the Hawaii Bowl on Christmas Eve.
Prediction
It's understandable why players Oliver and Johnson make the decisions they make. Long term, they're looking out for themselves and their families. In the short term, however, their current teams miss out on their talents and potentially miss out on ending the year on a right note.
Whatever the case, the Black Knights are playing like a determined team. Their two losses have come against Power 5 competition (Duke and Oklahoma), and their offense is firing on all cylinders right now. Asking an undermanned Cougar defense, countering with a freshman quarterback, to keep up with the Black Knights' dangerous offense seems like a bit much to ask.
The Army senior class has enjoyed a period of pigskin prosperity. It's only right that it ends on a winning note.
Army 34, Houston 13
Follow Geoff Magliocchetti on TWITTER