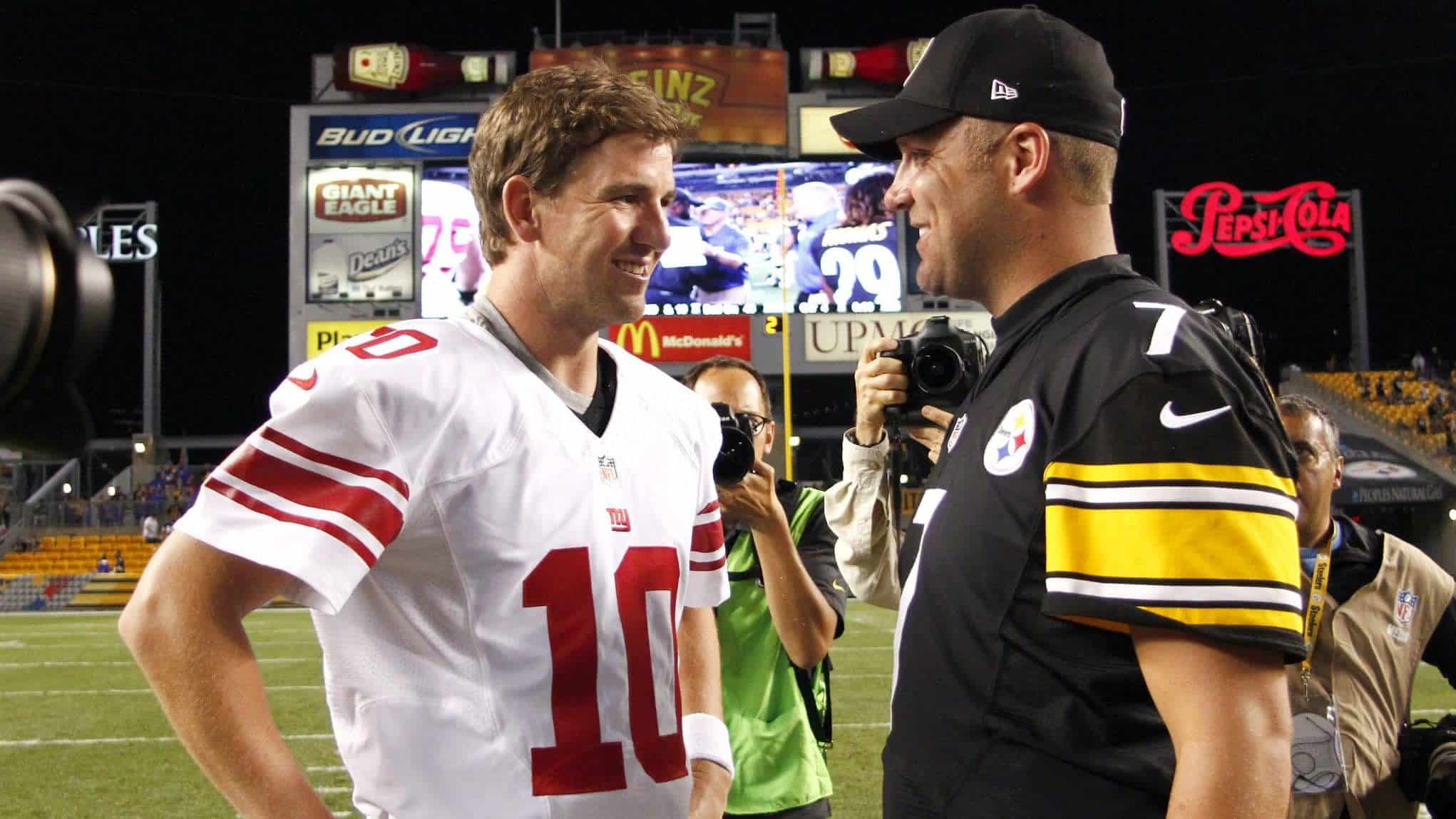 Saints' defensive end Cam Jordan believes Giants quarterback Eli Manning is better than Steelers quarterback Ben Roethlisberger.
The debate of the stacked-quarterback class that is the NFL Draft class of 2004 continues in 2018.
On Thursday, Pittsburgh Steelers beat writer Simon Chester asked Saints defensive end Cam Jordan some questions about the upcoming Steelers-Saints match up. One of these questions regarded facing what Chester believes to be a "future Hall of Famer" in quarterback Ben Roethlisberger. That's when Jordan stopped him right then and there.
Jordan, before pondering if Big Ben was even of Hall of Fame-caliber, questioned if he was even a top-five quarterback in this era.
"You're saying he's better than Philip Rivers? Right now? Career wise? Because you give him the Super Bowls or not? Is that what you're saying? You're putting him at number five? OK," Jordan said. "I'd honestly put Eli before I put Ben. Two super bowls!"
#Saints Cam Jordan is not buying the idea that #Steelers QB Ben Roethlisberger is a future Hall of Famer. Apparently, he's not even one of the Top 5 QB of his era – "I'd honestly put Eli before I put Ben" #PITvsNO #HereWeGo ➡️https://t.co/eUxl5N3Nxs⬅️ pic.twitter.com/uoBdAEu4jN

— Simon Chester (@SimonAChester) December 20, 2018
Sadly, for Giants fans, if you put their stats next to each other, Roethlisberger may win this debate.
In 16 fewer career games, Ben has put up 156 more yards than Eli Manning, two more touchdown passes, and 48 fewer interceptions. Ben also has a 64.4 career completion percentage, while Manning has maintained a percentage of 60.7 to this point.
[membership level="0"]
Ben has also won 27 more games than Eli as a starter. Again, this comes while playing one fewer season than Manning, in terms of starts.
But there is more to the argument, however, especially in recent years. Ben has played with elite talent much of his career, such as receiver Hines Ward in the early years. In recent years, he's had the top receiver in the NFL in Antonio Brown, along with elite running back Le'Veon Bell. The latter relation of course coming to a halt this year as Bell has held out the entire season following a contract dispute.
Eli, for many years, has dealt with a below-average offensive line along with a non-elite running game. Rookie running back Saquon Barkley is the Giants' first Pro Bowl running back since Tiki Barber in 2006.
Yes, he's had receiver Odell Beckham Jr., however, even he has been on and off the injury report throughout his career.
The debate has a great number of twists and turns to it. However, at least we know where Jordan stands on the argument.