The New York Rangers will have some tough choices during the 2021 Expansion Draft, so who should they protect?

When it comes to expansion drafts, timing is everything. In that respect, the New York Rangers are in an odd boat. They will simultaneously have tough decisions to make about who to protect and be thankful that some of their key players won't need to be protected.
The NHL is expanding to Seattle, and an Expansion Draft will occur at the conclusion of the 2021 season. The timing is less than ideal for the Rangers, as ESNY's Brian Paget explains. However, there's nothing that can be done about that, and it's on Jeff Gorton to adjust.
The rules of the draft will be the same as the Expansion Draft that was conducted in 2017 when the Rangers lost Oscar Lindberg. Teams can protect either eight skaters at any position and one goalie, or seven forwards, three defensemen, and one goalie, and any players with No-Movement Clauses must be protected unless they agree to waive them.
Additionally, all unsigned draft picks and players who have two seasons or less of professional experience in North America will be automatically exempt and not cost a roster spot.
While the roster can and will change between now and the Expansion Draft, the core of the team will likely remain the same. However, projecting the future is always fun, especially in a lost season. In that regard, the question of who the team should protect will be answered ahead.
It is assumed that the team will opt to protect seven forwards and three defensemen as opposed to eight skaters. It's also important to remember that any player currently with the Rangers, Wolf Pack, or Maine Mariners (the Rangers ECHL affiliate) will need to be protected or exposed, as all of them will be at the end of their third professional season.
Forwards
The first five names were easy to select. Zibanejad has developed into a legitimate number one center and will have a no-movement clause in effect by the draft. Chytil and Buchnevich are both young players who have impressed immensely with their skill.
Howden was a key part of the Ryan McDonagh trade and has been a strong middle-six piece during his rookie year. Andersson has struggled some at the NHL level but was the seventh overall pick and has dominated at the AHL level. He'll be kept unless he shows absolutely no improvement between now and the draft.
Kreider's contract expires in 2020, but is currently on pace to score 38 goals and has developed into a leader for the team. The team will likely want to re-sign him to be a part of the leadership group as the team makes their next run at the playoffs in a couple of years.
Vesey was impressive to start the season and is a willing shooter. He could force his way onto the list if he shows more finish to his game. However, if the Rangers do something like sign Artemi Panarin or trade for Vladimir Tarasenko, he would be the most likely to be booted off the protected list.
There are several notable names not on this list. Most notably, Kevin Hayes and Mats Zuccarello were left off the list. This is simply due to the fact that it is unlikely either of them will be on the team by the expansion draft.
Both are unrestricted free agents, and are likely trade chips at the upcoming deadline. The Rangers have a glut of centers on the roster and will likely not want to give a six-year contract to Hayes knowing that Chytil, Howden, and Andersson are options.
Zuccarello has been a great Ranger, but will be 32 next season and will likely want to sign with a contending team when he hits free agency. Jesper Fast will become an unrestricted free agent at the end of the 2021 season and will not need to be protected.
Vitali Kravtsov is in a unique position, as it's not known yet whether he will need to be exposed. If he signs a PTO after the KHL season ends, it will not count as a season towards the expansion draft and he will not need to be protected.
However, if he just signs his entry-level contract, this season will be counted and he will be eligible to be exposed. If that is the case, he will absolutely be protected by the team.
Defensemen
The Rangers will have to either get creative defensively, as Tony DeAngelo and possibly Ryan Lindgren are also players the team would like to hold onto. Hajek will definitely be kept, as the team is very high on him after acquiring him in the same deal that Howden was acquired in.
Despite his recent struggles, Skjei is also likely to get protected. He is an excellent skater and can help out offensively. If his play doesn't improve between now and the draft he might play himself off this list, but he is frankly too talented to continue to play this poorly.
The biggest decision that the team will need to make is whether to keep Pionk or DeAngelo. They're both 23, and both have received mixed reviews thus far. Pionk struggles some with decision making, but he has a good reach and has been better defensively than his numbers suggest.
DeAngelo has a lot of offensive upside, but has struggled with penalties and isn't always the greatest defensive player. Pionk gets the nod here due to the fact that David Quinn seems to trust him in big defensive situations, but DeAngelo could steal his spot. It's also possible the Rangers send a draft pick to Seattle in exchange for them not taking whichever of the two they don't protect.
One player who could complicate the process is Brendan Smith. He has a modified no-trade clause in his deal. In the last Expansion Draft, the NHL reviewed the wording of each contract with a NTC to determine if that player had to be protected or not.
So, while it is unlikely, the Rangers could be forced to protect Smith. If that were the case, he would likely be bought out of his contract (he might be either way), preventing the Rangers from having to use a spot on him.
Notably, K'Andre Miller, Nils Lundkvist, and Yegor Rykov will not need to be protected.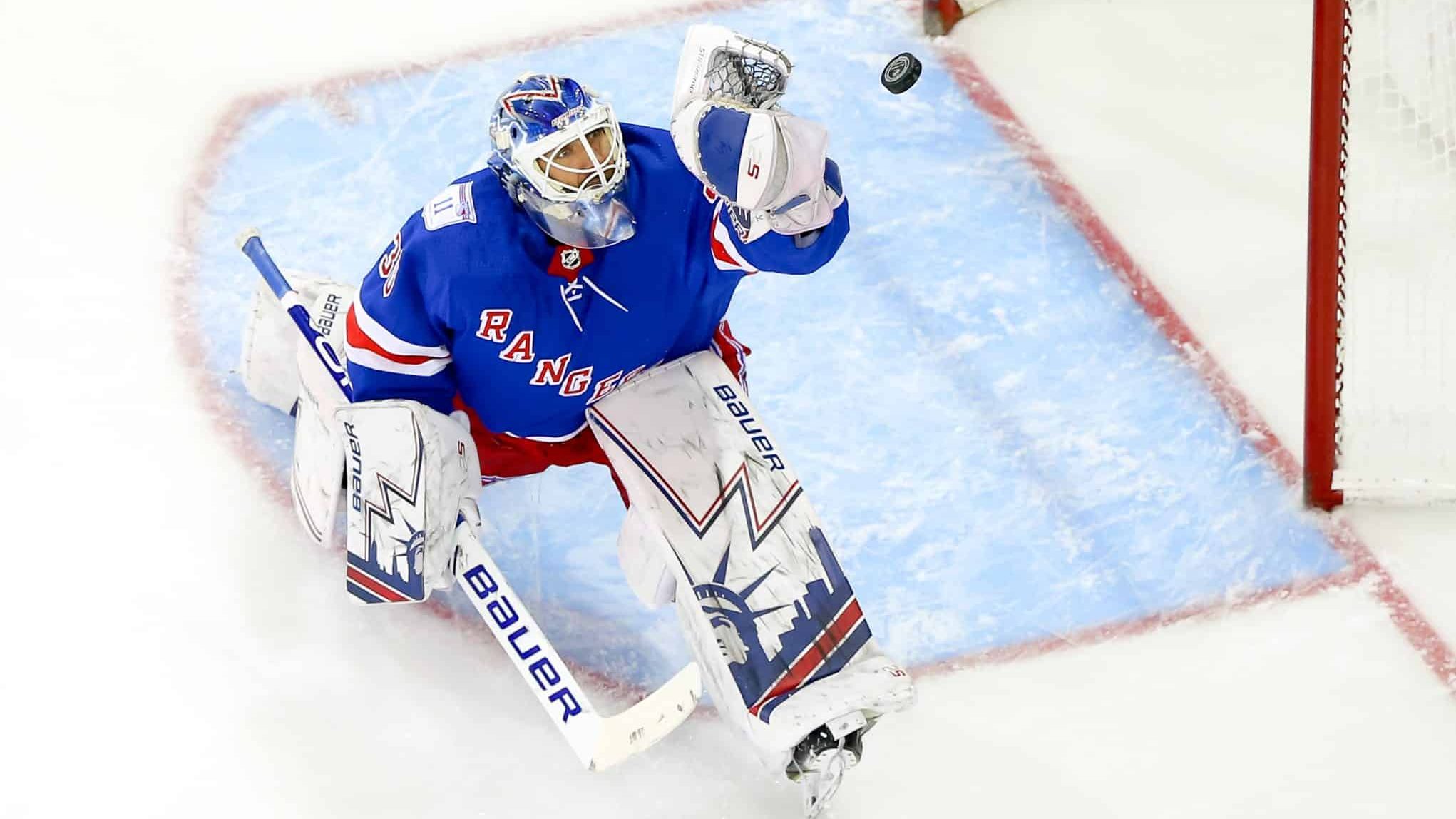 Goalie
Lundqvist gets this spot essentially by default, as Igor Shestyorkin will be exempt from the draft. He will have just finished the final year of his contract, so while his UFA rights wouldn't need to be protected, the team could want to keep him for another season to be a veteran presence for Shestyorkin.
Additionally, the team will need to expose one goalie who is either under contract or a restricted free agent. Assuming he is still here, Alexandar Georgiev would fill that spot. If Georgiev is traded before that then the team would likely sign a veteran AHL goalie to a contract and leave him exposed.
Should this list be followed and the Rangers not work out a deal with Seattle, DeAngelo would be the player the team is most likely to lose. However, with how much losing him would hurt, it's likely that the Rangers will make a trade to ensure that he is not selected.
Follow Billy on TWITTER