Sam Darnold has shown improvement since returning from injury. The New York Jets shouldn't be surprised at the source of inspiration.

FLORHAM PARK, NEW JERSEY—Long erased from the AFC playoff picture, the New York Jets' remaining games have become the Sam Darnold development sessions.
Touted rookie quarterback Sam Darnold returned from a November foot injury just in time for four December contests. Elimination provided the darkest of silver linings for the Jets: with Darnold in tow, the team had four chances at free research and development for 2019. Opportunities to stay for the Jets' potential return to glory have been on the line, all under the supervision of Darnold.
The rookie is one of the few Jets whose future status is secure. But the final quartet serves as four blank slates for Darnold. It's been a stretch to hone his skills, consequence-free opportunities to fine tune his game.
So far, he's taking full advantage.
Darnold returned to the Jets' game field on December 9 in Buffalo. In a duel against fellow rookie Josh Allen and the equally doomed Bills, Darnold briefly left the game with another injury but returned to provide late heroics. He found Robby Anderson for his two biggest throws of the day, both coming in the fourth quarter. A seven-yard scoring throw tied the game, while a 37-yard hookup, later on, helped win it, as Elijah McGuire punched in the winner four plays later.
On Saturday, Darnold kept the good momentum going, battling sophomore thrower Deshaun Watson and the Houston Texans. Against a Houston team fight for its first-ever first round bye, Darnold helped the Jets keep pace, to the tune of 284 offensive yards and two scores. Victory was not to be, but it was a step in the right direction for Darnold and the Jets (4-10).
Over the first half of the final quarter, Darnold has amassed 468 yards, including 45 on 10 rushing attempts. He's pleased to be building some momentum for the next steps of his NFL journey, but wants the results to reflect in the team's win column, not his box score.
"It comes down to wins and losses," Darnold said on Saturday. "We want to get out there and win the game. That's the whole point of playing. You want to win. To go out there against a good Texans team, it would've been awesome to be able to get that win, but we just came up short."
If there's any stat that stands out in Darnold's resurgence, it's not his newfound mobile talents, impressive as they've been. Rather, it's the lone interception in the two games. While that sounds pedestrian, it's a godsend for Darnold, whose turnover red flag has followed him from Southern California. He still leads the league with 15 interceptions, but has mostly avoided adding to that dubious mark.
The rookie admitted on Monday that the game is starting to slow down for him.
"I feel like I'm seeing the field really well and continuing to improve every single week," he said during a conference call. "(During) these last couple of weeks, (I'm) just hoping to build on that."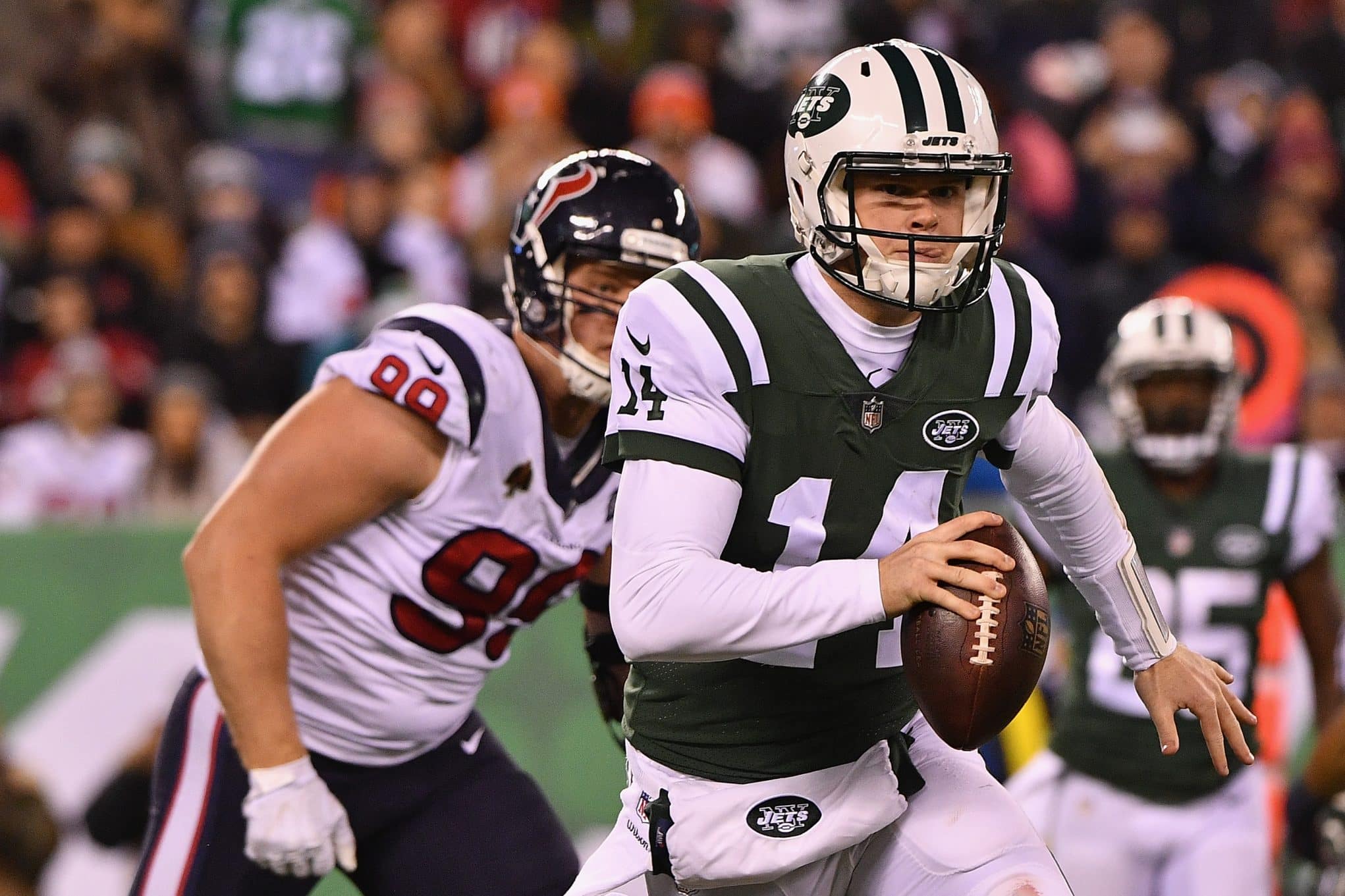 The inspiration behind his success may be surprising to New York outsiders, but he's a familiar friend and mentor to Darnold. It's not Sunday's potential opponent, though Darnold did have kind words for Aaron Rodgers, whose Green Bay Packers serve as the opponent for the Jets' final 2018 home game on Sunday (1:00 p.m. ET, FOX).
"He's really is the most talented person I've ever seen the way he is able to get rid of the ball and throw the football," Darnold said. "Just from that aspect it's fun as a quarterback knowing how hard the position is, knowing how hard it is to play, it's really cool to be able to watch someone really make it look so easy."
Instead, Darnold credits a familiar source for his late-season surge: fellow quarterback Josh McCown.
The veteran McCown is long removed from his own rookie season, currently partaking in his 16th NFL campaign. But as he approaches 40, one of the oldest active NFL quarterbacks is providing great lessons, according to the youngest.
"I really do just think it was just watching Josh (McCown). Just the way he went about studying the plays that are in the game plan, it's literally everything, walk through, practice, how he treated everything," Darnold praised. "I think it was just awesome to be able to learn and watch him. That's the reason for me playing a little bit better these last couple games."
McCown, the Jets' starter last season, oversaw three games while Darnold nursed his injury. The fact his mentorship has come up so big might not be much of a surprise. But Darnold mentioned a most unusual energizer in his Monday statements: his injury.
Careers of great young quarterbacks have ended before truly beginning thanks to the dangers of football. Look no further than the tragic case of Robert Griffin III, a Washington Redskins godsend turned Baltimore Ravens third-stringer. When Darnold looks back on his career in about a decade, however, it's possible that injury becomes something of a turning point in his NFL journey.
"Obviously you don't want to get hurt, it (stinks) when I'm not able to play," he said. "But I think the break and being able to just relax and have some time off was actually really good for my mind as well."
Whatever's been working for Darnold, the Jets, woebegone otherwise, are better for it.
Darnold knows his future lies in New York, but countless other Jets aren't so sure. A surplus in cap space comes with the caveat of fewer than 30 players being under contract for the 2019 season. With Darnold at the helm and playing the best football of his infantile professional career, determining who gets to stay for the Jets' potential rise up to the top of the AFC.
For example, the connection that Darnold has developed with Anderson could help prolong the latter's time in green. Anderson becomes a restricted free agent after the Jets' season finale on December 29.
But the past two games have been a breakthrough for Anderson, as well. In times of trouble and necessity, he's the one that Darnold has targeted, the reliable option when he needs it most. Over the past two games, Anderson has wound up with 172 yards, his best back-to-back tally so far this season. He would nearly play hero on fourth down on Saturday, but one of Darnold's final heaves bounced from his hands, giving Houston the ball back on downs.
Despite the missed connection on the final attempt, both Darnold and Anderson are pleased with the progress they've made.
"I think for me and Robby it's just about taking the plays when they're there, but at the same time, if I'm able to extend the play or doing anything to that nature, I think he's done a really good job finding the open windows," Darnold analyzed. "Me kind of having a good feel of when he's going to do that and having good timing on that end (works as well)."
"Communication, repetition and connection," Anderson said on Saturday about what's working between him and Darnold. "It feels real good. I think that it shows that we have a good connection,'' Anderson said. "We've just got to keep building from it.''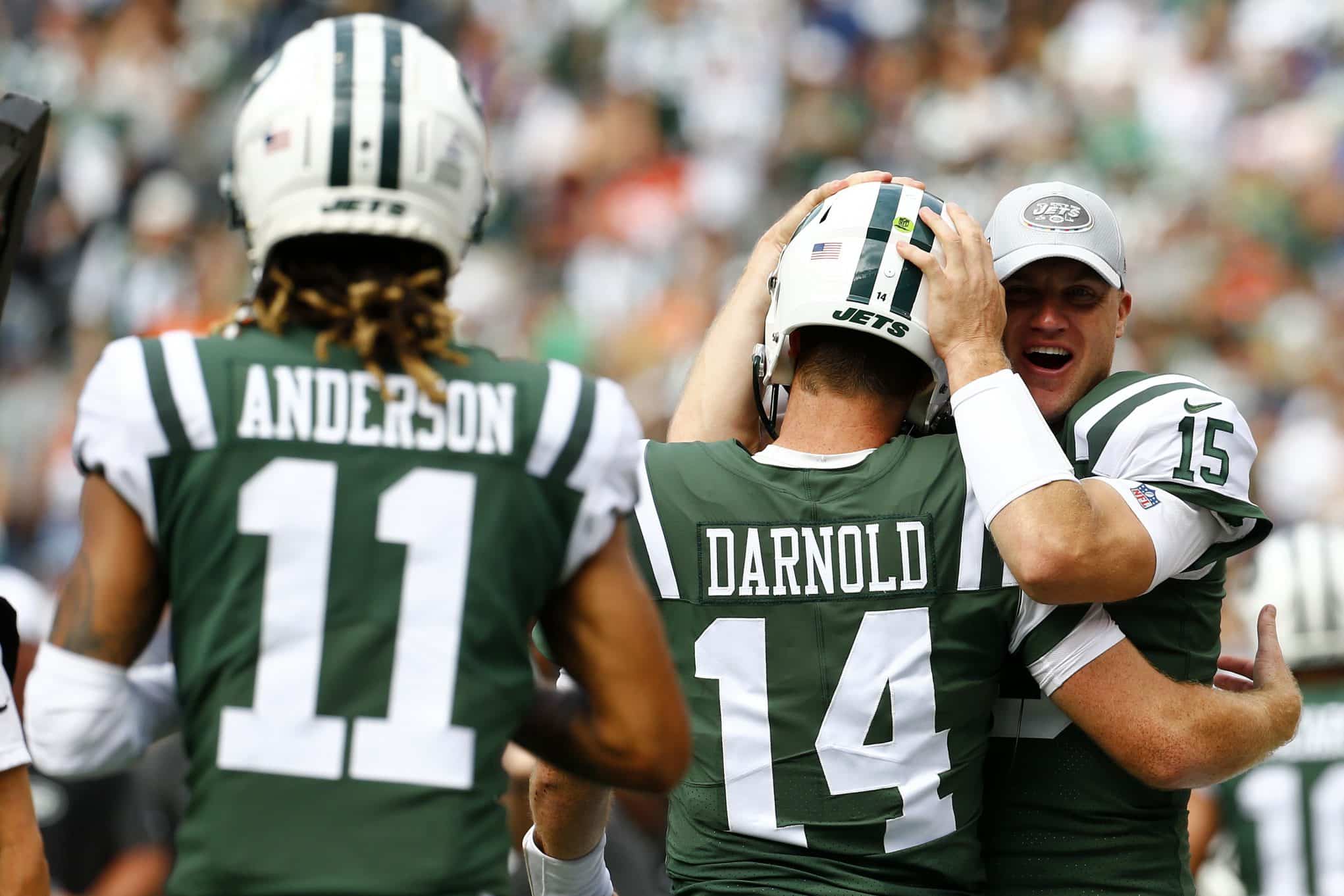 2018 was never going to be a year of football status quo for the New York Jets. A 5-11 campaign in 2017, one filled with narrow defeats, was seen as a year of progress. The hard part would be keeping the momentum going.
As Darnold got hurt and the team slogged through a six-game losing streak, one characterized by poor efforts and blown leads, progress was hard to come by. Not everyone can be saved, as the embarrassing outputs might've permanently ended some tenures early.
Whatever the reason, his quarterback, his receiver, his injury, Darnold is helping the Jets perform a late rewrite to 2018's script. The team's change in attitude, in pace, has coincided with Darnold's return, and his teammates have taken notice.
"You see a lot of growth. You see him getting more and more comfortable each practice, each game," center Jonotthan Harrison said. "It's very comforting to see the growth. The way he's exuding that much more confidence in the huddle. We love working with him."
Follow Geoff Magliocchetti on TWITTER