Deshaun Watson's rookie season was marred by injury. His resiliency can serve as a great lesson to new talents, including New York Jets QB Sam Darnold.

EAST RUTHERFORD, NEW JERSEY—Calling Deshaun Watson a seasoned NFL veteran seems dubious at best. After all, the Clemson product is only in his second professional season. 
Nonetheless, the 23-year-old Houston Texans quarterback, fresh off the 20th start of his NFL career, can serve as an inspiration to the even younger talents that come after him.
On Saturday, Watson faced off with one of the few NFL quarterbacks that serve as his junior, New York Jets rookie Sam Darnold. The pair went at it for four solid quarters at MetLife Stadium, trading clutch plays with their favorite receivers.
In the end, Watson earned the victory via a victorious seven-play, 75-yard drive that provided the winning score. The Texans (10-4) inched closer to the AFC South title with the win. Watson is ready to make his first professional playoff appearance.
"It's always fun when you have the opportunity on the big stage to lead your team to victory," Watson said on Saturday. "I did it in college and I have to continue to do it in the NFL. Everything comes down to the final drive."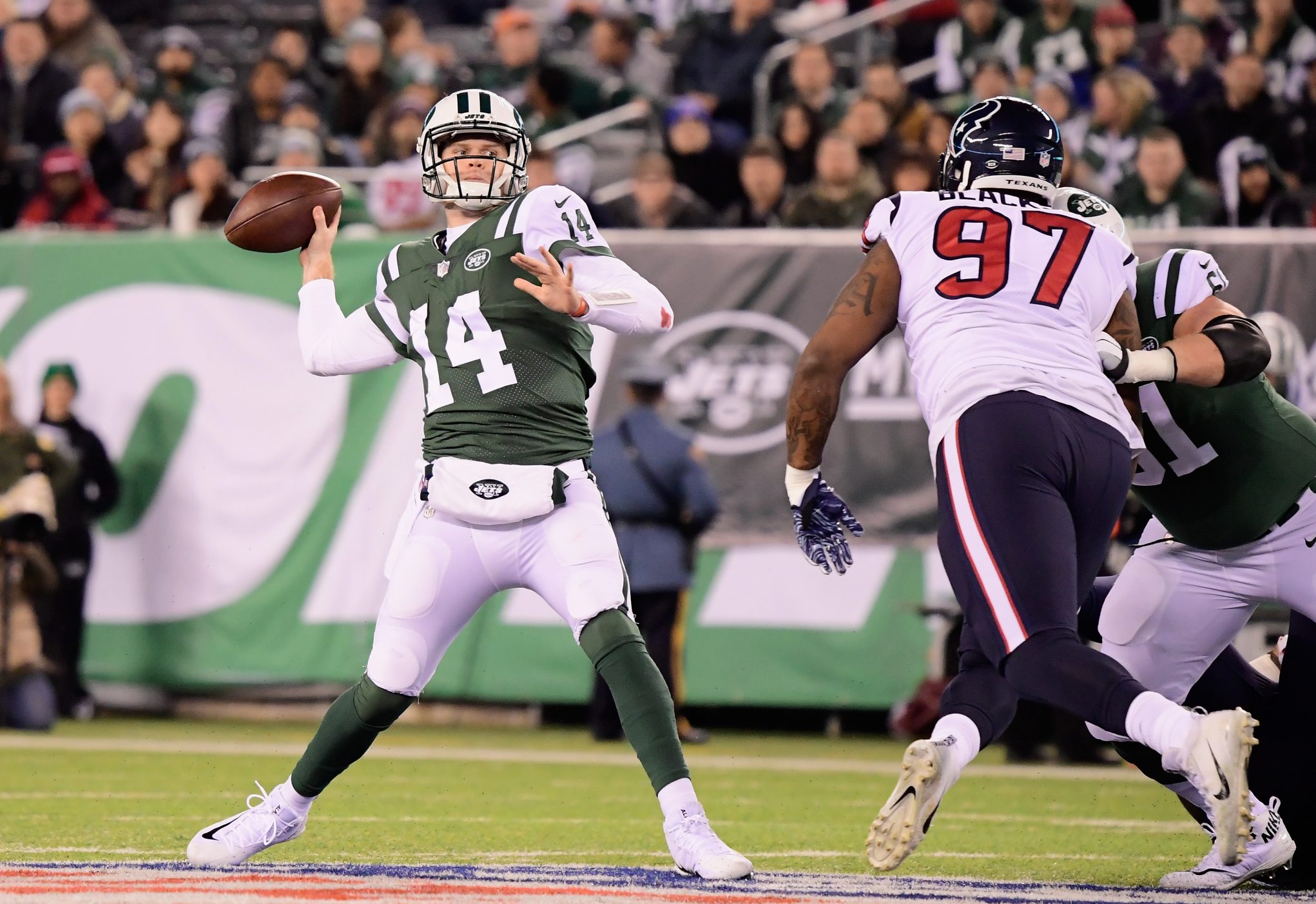 Darnold's Jets (4-10) are long removed from the playoff discussion. A win on Saturday, however, would've been a reprieve from the doldrums of a lost season. Lost in Watson's heroics was a chance for Darnold and company to conjure up a winning streak to ring in the new year.
Less than a week after he led a game-winning touchdown drive in Buffalo, Darnold earned more respectable numbers, ones that ultimately came up short in defeat. In Monday afternoon conference calls, however, he finally acknowledged some of the positives Saturday yielded.
"I thought our whole offense played really well. There's some plays we would like to have back, but other than that I thought we fought really hard, and it's just those type of games you just hope you can win," he said. "At the same time, there's stuff that we can always learn from. Overall, as a whole offense, despite the outcome, I thought we took a step in the right direction."
Despite getting sacked six times, Watson would end the day with 320 total yards and two touchdowns, the last being the game-winning score to DeAndre Hopkins.
Last season, Watson stood in Darnold's metaphorical cleats in Houston. He was a first-round pick chosen to be the aerial savior in a football town desperate for one. Houston's last truly successful franchise quarterback wasn't even a Texan (apologies to Matt Schaub), as Warren Moon and Steve McNair made their respective marks on the Oilers and Tennessee Titans. Even so, they haven't suffered as long as Jets fans, a legion looking for quarterback clarity for the first time since The Avengers was on TV …Diana Rigg's Avengers, not Scarlett Johansson's.
The duo's respective careers have eerily resembled each other. Each was a highly touted prospect from college football Valhalla. Clemson alum Watson was one of the few to tame Alabama on the national title stage. Darnold was the latest offering from the shores of Southern California. Each had their supposed "red flags" but gained some initial success to put fear in the hearts of their critics. Initial success, and subsequent development, was stalled by an injury. Watson tore his ACL during a November practice, while Darnold hurt his football in a game that took place a year and two days later.
Yet, each has returned to their respective posts, both showing signs they have the skills to keep this matchup going for a long time. With his injury keeping him out longer, costing him the final nine games of 2017, he can first preach the virtue of patience.
On Monday, Darnold remarked how the injury, a foot ailment suffered in early November's loss in Miami, might be a blessing in disguise in the long run.
"Obviously, you don't want to get hurt, it sucks when I'm not able to play but I think the break and being able to just relax and have some time off was actually really good for my mind as well.
Watson has handled his post-injury workload well. After a 0-3 start, the Texans won nine games in a row before bowing to divisional visitors from Indianapolis. After finding a way to win in East Rutherford, he's one step closer to the playoffs.
The power of perseverance will be huge for Darnold maintaining his football wits about him as the Jets struggle to hold leads. Positives have developed over the past two consequence-free games, but Darnold and the Jets are interested only in victories on the scoreboard, not in the heart.
"I feel like our whole offense is really starting to click a lot better, getting in and out. But it comes down to wins and losses," Darnold said on Saturday. "You want to win. To go out there against a good Texans team, it would have been awesome to be able to get that win, but we just came up short."
Another lesson Darnold can take from the playoff-bound Watson is the ability of knowledge of when to run. Watson was seen as a Cam Newton-type out of Clemson, a quarterback who can beat teams with both his arm and feet. Viewed as a pocket passer with killer arm strength, Darnold has displayed a propensity for scrambling. This newfound ability has led to some of the more exciting plays of the Jets' season, including a touchdown against the Texans that narrowed a Houston lead a touchdown just before the half let out.
Sam Darnold is so ahead of his time in terms of comfort, awareness and accuracy while throwing-on-the-run. TD to Robby Anderson. He just needs to figure it out presnap/in the pocket. The Jets allowing him freedom to change plays at the LOS would do wonders. #Jets pic.twitter.com/x7Mj7DLtXH

— ESNY Jets Film Room (@jetsfilmroom) December 15, 2018
Once Darnold finds the knowledge of when to truly run, he can become one of football's most dangerous quarterbacks.
If anything, the Jets as a whole can take a lesson from Watson's tutelage, as his development has been overseen by offensive-minded Bill O'Brien. The former New England offensive coordinator has proven to be one of the few healthy branches of the Bill Belichick coaching tree. Before his arrival in Houston, O'Brien led the revitalization of a Penn State football program recovering from unspeakable scandal.
O'Brien did what he could with a who's who of fallen quarterbacks, somehow helping teams led by Brian Hoyer and Brock Osweiler to the postseason. The Texans, a team that became renowned for defensive exploits thanks to subpar quarterback play, have adapted to the new NFL, one that has evolved to reward offensive weapons. As a result, they could very well earn their first playoff bye in franchise history.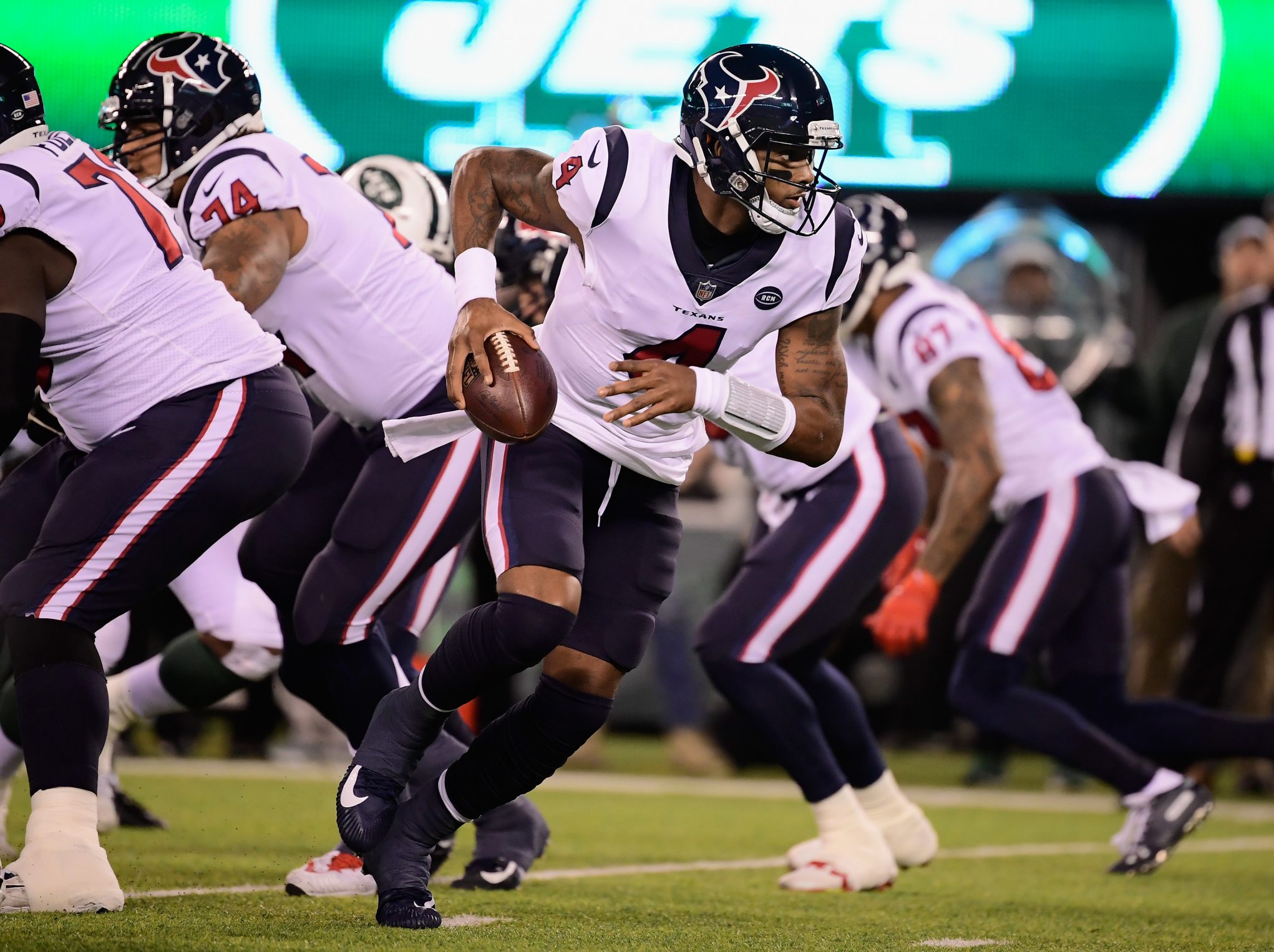 If the Jets needed any more proof that an offensive-minded coach is needed in the wake of Todd Bowles' impending departure, they need look no further than Saturday's opposing sidelines.
Count O'Brien as one of the many impressed by Darnold's continuing progress.
"He has a great future in this league. He's a competitor," he said. "He didn't do anything tonight that surprised me, but I will say that his ability to keep plays alive, his ability to take a hit and keep coming, his ability to get the ball down the field…he's a great player."
Of course, Darnold doesn't have a plethora of explosive weapons at his disposal just yet. He's going to need some help pressing forward if the Jets are truly going to bring themselves out of the muck. To further the Watson comparisons, Saturday's game might've felt like Watson's display last year in Seattle. His last 2017 game prior to injury, Watson put up 469 yards of offense and four touchdowns, but a defensive breakdown allowed the Seahawks to escape with a 41-38 victory.
Darnold's day wasn't as prolific, stopped short at 288 yards and two scores, but the positive efforts are steps in the right direction. This time next season, we could be discussing Darnold as the sophomore stud that rose to the occasion.
He could do far worse than following Watson.
"Deshaun, first of all is a great person. I'll always look up to him and respect him in that regard," Darnold said on Monday. "But he's also a great player. It's really fun to be able to compete against him, it was fun to compete against him on Saturday."
With any luck, Saturday will be the first matchup of many.
Follow Geoff Magliocchettti on TWITTER