The New York Jets sacked Deshaun Watson six times on Saturday night, but J.J. Watt showed everybody what "elite" looks like.

EAST RUTHERFORD, NEW JERSEY—Six sacks. 10 hits on the quarterback. 14 yards allowed from running backs. The New York Jets' defense accumulated those stats on Saturday night against the Houston Texans.
Unfortunately, it's something they didn't get that will haunt them for the next eight days: one stop.
A potent offense headlined by Deshaun Watson and DeAndre Hopkins looked human against the Jets' defenders. For a majority of the game, one could be excused for thinking the Jets, rather than the Texans, were the ones fighting for a first-round bye in the upcoming AFC playoffs.
The eliminated Jets harassed Watson all night, bringing him down at critical junctures throughout the game. With the help of a rejuvenated offense, a 16-3 deficit became a 22-19 lead. Back-to-back wins were possible for a Jets team playing for each other, fueled by pride and unity. MetLife Stadium was perhaps at its loudest since Taylor Swift's Reputation World Tour came to visit, as Watson continuously got knocked down. Defensive lineman Henry Anderson, he of three sacks the entire season, led the way with three alone on Saturday.
But, like so many other times this season, a Jets team that prides itself on playing a retro brand of smashmouth football failed to make a defensive stop.
Held in check since the Texans' lead summitted at 13, Watson led the team on a masterful 75-yard drive that needed just seven plays to complete. Appropriately, the drive ended in familiar fashion: a touchdown grab from Hopkins, a receiver thriving with a young, strong thrower getting the ball to him.
Saturday could probably go down as a win for the Jets as it is. After all, Darnold showed further evidence that he's starting to get this NFL quarterbacking thing down to the tune of 253 yards and two showstopping scores. But a second win, one that could've been the Jets' first instance of consecutive wins since October, could have provided boosts elsewhere. It's great that Darnold is gaining confidence moving forward. But those good feelings shouldn't be exclusive to the quarterback alone.
"It's frustrating to lose a ballgame," head coach Todd Bowles simply said afterward.
Even when asked about some big plays from the Jets as a team, the coach was inconsolable. It may not be to the level of the blown Tennessee Titans game two weekends ago, one Bowles said he'd remember for "the rest of (his) life", but he was in no mood to talk positives after the Houston loss.
"I'm not really in a highlight mood. We lost the ball game," he said. "We don't have moral victories here."
Today's NFL is one that worships the offensive skill player. The slightest aggression toward a receiver can draw a spot-of-the-foul penalty, as Morris Claiborne found out on a questionable holding on Hopkins. The penalty would keep the Texans' scoring trek alive, and Hopkins would cap things off with his second score of the day, one that deflated the hapless Jets.
"The holding call hurt us. That got them down the field," Bowles said. "The guy made a heck of a catch at the end. Mo had great coverage. (Hopkins) is a great receiver. He made a heck of a play."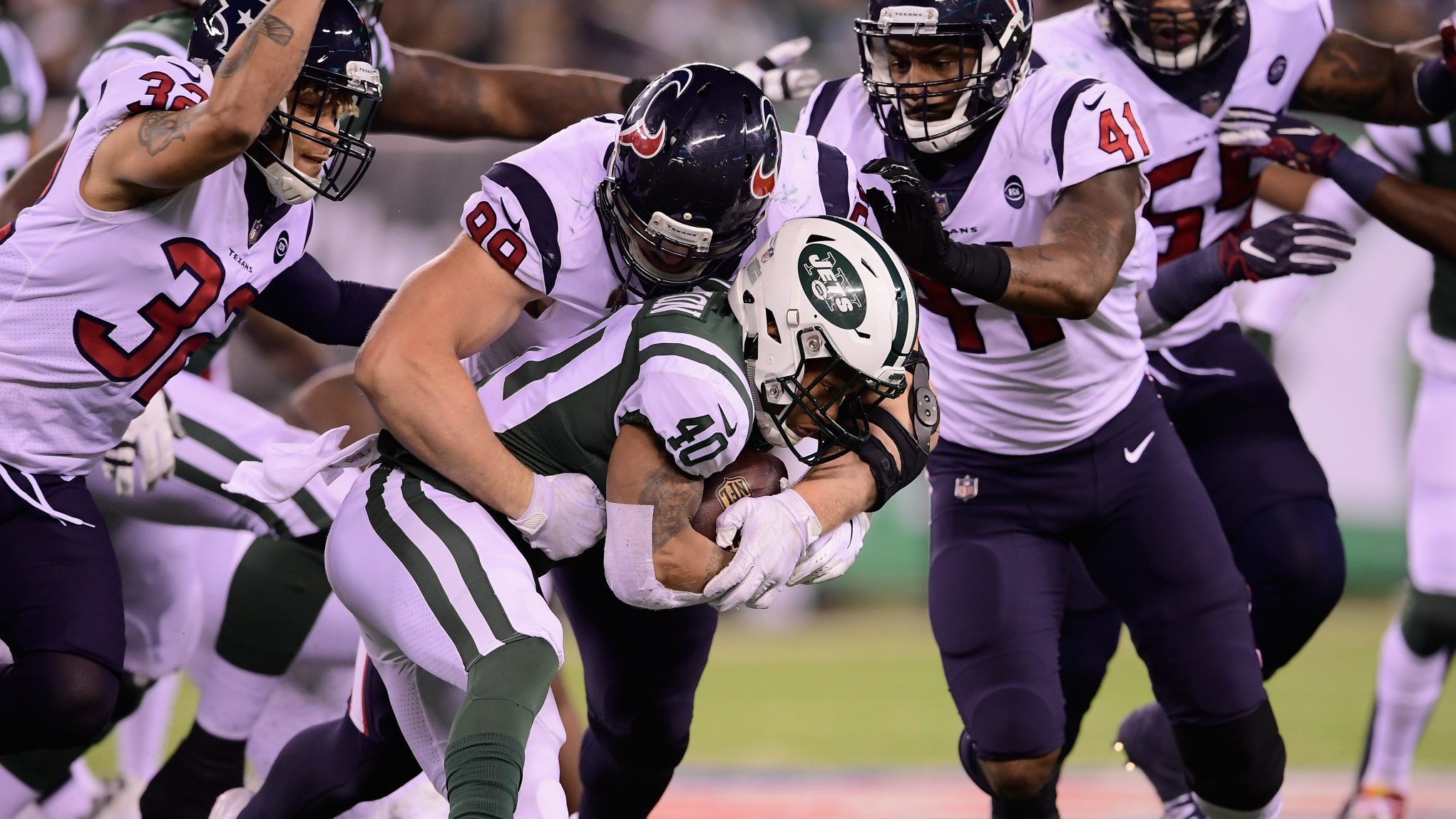 "(Hopkins) made a (heck) of a catch," safety Jamal Adams acknowledged. "Hats off to (the Texans), they did a phenomenal job of executing. They made more plays than we did in crucial times."
The Jets have spent the past several seasons trying to buck that trend. In his four years at the helm, Bowles has tried to install a misfit defense-first mindset. He knows a thing or two about championship defense, having won a Super Bowl as a Washington Redskins safety in 1988. As his 24-38 record as coach of the Jets tells you, the success hasn't been duplicated three decades later.
Though the occasions are dwindling, there's still a time and place for defense in the modern NFL. The Seattle Seahawks shut down the historic Denver Broncos offense in MetLife Stadium's 2014 Super Bowl. Defensive efforts in Chicago and Dallas have catapulted their teams to championship consideration.
The Jets, however, have not been able to replicate that type of domination. The failure to perform has become even more costly thanks to an offense that has struggled to maintain consistency.
Two more games await the Jets in 2018, both of which will feature showdowns against legendary quarterbacks. Aaron Rodgers and the Green Bay Packers will visit the Jets next Sunday (1:00 p.m. ET, FOX), while the season ends with a visit to Tom Brady's kingdom in New England. With changes expected to sweep through the squad once the final gun in Foxborough sounds, the Jets' personnel knows that this December is the final chance to impress present and future employers.
If it was up to Adams, everyone, coaches and players alike, would be allowed to stick around to help guide the Jets back toward the light.
"We're a good football team. We're obviously in every ball game, besides that Buffalo Bills game (41-10 loss in Week 10), but the rest, we've been in," the safety said. "I don't really know where the speculation of just because we're losing (means) we're a bad football team (comes from). We've just got to make more plays and play smarter at certain times.
[membership level="0"]
"I think of all of us have a killer instinct," Claiborne added. "Throughout the course of the game, there's one or two plays where people are getting up ahead and beating us. It's up to us to figure it out, what it is and try to fix it. With these last couple of games coming up, I know one thing: we're not going to lay down. We're not going to come in and give anyone anything. It's going to be a fight."
But, of course, this is the NFL. Nothing truly lasts forever. Relationships are born and killed at the drop of a hat. Some in the organization could be on their last legs. For some, their fate may already be written.
Unlike the Jets, the Texans' defense rose to the occasion on two final drives, preventing Darnold from a second straight storybook ending. Granted, the Jets offense currently lacks weapons of the Watson and Hopkins caliber, but defensive end J.J. Watt acknowledged how his group's chemistry and camaraderie was huge in the final stanzas.
"In the final two drives, when we had to step up, and you have to find a way to win the game, we found a way," Watt said. "In those crunch time plays, as a kid, that's what you dream about, find a way to get a sack on the last drive of the game to seal it. We had to do it twice, and, fortunately, we got it."
The Texans (10-4) earned three sacks of their own on the evening, with Watt earning two on his own. Houston's win all but assures them of a playoff spot, as well as their third AFC South title in four seasons.
"There was a really good combination of coverage and rush," Texans head coach Bill O'Brien said of the late defensive effort. "You have to continue to be resilient and try to come up big at the end. I think our team understands that, and, hopefully, we can keep it going."
The Jets, obviously, want the type of consistency the Texans have somewhat mastered. Hints that happy times may soon return have been prevalent over the last two weeks. For now, however, heartbreak once again reigns. For those that will miss out on the Jets' latest attempt at returning to glory, it simply would've been nice to go out on a high note.