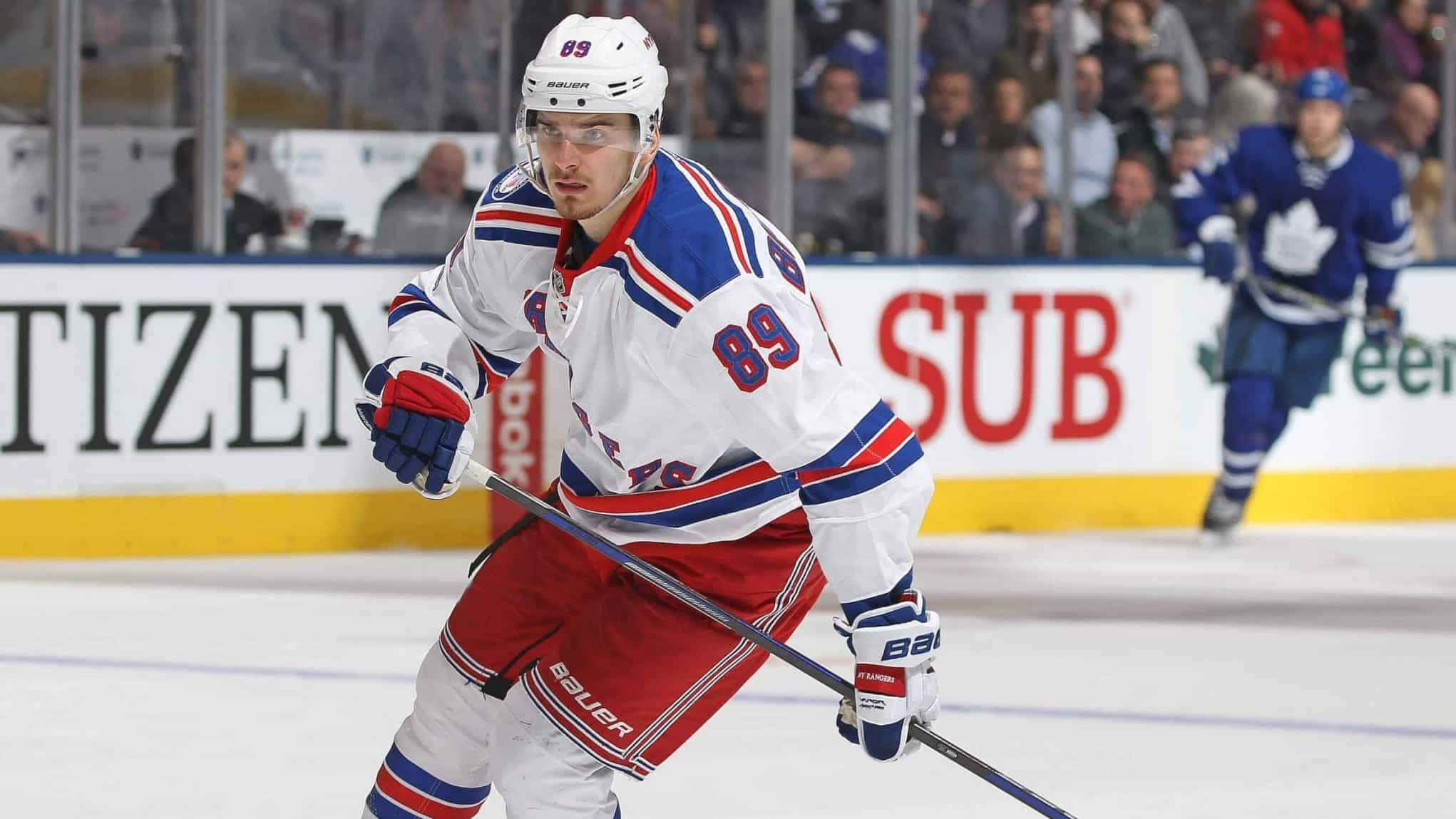 New York Rangers forward Pavel Buchnevich fired home a one-time goal in his first game back from a broken thumb.
Pavel Buchnevich wasted no time making an impact in his return to action.
The third-year winger came back in style for the New York Rangers against the Coyotes. In his first game back after suffering a broken thumb, Buchnevich put the team ahead 1-0 with a beautiful powerplay goal.
FILIP CHYTIL FEEDS PAVEL BUCHNEVICH! IT'S A POWER PLAY GOAL!#NYR pic.twitter.com/MYbLAn0eSU

— Hockey Daily #StickTogether (@HockeyDaily365) December 15, 2018
Buchnevich stepped down into the circle and hammered home a pass from Filip Chytil to put the Rangers ahead 1-0 early in the first period. Stepping up on the powerplay after missing 13 games is a great way to quickly re-establish yourself as a key part of your team.
Jimmy Vesey picked up a secondary assist on the goal, doing excellent work to keep the play alive. He took a pass from Buchnevich, fought Kevin Connauton off behind the net to push the puck to Chytil, who then slid it to Buchnevich to fire home. That was Buchnevich's sixth goal and point number 10 in his 15th game.
The other Rangers forward returning to the lineup, Mats Zuccarello, also had an impact in the first period. He set up a powerplay goal by Kevin Hayes later in the first period to push the lead to 2-0.
Kevin Hayes, "It's a power-play goal!" Rangers are 2-for-2 on the PP. What a pass by Zuc. 2-0 nearing end of first against PHX. #NYR pic.twitter.com/QbLseFFf6L

— ESNY (@EliteSportsNY) December 15, 2018
Zuccarello, who's departure is a reality that fans should begin to prepare for, has been dealing with a recurring groin injury that has limited him to two games since Nov. 6. The assist was his seventh of the year and his 10th point.
Both Buchnevich and Zuccarello are free agents at the end of the season, although Buchnevich will be a restricted free agent. Zuccarello will be an unrestricted free agent, and the fan favorite will be a hot name at the deadline for a team looking for a rental for a playoff push.
Follow Billy on TWITTER