With a coaching overhaul possibly in store for the New York Jets, Brant Boyer's special teams progress should not be forgotten in its wake.

The 2018 season has personified Murphy Law's for the New York Jets. Everything embarrassing that could happen has indeed come to pass.
The touted rookie quarterback got injured. They ended Cleveland's winless streak and unlocked Bud Light's fridges. They let a Buffalo Bills offensive lineman score in a 41-10 home loss.
In the midst of this season's chaos, there has been a literally special presence consistently providing silver linings. That presence has been Brant Boyer's special teams group.
In his third season as the Jets' special teams coordinator, Boyer has provided weekly levity to beleaguered fans of New York's green squad. On offense and defense, the Jets have been a roller-coaster mess, but the special teams has been…well, special.
With the Jets' non-playoff fate sealed last week, rumors have swirled about organizational changes, primarily on the coaching level. If anyone should be allowed to witness the Jets' potential rebirth, it might be Boyer, thanks to his persistent consistency.
The coach, as usual, was unfazed by rumors he can't control during his weekly availability on Wednesday afternoon. He's pleased about his unit and eager to see what the final three games bring, starting with Saturday's home tilt against Houston (4:30 p.m. ET, NFL Network).
"I'd go to battle with these guys any time, because they care," Boyer said. "They've done a hell of a job competing. Every return, they believe in. These guys, they came together. They started coming together. When you believe in the guy that's back there and everything they're doing coverage-wise, you have some really good players."
The success begins in the kicking game, the Jets' most potent scoring option. Jason Myers has become one of the most reliable scorers in football under Boyer's watch.
Myers' football path began in New York, spending four years at Poughkeepsie's Marist College. He entered the league in 2015 as the second Red Fox to participate in an NFL game when he joined the Jacksonville Jaguars.
After two seasons in Duval, Myers found himself at an NFL crossroads when Jacksonville released him in October. Three months later, he would sign a contract with the Seattle Seahawks. By April, he appeared to be destined for "camp leg" status when the Seahawks signed illustrious veteran Sebastian Janikowski.
While others saw as a destiny of exile, Myers saw a "fun" opportunity to work with a legend that would set the tone for his NFL comeback.
"I'm confident with what I know about myself and my day-to-day work as a kicker," Myers said. "So I wasn't really trying to go out there and pick his brain, (but) it was fun to go out there and kick with him. We had a good relationship … and it was good to go out there with someone that has a name and is probably a future Hall-of-Famer."
When Seattle stuck with Janikowski, Myers was released, but the Jets pounced quickly. Less than 24 hours after the Seahawks bid farewell, Myers returned to the New York area.
He immediately endeared himself to Jets fans with two long field goals, one from 58 yards, in the preseason finale. The Jets released summer kicker Taylor Bertolet and made Myers their foot.
Myers has rewarded the faith Boyer and Jets management showed in him with a league-high 30 field goals, coming at a 94 percent success rate (30-of-32). The long kicks have continued, as he became the first kicker in NFL history to tally five kicks from at least 55 yards in a single season during the Jets' November tilt against New England.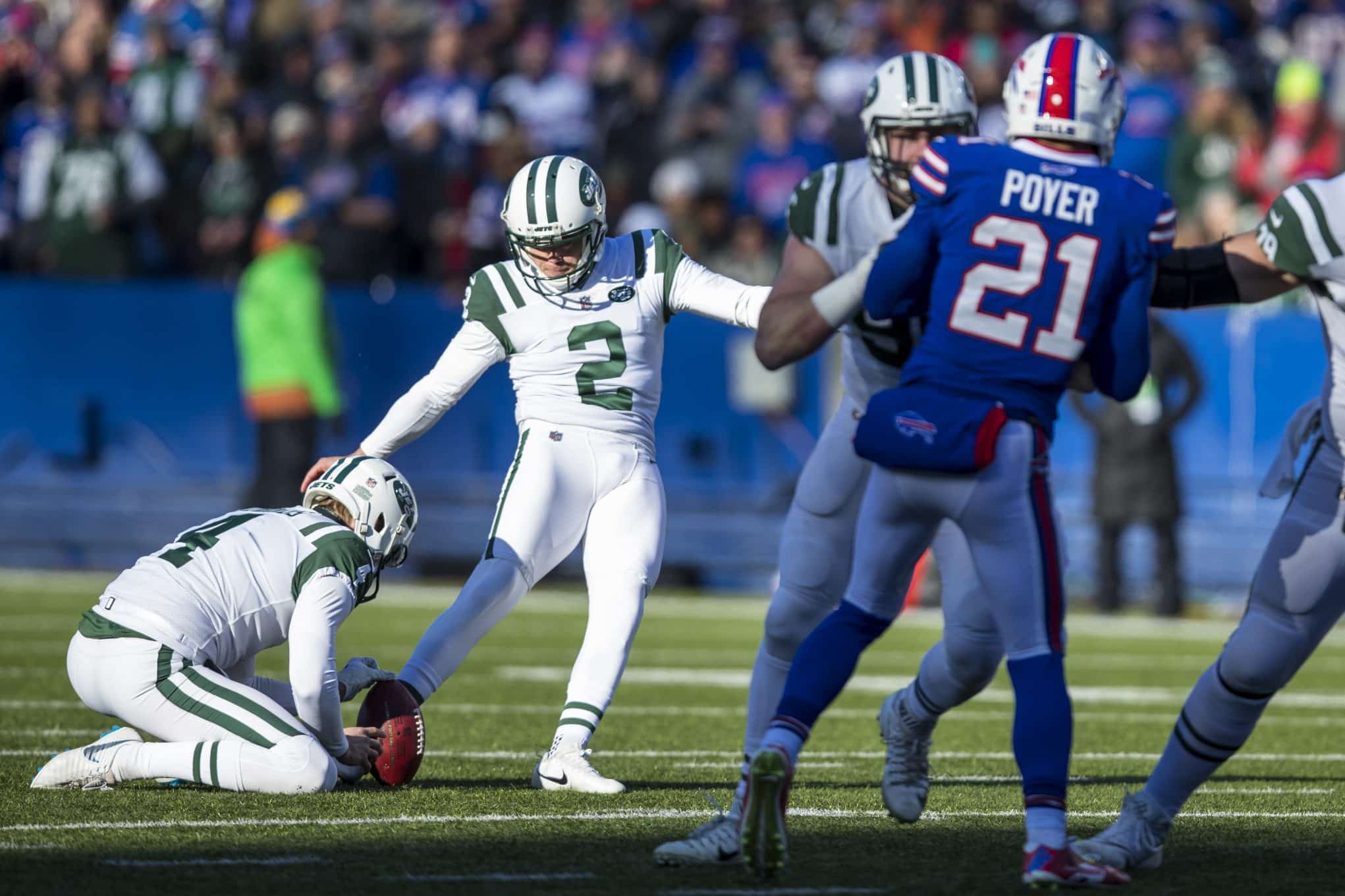 "He understands and trusts us to get ready for Sunday," Myers said of Boyer this week. "In our room, he has a lot of trust for us. It puts you in a good mindset to go out there and just kick the way you want to kick on Sundays."
Myers was mum about his chances at postseason rewards like the Pro Bowl and All-Pro teams, saying, "I don't need a Pro Bowl selection to tell me I had a good year."
Boyer has been anything but mum.
"To have Jason come through like that and the job that he's done this year, I can't say enough good things," Boyer said in November. "I think the guy has done an outstanding job. (He's) exceeded all of our expectations, certainly mine. He's a professional, does everything and deserves every accolade he can get."
Punter Lachlan Edwards has been in Myers' shoes. The Victoria, Australia, native was another small school target of Boyer, who noticed him at Sam Houston State.
Edwards admitted that he knew little of the American game of football, working mostly with Australian Rules before his arrival. The 26-year-old praised the work he's done with Boyer, crediting the coach with getting him acclimated to the American game.
"(Boyer) was the one that got me (to New York)," said Edwards, who ranks ninth in the NFL in average punt yardage. "He demands a lot from us in that room, but he can relate to the plays because he played such a long time, and he was a big part of special teams in his career. He knows what he's talking about because he's done it himself and I think the guys respond to that really well."
Long snapper Thomas Hennessy echoed Edwards' sentiments on Boyer.
"He expects the best out of us every day. He demands a lot, and he cares about each as people as well, off the field," Hennessy said. "To have a coach like that, who wants excellence on the field and cares about you as a person off the field, makes you want to play that much for the coach."
Last season it was Hennessy who became Boyer's summer diamond in the rough. Picked up by Indianapolis after draft day, the Jets acquired him in a late August trade for safety Ronald Martin. Boyer is just as pleased with the transaction as Hennessy is.
"I think he is one of the top five snappers in the league. I think he is a consummate professional. He is an awesome kid, great to have in my room," he said. "It really plays out to see, with the operation of him and Lachlan being together as a snapper and a holder, what kickers have done since those guys have been there. The snap and the hold has been automatic."
To Boyer's point, Jets kickers are 55-for-62 (89 percent) when Hennessy snaps to Edwards over the past two seasons.
With his young kicking battery in tow, Boyer has made his name in New York assisting with developing valuable assets. But seasoned veterans like Andre Roberts, it would appear, have plenty to gain as well.
If anyone's disappointed to see Myers, Edwards, and Hennessy take the field after an offensive drive, it might be Roberts. The return specialist has routinely seen strong setups from big returns yield few points. Like his coach, Roberts is going to control what he can as he enjoys a resurgence back deep. He partly owes his patience to Boyer's teachings.
"He has a great scheme. When guys do the right things, it obviously works," he said. "The guys are working hard. You can't ask anything more from him."
Set to turn 31 in January, Roberts, in his first year with the Jets, is one of the elder statesmen on the team. New York is the fifth stop in his NFL journey, as he previously worked with Arizona, Washington, Detroit, and Atlanta. Like Myers, he knows all about rising from a small school, coming out of The Citadel in the 2010 draft's third round.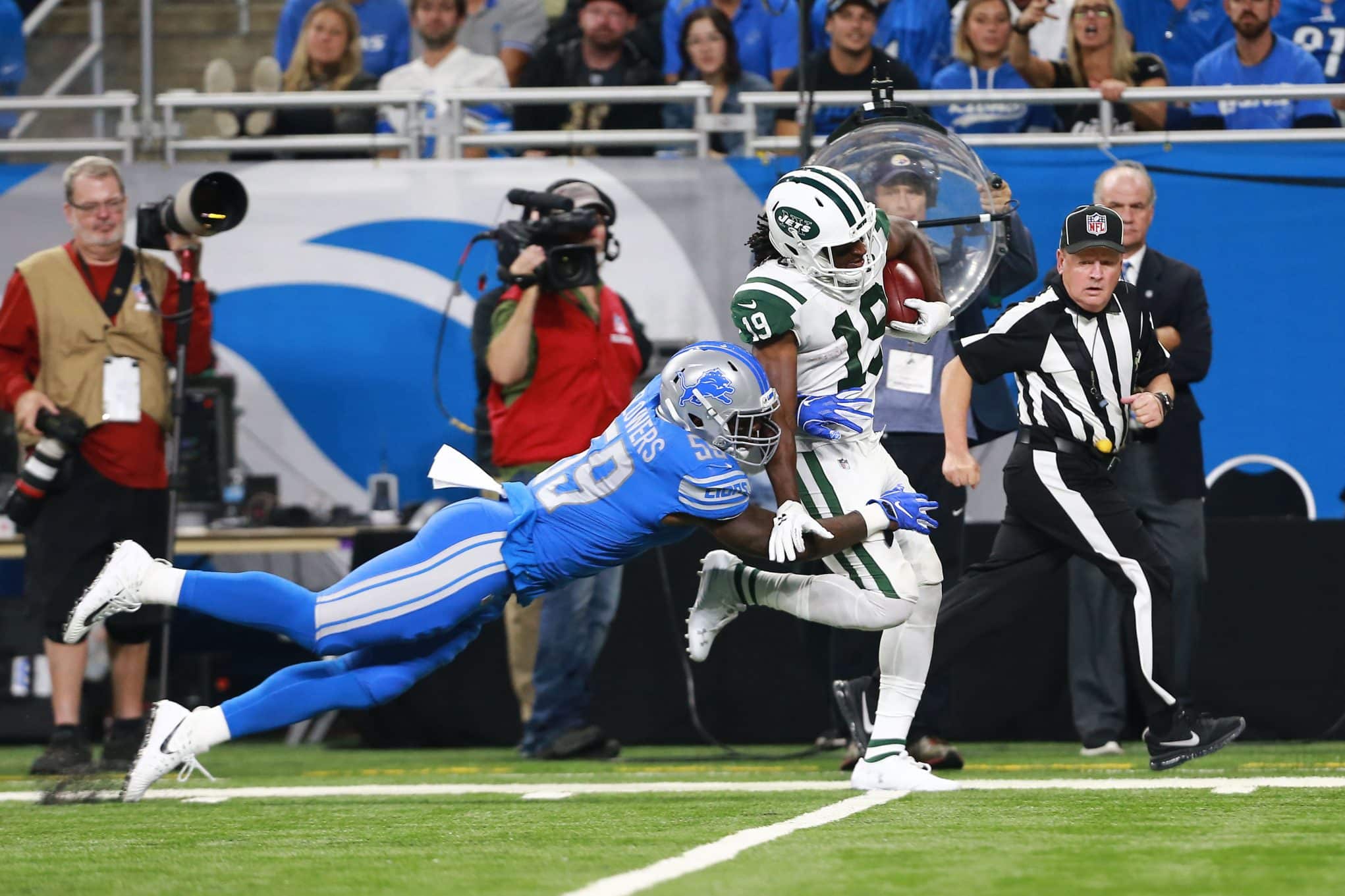 Once again, Boyer made a public Pro Bowl vote at the podium.
"As a punt returner, I'd describe him as a fearless guy, a guy who doesn't hesitate," Boyer said. "I think the biggest difference for him is that he's had a coming of age, so to speak. He's just had a heck of a year with all those explosive plays he's had."
Even traditional position players are no exception to Boyer's improvements. The coach called out several specialist studs that have made names for themselves through special teams performance this week.
In December alone, the Jets have ended years-long droughts in blocking extra points and field goals, and they blocked yet another field goal on Sunday in Buffalo. Those mentioned by name included linebacker Jordan Jenkins and rookie tight end Chris Herndon.
"You got all these guys that are playing significant reps on offense and defense that are now playing special teams, and they taking pride in what they do," Boyer noted. "It's awesome to see."
For some players, success on special teams has led to progress on the other side of the ball. For example, linebackers Kevin Pierre-Louis and Neville Hewitt first made names for themselves via coverage. With Darron Lee serving a season-ending suspension, the pair have risen to the occasion on defense. They've been praised by coaches and players alike.
Boyer knows what a football work in progress looks like. In 1995, the Jacksonville Jaguars chose him to be a part of their NFL entry, picking him in the 22nd round of their expansion draft. Within two years of existence, the team was an AFC finalist, and they would make a return trip to the conference title game after year five as well.
In 2001 Boyer played the first of three seasons with the rebooted Cleveland Browns. He would go on to partake in the new version's lone playoff trip thus far, making seven tackles in a wild-card loss to Pittsburgh.
For the Jets to duplicate that trend upwards, Boyer has a timeless yet effective formula, citing "a big offseason" as vital for the Jets to press forward.
But, most importantly, he believes in not just his unit and what they're capable of, but the Jets as a whole.
"I think this team is starting to come along. You got a bunch of key young guys in place with (Sam Darnold), and Jamal (Adams) and Leonard (Williams). I think you got a pretty good young nucleus of guys," he said. "I think this is going to be a group that you're not going to want to play."
"This is going to be a heck of a team in a year or two, somewhere in that area."
Follow Geoff Magliocchetti on TWITTER