There are a few specific challenges for the New York Jets that rise above the rest when they take on the mighty Houston Texans.

Deshaun Watson's legs
Don't get me wrong here. Singling out Deshaun Watson's legs in this section is not a slight on his arm at all. Watson's arm has proven to be one of the most dangerous weapons in the entire NFL. He's got a 101.6 passer rating in his NFL career, which ranks fifth best among the 28 quarterbacks with at least 500 pass attempts since the start of 2017.
I list Watson's legs here since it's been this facet of the game where the Jets have had major issues this season. The New York Jets have allowed the third most rushing yards to quarterbacks in the league (22.9 per game).
Among those same 28 quarterbacks, Watson ranks second in rushing yards per game with an average of 34.0, trailing only Cam Newton.
Josh Allen just hung 101 rushing yards and a touchdown on the Jets last week. The New York coaching staff has done a poor job adjusting to mobile passers, while the defensive personnel up front has struggled to finish their pressures and turn them into sacks. Consequentially, quarterbacks have run wild on the Gang Green defense all year.
Leonard Williams, in particular, struggled to keep contain a few times, whiffing on a few shots at Allen in the backfield (in an otherwise good overall game). It would be great to see the Jets' defensive front, especially players like Williams who will be back next year, make some progression in this area.
DeAndre Hopkins' physicality
Trumaine Johnson draws the dominant DeAndre Hopkins this week.
Johnson has caught fire, picking off three passes over the past two games and improving his all-around coverage performance. He's doing a better job executing his role in a variety of different coverage looks, including the deep sideline zones in which he made both of his interceptions against Buffalo.
Hopkins and Watson present an entirely different challenge compared to anything Johnson has seen so far in a Jets uniform. The battle between two lengthy, physical brawlers will be fun to watch. The 6-foot-1, 212-pound Hopkins brings 87th-percentile arm length to the table, while the 6-foot-2, 213-pound Johnson carries 95th-percentile arms at his sides.
These two are big, long, and physical. Johnson has deservedly caught the ire of the fanbase all season, but is starting to save face a little with his recent hot stretch. A battle with one of the game's best wideouts is the best challenge Johnson could ask for to validate his return to prominence.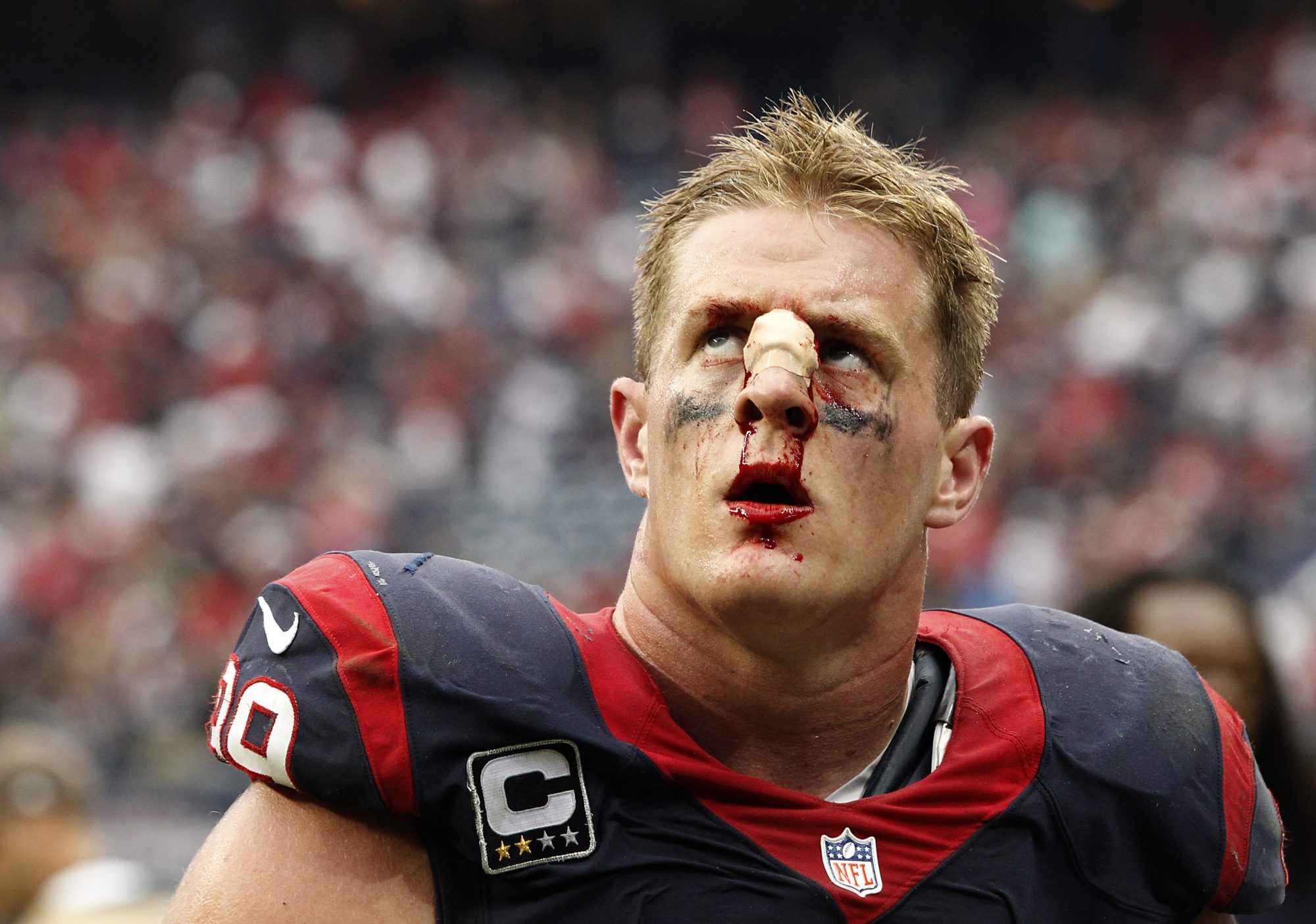 J.J. Watt doing J.J. Watt things
The former Wisconsin Badger is back and producing at as high of a wattage (wink, wink) as ever. Watt is eighth in the league in quarterback hits (22), tied for third in sacks (13.5) and third in forced fumbles (5).
The Jets offensive line is playing a little bit better lately. Spencer Long is still struggling at left guard, but the rest of the line is clicking a little bit more. Brandon Shell and Kelvin Beachum have a nice little hot streak going on at the bookends. Brian Winters has had some very impressive high points, while Jonotthan Harrison is getting more comfortable with more playing time and looking more aware each week.
The Jets did not allow a sack or quarterback knockdown in their win over the Bills.
Watt is going to be yet another elite challenge for this offensive line. The Jets dodged facing Khalil Mack as he missed his meeting with the Jets, but the New York offensive front did get to see Von Miller and Bradley Chubb a while back. They handled the challenge well, as Denver's smaller, quicker outside linebackers were a good matchup.
Players of Watt's ilk have presented the most issues for the Jets this year. Bigger defensive ends who still have pass rushing technique have caused them a lot of problems. Calais Campbell, Myles Garrett, and the Cameron Wake/Robert Quinn duo come to mind.
I'm really pumped to see Shell in particular take on Watt. As one of the biggest Brandon Shell fans out there, this is going to be quite the measuring stick battle for the South Carolina product.