The New York Jets won a game but lost the top pick in the NFL Draft. However, after making some important progress, that's perfectly fine.

FLORHAM PARK, NEW JERSEY—So cursed are the New York Jets that even when they win, they lose. For example, on September 23, 2001, the team earned a 10-3 win over the New England Patriots. The win was secured when New England lost Drew Bledsoe to a Mo Lewis hit, one that brought in some little-known backup named Tom Brady.
Nearly two decades later, the Jets are perhaps no closer to a Super Bowl. It's safe to assume that there would be some help available in the early stages of the NFL Draft. The spring selection meetings have become beacons of hope to downtrodden teams. Throughout the fall and winter, losses are soothed by seemingly holy chants of "At least we get a better draft pick!"
Over the past six weeks, that incantation reached a deafening roar amongst Jets fans. A hexalogy of defeats, each more embarrassing than the last, moved the Jets up the draft board faster than a New York City Marathon winner. The Jets entered Week 14's Sunday slate in the third slot, behind only a wretched Bay Area duo of Oakland and San Francisco (a combined 4-20 entering Sunday).
Little did the Jets, or anyone in the NFL circles for that matter, know, the Raiders and 49ers were able to pull off unexpected home victories over AFC playoff contenders. Oakland held off a furious late rally from the Pittsburgh Steelers, while San Francisco more or less closed the door on the Denver Broncos' playoff hopes. The 49ers came out even bigger winners, as even with the Denver win, they remained in the draft's top overall slot. Oakland would drop to third, leapfrogged by an Arizona Cardinals team that slept through a 17-3 home loss to Detroit.
The Jets, on the other, paid no mind to this concept. Given several opportunities to take a loss and walk away, they instead rallied from multiple deficits against the Buffalo Bills on the road. At the end of the day, the Jets were four-point victors in Buffalo, but two-slot losers on the draft board, falling to fifth behind reeling Arizona and Atlanta.
This being NFL football, vocal droves of Jets fans spoke out against the win. It didn't matter that this was their first taste of victory in nearly two months. All that mattered was a draft order formed by deficiency, a spot in a draft process defined by unpredictability. Adding to the Jets' conundrum is the fact they have no second round pick, making the first selection all the more vital.
But, considering what the Jets showed on Sunday, it was worth it.
Sunday marked the return of Sam Darnold, a return from injury that nearly ended before it truly began. In the walking Murphy's Law that is New York Jets football, Darnold's anticipated homecoming to an NFL field lasted just three plays before he was sent back to the locker room to deal with another foot injury. With the Jets falling behind 14-3 early, they could almost be commended for packing it in, living to fight another day.
Instead, the Jets provided rare hope to their downtrodden, and perhaps ungrateful, fanbase.
There were guts and heart on display in the Sunday victory, qualities that had been long absent in Jets football. Trumaine Johnson, a pricy addition, finally seemed to be playing up to his expensive new deal, earning two interceptions, including the one that sealed it. While Darnold was restored to health, linebacker Kevin Pierre-Louis, stepping in for a suspended Darron Lee, forced a fumble that set up the Jets' first points. Special teams continued to provide silver linings, as kicker Jason Myers and returner Andre Roberts kept their customary strong paces. The Jets even blocked a scoring kick for the second consecutive week, as Henry Anderson blocked a Buffalo field goal at the end of the first half.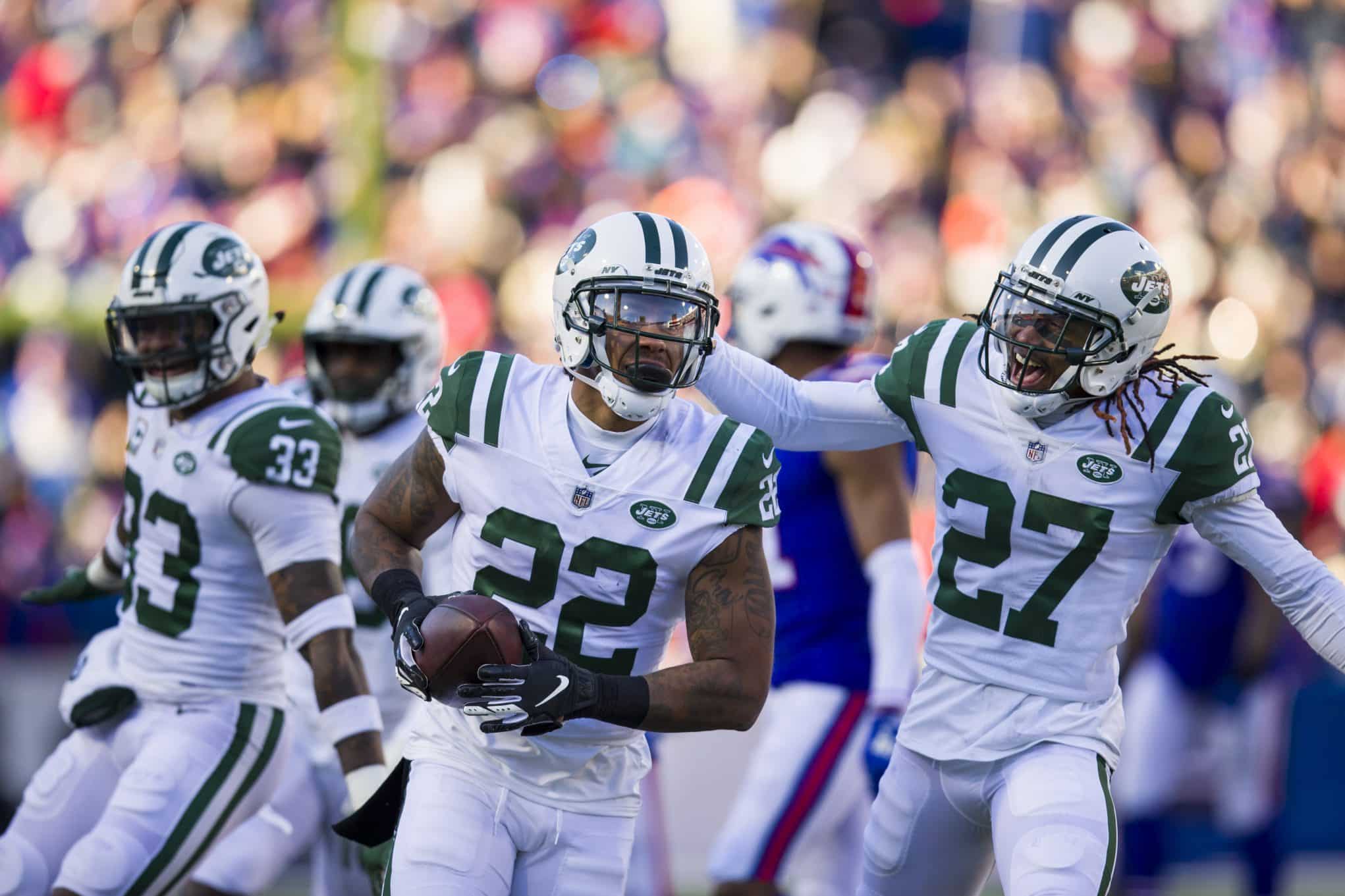 But the true acceptance of victory came in the form of Darnold, who perhaps earned the first signature moment of his NFL career.
Darnold seemed to be working toward a game that has been typical of him thus far in 2018: brief flashes of brilliance offset by some head-scratching errors. The clunker appeared to come in the third quarter when a potential game-tying drive was punctuated by a disturbingly familiar sight: a Darnold interception.
The turnover, Darnold's league-high 15th throw to the wrong team, was a classic case of a rookie trying to do too much. Pressured on third down, Darnold made a vain attempt to keep the drive alive. Forgoing the throwaway, Darnold instead tried to force a first down to a cover Chris Herndon, and Tremaine Edwards took advantage.
Again, that was a perfect chance to turn back, play for the pick, not the win. Darnold, after all, had a lot thrown at him by both the Bills defense and pure bad football luck. It would've almost been, for lack of a better term, acceptable to go back in a shell and play it safe.
Darnold had led the Jets to wins before, but he felt like a supporting player in each. For example, the wins over Detroit and Indianapolis had defensive exclamation points, as the Jets forced nine turnovers in the two games, while Isaiah Crowell stole the show in the win over Denver with a historic rushing performance.
Sunday in Orchard Park was Darnold's time.
His first opportunity after the interception began on the Jets' own-15 yard line. In recent times, starting field position of that variety would've been a death sentence. Instead, Darnold completed five passes to four different receivers, including an 11-yard hookup with Quincy Enunwa on the first of two third downs the Jets would face on the trek. The last became even more important, as Darnold again dealt with a ferocious Buffalo pass rush. This time though, his scrambling led to the seven-yard touchdown catch by Robby Anderson, tying the game in the early stages of the fourth quarter.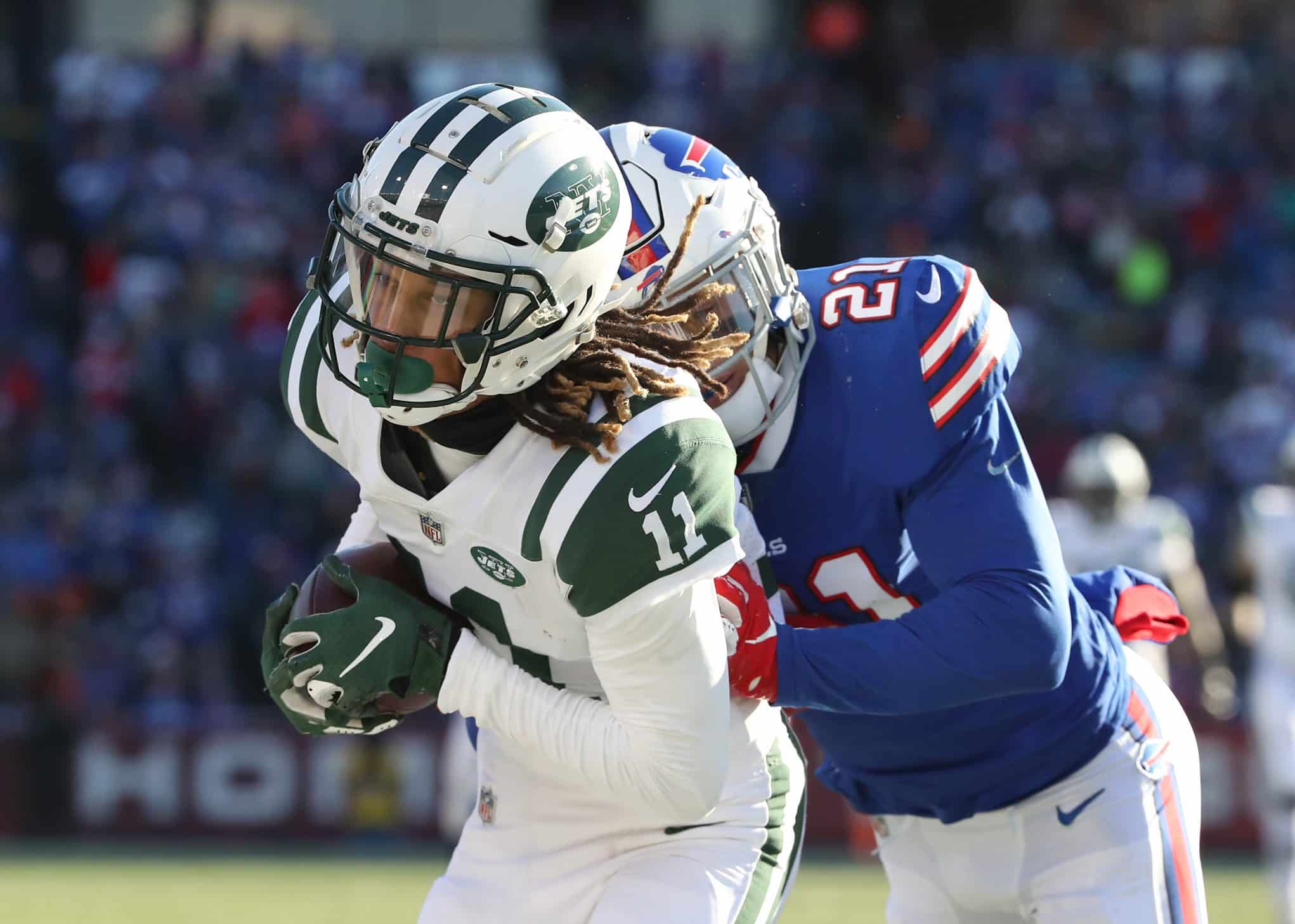 One more obstacle awaited the Jets, this one a Buffalo field goal that probably should've wrapped things up. The Jets would make an admirable effort on one last drive, maybe even use Myers to send it to overtime, but could just as easily be pleased with a good effort and keeping a high draft spot.
As any sane football mind will tell you, a win is much sweeter.
Darnold operated at a quicker pace on the next drive, needing just 74 seconds of game time to pull off his first signature moment as a Jet. He once again found the trusty hands of Anderson in a big situation, floating a 37-yard pass down the right sideline that allowed the Jets to go for a go-ahead touchdown rather than the tying field goal. As nice as the story of special teams has been, there's no happier ending than a win.
On fourth and goal, Elijah McGuire wrote the final chapter.
The running back, who like missed time with an injury this season, faced a tall task of his own, forced to take over premier rushing duties when Crowell was forced to leave with a first-half ailment. He wound up earning 60 yards on 17 carries, one of which was a 34-yard burst that set up the first second-half score. His last attempt of the afternoon was a one-yard punch on fourth and goal, rewarding some rare green gutsiness, giving the Jets the win.
"I found me a hole and I got it in there," McGuire said, per Mark Cannizzaro of the New York Post. "I told (Crowell) after that play, 'If I was in a rush to get there I probably wouldn't have gotten it in there.' It was a good thing I was being patient and let everything happen.''
To see the Jets rise up from so many shots, some of which were literally painful, was worth more than any draft standing. For the first time in six weeks, the Jets finally earned another building block, one that was supposed to define 2018.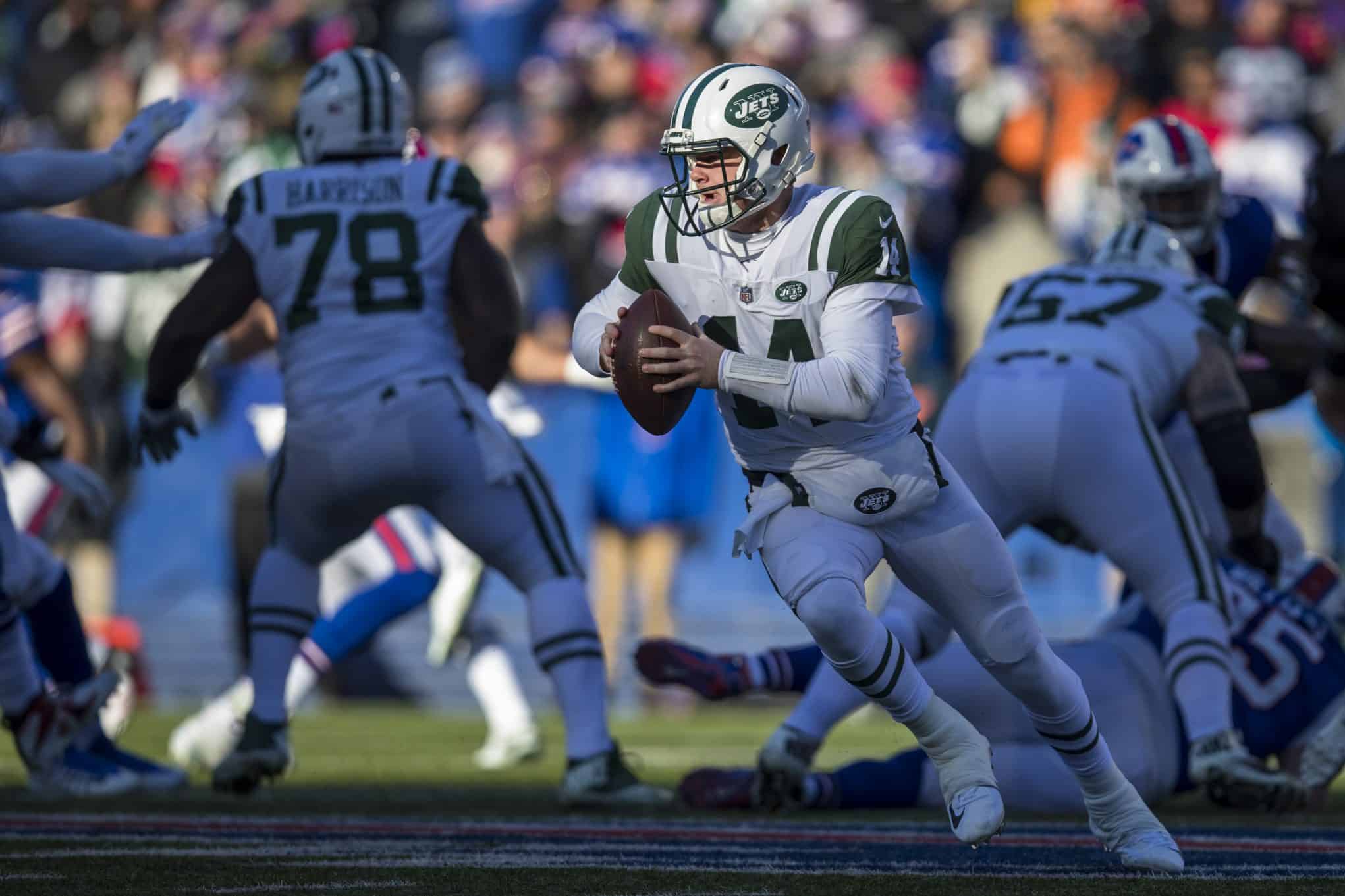 The effort likely won't save everyone's job when it comes to 2019. There is, after all, a reason the Jets are so far removed from the playoff picture. But jobs can still be won and lost, and hope can be gained. Four more quarters of opportunity await the team on Saturday at home, as they take on the Houston Texans (4:30 p.m. ET, NFL Network).
"They earned it," head coach Todd Bowles declared of the win in Monday conference calls. "It's a pretty good feeling and you try to remember what it feels like and go from there."
If and when people decide to look back on Sunday's game, they'll talk about the time that Darnold led the team down to end the losing streak, the first of potentially many drives that he leads against divisional opposition. They probably won't complain about lost draft positioning, as if they'll even remember the statistics and probabilities by that point.
When it comes to player development, it's always best to accept the development of current athletes over the progress of players who aren't on the roster yet. So enjoy the victory. Reminisce on Darnold's heroics.
Just don't go too crazy. They're still 4-9.
Follow Geoff Magliocchetti on TWITTER