Josh Allen might dominate the highlight reel, but the New York Jets defense was able to stifle the showstopping rookie on Sunday.

FLORHAM PARK, NEW JERSEY—Josh Allen had plenty of impressive numbers attached to his Sunday box score. The New York Jets dealt him a letter: L.
The Buffalo Bills rookie quarterback added to his growing resume on Sunday against New York. He capped off a three-game span at 335 rushing yards, most by a quarterback in NFL history. Sunday afternoon saw him earn 307 total yards of offense and he also tallied the game's first point on a first-quarter touchdown run. With 101 rushing yards, Allen also became the first quarterback in the Super Bowl era to break the century mark in back-to-back games.
In the end, the Jets defense, victors in a 27-23 showdown, was not fully impressed. That tends to happen after forcing a quarterback into three turnovers.
Jets defenders praised Allen throughout the week, noting his arm strength and running ability in the build-up to Buffalo. Linebacker Jordan Jenkins, however, dispensed with the pleasantries after the game, offering a not-so-flattering account of the rookie thrower.
"He can throw the ball far… maybe not accurate," Jenkins told Manish Mehta of the New York Daily News. "I don't really like that guy. That guy was talking trash out there. Personally, I couldn't care less about that guy."
To Jenkins' point about Allen's accuracy, the rookie entered Sunday's game with a 52.9 completion percentage, dead last among 34 qualified quarterbacks. The Jets wouldn't let Allen build on that number, as he went 18-for-36 on Sunday (50 percent).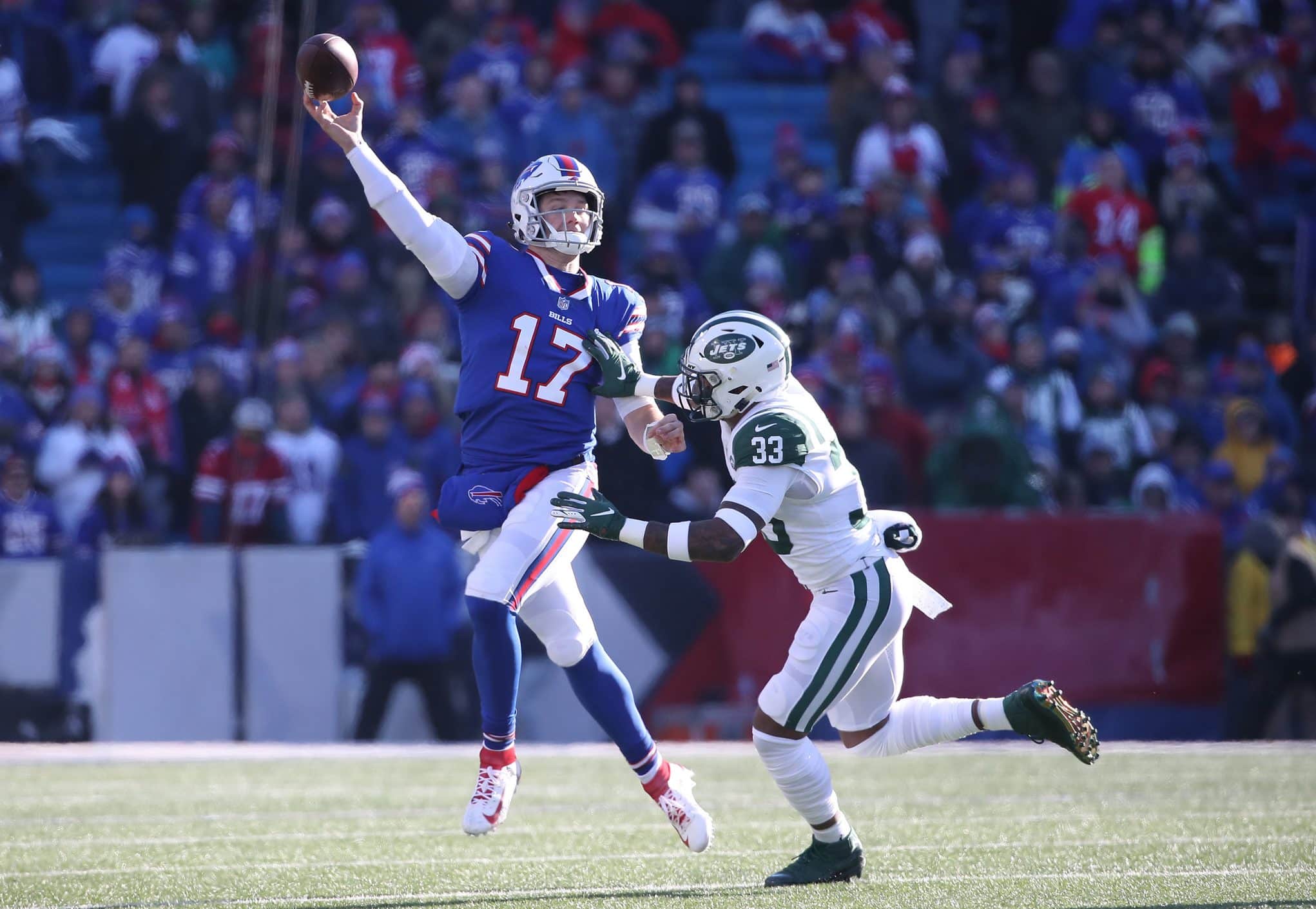 Safety Jamal Adams was slightly more complimentary in his assessment of Allen.
"He ran the ball well," he said, Mehta. "We just had to close the pocket. Keep him in contain. Obviously, it's hard to do that. He's a phenomenal runner. At the end of the day, we did our job and executed it when we needed to do it.
Allen got off to a brilliant start against the Jets, earning touchdowns on two of his first three drives. The afternoon opened with a 73-yard trek, with 48 of those yards coming from Allen's legs alone. He put up the final six, a touchdown dash that put Buffalo ahead early.
Despite the touchdown drives sandwiching a possession ended by an Allen fumble, forced by Kevin Pierre-Louis and recovered by Adams, Jenkins seemed to imply that the early momentum got Allen talking.
"He was feeling himself," he said. "He was talking trash out there today."
The Jets were able to hold Allen in check for the latter portions of the game. He wound up getting sacked three times, and threw two interceptions, both to Trumaine Johnson. The last one, on a potential game-winning drive, sealed the deal for the Jets and captured the 27-23 victory.
Allen was indifferent to his accolades after the game, remarking to ESPN's Mike Rodak "I want to win football games" and "I could care less (about records)".
This is the second week in a row where Allen's talents failed to procure a win. He had 366 yards, including 135 on the ground last weekend in Miami, but the Bills fell 22-17 to the Dolphins.
With this loss, Allen drops what could be the first of many meetings between him and Jets quarterback Sam Darnold. The two California natives each heard their names called within the first seven selection of last spring's NFL draft and became acquainted during the draft process. Allen was apathetic about the commencement of a new quarterback rivalry, which wasn't surprising given his attitude toward the records.
"I mean, it was cool," Allen said to The Associated Press. "But I'm playing against (the Jets') defense."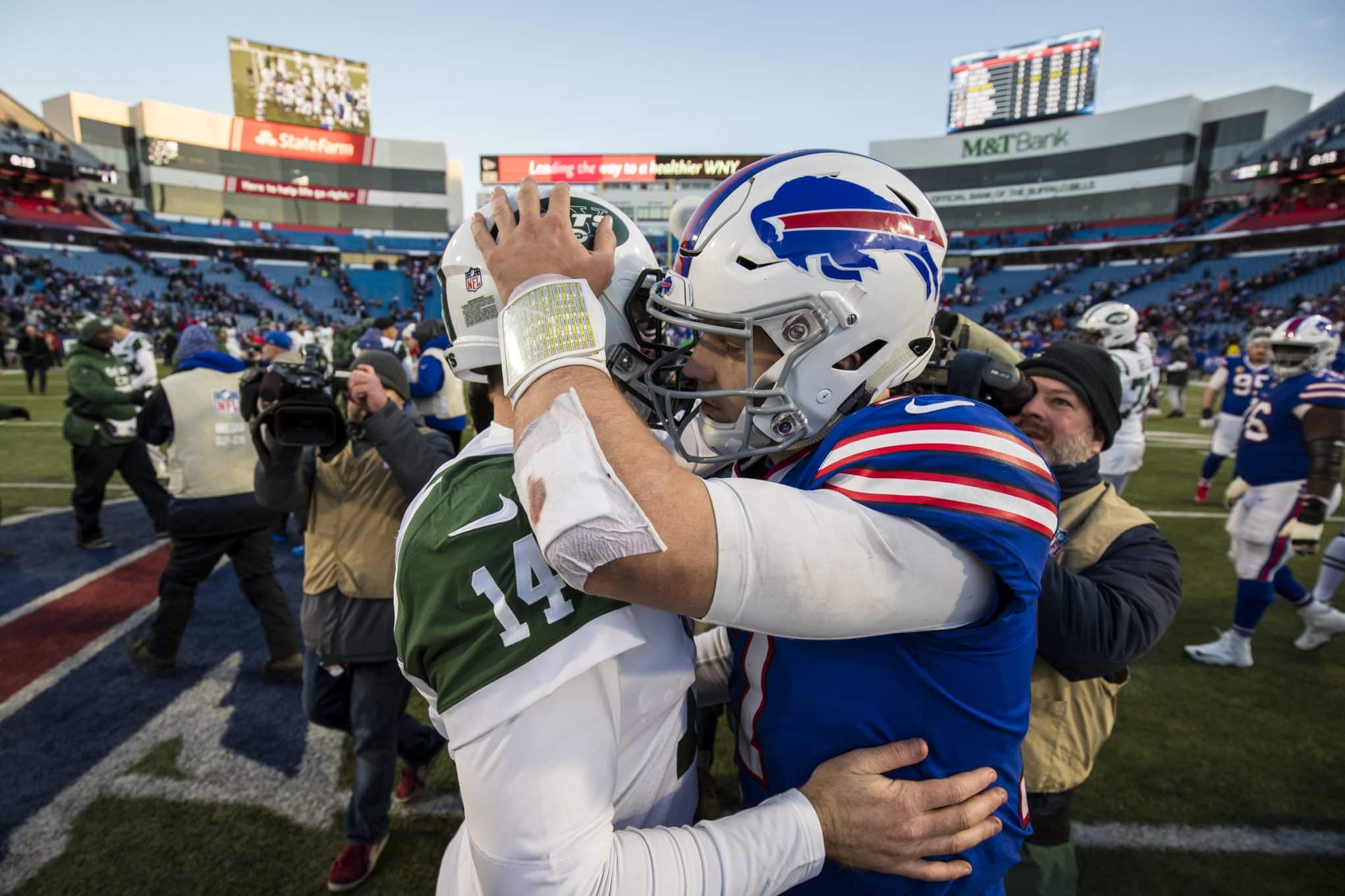 Darnold was one of those signing Allen's praises during the Jets' preparation this week. The two have each missed time with injuries and got to know each other while prepping for the draft under the guidance of former college and NFL quarterback Jordan Palmer.
"It's a cool idea to hopefully be in the same conference for a long time or same division," Darnold said. "The dude is a freak athlete. He's so big and runs so fast and can throw the ball a mile. He's a handful for defenses all around the league."
Allen could only watch as Darnold led the Jets on a nine-play, 61-yard drive that ended in Elijah McGuire's game-winning touchdown from one yard out. The loss officially eliminated the Bills from playoff contention, leaving Allen three more opportunities to sharpen his professional skills. Buffalo hosts Detroit next Sunday (1:00 p.m. ET, CBS).
"I'm just trying to help this team win football games," Allen said, per Matthew Parrino of NewYorkUpstate.com. "(I'm) trying to move the chains, especially on third down, trying to put us in scoring positions."
"We've got to protect the quarterback and run the football with somebody other than our quarterback," Bills head coach Sean McDermott added. "We've got to take a hard look at that; it's been an issue. I know that when the quarterback is your leading rusher, it's not a healthy thing week in and week out, so we have to make sure that we put him in position to make plays and they've got to make them."
Follow Geoff Magliocchetti on TWITTER