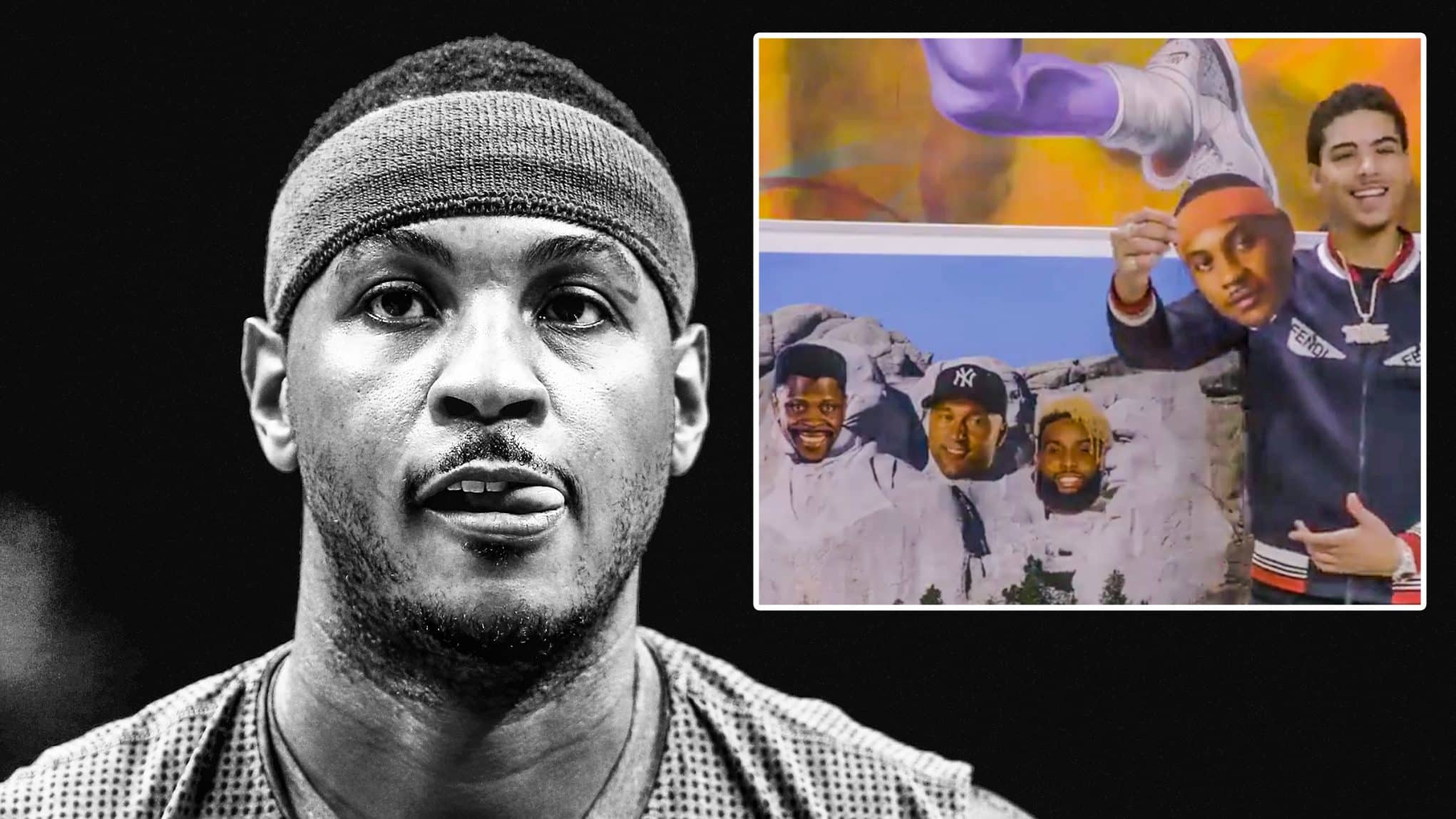 Bleacher Report recently enlisted Jay Critch to create his Mt. Rushmore of New York athletes. He listed Carmelo Anthony the greatest New York Knicks player ever.

The youth will inherit the earth. The youth will also apparently inherit some wild and crazy hot takes if you listen to guys like Jay Critch.
Bleacher Report's most recent Mt. Rushmore of New York athletes shows us that brand rules over everything in the sensical realm.
Critch, a hip-hop artist out of Brooklyn most known for his rise to fame via SoundCloud and collaborations with Rich The Kid, included Patrick Ewing, Derek Jeter, Odell Beckham Jr., and Carmelo Anthony as part of his Mt. Rushmore of New York athletes. At the end of the video, Critch drops the mic as he proclaims Melo as the "greatest" New York Knicks player of all-time.
"Everybody [knows] Melo is the greatest Knick of all time" ?@jaycritch's Mt. Rushmore of New York athletes pic.twitter.com/giWK9y7iYw

— Bleacher Report (@BleacherReport) December 10, 2018
Listen, as a long-time Melo supporter, there was a small part of me that lit up just seeing some of those garden highlights with Anthony "cooking your team's favorite player." But, alas, the mere notion that Anthony supplants names like Ewing and Walt 'Clyde' Frazier on any Knicks all-time list is just blasphemy.
Anthony's polarizing presence as a basketball player is further complicated by his celebrity and his overall brand.
I'm sure for plenty of young fans, especially in New York, Anthony was the epitome of a star. Go to any court in NYC and you'll see that basketball is not just about winning and scoring but doing it with style. Say what you want about Anthony, but in his prime, his footwork, handle, and ability to shoot over his defender were textbook.
Off the court, Melo has been present in the fashion industry and worked a strong social media presence to stay in the minds of the youth, even while his skills were fading. I mean think about what Critch said when he referenced Ewing; it was about his sneakers, not his game. That shows that a lot of young fans are watching way more than just the stat sheet.
Now I could go all "get off my lawn" old-man Geoff and tell you why this is terrible and that millennials don't deserve to have an opinion about sports, but I'm not. More than ever, Sports and Entertainment are so closely linked that I'm not that surprised that a 21-year old kid puts Melo on this list.
He's dead wrong, but I'm not surprised.
But if you're asking me, my Mt. Rushmore starts with Derek Jeter, Patrick Ewing, Mark Messier, and Eli Manning. My timeline starts with 1990.
Who's on your list?