Carmelo Anthony is gone, but some feel his influence still looms large. The future is bright for New York Knicks big Kristaps Porzingis, but what type of player will he be?
F
orty-seven games into the season,
Kristaps Porzingis
is still navigating the trials and tribulations as the number one option for an NBA franchise.
On the surface, Porzingis has the qualities both on and off the court that fans wished Carmelo Anthony developed during his time with the New York Knicks. Porzingis is the consummate team player and generally gets his shots within the flow of the offense.
Yet lately, Porzingis has struggled with shouldering the load and responsibility that comes with being a star. KP's shot selection has been suspect and subsequently, he has become a less efficient scorer.
In mid-January, Chris Herring of Five Thirty Eight wrote an article discussing how Porzingis' shot selection has drawn similarities to the polarizing Anthony. After discussing Porzingis' hot start to the 2017-2018 season, Herring writes that Porzingis "has taken far more heavily contested jump shots than any other NBA player this season."
He explains further:
"Perhaps most eye-opening of all: according to Second Spectrum data, Porzingis is tied for the league's fourth-lowest1 quantified Shot Quality (qSQ), which measures the likelihood of a shot going in if taken by an average player. To put that into context, last season, Porzingis ranked 71st-lowest in the NBA by this measure, while Anthony had the NBA's fourth-lowest shot quality profile during 2016-17."
Per NBA.com, currently, Porzingis, takes 16.6 percent of his shots with the closest defender two feet away. Fellow young big men, Karl Anthony-Towns and Joel Embid take a similar percentage of shots with a defender close by, at 16.5 percent and 16.9 percent, respectively.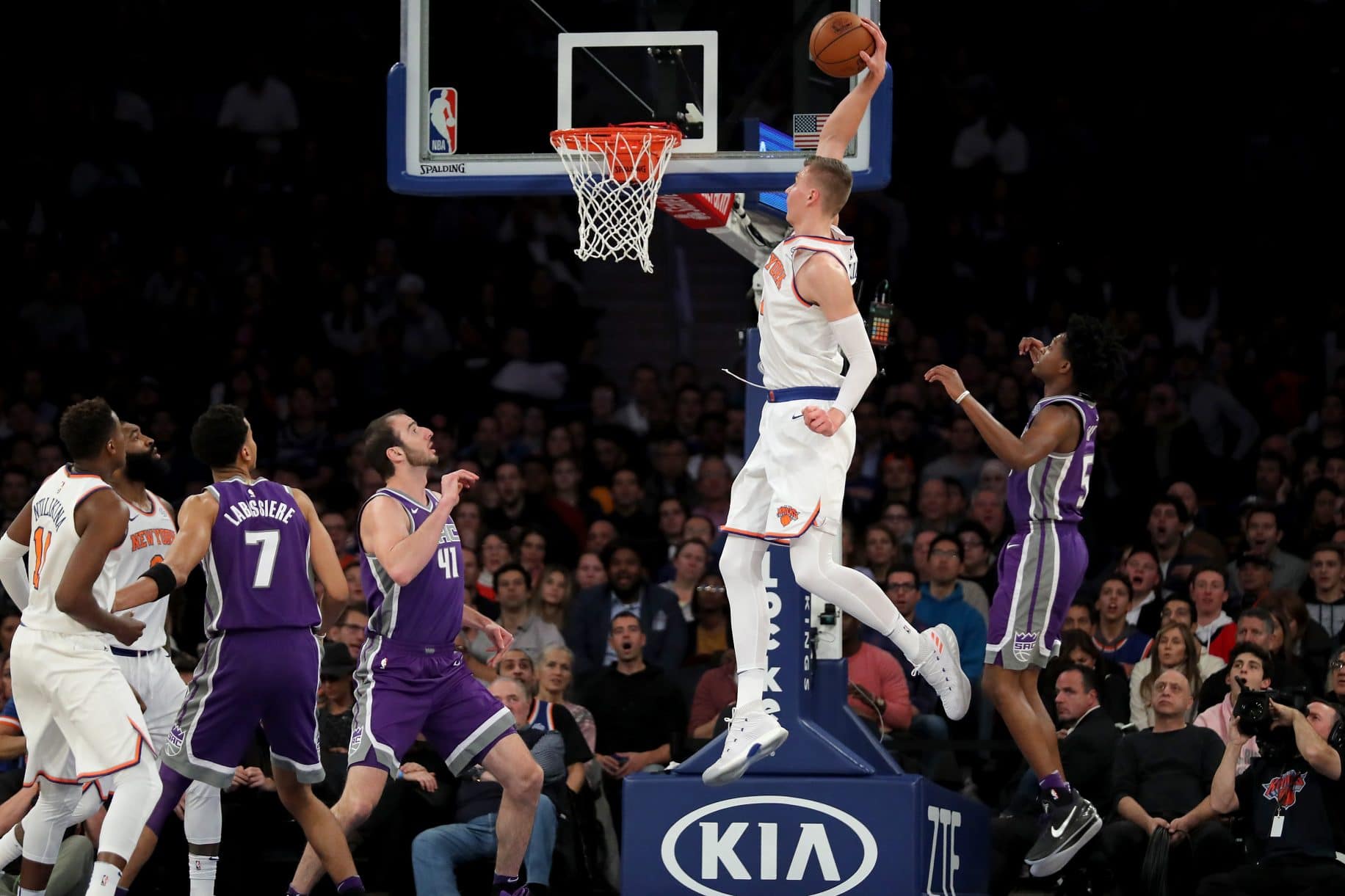 However, to Herring's point, Porzingis is less efficient at scoring in this area than the aforementioned Anthony-Towns and Embiid. KP, when the defender is closing in, is shooting under 50 percent, while his two All-Star counterparts are shooting above 50 percent.
Although Herring's article is informative, there are several issues with placing too much emphasis on the analytics.
First, based on Herring's use of the Shot quality (qSQ) statistic, DeMar DeRozan ranked lowest in this area over the past two seasons.
No one would argue DeRozan is a top 20 player and one of the best offensive talents in the league. Yet, analysts who favor advanced analytics feel that mid-range shots are an unnecessary and inefficient way of scoring.
Chris Paul is another player that has made a hall of fame career, featuring the mid-range shot as a part of his game. Both Paul and DeRozan take contested shots because they are heavily featured in their teams' offensive schemes. No coach or general manager would tell either player to stop taking mid-range shots, even if they're contested.
Overall, Porzingis' efficiency will improve when Tim Hardaway Jr. gets back to his early season form and when Jeff Hornacek figures out the point guard quandary between Jarret Jack, Frank Ntilikina, and G-league standout Trey Burke. Burke's ability to penetrate may make Porzingis' job easier, thus setting him up for more wide open shots, both from the mid-range and outside the 3-point line.
Off the basketball court, there has also been a discussion about Anthony's influence on Porzingis' leadership qualities and temperament dating back to this past summer. Marc Berman of The New York Post wrote that Anthony "chewed out" Porzingis after he endorsed the triangle offense. Fans also wondered if Anthony privately influenced Porzingis' decision to skip out on his exit meeting after the 2016-2017 season.
When discussing the infamous "skipped exit meeting", known Phil Jackson supporter Charley Rosen, in a piece for FanRag Sports, wrote "This undoubtedly has to do with the negative relationship that exists between Jackson and Carmelo Anthony. For sure, Melo's in-house dissatisfactions have unduly influenced Porzingis."
It's true that Porzingis views Anthony as a big brother and that their relationship was/is close. Yet, if KP is so easily influenced by his peers that he would engage in unprofessional behavior because of Anthony's relationship with the front office, then he is not the player the Knickerbockers need.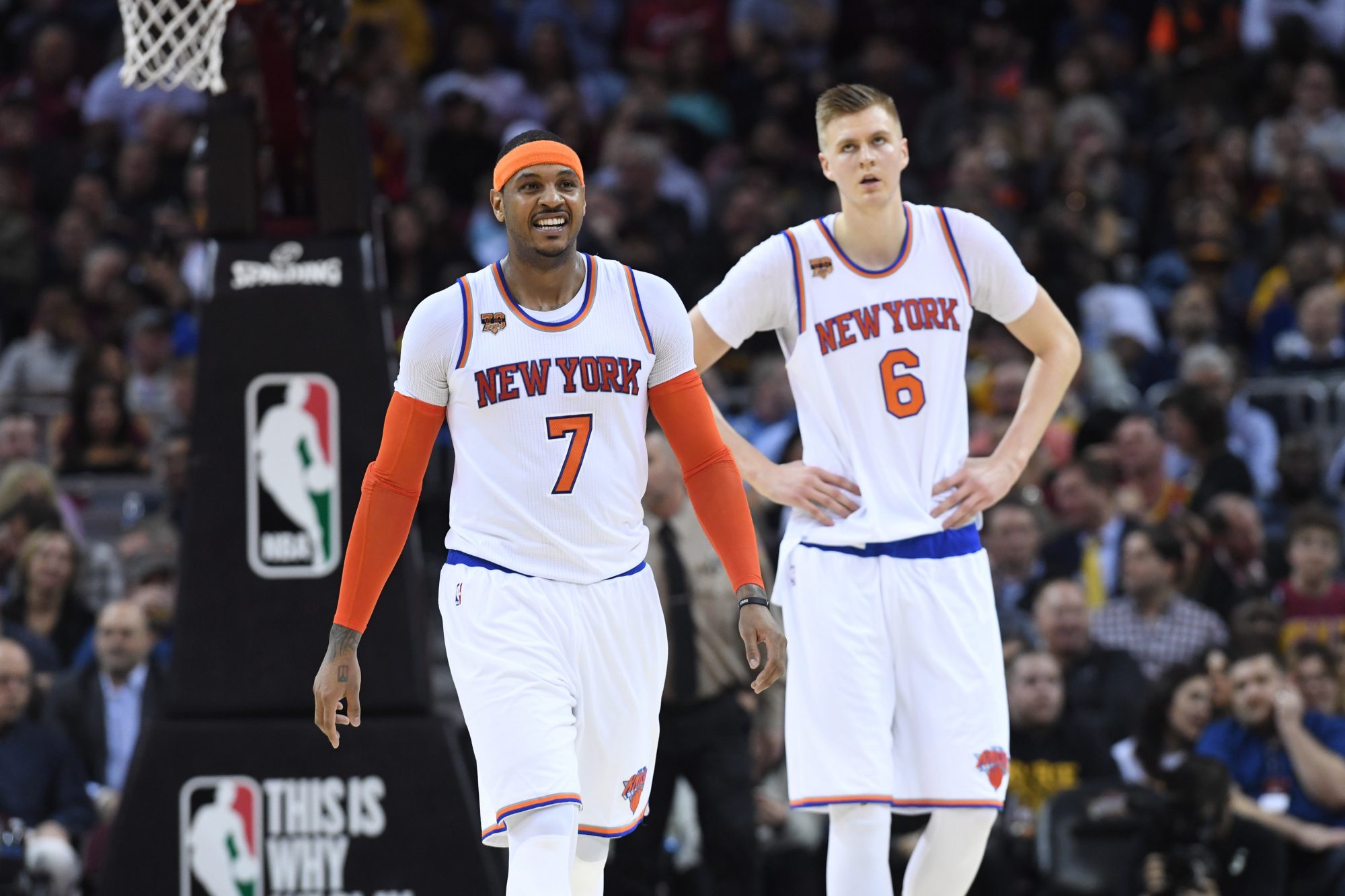 Truth be told, Porzingis is more likely to be influenced, good or bad, by his management team, which includes his agent and brother Janis Porzingis. Back in November in an interview with Latvian outlet, Sports Avize, Porzingis discussed his younger brother's decision to skip out on his exit meeting.
Porzingis explains:
"That wasn't an emotional decision. It wasn't a spontaneous action. We had been thinking about it for a long time and it was considered an honest, well-thought decision we came up with together. It was a logical next step for us, without which we would've been in one situation, but now after we did it – we are in another."
Porzingis has many great qualities and has the potential to become a transcendent star. KP also has very strong family ties, a quality that has endeared him to the Garden faithful, in addition to his world-class talents.
Interestingly enough, Porzingis and his brothers have watched the current NBA very closely and are aware of that it is a player's league. Janis' interview is evidence that the Porzingis' family will not hesitate to put pressure on the Knicks franchise should they feel that they are not taking the necessary steps towards becoming a contender.
Consequently, if KP starts to embody a prima donna, don't point the finger at Anthony, who plays basketball hundreds of miles away in Oklahoma City. Rather, accept the fact that Porzingis is no different than any young rising star concerned with winning, money, and brand.
Ultimately, Porzingis controls his own destiny, both on and off the court. With Anthony gone, the spotlight is on him, and that's the way it should be. Porzingis needs to own his accolades and criticisms and create his own narrative.
The faith of the Knicks franchise rests on his shoulders.