The New York Jets' final four games, which began with a dramatic win, will serve as the most important contests of Sam Darnold's young career.

FLORHAM PARK, NEW JERSEY—The New York Jets are, at best, an excuse to avoid weekend holiday obligations.
Those who did tune into the Jets' latest exploits had their faith rewarded in the form of a 27-23 victory over the Buffalo Bills on Sunday. The victory came in the most dramatic of fashions, capped off by a nine-play, 61-yard trek to the end zone, concluded by a gutsy fourth and goal call that reached the end zone.
The architect of the heroics was none other than Sam Darnold, a quarterback who, for all intents and purposes probably shouldn't have been in the game. Entering the game at 3-9, no magical playoff push awaited the Jets, so it's not like they had to be at full strength. Darnold's return from a November injury nearly ended before it truly began, as he left with an injury just three plays into the game. Another game of Josh McCown would've been acceptable, understandable.
Darnold persisted, returning to the game after a McCown cameo in the first quarter. He made his comeback. Then he made the comeback.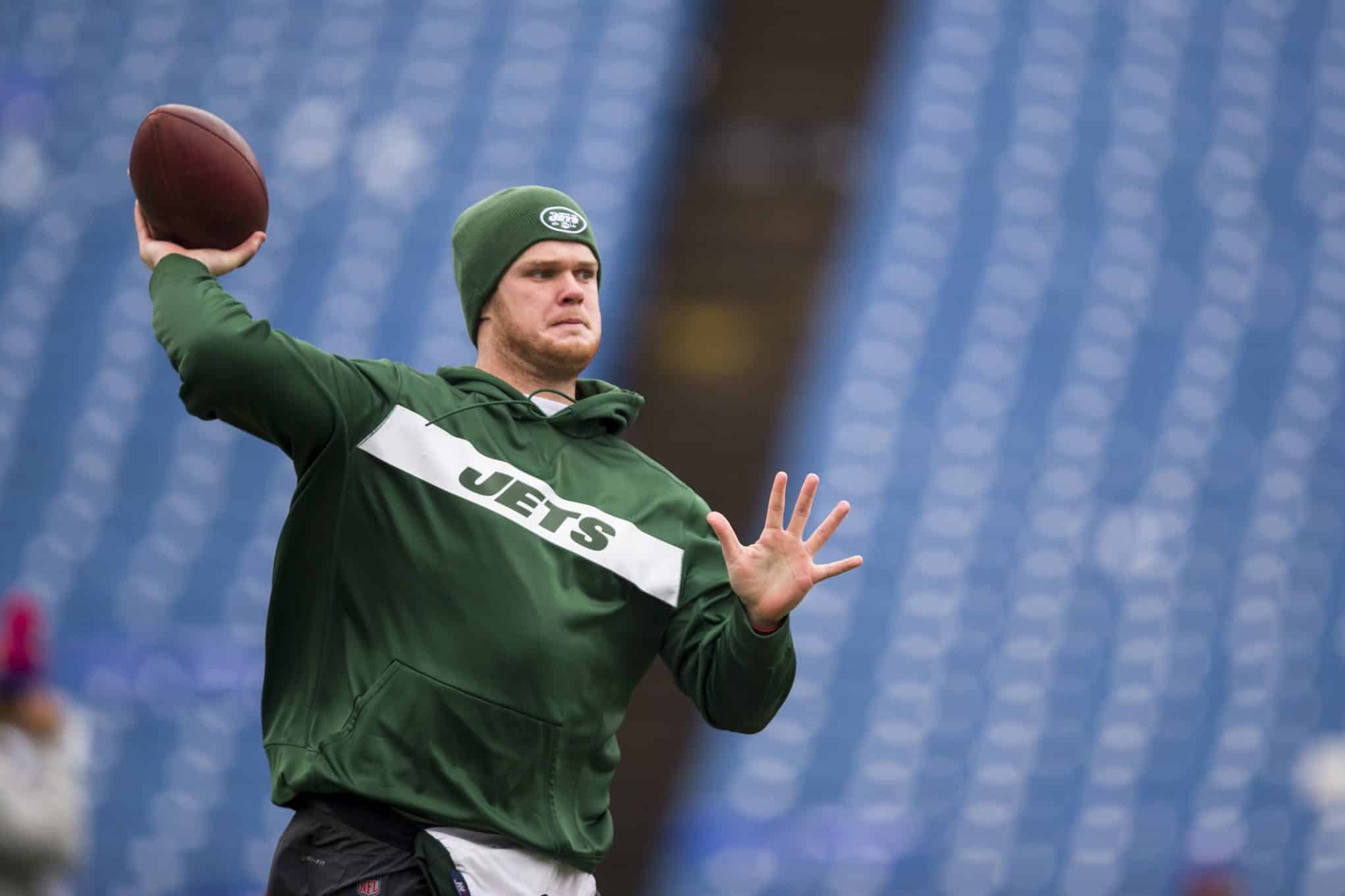 Erased in Darnold's return was a Buffalo lead that summitted at 14-3. The equalizer was a work of highlight art, with a pressured Darnold extending the down until he was able to find Robby Anderson for a seven-yard touchdown, concluding a six-minute drive that began at the Jets' 15-yard-line. As recently as pregame warmups, a drive that began at that point would've been a death sentence for the Jets. Darnold made it manageable, the first sign he may be finally getting this NFL thing down.
"It just shows his toughness," receiver Jermaine Kearse said of Darnold's performance, according to NorthJersey.com's Andy Vazquez. "He's a fighter, he's a competitor. He went down early and he was able to come back and just really keep fighting and make some really good throws."
The final quarter of the Jets' season, begun on Sunday in Orchard Park, is meaningless to the naked eye. For Darnold, they will make up the most important games of his NFL career to this point.
With a win over a divisional rival, a new emotion has emerged this holiday season, one of hope. It was supposed to define the Jets this season, a year that was expected to be defined by incremental progress. January's playoffs were likely a pipe dream, but if Darnold showed progress and the team improved on its five-win tally from 2017, a label of success was possible. It wouldn't be enough to save everyone's job, but it'd provide a sense of stability for a franchise desperately seeking one.
By now, you know that things haven't exactly gone to plan for the Jets. Sunday's victory ended a brutal six-game losing streak. But a victory over the Buffalo can slowly, but surely, begin to make things right.
The most cynical of Jets fans will pout over the win, whine that subsequent wins in Oakland and San Francisco could've raised the Jets draft position if things went the other way. In the week of Buffalo prep, Darnold didn't mention the notion of tanking by name. But if he's playing, the sole focus will be adding a tally to the Jets' win column.
"I think really any game you go out there and try to win. We're just going to go out there and compete really hard." Darnold said during practice this week. "(We) definitely want to gain some momentum going into the offseason."
The Jets' quest to earn another win or two over the next three weeks won't be easy. Each of their remaining trio is in the thick of the playoff hunt. Two (Houston and New England) are battling for a first-round bye, while the other (Green Bay) needs to win out to have a mere prayer for the playoffs.
Beating Buffalo, however, was a strong first step.
Even with the Bills removed just as far from the playoff chase (the Jets' victory officially eliminated them), a victory like this builds character for a team low on good vibes in their cursed history. With the win, Darnold takes round one of what could be an epic quarterback rivalry with Josh Allen, the thrower chosen four names after him in April's draft. Safety Jamal Adams called Sunday's game "personal", expressing desire for revenge after Buffalo put up 41 in East Rutherford.
Darnold helped his team earn that vengeance.
The victory was finished off by the drive, the final drive that perhaps cemented Darnold's status as the franchise quarterback. With the assistance of Elijah McGuire, Darnold engineered the Jets' winning trek, once again finding Anderson in the clutch for big hards. With the veteran receiver tiptoeing the right edge of the field, Darnold got it into his waiting arms for a 32-yard gain. Four plays later, McGuire wrapped things up from a yard out on fourth and goal.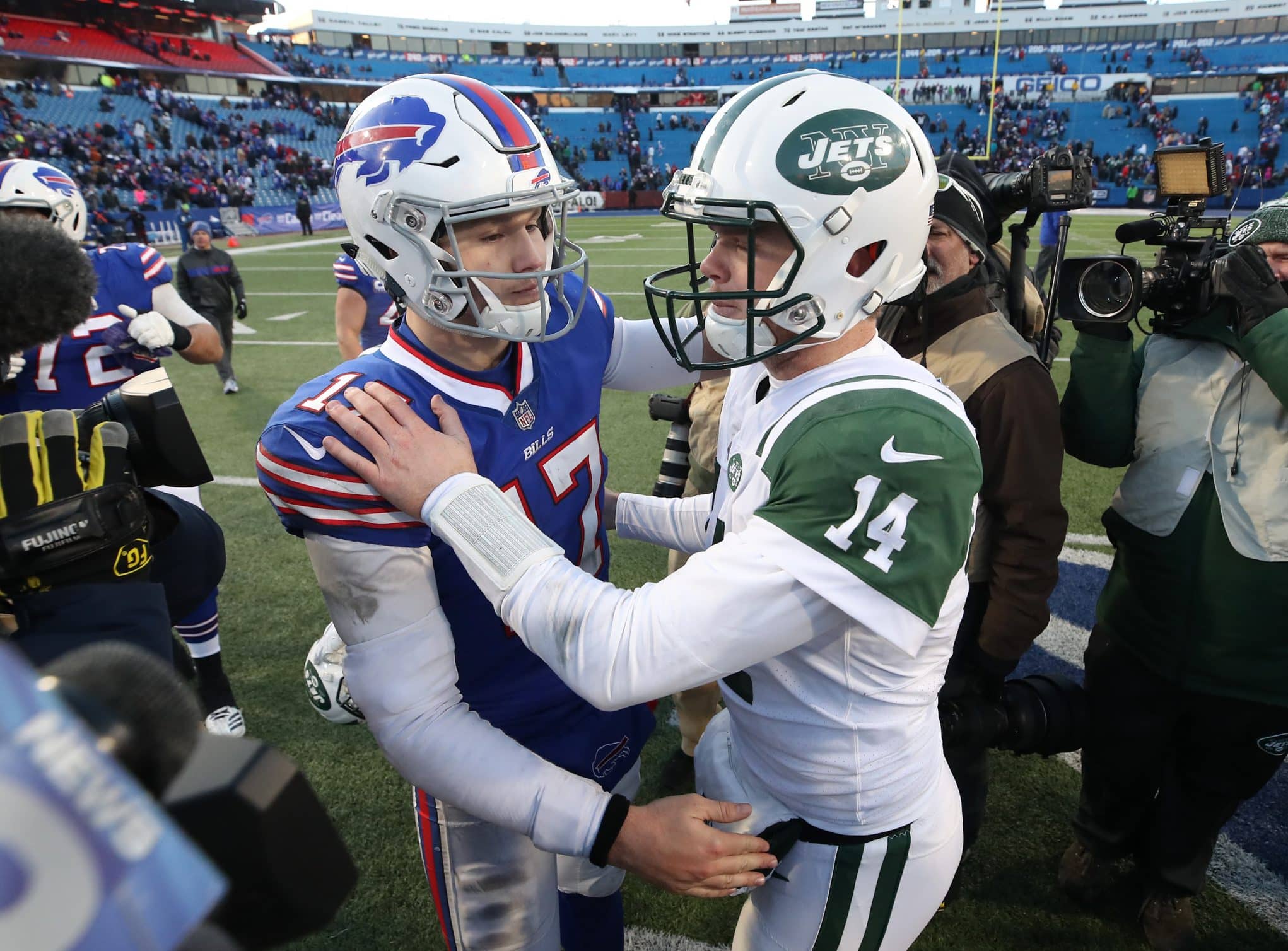 If Darnold becomes the stud the Jets and their fans envision him to be, Sunday's winner could be discussed and dissected for a long, long, time.
"He's clutch," safety Jamal Adams said, per ESPN's Rich Cimini. "He came out and did what he did, showing why he was drafted where he was drafted."
If any team has been snakebitten by false hope and quarterback mirages, it's the New York Jets. It feels like yesterday that Mark Sanchez was going to his second straight AFC title game, for example. It's possible that a week from now, the Jets will be right back where they started. They can barely celebrate this victory as is, as they immediately begin prep for a Saturday showdown with the Texans (4:30 p.m. ET, NFL Network).
Darnold himself has things to work on. His third-quarter interception in Buffalo territory, for example, will earn him no props in Monday's film sessions. But mired in the misery of the Jets' 4-9 standing is the most desperate of silver linings: free research and development.
Awaiting Darnold are three more blank canvases, three consequence-free opportunities where minimal concern will be given to the final score. Win, and it's a feel-good feeling for the holidays. Lose, and the draft position feels. There are chances to take downfield, opportunities to cash in on.
Darnold's teammates believe is ready for whatever the rest of December, and beyond, has to offer him after Sunday.
"It gives you hope for the future," Jets receiver Robby Anderson said, per SNY's Ralph Vacchiano. "It's as bright as the summer sun."
Follow Geoff Magliocchetti on TWITTER