Spencer Dinwiddie is taking another leap forward after his successful 2017-18 season, but it's about time he starts attacking downhill more.
Spencer Dinwiddie is player development in action for the Brooklyn Nets. The combo guard was snatched off the scrap heap in late 2016 after he was traded by the Detroit Pistons and waived by the Chicago Bulls twice. Opposing coaches around the league are taking notice of Dinwiddie and they realize that the change of scenery did something to kickstart Dinwiddie's career.
"He's really come a long way," Knicks head coach David Fizdale told reporters on Saturday night. "He's a great example of a young guy that didn't go well early in his career but a little change of environment has really helped him and he's developing into a really good NBA basketball player."
The outspoken guard has since made Detroit and Chicago's respective front offices look like fools for parting ways with him. The Nets, on the other hand, struck gold with Dinwiddie and he's one of their most consistent players. Additionally, he's a top choice for head coach Kenny Atkinson when he needs a bucket in a close game.
Dinwiddie and the Nets have not fared well in close games, for the most part, this season. But their back-to-back this weekend featured a good Dinwiddie on Friday and an unstoppable version of Dinwiddie on Saturday. In both games, Brooklyn came through in the end, thanks in large part to an attacking mindset.
Atkinson trusts Dinwiddie in crunch time situations as much as anyone on his roster. He's an aggressive guard who is constantly looking to break down the defense. He struggled to finish through contact on Friday night against the Toronto Raptors, but that didn't diminish Atkinson's trust in him.
"His ability to get downhill and get past people, yes, that's a big reason why we trust him."
Prior to the Nets' tilt with the Knicks on Saturday, Atkinson told the media what he doesn't want to see from Dinwiddie going forward.
"The double side step, step-back fadeaway with three guys in his face, that's the one we don't like. It's just mind-boggling, as good as he is."
Atkinson didn't sound angry with his player for taking those shots. Rather, he sounded more surprised that Dinwiddie would not want to drive to the rim at every possible opportunity.
With an isolation player, those types of tough shots are bound to happen here and there. When the shot clock is winding down, someone needs to be the one to create his own shot. That task falls to Dinwiddie often.
But the Nets would love to see him start to wean himself off of those shots. They'd love to see him start attacking the basket more. In fact, Atkinson used the word "elite" to describe Dinwiddie's ability to drive to the basket.
"Whether it's finishing at the rim or spraying the ball to the other guys, I can't emphasize enough that we want him to keep doing that."
The Subtle Difference Between Friday & Saturday
Whatever Atkinson told Dinwiddie prior to Saturday's game against the New York Knicks must have stuck. The combo guard turned in one of his best performances of the season and 13 of his 17 field goal attempts came at the rim.
Saturday's performance was an upgrade over how Dinwiddie played the night before. The University of Colorado product wasn't bad against the Raptors on Friday, but he was settling for floaters and waiting for the whistle on a few plays. He definitely had a strong argument on multiple plays, but that's not the way the refs saw it.
On Saturday he stopped settling for floaters and fadeaways on the fringe of the lane. Instead, he made it all the way to the rim by taking that extra dribble or step past the defense. Moreover, he was finishing strong through any contact—rather than waiting for the ref to blow the whistle. These are subtle differences, but they are noticeable nonetheless.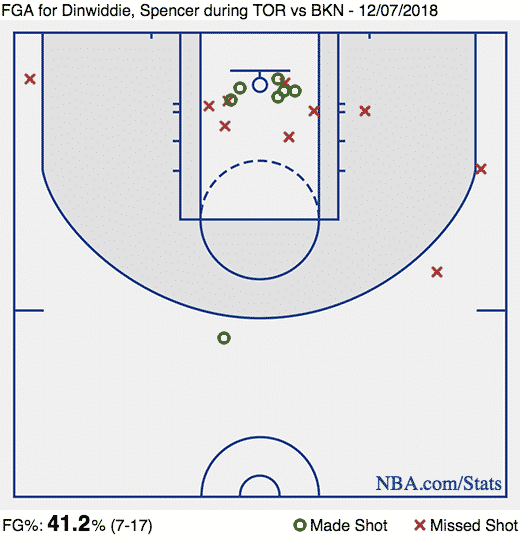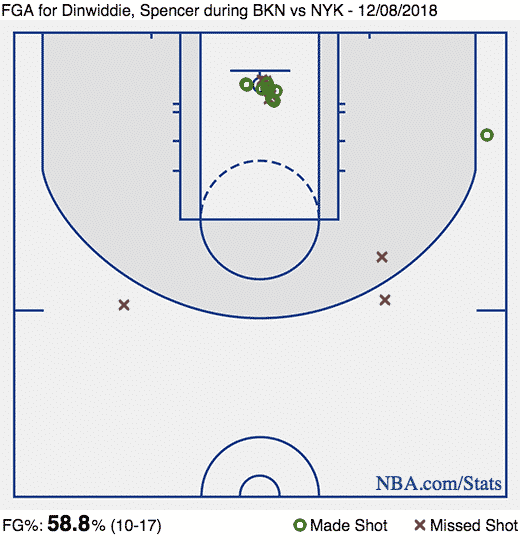 It should be noted that the Raptors are a much better defensive team than the Knicks. Toronto is seventh in the league with a 105.7 defensive rating while the Knicks are 27th in the league with a 112.2 rating per NBA.com.
The Knicks don't have the same collection of shot blockers and elite perimeter defenders to throw at Dinwiddie that Toronto does. Nevertheless, Dinwiddie took his coach's message to heart and was aggressive in attacking the basket rather than settling for tough shots.
Film Breakdown
The shot charts above can illustrate how Dinwiddie was taking that one extra step to the basket. But the film paints a fuller picture as to how much better Dinwiddie was on Saturday.
He wasn't bad against the Raptors, but his insistence on looking for calls took him out of his game. He was floating away from the basket on some shots and flipping up out of control shots as soon as he felt the first brush of contact.
The refs may have missed a call on one of those, but Dinwiddie is better off playing through the contact. It's a fine line, of course, but he was much more aggressive on Saturday against the Knicks. He was still looking for the calls, but he wasn't relying on the whistle to bail him out.
In the first sequence, Dinwiddie makes a nice Euro step and feels some contact. But rather than wildly flipping the ball at the rim to try and force the refs into a call, he tries to finish the play. The layup rims out, but Ed Davis is there to clean it up. In the second sequence, he goes "downhill" as Kenny Atkinson loves to say and he splits two defenders. He's far more concerned with finishing the basket than simply drawing contact.
Atkinson speaks highly of Dinwiddie's ability to finish at the rim. The head coach isn't gassing up his player just to build up his confidence. Dinwiddie is an exciting and creative finisher. He's at his very best when he's driving and creating for himself and his teammates.
Dinwiddie is one of those rare players that bounces around for a few years before blossoming into a star as a retread. The reason his game continues to improve is due to his penchant for attacking downhill and his ability to finish at the rim. He is a gifted scorer from anywhere on the floor. But we need to see more of Saturday's version of Dinwiddie.