In facing Josh Allen on Sunday, the New York Jets will get a glimpse of what the chose to miss during last April's NFL Draft.

Other than having a better chance of finishing outside the AFC East cellar, not much is at stake in the New York Jets' Sunday game against the Buffalo Bills (1:00 p.m. ET, CBS). It's possible, however, that a decade from now, New York state could fondly look back upon it.
Sunday could mark the first of many meetings between Sam Darnold and Josh Allen. Should Darnold play, it'll the first quelling of countless quarterback debates the tri-state area has had since the Jets wound up with the third pick of April's NFL Draft.
The fruits of a polarizing class, save for top selection Baker Mayfield, was available to the Jets. Their New York brothers in blue passed, but the Jets in fact traded up to the third slot, where they took the University of Southern California's Darnold. In the selection, the Jets rejected the services of several other prized throwers in their search for a franchise quarterback.
The first of the rejects chosen was Allen. He went four picks later after the Jets, who were undoubtedly intrigued by the team by the team that took him in: the Bills. His Buffalo destiny ensured Allen that, at least twice a year, he would be able to prove the Jets wrong.
An injury denied Allen the first opportunity on Nov. 11, though Matt Barkley represented the Queen City well in a 41-10 Bills victory at MetLife Stadium. That victory left an impact on both sides. The Jets have followed it up with two more losses, both featuring blown leads, while the Bills topped Jacksonville and gave Miami a run for their money on the road.
The common denominator has been Allen, who has begun the arduous journey of silencing his doubters in style. The rookie has put 625 yards of offense alone over the last two weeks. In comparison, the Jets have put up 618 as a team over their past couple.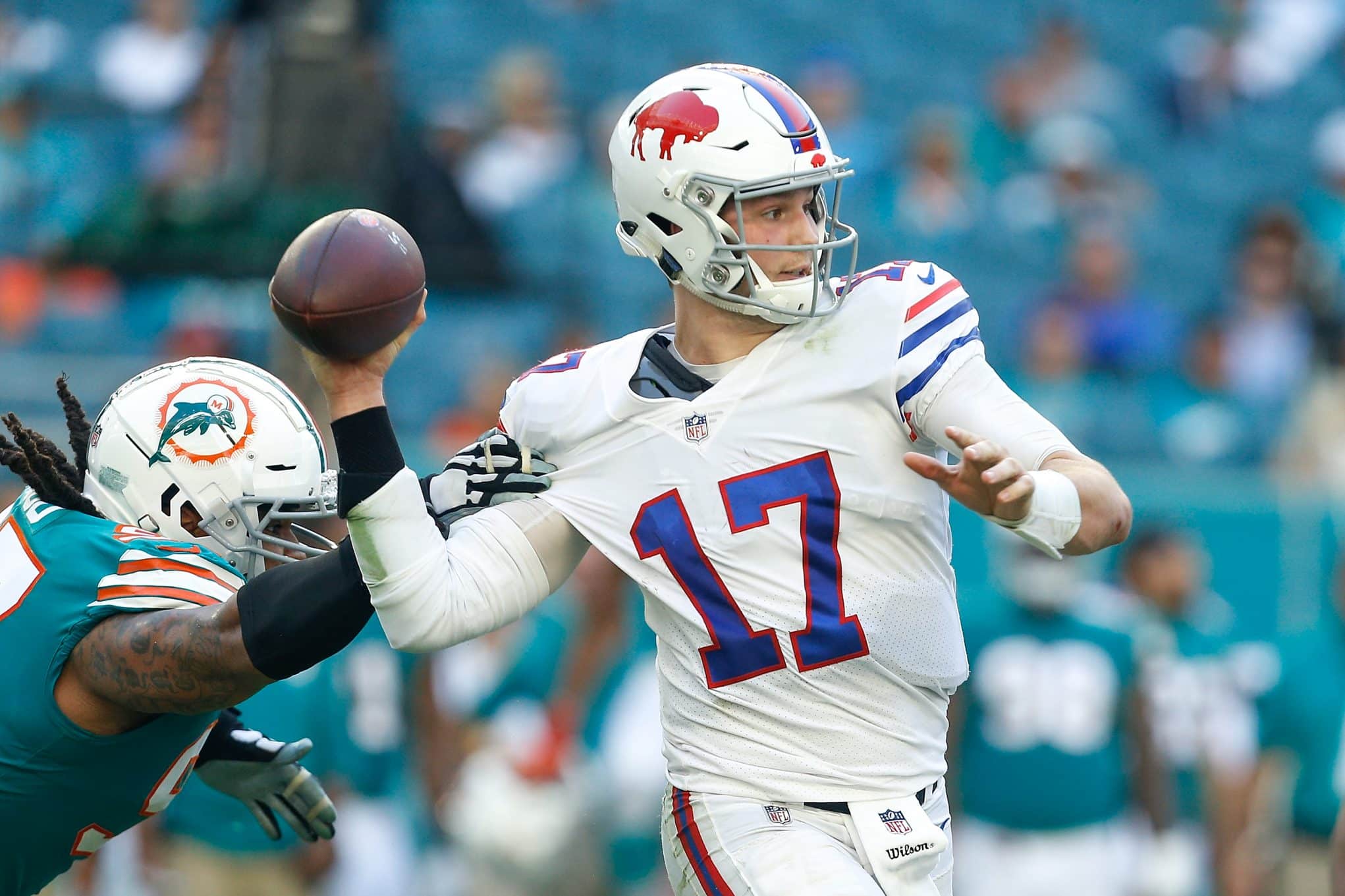 If Darnold plays on Sunday, it'll be a reunion between him and Allen. During the draft process, the two touted prospects returned to familiar territory: California. Darnold went from the shores of Capistrano Beach to the red sea of the University of Southern California, energized by lengthy recruiting process. Allen was from the farmlands of Firebaugh, needing to make a name for himself at junior college Reedley before mid-major Wyoming came to his rescue. The journeys were different, but the destination was the same: NFL starting stardom.
To that end, they met with former NFL quarterback Jordan Palmer in San Clemente. Brother of Carson, another USC alum, Palmer bounced around several professional teams as a backup but made a name for himself at the normally downtrodden program at UTEP. He'd end his career as the most prolific passer in Miners history, and even took them to back-to-back bowl games for the first time since the 1950s.
Allen was the talk of Florham Park this week, with many Jets complimenting the competition. Darnold appreciated the time he spent with Allen, believing it to be an ideal first step in an NFL career. He's looking forward to the potentially long rivalry possibly set to begin on Sunday.
"It's a cool idea to hopefully be in the same conference for a long time, or same division I should say. Just be able to compete against each other for a long time," Darnold said this week. "The dude is a freak athlete. He's so big and runs so fast and can throw the ball a mile. He's a handful for defenses all around the league, but I know that, like I've had, there's just some different looks that you go against than college. So he's, just like I've been having, a little bit of rookie struggles and not seeing some of the defenses. I think for both of us it's just about continuing to get those reps, but Josh has been doing amazing."
Jets head coach Todd Bowles added to the accolades with an interesting comparison, one that was literally Hall-of-Fame worthy, when asked about Allen's arm strength.
"Maybe (John) Elway," Bowles said when asked for a comparison. "It's probably stronger than any I've seen in a long time."
Bowles was likewise whisked back to the draft process during preparation this week. He recalls the Jets doing their due diligence on Allen.
"He's a bright young man, very engaging," he recalled. "You knew about the size, the arm, you knew he could run, I didn't know he could scramble as well, we knew he could throw on the run."
Bowles would go on to make it clear that he believes the Jets made the right decision.
"I'm sure they're happy with him and we're happy with our (selection)," he said. Only time will tell if Darnold will get to vindicate the choice on Sunday.
Awed as they were, the Jets now have the unenviable task of shutting down the proficient displays Allen has showcased over the past two weeks.
Safety Jamal Adams referred to this Sunday's game as "personal." While he was referring to seeking revenge for November's shellacking, he could very well refer to the Jets' draft preferences. Sunday is a chance for the team to prove they made the right decision.
As their fan base is relentlessly reminded every spring, the Jets have a starred-crossed history when it comes to the draft, particularly in the quarterback slot. For example, Dak Prescott went two rounds after the Jets chose AAF-bound Christian Hackenberg in 2016. In a more obscure case, the Jets made the infamous Glenn Foley their last pick of the 1994 draft, bypassing the undrafted Kurt Warner. Even the choices the Jets got right have been marked by regret, as Ken O'Brien, chosen two picks before Dan Marino in the legendary 1983 selections, can attest to.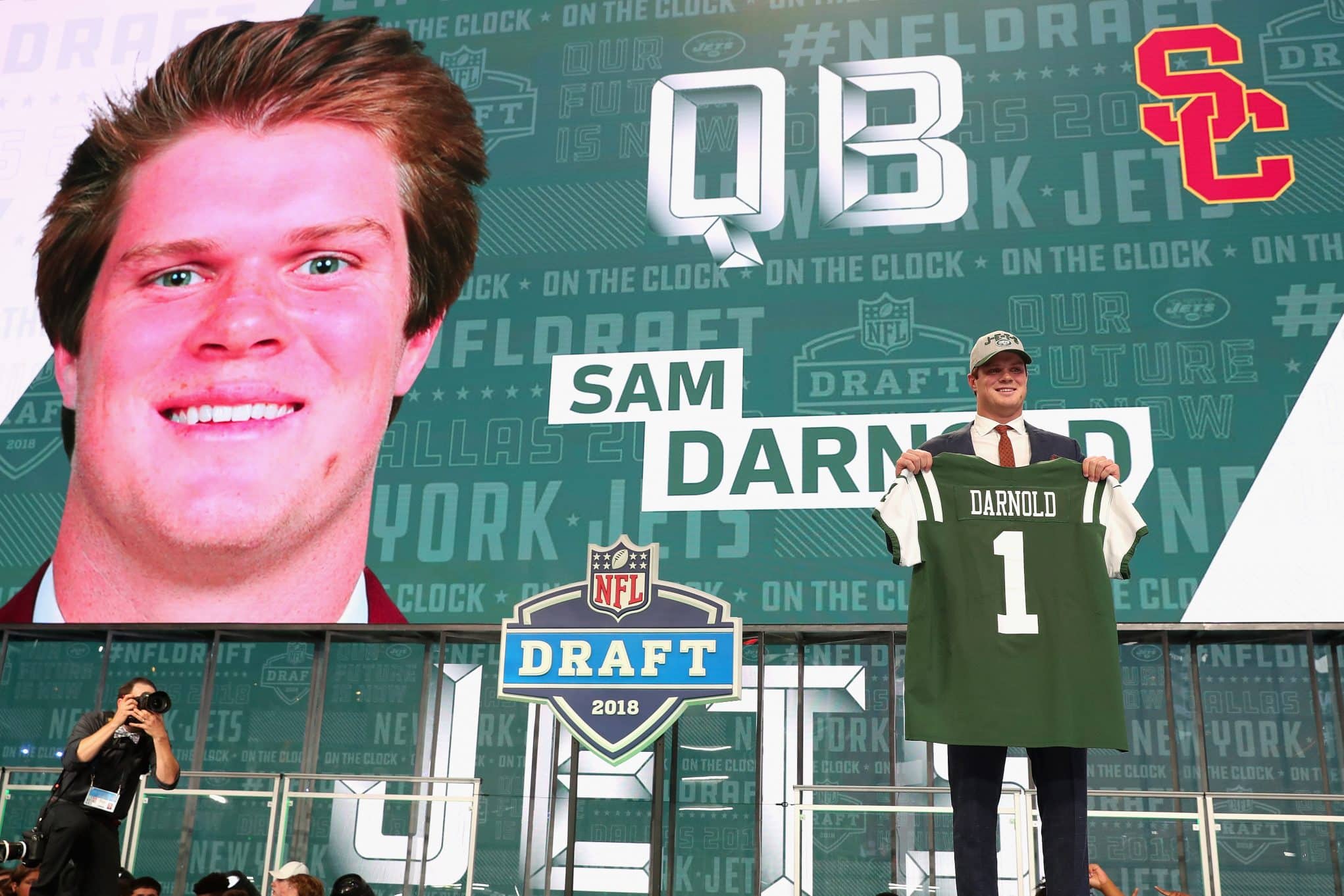 Taking on Allen is a chance for redemption, rare assurance that should've defined 2018. At 3-9, there has been little to build on for Darnold and a team stuck in neutral. Topping Allen would be a chance to build momentum moving forward.
Darnold is fully willing to let go of nostalgics for the sake of victory.
"I haven't really talked to him much honestly through the whole season," Darnold admitted. "(I did) when he was dealing with the elbow and I was out for that game too. So me and him got to connect a little bit before the Buffalo game that we had here at MetLife. We got to chat a little bit, but (we're) not Facetiming, we're not texting or anything like that."
If all pans out, this could be the first of many meetings between Allen and Darnold. In due time, it could be a battle to determine Tom Brady's successor atop the AFC East. Those implications won't be present on Sunday. But every journey has a first step. Redemption for lost time on both sides would be an attainable goal to open this holiday season.
Follow Geoff Magliocchetti on TWITTER