Zion Williamson, the 6-foot-7 wunderkind freshman out of Duke University, could be the piece that turns the Brooklyn Nets around. 
Can I be honest with all of you for a second?
I love the Brooklyn Nets, I really do. There's nothing more inspiring than pulling for guys on their second, or even, third chances in the NBA. In Joe Harris' case, he was traded away in a salary dump by the Cleveland Cavaliers to the Orlando Magic. Orlando then proceeded to waive him on that same date of the trade (which must hurt because … you know … they're the Orlando Magic). Spencer Dinwiddie was dealt by the Detroit Pistons to the Chicago Bulls for Cameron freaking Bairstow, who played 36 total NBA games while averaging whopping splits of 1.2 points and 1.0 rebounds on a 29.6% field-goal percentage. Dinwiddie was then waived five months later by the Bulls after just 5 preseason games.
Given Billy King's flair for thoroughly eff-ing things up for the long term, it's incredible that the Nets' front-office has pulled together a roster with even a semblance of a chance to stay in big games.
But, as inspiring as it has been to watch this group of misfit pieces play together, there is something missing with this team.
The Brooklyn Nets are, unfortunately, boring to watch.
Now, before I ruffle too many feathers, let me explain myself.
While watching the Brooklyn Nets in their heartbreaking double-overtime loss against the Grizzlies, I was captivated by one player in particular. And no, he wasn't wearing a black and white jersey.
Jaren Jackson Jr. was, by far, the most enthralling player on the court. I had heard about his defensive prowess through other writers, but this was my first time sitting down to watch him. The phrase "Unicorn Big Man" is one of the most overused terms in the NBA; seemingly every NBA team has a big man on their roster that they refer to as a "Unicorn." When it comes to Jaren Jackson Jr., well, he's truly one of a kind.
Jackson caught my eye at the 2:50 mark of the fourth quarter when he tipped in a seemingly impossible offensive rebound over the outstretched arms of Rondae Hollis-Jefferson. Considering how far out of the play he was when the shot went up, I was flummoxed by Jackson's ability to move his feet and create the second chance opportunity. A few minutes later, the 6'10" PF/C splashed back-to-back three-pointers to send the game to overtime. On top of all of this, at 19 years old, he's already playing an important role in a top-ranked defense. For most big men, adjusting to the pace of the NBA game takes years to learn. However, Jackson is already an integral piece to the Memphis Grizzlies Grit-N-Grind playoff run.
The Nets exercise crisp ball-movement in a future-forward offense. They have a roster that fits well together; it's full of guys who know how to play their role. The team is loaded with specialists. Ed Davis is an off-the-bench energizer bunny who engulfs offensive rebounds. Joe Harris is a sweet-shooting off-ball assassin with the ability to occasionally surprise guys off the dribble. Shabazz Napier is having a career-year from three, launching thirty-foot step-back bombs like he's taking floaters in the layup line.
This group fits together to create the perfect melting pot of NBA journeymen outperforming expectations. Observing a team execute the fundamentals is impressive at face value, but it isn't always entertaining to watch. It's why Tim Duncan is so criminally underrated. Watching a guy knock-in bank shots is, visually speaking, unappealing. The same thing was true for Kareem Abdul-Jabaar and his skyhook. Fans want to see an exciting product.
That's the missing puzzle piece for the Brooklyn Nets. They don't have that it factor that makes them exciting to the casual fan. They're missing the guy who can explode for monster highlights and make time stand still while he's on the court. Most of all, they are lacking a top 10-caliber player.
Jaren Jackson Jr.'s play alone launched the Memphis Grizzlies to the top of my personal League Pass rankings (™ Zach Lowe). There's something to be said about having the opportunity to draft a top player, capable of doing things that the average player could only dream of. There's a reason that teams tank for top picks; it's all done in the (sometimes blind) pursuit of hope. Drafting a top prospect gives struggling franchises something to cheer for and someone to believe in.
Sit down and think about this for a second: what has been the most explosive highlight of the Nets season?  Perhaps it was Ed Davis' block against Royce O'Neale? Maybe one of Jarrett Allen's stretching dunks? (I never really care for big man dunks. They're always pretty meh to me. There's a reason that centers never win the dunk contest).
While these plays may have been exciting in the moment, none of them were memorable to the general public down the line. That's what a top prospect would bring to this roster: notoriety.
The Brooklyn Nets are currently in free-fall, incapable of capturing wins. Just two weeks ago, they were a bubbling playoff team. Now, with a loss total that doubles their wins, the team is tied for the fourth-worst record in the Eastern Conference.
If the season ended today, the Brooklyn Nets would have the seventh-best odds at the number one pick in the 2019 NBA draft. Tankpolooza is at an all-time high this year, as many of the bottom-tier teams are playing unapologetically dreadful basketball. Given their hot start to their season, it's going to be tough for the Brooklyn Nets to fully bottom-out. However, if the Nets do somehow find a way to finish with a worse record than the Cleveland Cavaliers, the Chicago Bulls, the Atlanta Hawks, and the Pheonix Suns, they would have a good chance of landing the number one pick in a very strong 2019 NBA Draft class. If this were to happen, the Nets should buy into the hype and draft Zion Williamson.
Suggesting that a team should select the projected number one pick isn't exactly the most earth-shattering take, so I expect a collective eye-roll. Here's the thing though; if the Nets were to select Zion, this move would be beneficial for both sides. Looking at roster construction alone, Brooklyn is the best destination available for a player whose skill set is unique as Zion's.
The fit of Williamson on Chicago's roster would be difficult, considering that the team already has a crowded frontcourt with Lauri Markannen, Bobby Portis, and Wendell Carter Jr. The Suns would also be a strenuous fit since DeAndre Ayton, their number one overall selection, takes up many of the driving lanes that Williamson feeds off of. The Hawks would be an interesting destination, as the Zion Williamson and Trae Young pick-and-roll could be devastating in the future. However, considering that Atlanta dealt the (likely) rookie of the year, Luka Doncic, for Young, I expect them to be hesitant with his growth after paying such a hefty price. Adding a player as ball-dominant as Williamson may slow down Trae Young's trajectory. Not to mention, the Hawks would likely be forced to deal first-rounder, John Collins, at some point down the line as his skill set would overlap with Zion's.
The Cavaliers are really the only destination that could rival what Brooklyn has to offer. Simply put, their treasure chest is as empty as can be. Even after LeBron James' sudden exit, the team still has the seventh-oldest roster in the entire NBA. Many of their players are trade-chips, and the team has already begun its multi-year rebuilding stage. Outside of Collin Sexton, there are no blue-chippers on this roster, so the versatile forward from Duke would have a plethora of opportunities to figure things out. He would unquestionably be the number one guy on this depleted roster.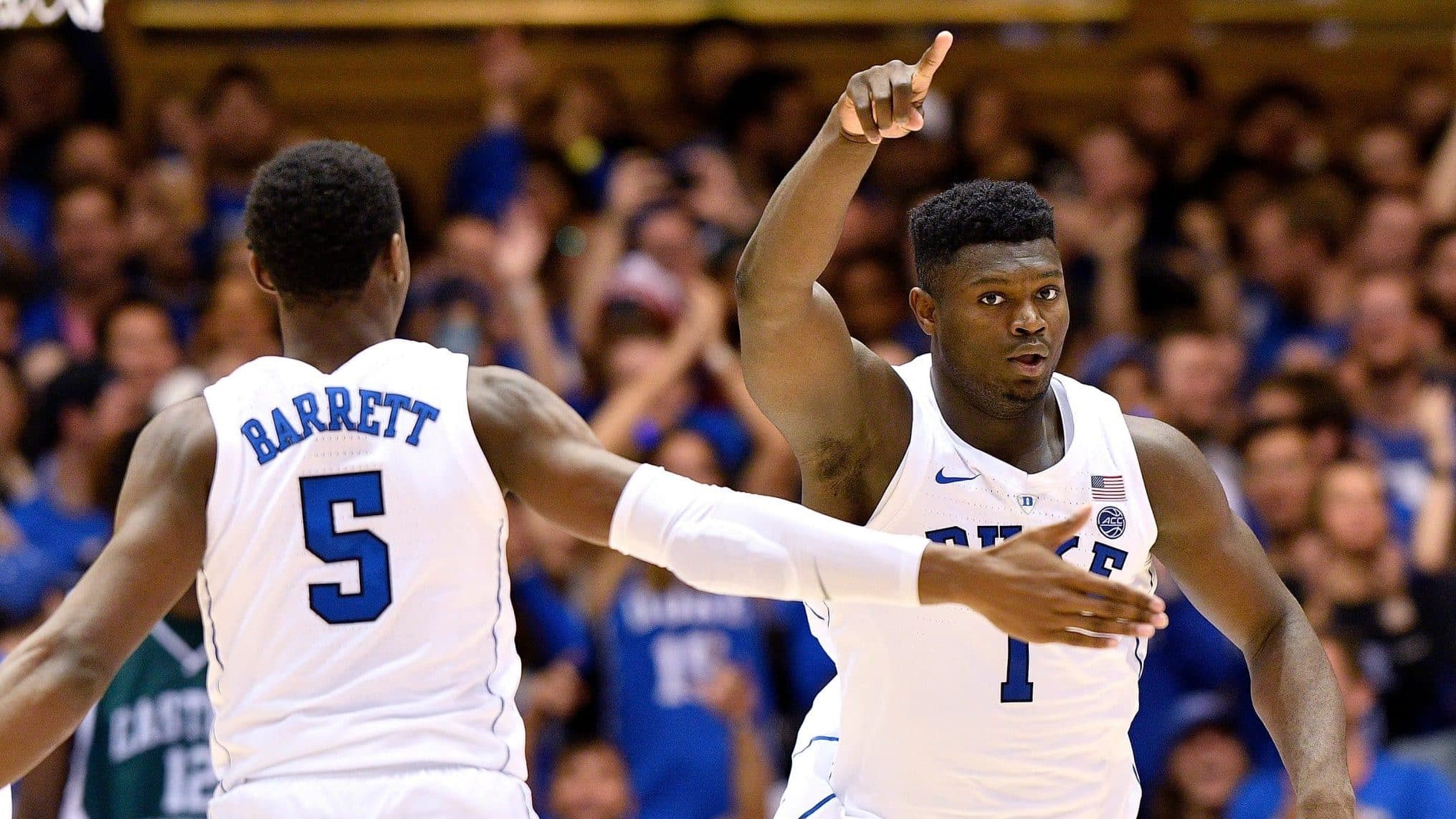 Similar to his role in Cleveland, Zion Williamson would be Brooklyn's number one option the second he dressed in one their (awesome) COOGI sweater jerseys. What separates Brooklyn from Cleveland is that the Nets would have the opportunity to compete for a playoff spot… right away.
Zion Williamson is a 6'7″ 285 pound monster with multi-positional potential. What separates him from players with a similar build (like, I don't know… Jared Sullinger?) is that Zion comes equipt with a jaw-dropping 45-inch vertical leap. His footwork is inhumanly fast given his massive stature. Together, this is why he has been the subject of countless Instagram-friendly highlight tapes since his Sophomore year of high-school.
It's no secret that the Nets have a vacancy on their roster at the power forward position. Jared Dudley, a 33-year-old journeyman, was starting at the four-spot just one week ago for Brooklyn. Currently, they have the undersized Rondae Hollis-Jefferson starting at the power forward slot.
Zion Willaimson would give the Brooklyn Nets the off-the-bounce explosiveness that the team has been yearning for all season long. He would also provide them with an increased level of offensive versatility.
The threat of Zion's drive would act as the perfect engine for the Nets' motion-offense, which thrives off of searching for open shooters. Zion's domineering physicality will regularly force a double-team, and this would give the Nets more open three-point shots. Zion is a willing passer, averaging 2.5 assists per game, and he has a good basketball IQ. He would have no trouble dishing kick-outs to the Nets' plethora of three-point marksmen, spotting up in the corner or on the wing.
On the flip side, the Nets have a bench that's full of capable shooters, and this would be the perfect recipe for Zion's success. We live in a league where the three-pointer is valued more than the two-pointer. Defenses hover, looking to exterminate any offensive opportunity behind the arch. Most teams deploy lineups with at least three above-average shooters on the floor, at all times. Opposing defenses are forced to respect these off-ball shooters and keep a defender close, making it easier than ever to drive to the hoop (given that there is less double-teaming down low). This is why the Milwaukee Bucks have surrounded their star player, Giannis Antetokounmpo, with a gang of shooters. Scoring at the rim has never been so easy for Giannis, given that he's regularly defended by only one player, and the Bucks' roster construction is one of the many reasons for why he's an MVP candidate this season.
The Nets already rank top-five in shots attempted from three and as a result, teams rarely double-team their players around the rim. Zion Williamson would have an absolute field day with the open driving lanes while playing for Brooklyn. Brooklyn has a bounty of above-average shooters on their roster who each require defensive attention. This would bode perfectly for Zion who, much like LeBron James, loves to put his head down and bulldoze his way to the rim.
Zion would also help the team's hapless block percentage. As it stands, the Nets rank 28th in the league in average blocks, with a minuscule 4.8 per game. Willaimson is currently averaging 2.3 blocks per game while playing for the Blue Devils. Blocks translate well from college to the professional level, so I have no doubt in my mind that Zion could put up similar block numbers in the NBA.
A sneaky part of Zion's game is his ball-handling. If the Nets decided to move on from one of their two free-agent point guards, D'Angelo Russell and (the increasingly antsy) Spencer Dinwiddie, Williamson could fill the role of the lead-creator for the second unit. Again, because Williamson is so fast and devastating when he puts his head down, he is a terror when pushing the ball full-court. The Nets currently rank in the 13th percentile of transition scoring, good for 25th in the league, so adding Zion would be a major addition to this young team.
However, the spot where Williamson's impact would be felt the most on the court is, perhaps, the most important part of his game. Zion Williamson could improve a major weakness for the Brooklyn Nets: rebounding.
The Nets rank 25th out 30 teams in defensive rebounding and have been hemorrhaging offensive rebounds. Brooklyn is allowing 15.9 second-chance points per game; the third-worst in the NBA. A big part of this problem stems from the limitations of their second-year big man, Jarrett Allen.
Jarrett Allen is an accomplished player who is good at many things. He's fantastic as a shot-blocker and is excellent at using his verticality. He is extremely light on his feet for someone his size (6'11"), making him a lethal alley-oop target (a la prime DeAndre Jordan).
Allen does, however, have a slight build, weighing in at 235 pounds. As a result, he gets pushed around by stronger, bulkier players when scuffling for rebounds. Allen is currently averaging 8.6 rebounds per game. When comparing him to other players who receive a minimum of 20 minutes per contest, Allen ranks well below other starting big men. In fact, his rebounding average matches that of Tobias Harris, Kawhi Leonard, and Ben Simmons. This is an issue. Positionally speaking, Allen is expected to anchor the defense and be the best rebounder on the team. In reality, he rebounds well… for a small forward.
To be clear, Jarrett Allen has never been a strong rebounder. His advanced rebounding statistics from this season are a near-perfect match to those from his solo season at Texas.
| JARRETT ALLEN | OFFENSIVE REBOUNDING % | DEFENSIVE REBOUNDING % | TOTAL REBOUNDING % |
| --- | --- | --- | --- |
| BROOKLYN NETS (2018-2019) | 10.7% | 18.8% | 14.8% |
| TEXAS (2016-2017) | 10.9% | 18.9% | 14.9% |
Zion Williamson, on the other hand, is a prolific rebounder. In fact, he's probably the best undersized rebounder since Charles Barkley. Take a look at his rebounding splits.
| ZION WILLIAMSON | DEFENSIVE REBOUNDS PER GAME | OFFENSIVE REBOUNDS PER GAME | TOTAL REBOUNDS PER GAME | OFFENSIVE REBOUNDING % | DEFENSIVE REBOUNDING % | TOTAL REBOUNDING % |
| --- | --- | --- | --- | --- | --- | --- |
| DUKE BLUE DEVILS (2018-2019) | 3.8 | 5.0 | 8.8 | 14.7% | 17.6% | 16.3% |
Much like blocks or free-throw percentage, rebounding rates translate well from college to the NBA level. We've seen guys like Jarrett Allen, and many players before him, put up similar rebounding numbers in both college and the NBA. Zion Williamson would unquestionably be the best rebounder on the Nets. His 16.8% total rebounding percentage would place him among the top twenty of all NBA players (mimimum of 15 minutes of playing time per game). Zion Williamson would help Brooklyn climb from the depths of being one of the worst rebounding teams in the league.
Zion Williamson would change the Brooklyn Nets for the better. He's a borderline unstoppable player on the break that would help the Nets with their bottom-tier transition offense. He's an excellent defender for his size who could raise the Nets' absurdly low block totals. Williamson is a generational rebounder that could solve the team's ongoing issues on the boards. Just by stepping out on the floor, Zion would provide the Nets with more easy shots.
Most of all, he would give the fans at the Barclays Center something to root for. Williamson is probably the most hyped draft prospect since LeBron James. Landing a player of his caliber would almost instantaneously increase the popularity of the Nets; a team that is still relatively new to their Brooklyn home. It's only been seven years since the Nets moved from New Jersey to Brooklyn, and outside of a couple of uninspiring playoff runs, this franchise has not given the fans much to root for. As a result, the team rarely sells out games and currently ranks dead last in attendance according to ESPN. This is where Zion would be the most valuable. Williamson would give the team an identity – a star to rally around. He's one of the most exciting players in college basketball history who will get butts in seats no matter where he ends up. With Zion on the team, the Nets would suddenly rise into becoming a league-pass darling.
The front office has done a wonderful job collecting quality role players. Sean Marks and Co. even found a way to land an up-and-coming star, Caris LeVert, in the latter part of the first-round. Now, it's on them to fully piece together this exciting young roster and find that franchise player. It's time to bottom-out in hopes of grabbing Zion Williamson.