Here are the New York Jets offensive questions that can be answered in Tennessee when the squad takes on the Titans.

Can Sam Darnold bounce back?
As it seemingly grows more likely each day that Sam Darnold will make his return to the lineup following a two-game absence, the spotlight begins to focus closer and closer on him alone.
Without Darnold, there's little for fans to be invested in while watching this team. The New York Jets have fewer players under contract for 2019 than any other team in the league and figure to be making major changes not only on the coaching staff, but across the roster as well.
With Darnold on the field, both the fanbase and the organization has a lot more to both learn and look forward to each week. Darnold's development is and always was going to be the most paramount aspect of the 2018 season. He was off to a very promising start.
Six games into his career, he:
Joined Deshaun Watson, Russell Wilson, and Carson Wentz as the only rookies with 3+ victories and 8+ passing touchdowns over their first six weeks in the league
Owned the two youngest performances of a 110+ quarterback rating in NFL history
Became the first rookie in NFL history to post three performances of 2+ passing touchdowns and 9+ yards per pass attempt over his first six weeks in the league
Was on pace for the third-most passing touchdowns for a rookie in NFL history, behind only Peyton Manning and Russell Wilson
From there, the struggles have ensued. It all started against the Vikings in Week 7 as Spencer Long's snapping issues began. Then, Darnold played solidly in Chicago, but the team had no receiving core to support him. Finally, everything came together for a Darnold calamity in South Florida, and he hasn't had a chance to bounce back since.
The lows have been low, as you would expect with the youngest Week 1 starter in NFL history. The Jets' losses against Cleveland, Jacksonville, Minnesota, and their second versus Miami all were very much due to Darnold's struggles.
We knew those games would happen. The infrastructure isn't there for Darnold's weaknesses as a youngster to be mitigated and allow him to be propped up into a quality starter off the bat. He doesn't have the coaching staff, offensive line, or skill position superstar to help him do that.
We wanted to see enough consistent flashes of brilliance to instill confidence that down the line, hopefully as soon as 2019, he could develop into a superstar. And we have seen those.
Now, if Darnold does return this week, we need to see those flashes return. Lots of madness ensued around Darnold over his previous three starts—from the bad snaps, to the myriad of injuries at wide receiver, to coaching blunders, to more bad snaps. However, Darnold still struggled to overcome those issues and made a lot of his own mistakes that were independent of surroundings.
A well-rested Darnold, both mentally and physically, will get the shot to finish this season strong. If he can replicate or improve on the body of work he put forth over the first six weeks of the year, the Jets should feel very confident about what they have in their franchise passer—and prospective offensive coaches on the job market will salivate.
Can Quincy and Robby come to life?
I still believe both Quincy Enunwa and Robby Anderson are good players in spite of their poor production this year. They each have an elite tool—Enunwa has his yards after catch ability, and Anderson has his speed and deep ball tracking.
Anderson has been missed when open much more often this year than last. He struggled to get a connection going with Sam Darnold, and injuries nor Josh McCown's return have helped.
Enunwa has been completely misused by offensive coordinator Jeremy Bates. While excellent in the open field, Enunwa does indeed have the ability to stretch the field. He was phenomenal on post routes and go routes in the 2016 season with Ryan Fitzpatrick of all people. Yet, Bates refuses to run Enunwa vertically. It's made him look at lot worse than he really is.
Despite those (legitimate) excuses for their lack of production, it is certain that neither Enunwa or Anderson are stars, and both have flaws in their game.
Anderson has registered only one red zone target this season, which he saw last week against New England. Without his deep ball production clicking, he hasn't been able to develop other facets of his game. As the Jets prepare to ponder how they should handle Anderson's restricted free agency, it would be a very promising development for them to see him make some plays in a greater variety of ways over the last few weeks.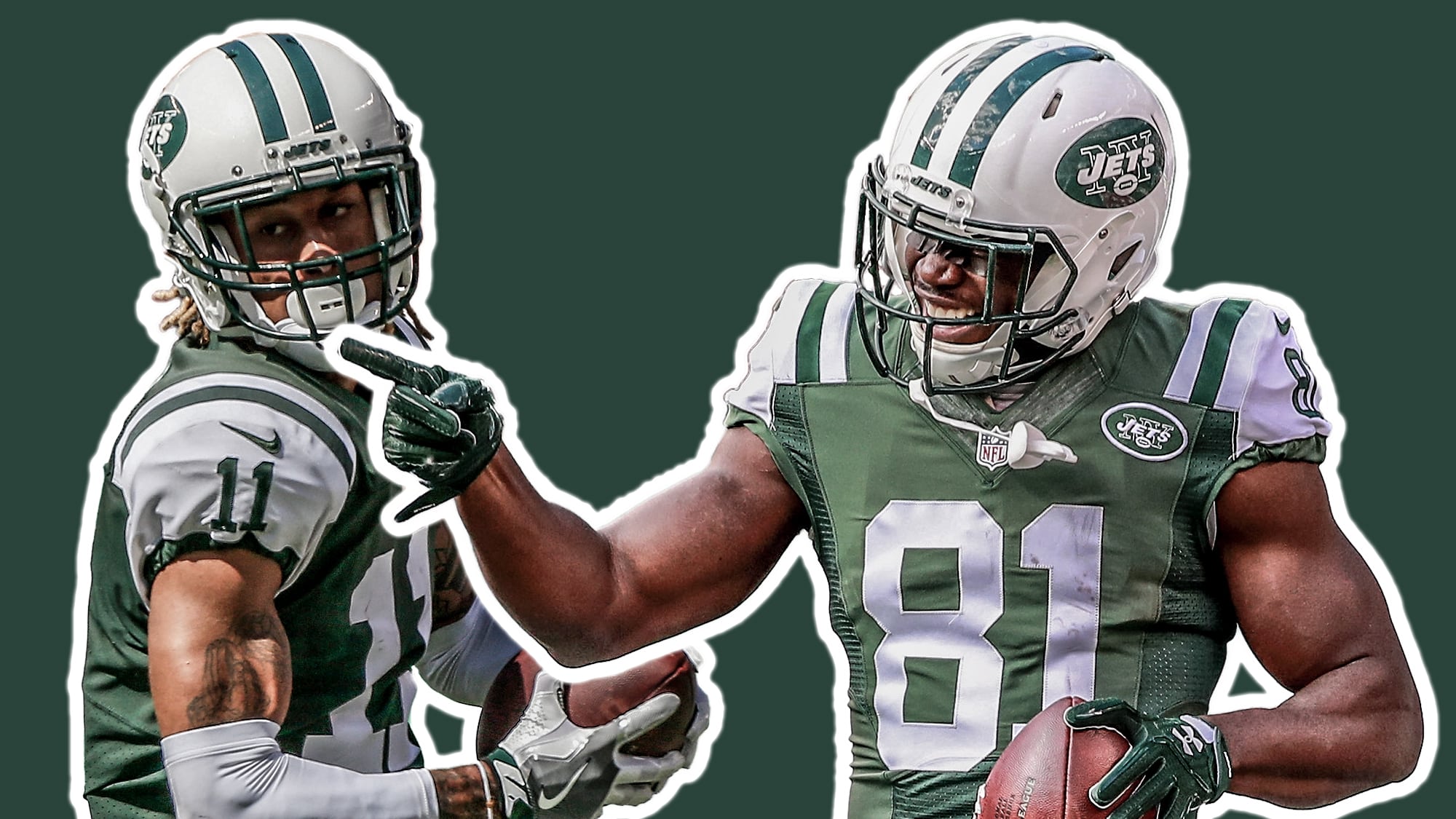 Enunwa needs to prove he can stay healthy. His high diet of touches in the open field, coupled with his downhill running style, have contributed to his struggles to stay on the field. He missed a few games earlier in the year and has not produced at the same level since (he also struggled in his last couple of games prior to going out). Can he match the level of consistency he displayed earlier in the year? He also has struggled to win with his intermediate routes. Can he get that facet of his game going?
Can Spencer Long do anything well?
Spencer Long slid over from center to left guard with James Carpenter hitting IR.
Long caught attention with a powerful open-field block on Jason McCourty (and with zero bad snaps), so many fans assumed he played an improved game back at the position he entered the NFL playing.
Unfortunately, that was not truly the case. Long was primarily responsible for six total pressures, a whopping five of which were knockdowns of Josh McCown. He was also in on a coverage sack.
It was a brutal, brutal outing in pass protection for the Jets' struggling free agent pickup from Washington. Many of the plays on which he was beaten were embarrassing defeats – inside spin moves, double swipes, misstep slide protections.
Long has already dug an incredibly deep hole in regards to his chances of sticking around in 2019. The Jets can move on after this year. A slide to left guard has given Long a clean slate to try and prove he can help the team in the future, but Week 12 was not a good start. He's going to need quite the string of dominant play over the final stretch to show the Jets he is worth keeping around in any capacity next season.