In order to keep his Tennessee Titans alive in the AFC playoff hunt, head coach Mike Vrabel must beat familiar foes in the New York Jets.

FLORHAM PARK, NEW JERSEY—Mike Vrabel knows a thing or two about victories over the New York Jets. In fact, he knows 13 things about it, owning a 13-4 mark against the team during a 14-year NFL career.
He'll need one more if he's hoping to keep his 2018 playoff hopes alive.
Now the head coach of the 5-6 Tennessee Titans, Vrabel will need to oversee a quick recovery from a listless 34-17 road loss to the Houston Texans on Monday night. Reeling from consecutive blowouts, the previous defeat being in 38-10 fashion in Indianapolis, Vrabel knows that his team needs to come out furious on Sunday at home against the Jets (4:05 p.m. ET, CBS) to maintain any hope of creating the Titans' first playoff streak since 2007-08.
"We're trying to do everything we can to get back to the surface," Vrabel said during a conference call on Wednesday afternoon. "We're below water right now. If we're going to do anything, we have to make a move now, try to do anything we can to win the game."
He has plenty of positive memories against the Jets, including a two-touchdown reception game in December 2005 with the Patriots. With the on-field exploits in the past, Vrabel is focusing on the present.
"I enjoyed playing against Chad (Pennington), Curtis Martin. They were great players," Vrabel said. "But I try not to reflect too much on my career. I don't think it helps me in this role right now."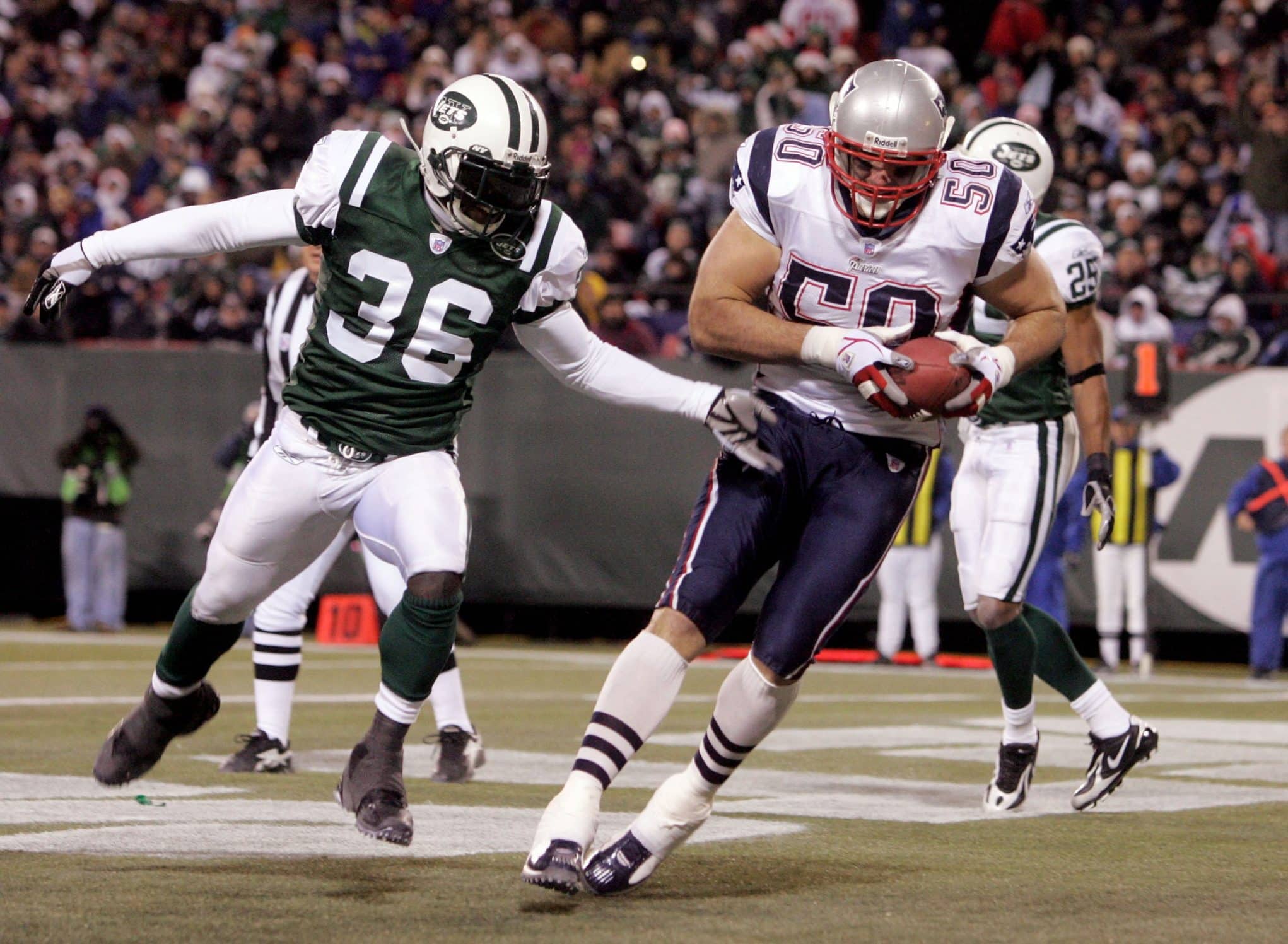 The Jets opponents that Vrabel faced as a player are mostly long retired, but Vrabel still maintains plenty of connections to the modern day guys in green. One such connection is linebacker and Ohio State alum Darron Lee.
A year after playing his final NFL game with the Kansas City Chiefs in 2010, Vrabel donned a new, yet familiar shade of red. He became a linebackers coach at Ohio State University, where he had previously made a name for himself as a defensive stud. His efforts as a Buckeye eventually led to his third-round destiny in the 1997 NFL Draft, joining the Pittsburgh Steelers. Vrabel was later named to the program's All-Century team in 2000 and was inducted into the school's Athletic Hall of Fame 12 years later.
Vrabel would go on to spend three years at his alma mater before returning to the NFL in 2014, serving as the Texans' linebacker coach. One of his final tasks was to welcome in a star-studded freshman class that included Ezekiel Elliott, Joey Bosa, and Lee, then a safety out of New Albany High School in Ohio. Though Lee, who would redshirt during the 2013 season, didn't play a down under Vrabel, the coach left an impact on him.
"He was aggressive in coach style," Lee said. "(He had) a sense of realness, he told you how it was. He was cool for sure, he ran our freshman meetings and stuff. Those meetings were very, very fun. He's a very aggressive coach and he wanted to get the best out of you."
Lee would transfer to linebacker after Vrabel's departure and went on to make his own kind of history in Columbus. In guiding the Buckeyes to victory in the inaugural College Football Playoff in 2015, Lee earned Defensive MVP honors in the Sugar Bowl semifinal in an upset win over Alabama. He led the way with three tackles for a loss, including two sacks in the 42-35 victory.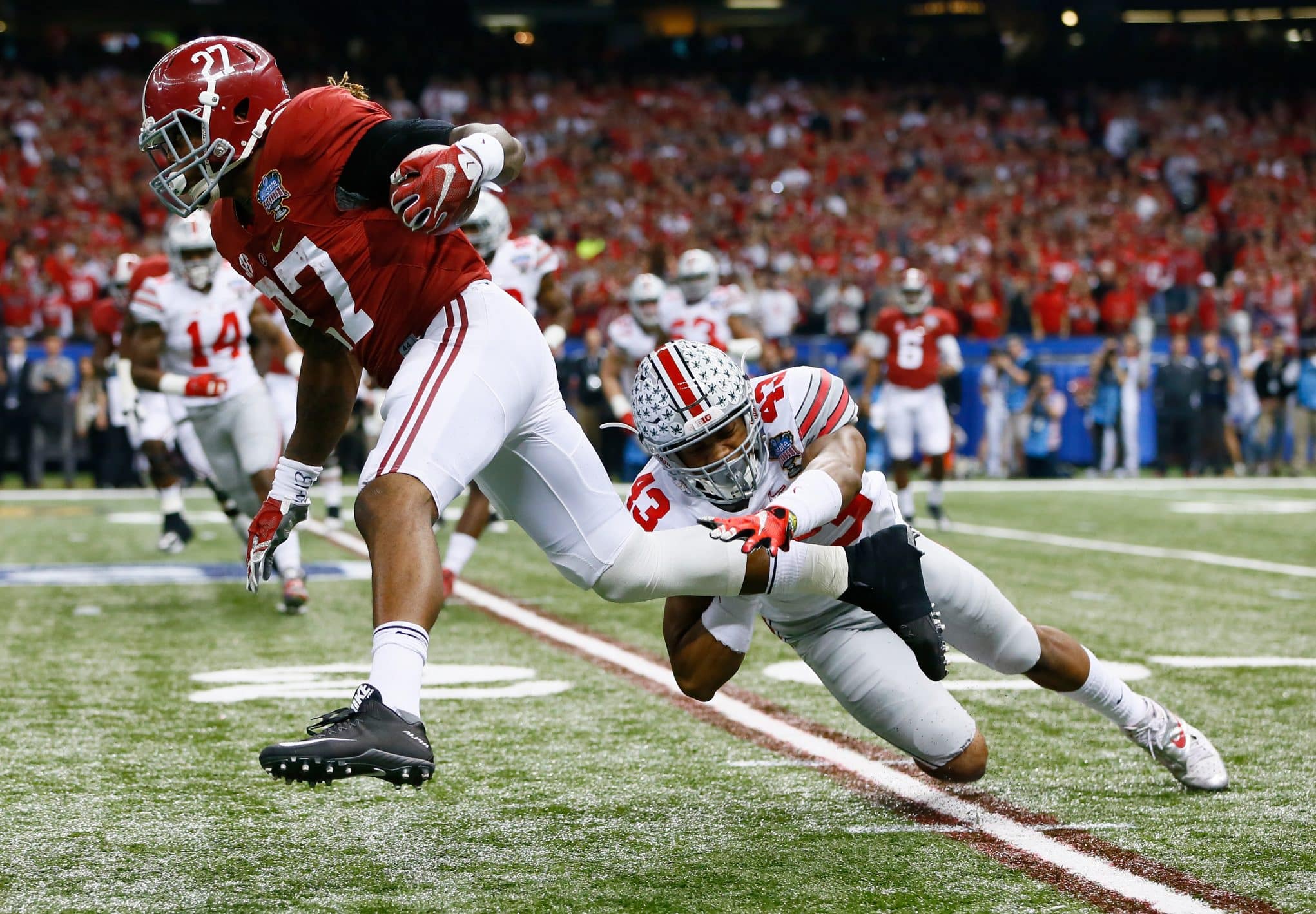 Though Vrabel was more of an outside linebacker compared to Lee's inside tendencies, he still admired what the current coach accomplished in his NFL career and cited several lessons he could take from that 14-year path.
"One thing I always took from him when he was at Ohio State was that he knows the game very well, he's very intelligent," Lee said. "I knew if you can add tenacity and being aggressive, along with intelligence, you can definitely can be a heck of a football player."
Vrabel likewise offered praise for Lee, the Jets' 2016 first-round pick, on Wednesday.
"He was a local kid from Columbus. I know Darron and his mom," Vrabel recalled. "He plays fast. To me, he looks much more comfortable. I think it's the communication. You always see him as the first guy to talk, to communicate, pointing and getting the guys lined up. He's all over the field, he's fast, he can cover. We have to try and block him."
Back on the NFL level, Vrabel is in control of a Titans team that sits one game of the final AFC wild-card slot. If anyone knows about late-season playoff pushes, it's another Jets linebacker, Avery Williamson.
This time last season, Williamson was helping the Titans end an eight-year postseason drought, one that ended with the Titans earn their first playoff victory in 2003. Williamson played a major part in the return to glory, finishing second on the team with 92 tackles. When Vrabel was called upon to replace the fired Mike Mularkey, one of the first things he did was meet with Williamson, a veteran Titan that had been based in Nashville since his fifth-round drafting in 2014.
Williamson's NFL journey wasn't meant to continue in Tennessee, as he joined the Jets on a three-year, $22.5 million deal in March. His meeting with Vrabel still resonated with him.
"He told me he would love to have me back," Williamson said. "He told me that he understood the process of free agency. He's a former player, he knows how it goes. He's a real guy. It was a good conversation. I was glad he had me in before I left town."
Unlike the Jets, whose average age of 25.6 ranked tied for third youngest at the beginning of the season, Vrabel's Titans are on the older side. At a mean of 26.9, only the Arizona Cardinals entered with an "older" lineup, and 13 players have at least seven years of NFL experience.
Vrabel, however, still sees countless opportunities for his team to grow over their final five games, even if a playoff trip doesn't await them at the end.
"The entire team, starting with me, the coaching staff the players …there are things we do well at times, (but) we're not consistent enough," he said. "But what we do to be consistent is try and practice, string some good practices together, good meetings together. That's building consistency, but you have to go out there in a game and do it, have a lot of focus, concentration, and then the execution."
Follow Geoff Magliocchetti on TWITTER