The New York Jets 27-13 loss to the New England Patriots on Sunday represents an eerily similar 2017 throwback. 

EAST RUTHERFORD, NEW JERSEY—The football world has changed over the past 365 days. This time last year, for example, the Jacksonville Jaguars looked like a multi-year dynasty, Patrick Mahomes was a mere backup awaiting his chance, and the New York Giants were well on their way to drafting a quarterback.
The New York Jets have changed as well …thus far, only for the worse.
One year ago, Sunday's 27-13 defeat at the hands of the New England Patriots would've been seen as an acceptable step forward in a New York rebuild that might reach its 10th birthday. It was a game in which the Jets were clearly outmanned, a contest that had the potential to get out of hand quickly. The forecast became even bleaker with a furious New England Patriots team coming to town, especially a New England team fuming over a listless 34-10 loss to the Tennessee Titans two weeks prior.
Add in the returns of weaponry like running back Sony Michel, receiver Julian Edelman, and tight end Rob Gronkowski, each of whom were coming back from injury, as well as Jets demon Tom Brady, and you had a recipe for a game that could've been decided by the time most fans reached their seats.
Instead, a young, resilient Jets squad played fast, resilient, smashmouth football, at least in the early stanzas. Led by quarterback Josh McCown, a rare relic from the early 2000s at quarterback, the Jets did little things right, countered mistakes with strong fundamentals, and kept pace with one of the NFL's elite squadrons.
Mistakes were made, of course, but moral victories were earned, confidence that could carry young pieces in what was to become a greater Jets puzzle, destined for more prominent displays. Some errors, like letting elite athletes like Gronkowski and Edelman, were understandable, but other, preventable mishaps would provide material for the football comedians on social media. But at the end of the day, the loss was a small price to pay for experience and minor triumphs.
That was then. This is now.
The curious case of the 2017 New York Jets allows one to call a 5-11 season a success, at least in its immediate ending. In a year where some pundits predicted that the Jets could go imperfect, strong efforts in defeat signified better times were ahead. Of the 11 losses, seven came by single digits. Wins were obtained over playoff teams from Jacksonville, Buffalo, and Kansas City. Young diamonds in the rough emerged from the fog, such as linebacker Darron Lee and receiver Robby Anderson, each in their second years of NFL service.
Select veterans posted career-best numbers, with Seattle import Jermaine Kearse leading the way with 810 yards and five scores. As a result of the emerging new guard, expensive older players like Matt Forte and Muhammad Wilkerson were made expendable.
Twenty-eighteen wasn't expected to be a playoff year, but progress was nonetheless expected. It was easy to be seduced by the arrival of a touted rookie quarterback like Sam Darnold, but the postseason was still a tall task with numerous established contenders back on the scene. Seven wins would've been acceptable, and were possible, after viewing the new roster schedule.
The disturbing part for the Jets and their latest rebuild, however, is that games like Sunday against New England show no progress has been made.
In the immediate aftermath, it's indeed nice to see that the Jets gave an effort, especially after the humiliating experience against Buffalo that saw NFL washout Matt Barkley, on the free agent list as late as Oct. 30, play like Brady in a 41-10 win. But in the longer outlook, this is not where the Jets wanted to be 365 days later.
The frustration is apparent in the locker room.
"It was a big challenge for the defense to come out and get a three-and-out, or a stop, and we just didn't do that," defensive lineman Leonard Williams said. "It's really frustrating. We felt the
momentum … it (stinks)."
"I know this can be frustrating for everybody. You just have to keep grinding," said Kearse, scorer of the Jets' lone Sunday touchdown. "It's really easy to just duck your head and not believe in yourself anymore, but you have to keep believing, keep having the confidence and try to see what we can do in these last five games."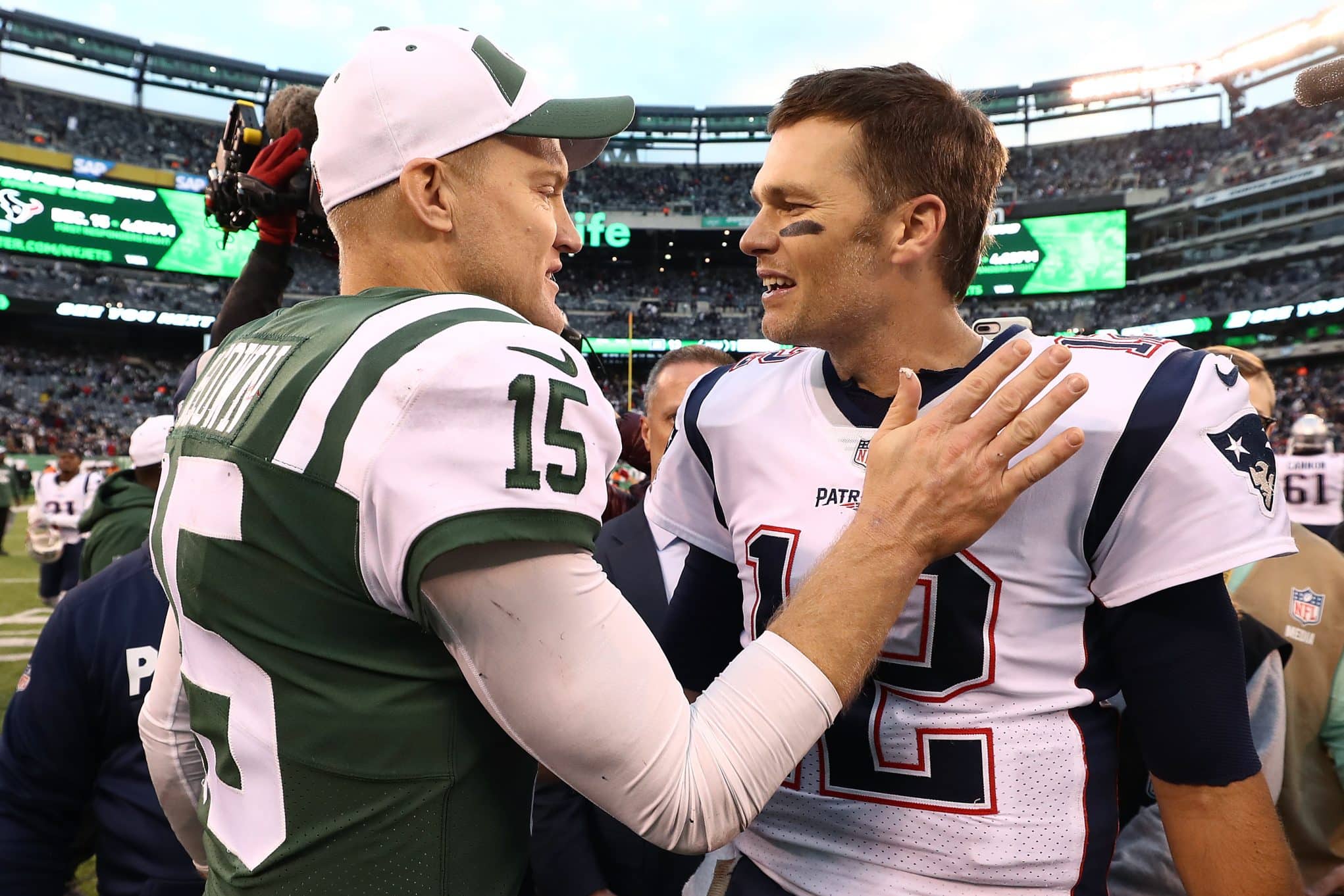 The final five games provide five more opportunities for breakouts, for promise, for leaders to emerge. Jobs can be won or lost in the process, so that effectively rules out the already-ludicrous concept of tanking.
The last five games are journeys that won't be easy, as the four of the Jets' final five come against teams firmly in the playoff hunt, the lone exception being a grudge match with the Bills on Dec. 9.
The effort against the Patriots was the Jets' fifth loss in a row. As dreary as things got results-wise in 2017, the Jets never lost five games consecutively, doing so for the first time since an eight-game drought in 2014.
"It's frustrating losing one game, nevertheless five," head coach Todd Bowles said. "We're going to fight every week. We fought in the Buffalo game, we just didn't play smart. We fought in this game and we didn't execute in the second half. We've got to go back to the drawing board and finish the ball game."
The ultimate question regarding the 2018 New York Jets when all is said and done will be, to paraphrase President Ronald Reagan, are you better off than you were one year ago? The guys in green, stationed in a 3-8 hole, have five more chances to provide a positive response.