Josh McCown has had his share of showdowns against the Patriots, including a 354-yard output with the New York Jets last season.

EAST RUTHERFORD, NEW JERSEY—On Dec. 3, 2006, New York Jets quarterback Josh McCown set a career-high in yards as a member of the Detroit Lions in their Sunday afternoon showdown against the New England Patriots.
McCown didn't throw a single pass that day. Instead, he set a career-high in receiving yards, totaling 15 on two receptions.
A McCown matchup against Tom Brady and the Patriots might not carry as much weight as when, say, Peyton Manning squares up against New England's finest.
Nonetheless, a Sunday matchup at MetLife Stadium (1:00 p.m. ET, CBS) is unique in NFL quarterback circles. A battle between two relics from the turn of the century, the quarterback battle will be the second oldest in post-merger league history in terms of combined age (80), second only to a 2007 matchup involving a past and future Jet, as Brett Favre's Green Bay Packers topped Vinny Testaverde's Carolina Panthers 31-17.
Brady, 41, was unavailable for comment this week, limited in practice with a knee ailment and an illness. McCown, however, discussed his unique relationship with Brady, squaring off against the five-time Super Bowl champion for the third time as a starting quarterback on Sunday.
"Our careers, other than the age, there's probably not a lot of similarities," the 39-year-old McCown said with a smile on Wednesday. "But I can respect what he's gone through year in and year out to get himself ready to play, physically like you're saying, mentally and then the focus that it takes to do that is remarkable. I think as young quarterbacks you look around the league and talk about guys that you say, "Who is the standard or what do you want to model yourself after?" And how they go about it. I think Tom has certainly set that mark."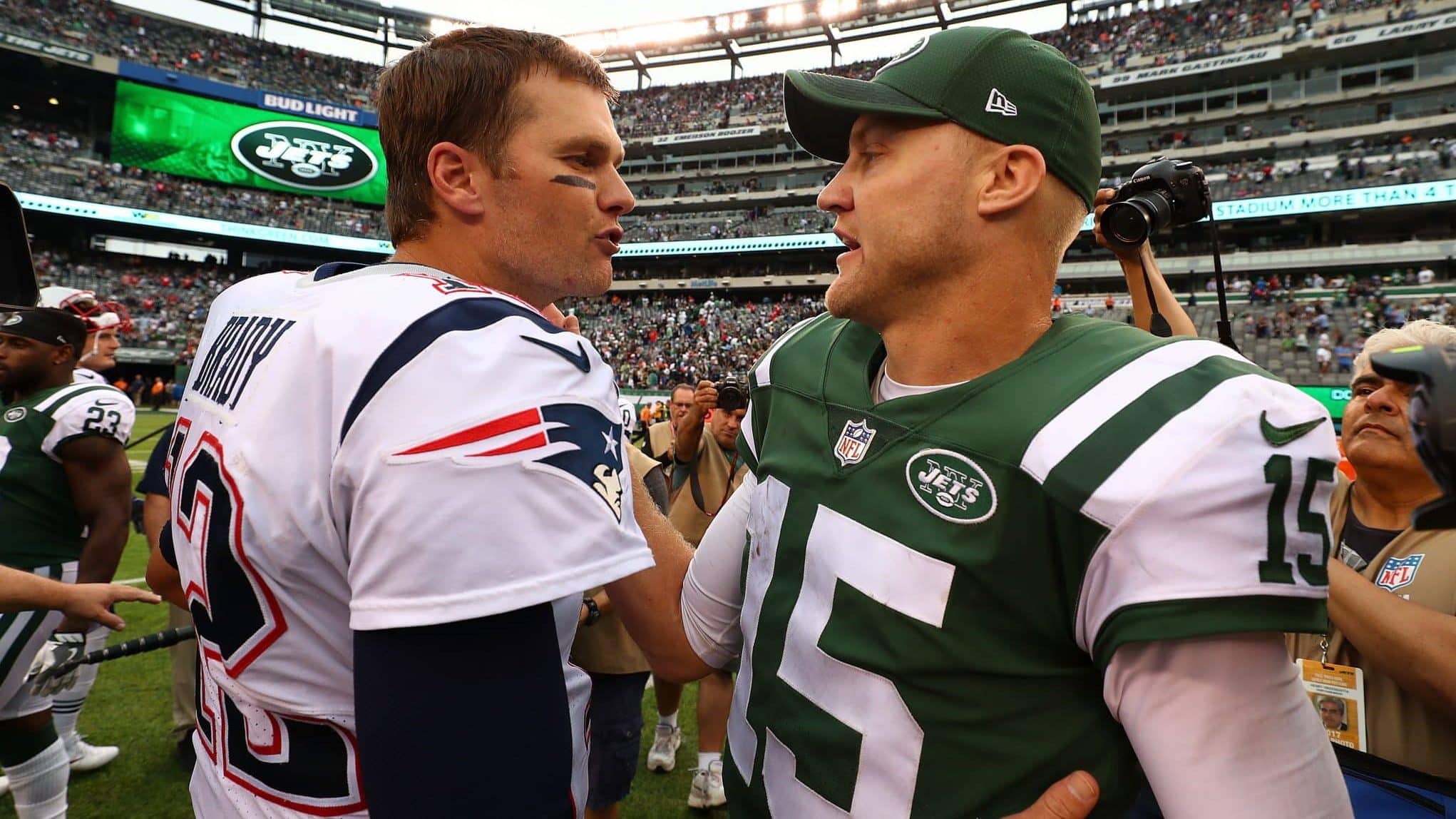 Like many, McCown has been fruitless in terms of victories against Brady, coming up on the losing end in each of the three times he's seen the field against the Patriots. The first matchup was mostly forgettable, a two-interception, five-sack output in a 23-12 loss in 2004. The aforementioned second matchup, as a member of the Lions, however, was definitely the most unique.
Much like Johnny Cash, McCown's been everywhere. Normally that's in reference to the abundance of teams he's been on, but for one game against the Patriots, that was in regards to his spot on the field. After four years with his original employers in Arizona, entering the league as a third-round pick of the Cardinals in 2002, a season that began with aspirations of starterhood soured quickly for McCown. Free-agent pickup Jon Kitna, fresh off a year of mentoring rookie Carson Palmer in Cincinnati, was instead awarded the starting job for the 2006 season. McCown would go on to share backup duties with Dan Orlovsky, then just a second-year fifth-round pick.
The 2-9 Lions were giving the Patriots a game at Gilette Stadium, a rare bright spot of the football inferno that was early 2000's Detroit football. Despite a strong performance from Mike Furrey, leading the way with 123 yards on nine receptions, Detroit was somewhat lacking in receiving reinforcements.
Enter McCown, who had some practice during the week at the position, and was told to be ready if called upon by then-Detroit offensive coordinator Mike Martz.
"It was a lot of fun," McCown recalled in the Jets locker room this week. "It was crazy, how it came about, in practice on the scout team helping out (Orlovsky). I was running routes with him, catching some passes. We had some things come up, some injuries, and stuff. I wound up in there, catching balls. It was a lot of fun."
McCown's pair of receptions both came in the second half, the first coming on a third-quarter Detroit scoring drive, an eight-yard gain that set up a Jason Hanson field goal that helped the Lions knot the game 13-13. He nearly had a bigger breakout in the fourth quarter, a 31-yard reception that stopped him just eight yards short of the goal line, but he was called for an offensive pass interference penalty. He'd earn one more catch on Detroit's failed game-tying drive. One play after his seven-yard catch, his second of the day, Kitna was intercepted by Patriots linebacker Mike Vrabel, now the head coach of the Tennessee Titans, allowing the Patriots to earn a 28-21 victory.
"It was a surreal moment," McCown told the Sun Sentinel's Harvey Fialkov during his brief tenure with the Miami Dolphins in 2008. "It changed my whole perception and respect for receivers."
For last year's game against the Patriots, McCown, then a newly minted member of the Jets, was in far more familiar territory, under center for the MetLife Stadium portion of the annual pair with the Patriots. Though the game was overshadowed by a controversial touchdown …or lack thereof… McCown again partook in a surprisingly spirited effort against the Patriots.
New England entered the game as 9-point road favorites against the young and generally downtrodden Jets, but McCown went toe-to-toe with Brady, throwing for a season-high 354 yards, his first 300-yard game in over two calendar years. It was a solid effort for a young team looking to hold any semblance of success. McCown was unable to partake in the December rematch in New England, a hand injury sidelining him for the last portions of the 2017 season.
McCown reflected on his personal success in that game earlier this week.
"I think we got in a good rhythm in the passing game. We were able to mix it up, everybody contributed. I think that's the key, and that's what we're going to have to do this week," McCown said. "It's all hands on deck, everybody has got to be a part of it. More than anything the O-line played well and played hard, and it gave us an opportunity to do that. Hopefully, that will be the case this week."
Like many in the Jets' locker room, McCown marveled at the sustained success New England has earned over the past 18 years, victories that have been going down since his 2002 entry to the league. However, he's not bowing down to the New England monster, knowing what a divisional upset win at home can do for the Jets and their immediate future.
"(It goes to show) just how fundamentally sound they are. It seems like, going back throughout my career, 15 years ago you were saying the same thing, and I think it's a testament to the way they coach the team and the standards they have over there," he said. "They are just fundamentally sound, they are well-coached, they will be where they are supposed to be and they play hard."
Despite the Jets being one of the Patriots' most frequent victims during their seemingly endless dynasty, having won 12 of the last 14 meetings, the showdowns have not been as one-sided as advertised and parodied. Eight of the past ten matchups have been decided by a touchdown or less, including a pair of Jets overtime victories in 2013 and 2015.
"Morale is up," head coach Todd Bowles said on Monday. "You either fight or you fall. All we know how to do is fight and I trust the guys in the locker room and coaching staff to fight."
Follow Geoff Magliocchetti on TWITTER