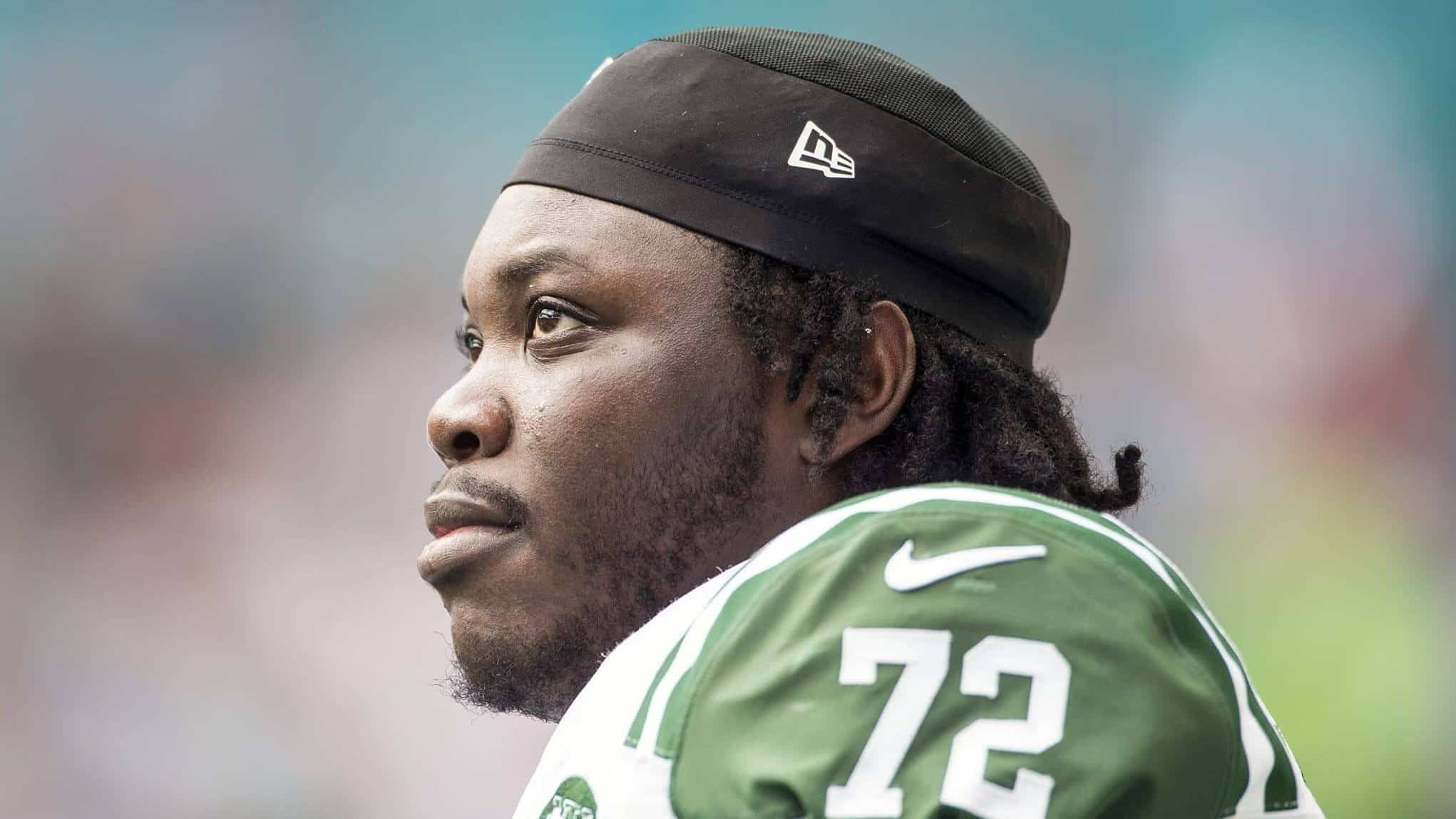 Right Tackle Brandon Shell
Now that we've run through the sprinkler with the three interior turnstiles, now we can get to my favorite player on this offensive line—Mike Maccagnan draft pick Brandon Shell.
Maccagnan has had four drafts with this franchise, and Shell is the only linemen on the roster drafted by Maccagnan. Jarvis Harrison is Maccagnan's only other selection, and he never played a game for the team.
The 6-foot-5, 324-pound Shell, 26, is a prototype right tackle. He's long, athletic, and strong enough to handle the power teams throw at him on the right side. He's flashed as a pass protector since his first stint as starter towards the end of 2016, but run blocking has always been the question. Shell has struggled mightily to gain leverage and win matchups off the snap (getting a theme here?) in the run game.
While still not a good run blocker, Shell has improved enough in that phase this year to the point that his pass protection pushes him ahead as a decent to solid starter. I have Shell tagged for 23 rushing assists and a line-low nine stuffs allowed this season, for the best ratio across the starting front. The Jets have gotten Shell out on the move off the edge quite a bit, making use of his athleticism. He's done a much better job closing and finishing on defenders.
In pass protection, he has shined this year. I have him down for a 7.4 percent pressure rate allowed, best on the team relative to position. That includes only three sacks, very solid for a player at this position.
Shell is a great matchup for speedy outside linebackers. He knows how to use his length to allow those types of rushers to run themselves out of the play. He has also improved with his handling of bull rushes, which was previously a weakness.
The Jets have faced three defenses this year ranked top-10 in sack rate—the Vikings (fourth), Broncos (sixth), and Bears (ninth). Granted, Khalil Mack missed the Bears game, but in those three contests, Shell allowed a grand total of only four pressures and just one sack.
Shell has had a pair of atrocious games this year—against the Jaguars and in Miami against the Dolphins. His greatest nemeses in those games were now-Ram Dante Fowler Jr. and known Jet-killer Cameron Wake. Shell has been susceptible to a couple of moves in particular that those two rushers killed him with—the inside spin and the outside dip.
Tweener defensive ends who can combine power with strong technique can beat Shell. He opens up very wide to the outside and can be beaten inside by players with a good array of moves. Outside, players like Wake who are strong enough to fend him off with good hands can dip underneath his outside shoulder.
Shell bounced back strong from both of those down games, getting red hot after the Jaguars debacle and playing well against the Bills following his struggles in Miami. I want to see if Shell can keep that up. Every lineman has bad games now and then. The primary factor that separates the good ones from the replaceable ones is the ability to avoid letting struggles snowball.
Barring anything unforeseen, Shell is going to start at right tackle for the Jets in 2019. He is the only player on this line with a chance to be an above average starter for this team in 2020 and beyond and is one of the only homegrown offensive players the Jets have that has shown promise. I'm excited to see if he can continue to grow over the rest of the season.