The third-ranked Notre Dame Fighting Irish put an exclamation point on their CFP resume, crushing 12th-ranked Syracuse in The Bronx.

On Saturday afternoon at Yankee Stadium, a team wearing pinstripes defeated a New York-based team with orange in its color scheme. Apparently, some things never change in The Bronx.
Quarterback Ian Book threw for 292 yards, while his defense added six sacks, and the Notre Dame Fighting Irish, ranked third in the College Football Playoff rankings, cruised to a 36-3 victory over 12th-ranked Syracuse at Yankee Stadium. The game was part of Notre Dame's roaming recruitment tour known as the Shamrock Series, which made it's second stop to Yankee Stadium since 2010.
Between a Shamrock Series couple and the 2013 Pinstripe Bowl, Notre Dame is now 3-0 at Yankee Stadium (though the latter victory was later vacated).
"We've played in California, Chicago, and New York," Book said afterward, according to Ralph D. Russo of the Associated Press. "I think it's awesome. I think it's great experiences for us. We might have to fly a little bit more than other teams but I don't think it hurts anyone."
For their visit to New York, the Irish (11-0) wore special jerseys inspired by their host's trademark pinstripe look. They played in a traditional Yankee way as well, dominating the game from beginning to end in building a better playoff case.
One of the more anticipated games on the Nov. 17 college football slate, the game quickly became one-sided after the Irish opened up a 20-0 first-half lead. Book let Syracuse know it was not to be their day early on, as he was responsible for all 55 yards of Notre Dame's first scoring drive, one energized by an 18-yard completion on third and 15 from the Irish's 40-yard line. The trek would end with a nine-yard scoring pass to running back Dexter Williams to give Notre Dame the early lead.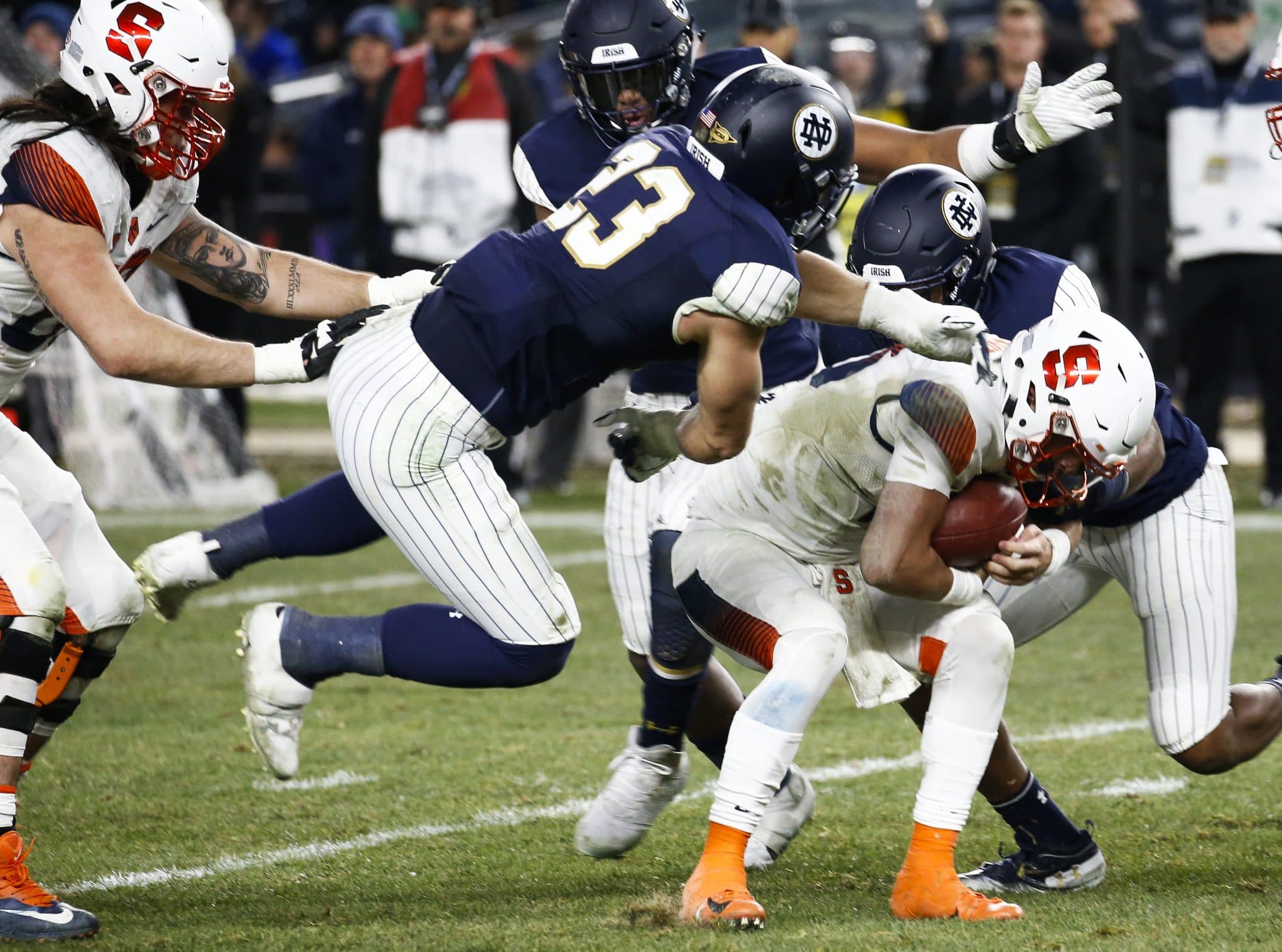 While the Irish defense forced Syracuse into numerous mistakes, including a pair of interceptions from safeties Jalen Elliott and Alohi Gilman, the offense struggled to cash in on these early Christmas gifts, following up the first two turnovers with a Justin Yoon field goal and a Tyler Newsome punt. While Yoon would add another triple, a 13-0 lead still didn't feel safe with Syracuse's strong offense in tow. A Book interception in the end zone, with Orange safety Andre Cisco coming down with it, could've been a mistake that finally energized the opponent.
However, Gilman responded with his second interception of the afternoon and put Notre Dame back in business. With Gilman returning his turnover 54 yards, nine short of the goal line, it took his offensive comrades just one play to capitalize, with Jafar Armstrong's nine-yard rush more or less putting the game out of reach at 20-0 before halftime.
"Notre Dame is better than what people think they are," Syracuse head coach Dino Babers declared, according to Russo. "That's a really, really good football team."
Syracuse's efforts at a comeback were hindered by the loss of senior quarterback Eric Dungey, who left in the game early with an unspecified upper-body ailment. Forced into action, redshirt freshman Tommy DeVito was besieged by a relentless Notre Dame rush, one that allowed just 234 yards, a season-low for Syracuse (8-3). The two Orange passers completed just 15 of 35 attempts for 115 yards. Fifth-year senior Drue Tranquill had two sacks for the Irish, the first multi-sack game of his career.
On the offensive end, the Irish built their lead further with a Yoon field goal, a 10-yard Book touchdown pass to Chase Claypool, and a 32-yard Williams run. Syracuse avoided a shutout with an Andre Szmyt field goal with 10 seconds to go.
With the win, their fourth over a ranked opponent this season, Notre Dame will likely reach the College Football Playoff with a win next week over USC in Los Angeles (8:00 p.m. ET, ABC), as their independent status helps them avoid the relative hassle of a conference championship game. The Trojans will be fighting for bowl eligibility after falling in their annual city rivalry showdown with UCLA, losing 34-27 at the Rose Bowl on Saturday.
"I don't know that if we win our last game that we're going to the playoffs, but that's not in our control," Notre Dame head coach Brian Kelly said, per Russo. "What we can control is how we prepare. If we do a good job there and win our game then we would have won all our games and we'll let people decide who should go to the playoffs."
Syracuse, still bowl eligible for the first time since 2013, will end their regular season on Saturday at Boston College (12:00 p.m. ET, ESPN).
Follow Geoff Magliocchetti on TWITTER