With the highly anticipated Kansas City Chiefs-Los Angeles Rams game relocated from Mexico City, we look back on Giants and Jets relocations.

9/19/05: Giants 27, Saints 10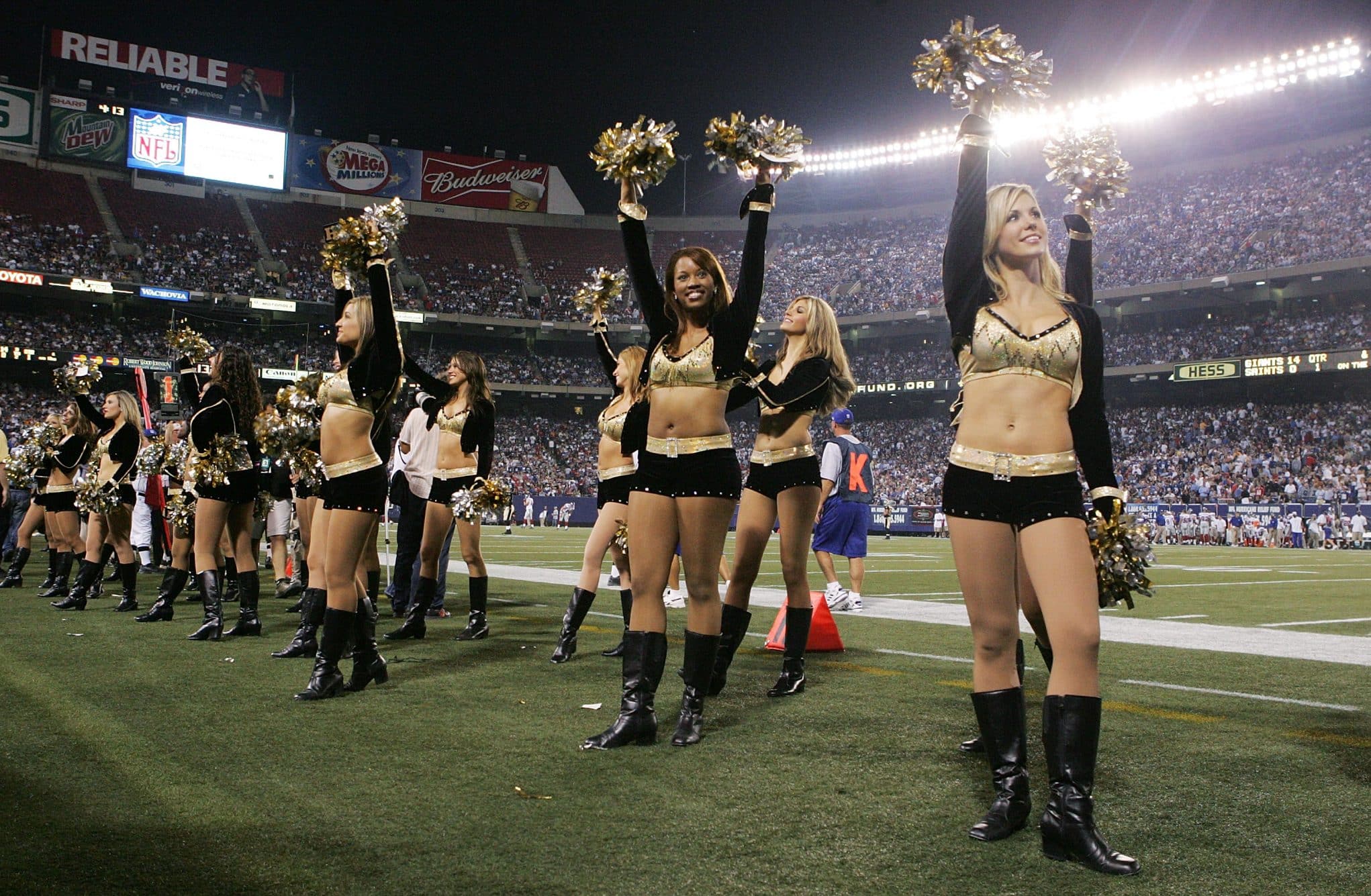 From: New Orleans, LA
To: East Rutherford, NJ
It paled in comparison to the damage done to the city, but New Orleans' sports teams were left homeless after the natural disaster of Hurricane Katrina in 2005. The NBA's  Hornets relocated to Oklahoma City for two years, while the future for the Saints was more uncertain.
With the Louisiana Superdome badly damaged by both natural forces and its use as a makeshift hurricane shelter, the Saints were forced to set up temporary headquarters in San Antonio, Texas, where they played a portion of their home games at the Alamodome, with the rest being played at Tiger Stadium in Louisiana's capital, Baton Rouge.
The Saints' first "home" game, however, was played at Giants Stadium, as their Week 2 matchup could not be played at the Superdome. The game was shifted to Week 2's Monday night slot and doubled as a fundraiser for disaster relief efforts, as attending fans made donations throughout the game and an accompanying telethon hosted by ESPN and ABC also raised money.
As for the game itself, featuring a coin toss from President George H.W. Bush and a halftime concert from 3 Doors Down, the Giants jumped out to an early 14-0 lead thanks to touchdowns from Brandon Jacobs and Tiki Barber. New Orleans struck back with an Aaron Brooks touchdown to Joe Horn, but another Barber score more or less put the game away. For their part, the Giants did what they could to make the Saints feel at home, donning one end zone with the New Orleans insignia.
12/13/10: Giants 21, Vikings 3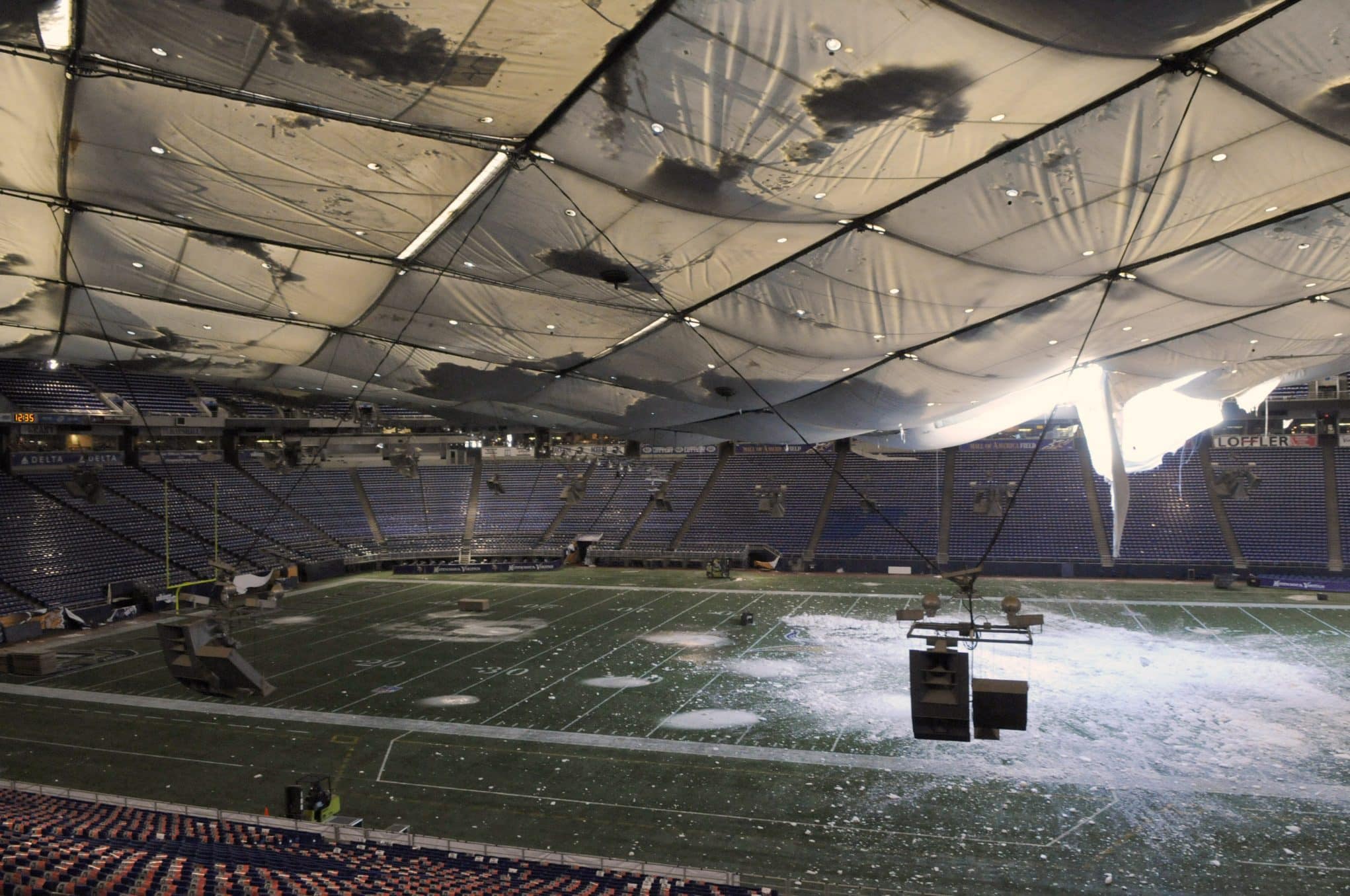 From: Minneapolis, MN
To: Detroit, MI
Giants fans waking up on Dec. 12, 2010, to take in their team's crucial late-season showdown with the Minnesota Vikings were in for a snowy surprise, as was anyone who showed up to work at the Hubert H. Humphrey Metrodome, the site of the holiday season showdown.
After a snowstorm rocked the Minneapolis area the night before, 17 inches of ice and snow had accumulated on top of the inflatable roof. Hours before kickoff, three panels on a roof in its third decade tore open, turning the field into a winter wonderland. There was minimal damage aside from the obvious holes in the roof, and no one was injured, but the game still had to be played.
Luckily, a Vikings rival came through in the clutch, as Ford Field, home of the Detroit Lions, played host. Other than a shift from Sunday to Monday, the event went off without a hitch, as Detroit football fans came through when promised free tickets. The Giants would come through thanks to a strong defensive performance, holding the Vikings to 164 yards in the win. Notably, the game ended Brett Favre's starting streak at 297 consecutive games, as a shoulder injury suffered the week prior gave way to Tarvaris Jackson and later Joe Webb.
While the roof's collapse wreaked further havoc on University of Minnesota baseball (the Twins had already moved out), it was ready for the Vikings' ensuing season, and they would play three more seasons there before heading to TCF Bank Stadium on the Gophers' campus before US Bank Stadium, their new palace in downtown Minneapolis, opened in 2016.
11/24/14: Bills 38, Jets 3
From: Orchard Park, NY
To: Detroit, MI
It's interesting that talk of relocated games should arise this week, as the Jets reel from a blowout loss to the Buffalo Bills, because another embarrassing showing against the Bills came in a transplanted game.
A pre-Christmas snowstorm rocked the Buffalo area, burying Ralph Wilson Stadium in snow. Though Bills Mafia came through to shovel their home out, their divisional showdown with the Jets had to be moved, and Detroit again rose to the occasion. A quarterback tandem of Michael Vick and Geno Smith looked like they were trapped in a blizzard as well, except one of the blue variety, as they were sacked a combined seven times by the Bills defense. On the other side, Kyle Orton threw two touchdowns for the Bills and found Robert Woods nine times for 118 yards.
Follow Geoff Magliocchetti on TWITTER