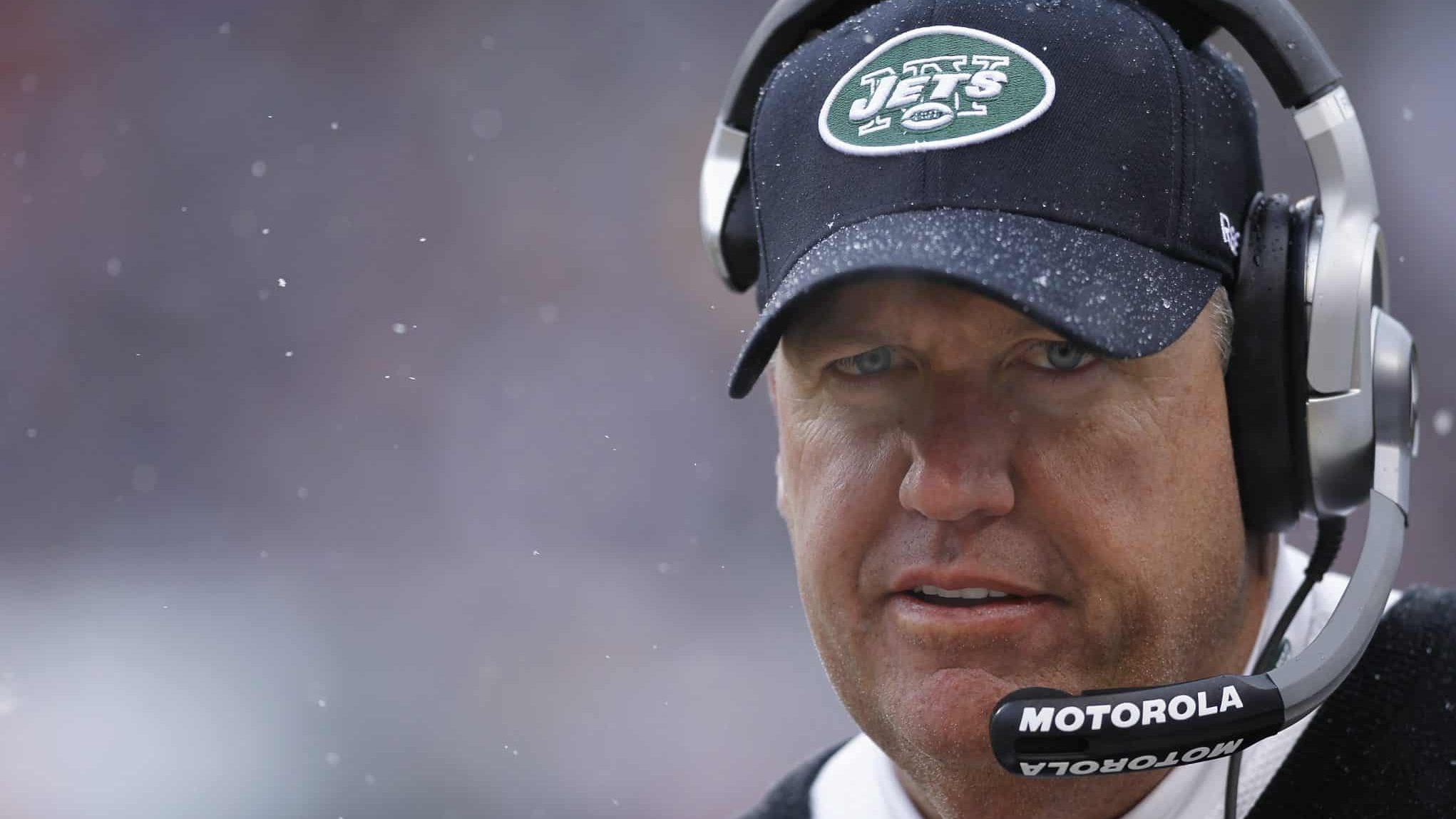 Outspoken former New York Jets coach Rex Ryan went into a rant about his former team's four-game losing streak on ESPN's morning show.

Rex Ryan couldn't contain his frustration with the state of the #Jets and their weak effort on Sunday (via @GetUpESPN) pic.twitter.com/CBCdhdxYkO

— Ray Necci (@raymanjr) November 12, 2018
Former New York Jets head coach Rex Ryan doesn't have many snacks to dispense to the modern-day guys in green.
Speaking on ESPN's Get Up!, Ryan spoke in detail with host Mike Greenberg about the Jets' active losing streak, which extended to four games after an embarrassing 41-10 defeat at the hands of the Buffalo Bills on Sunday.
In Ryan's diatribe, which lasts just over two minutes, he predicts a dire future for the man currently in his former position, Todd Bowles.
"As a leader of an organization, you represent your fanbase and everybody in the work … and works, and all that. And that's passion, that is toughness, that's work ethic, that's all these type of things," Ryan begins. "And you just don't go out and lay your jock out on the field like they did (on Sunday). There was one or two guys … playing with any kind of fire and all that. This was awful! Here's what I love Greeny … they always say, 'Todd Bowles is going to get fired', you're damn right he's going to get fired! And so is everybody else!"
Ryan then takes a shot at general manager Mike Maccagnan, who has been with the team since Ryan's 2015 departure. Together with Bowles, the Jets have gone just 13-29 since the tandem opened with a 10-6 mark.
"I love the fact you got the GM sitting back talking about the future. That's all he talks about. The future," Ryan explains. "What future do you have? Do you honestly think you have?"
Ryan does predict that Bowles will last the rest of the season, defending the Jets' ownership group of Woody and Christopher Johnson as "unbelievable people.
After that, however, Ryan reasons that "Todd knows he's gone."
He thinks that Maccagnan will be soon to follow, reasoning that the leadership duo must be canned to save the lone beacon of hope on the Jets roster: rookie quarterback Sam Darnold.
"You had all the money and all that type of stuff. Didn't we have that like four years ago when Todd took over? When they saved all the money when I was there? What are you going to do, build with a bunch of old guys? And no you're going to get another shot? No," Ryan says. "You have one thing right, you have a piece in the quarterback. So you have a bright future because you have a quarterback."

"(Darnold) is supposed to get better, right? Who the hell's coaching him?" Ryan continues. "I never saw it. He's not ascending. And part of it is playcalling and all that stuff."
Ryan called out the Jets' 13-6 loss to the Miami Dolphins on Nov. 4 as the perfect example of coaching's mismanagement when it comes to Darnold.
"One thing you never do against the Dolphins is go to (an empty backfield formation). Why? Because you can't block (Dolphins linebacker) Cameron Wake," analyzed Ryan. "Half of his sacks are against empty, because you got short edges. And what do I see? Here they come … they're coming in empty. I'm like 'you got to be kidding me. You're going to blame this on the right tackle because he can't block Cameron Wake? I'm sorry … they're going to blow it up and I hope they get it right. Bring somebody in who understands the community, gets that kind of passion, relates to the fanbase and all of that, and never, EVER, have a performance like this again."
To Ryan's point, Wake, whose 95.5 career sacks rank second in Dolphins history, had two sacks on the afternoon, his first multi-sack game since October 2017 … which also came in a win over the Jets.
Ryan, currently an NFL analyst with ESPN, is the last coach to lead the Jets to the postseason, taking them to the AFC title game in back-to-back years in 2009-10. He would fail to obtain a winning season over his final four years, eventually ending his tenure with a 46-50 mark.
Follow Geoff Magliocchetti on TWITTER