As they enter a merciful bye week, members of the New York Jets look to do some reflecting and find stability for the final six games.
For New York Jets fans, a bye week feels more like a prison furlough, a reprieve from watching three hours of ineptitude every Sunday.
They administered the tiniest bit of revenge out on their team during Sunday's game, a 41-10 loss to the Buffalo Bills at MetLife Stadium, incessantly booing as the deficit to the lowly Bills grew bigger.
After a day of recovery, members of the Jets spoke about the debacle and sympathized with the frustration of their supporters during a round of conference calls on Monday afternoon.
"I get it. I understand they're angry," said Josh McCown, Sunday's starting quarterback. "We feel the same way, probably even more so than them because it's our job, it's our livelihood, it's a game we love."
Head coach Todd Bowles, a participant in professional football for over four decades, concurred, remarking "It's not my first rodeo. When you win games, people cheer, when you lose games, people boo. It's part of sports."
Now that the Buffalo game is officially in the past, the Jets now look toward a week of relaxation and recovery. At 3-7, banished to the cellar of the AFC East with Buffalo's blowout, the playoffs are long forgotten, but the team insists there's plenty to play for over the final six games, games that the Jets are going to go all out to win.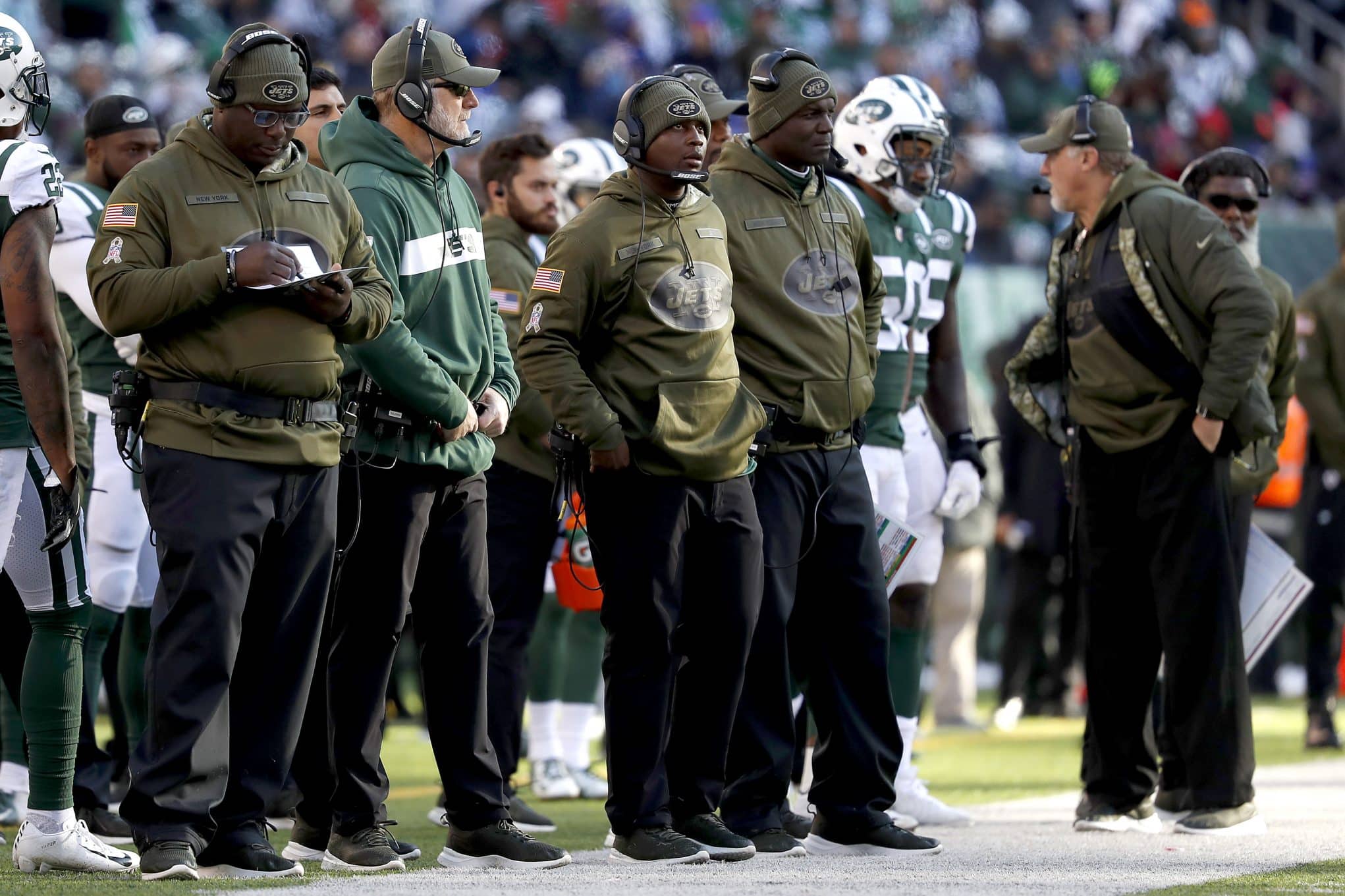 For example, when questioned about the remaining stakes, offensive lineman Kelvin Beachum simply replied "each other".
"All I care about is the people in this building," Beachum said. "It's our families, our careers, our jobs that we're working towards. We don't care what's going on on the outside."
Earning wins over the final six won't be easy. In their remaining hexalogy, the Jets will play five teams that are either in or on the cusp of their respective playoff pictures. That includes the yearly pair with the East-leading New England Patriots, who will open a post-bye slate of their own with a visit to MetLife Stadium on November 25.
In any case, it appears Bowles is going to be the man at the helm over the Jets' final six games, despite rumors swirling around his job.
Bowles reported during his postgame press conference that his regular Monday and Thursday meetings with Christopher Johnson were to commence as scheduled, though he had not yet met with the team's CEO as of Monday's early afternoon discussion. He declined to discuss the particulars of that meeting and was even less inclined to comment about the firing gossip.
"I don't talk about my job status. We're in this league to win football games and we're 3-7," he said. Regarding his confidence in the team's ability to emerge with some wins over this final stanza, Bowles said "It's not hard, it's football. I hope we put on our pads and play, we coach the hell out of them, we're going to try and win games. That's real simple for us to do, just got to get it done."
Echoing the theme of self-reflection from his Sunday meeting with the media, Bowles remarked that he'll be using the week off to consider any personnel changes, including mixing up playcalling duties.
"I evaluate myself, I evaluate the staff, and I evaluate the players. I'll look at everything going into it," he said. "We'll come out with the best scenario."
McCown, by far the most veteran player in the Jets' locker room at 39, stated that the players are taking criticism towards Bowles and the staff personally and that it can serve as fuel over the final six games.
"I think we should (take it personally) and I believe that is the case because we're all connected in this thing. We all go out there and represent the Jets on Sunday," McCown said. "When things don't go the way you wanted them to, you got to look inside yourself, each man and figure out what can I do to make a difference and make it better and take responsibility for it. That's critical for us and I can obviously only speak for myself and how I look at it, but I believe that will be the case in our locker room, we'll respond accordingly."
Follow Geoff Magliocchetti on TWITTER