With the "Fire Todd Bowles" movement going strong, one man has been left off the hook. Should New York Jets GM Mike Maccagnan go, too?
If you pay any attention to the New York Jets, you've probably read ad nauseam the takes suggesting that Todd Bowles needs to go since the conclusion of Sunday's joke of a 41-10 home loss to the anemic Buffalo Bills.
And, I completely agree. He must go. Today. Now.
The organization has an extreme issue with its standard of accountability if they allow Bowles to coach the team against the New England Patriots in two weeks following this clown show of a loss. The players give their trained monotone spiels to the media claiming they support their coach, but the results suggest the polar opposite.
The players know that Bowles is on thin ice. The team is on thin ice. And yet, they provided a 20 percent effort against one of the worst offenses in the history of the NFL, led by their fourth-string quarterback, one of the worst quarterbacks in the history of the NFL. Matt Barkley entered the game with the sixth-worst era-adjust passer rating in NFL history. He eclipsed 100.0 for the first time in his career as he put up a 117.4—in his very first NFL road win. This is his fifth season in the league.
The Jets didn't even try in that game. It was clear. This coach has no influence over this team, adding to his already catastrophic issues with game management, conservatism, lack of ability to adjust, and stale playcalling. He needs to go now, period, if the Jets have any shot of becoming a viable football team under this ownership.
Bowles is obvious. Perhaps the bigger question is, "Should general manager Mike Maccagnan also be forced to pack his bags?"
Maccagnan has a lot more support than Bowles among the fanbase. As a GM, he doesn't get nearly as many opportunities to embarrass himself publicly as Bowles does. Maccagnan is also a master of public persona, always saying a lot without ever saying anything and sprinkling in enough charisma into his voice to the point where he becomes a likable figure in the eyes of fans.
This does a lot for his perception, especially in comparison to Bowles.
However, if you look past the Starbucks cups that Maccagnan is famous for always sporting publicly, his body of work is as detrimental to this current team as Bowles.
Look at his most recent free agent class. The Jets knew they were planning on bringing in a young franchise quarterback. How did they supplant him? Isaiah Crowell, Terrelle Pryor, and Spencer Long.
Long is the worst center in the NFL and has been perhaps the primary culprit in two Jets losses—almost unheard of from players at that position. Pryor isn't even on the team and left Darnold hanging for an end zone interception in a one-score loss. Crowell had one record-breaking game and has been very poor otherwise—especially in pass protection, where he has gotten Darnold sacked about as much as any lineman.
Defensively, Maccagnan did make a nice pickup with Avery Williamson. However, it looks like he whiffed hard on Trumaine Johnson. Maccagnan just didn't seem to learn from his last splurge on older free-agent cornerbacks when he signed Darrelle Revis and Antonio Cromartie back in 2015.
Desperate for a big name, Maccagnan threw a megadeal at Johnson, 28. He has never been an elite corner in this league and made his name off of high interception totals in spite of actually playing at only a solid level at best. Even so, "solid" players at premium positions like outside corner rarely hit the market, and when they do, they will command top dollar.
The Jets took the bait and guaranteed Johnson the first two years of his contract. Now, he has missed about half of the season and embarrassed himself in the other half. Save for a good game in a loss to Miami in Week 2, Johnson has been picked on every single week, constantly giving up big yardage due to his extreme lack of speed—something we knew about him before he came to New York. This week, his lack of effort stood out more than any other player on the team. He is the single most embarrassing individual on the roster right now.
Maccagnan's draft record is also poor: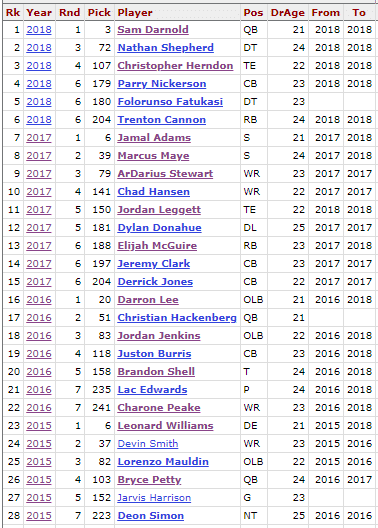 He got the quarterback, sure. Problem is, we still don't know if Sam Darnold will be good, and worse, Maccagnan hasn't collected any homegrown talent to help him.
How many of those players can you be confident will be above average starters for the Jets beyond this season?
Jamal Adams and Leonard Williams are all I got. I'm extremely confident in Chris Herndon, Elijah McGuire, and Brandon Shell, but each needs to prove they can sustain their success in 2018. Darron Lee has had an improved 2018, but still seems average at best. Jordan Jenkins is nothing more than a decent run-stopping outside linebacker. Marcus Maye has had an injury-plagued down second year after slumping towards the end of his rookie year.
That draft track record is atrocious no matter how you slice it. He's picked 28 players, and only two are surefire studs. Only one seems like a bona fide star (Adams). Maybe four or five will be above-average starters next year.
That hit rate doesn't cut it. Worse, Maccagnan has completely neglected the offensive line. He's made only two selections—Jarvis Harrison in the fifth round of 2015 (bust, never played a game) and Brandon Shell in the fifth round of 2016, who looks decent.
It's impossible to operate on offense in this league without an adequate offensive line. It just doesn't happen. Independent of injuries, this unit has killed the Jets more than any other this year. And, it's a unit that is imperative in the breeding of the most important person in the Jets organization, Darnold. Yet, Maccagnan has completely neglected it year after year, leaving his cornerstone piece to step behind a set of turnstiles akin to the entrance of MetLife Stadium.
You can point to Maccagnan's minor successes all you want, and he admittedly has had a lot of them. Especially in the trade market, he's done a pretty good job. Brandon Marshall, if only for one year. Ryan Fitzpatrick, if only for one year. Jermaine Kearse, if only for one year. Henry Anderson looks good.
Get a theme from those? Little trade victories don't build winners. As you can see, many of Maccagnan's best trades did not last, and while he has done well there, the Jets have still been brutal.
Great drafting builds winners.
Teams that can accumulate talent that can be had for cheap and under team control for a long time from the start of their careers, and in turn can be retained in an environment in which they have proven they can thrive? They win year after year. Teams that have to gamble on outside talent and plug holes through patchwork? Those teams don't succeed.
If you can't grow a financially flexible core from scratch that fits with what your team is trying to do schematically and culturally, no sustainable good is going to happen. Maccagnan has failed at this exact task.
Bowles needs to go now. Maccagnan probably lasts the year. That gives the organization time to think. If Todd Bowles is to go, why shouldn't Mike Maccagnan go with him?