Rebuild. What rebuild? This is the NFL and the New York Jets organization at the moment showcases a laundry list of issues.

Rebuild? What rebuild? A rebuild generally showcases improvement. It does not showcase a team that remains stagnant or actually regresses.
Besides, the is the National Football League—dubbed Not For Long, an environment in which young teams oftentimes chart a course over just one year back to prominence. There is no minor league system. There is no farm. Rookies are drafted only to produce immediately.
Take the New York Jets, for example.
The Jets, everybody's favorite NFL "rebuilding" example pulled a fast one on its fans as of late. After a sobering 5-11 season off the heels of FitzMagic, Woody Johnson and company effectively spread the message of "patience." Patience through a correct rebuild through the draft—something, as Woody preached, they haven't tried previously.
Despite the idea of the Eric Mangini era and Rex Ryan back-to-back Championship Sunday appearances were built on a slow, through-the-draft core, the message worked with the fan base. It allowed Mike Maccagnan and Todd Bowles to effectively start over and enjoy another shot at Jets life.
Once the next eight games are complete, two years will have passed in Jet-land, experiencing a worse second season than a surprising 5-11 first campaign.
It's not working. These aren't regular "rebuild" ills the franchise is experiencing and that's the point to remember.
Whether it's personnel, coaching or a home-field disadvantage, something's wrong. Today, we rank the New York Jets greatest ills as an organization.
4. Drafting
Name the last truly dominant NFL Draft the New York Jets can point to as cause for great turnaround. It's tough.
In 2006, the Eric Mangini-Mike Tannenbaum regime scooped up D'Brickashaw Ferguson, Nick Mangold, Eric Smith, Brad Smith, and Leon Washington in the very same draft. One year later, Darrelle Revis and David Harris were scooped up in Rounds 1 and 2, respectively.
After that, we've witnessed a big nothing.
From the Mangini era to the Rex Ryan-Mikey T. partnership to everybody's favorite, John Idzik, Mike Maccagnan has continued the culture of spotty draft selections. Granted, his first-rounders have hit (for the most part) in Leonard Williams, Jamal Adams, and Darron Lee. It's the rest of the draft that's left a ton to be desired.
Unlike MLB, NHL, and the NBA (to a slighter degree these days), development is a much smaller piece of the puzzle via the NFL. Development must come on the active roster rather than sending a kid off to the minor leagues. Considering this fact, it's the actual draft selections that weight much heavier within the process.
3. Conventional Pass Rush
It's been whined about to death. Since the oft-injured John Abraham moved away, the New York Jets have possessed not one decent conventional pass rush.
At times, the interior D-line has been great. Reference the Sons of Anarchy (Muhammad Wilkerson, Sheldon Richardson, and Damon Harrison). The Big Cat was also involved and has carried on the torch. How about Sione Pouha, Kris Jenkins, Shaun Ellis, and Mike DeVito? Many interior Jets D-lines have played as some of the league's best over the last 10-12 seasons.
Employing an interior D-line alone never gets the job done. It will against the run, but when rushing four while dropping seven, the conventional rush needs an EDGE presence.
This organization ranks as the very worst in this area since Abraham left the building. In combining this issue with drafting, it has to be a bit frustrating that a guy the Jets could have snagged last spring, Alabama's De'Shawn Hand, is playing well in Detroit.
Securing an edge rusher remains a top priority.
2. Offensive Line
Much like the conventional four-man pass rush, the Jets suffer on the other side of the ball in similar fashion.
Trench-play is crucial. It always has been since the dawn of the sport. Currently, the only one area of a possible four the New York Jets can hang in there and play well is as it pertains to trench-play when defending the run.
A conventional rush when defending the pass, rush blocking and pass blocking are all poor areas within the organization.
For years, I've been screaming about this topic. Seemingly, Mike Maccagnan has ignored the position and by drafting just two offensive linemen in 28 total picks (over his four years in town), the unit is completely void of building-block talent.
It's almost as if Maccagnan feels he's smarter than anybody in the room and that his team doesn't need top-flight talent at the OL spot.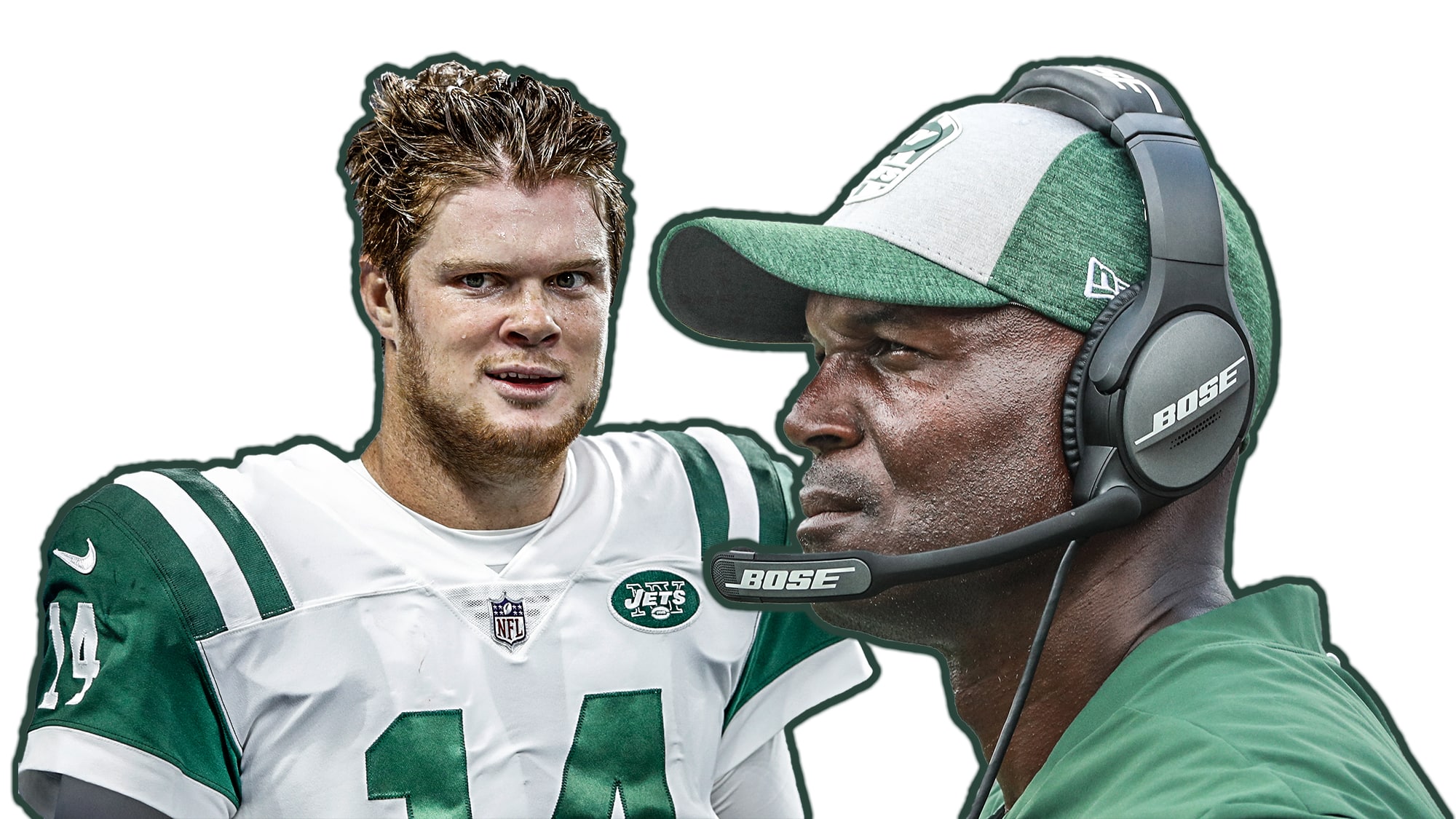 1. Overall Conservative Mindset, Head Coaching
As bad as the conventional pass rush and offensive line remains, the No. 1 ill of the New York Jets organization is that of the overall mindset by way of the head coach.
Todd Bowles could have made a terrific NFL head coach in 1984. Not today.
Today, as per NFL rules, aggressive, offensive clubs win. Bowles, on the other hand, wants his offensive line to impose its will against the defense via the rushing game, keep it close and hopefully, allow his defense and special teams to win a close one.
His mind and what he sees completely contrasts with what wins in today's game.
Doug Pederson calling the Philly Special on 4th-down in the Super Bowl. Could you ever imagine Bowles playing that aggressively?
The winning head coach in this league looks at a Tom Brady-led team and realizes he must outscore them. Bowles looks at that team and tells his offense not to screw it up for his defense. "Don't turn the ball over" so our defense plays with good field position, is his mindset. That doesn't work anymore. Teams fart 15-yard penalties by accident in today's game.
Until the New York Jets bring in a legit offensive-minded strategist or Bowles suddenly turns on a miraculous 180-degree dime, Sam Darnold won't develop and the organization has no shot.
What Wins In This League
Aggressive offensive football and a conventional four-man pass rush (to limit the blitzes) is what wins in today's NFL. Unfortunately, the Jets game plan on a weekly basis features the exact opposite.
Todd Bowles wants to see "three yards and a cloud of dust" and blitz. Granted, his inept O-line and conventional pass rush do him no favors, but the body of work over four years can't be completely tossed away due to that unfortunate circumstance.
Forget talent. Forget Darnold. Forget the next edge rusher or decent O-line. What this New York Jets organization needs most is to understand they're attempting to play and strategize game plans around an outdated line of thinking that was best suited for the 1980s.