New York Jets running back Elijah McGuire has the talent and wherewithal to bring hope to an offense in desperate need of a little. 

At 3-6, it's already that time of year again for the New York Jets. Time to question whether you are rooting for the team to win or lose. Time to watch the team play without the leadership of a star young quarterback. Time to watch a gritty punting battle while the rest of the NFL goes bananas playing some of the most exciting football in the history of the sport.
It's tough to find reasons to legitimately want to tune into a Jets game at this point of the year. However, hidden beneath the surface of a losing, struggling franchise are always a few diamonds in the rough worth keeping an eye on.
For these Jets, outside of Sam Darnold, of course (once he returns), young running back Elijah McGuire can be perhaps the number one ray of sunshine to bring light on otherwise grim Sundays in the Meadowlands.
McGuire, a sixth-round pick of Mike Maccagnan out of Louisiana in the 2017 draft, struggled at times as a runner in his rookie season but turned heads with his elusiveness and receiving ability.
In the run game, McGuire averaged only 3.8 yards per carry on the season—a number that dips to a ghastly 2.8 if you remove his one 69-yard touchdown against the Jaguars. That's not to discount what was a phenomenal play—but the point stands that McGuire struggled a bit in the ground game in his inaugural season. His vision was spotty and he couldn't turn the edge playing behind a lackluster run-blocking front.
None of that is to suggest McGuire has no upside as a runner. When the blocking was there, his upside as a big-play threat flashed tremendously.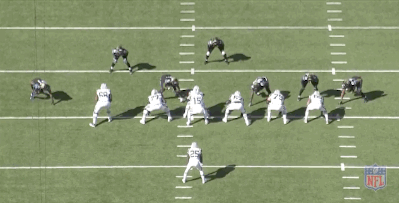 However, the areas where McGuire really stood out were with his pass blocking, receiving, and open-field elusiveness.
When he was able to get the ball in space as a receiver, his ability to make people miss with shifty lateral movement really stood out.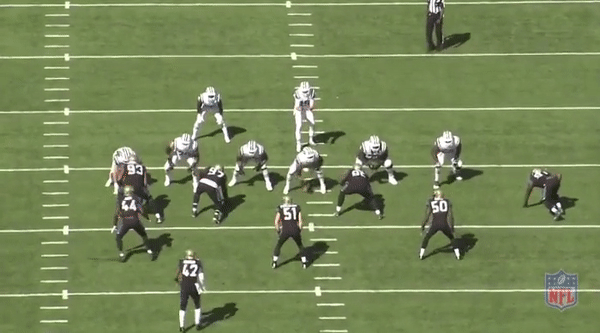 He was versatile as a pass game threat, often splitting out wide and showing nifty route-running ability for a back—an ability that has become increasingly coveted in today's NFL. Just take a look at the way players like Todd Gurley, Kareem Hunt and Alvin Kamara are used as keys to dominance across the league. Those guys have the size and athleticism of a back, but also possess the route-running finesse of a wide receiver. That ability creates mismatches—the name of the game in the modern NFL. McGuire produced on go routes from the outside, slant routes, and in the screen game.
How many running backs can do this? (McGuire is wide right on the bottom of the image.)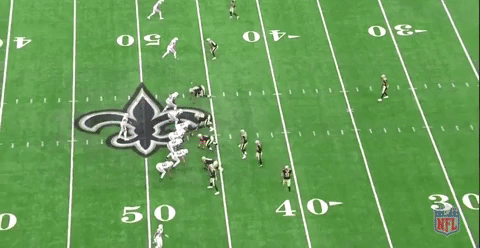 McGuire picked up a first down on 10 of his 26 targets last season (38.4 percent). Of the 63 RBs with at least that many targets, only two (Devonta Freeman & Damien Williams) had a higher conversion rate.
Also essential for a back who is to thrive on passing downs is the ability to pass protect. The 5-foot-10, 214-pound McGuire looked polished in that area last season.
All of these tools combine to build the prototype skillset for a modern receiving back in the NFL. In his return game against Miami this past Sunday, McGuire brought out every one of those tools.
In the running game, he looked fresh and more apt at creating his own yardage in the backfield. He picked up 30 yards on seven carries for a 4.3 YPC average—a mark he hit only four times out of 16 games in 2017. Two of those carries resulted in first downs.
As a receiver, he caught all three of his passes for 37 yards. Each one resulted in a first down, including this marvelous quick slant and broken tackle lined up wide right (bottom of image).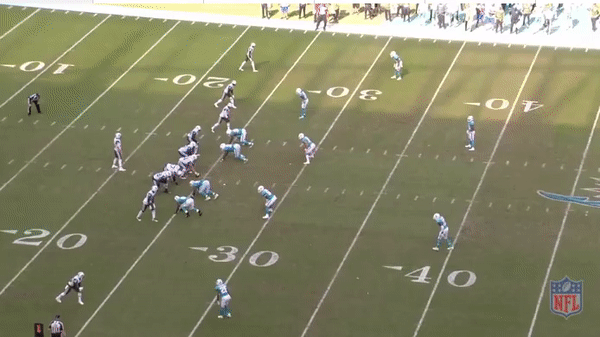 Altogether, McGuire touched the ball 10 times and the Jets picked up a first down on five of those plays. That is an absurd rate of efficiency—certainly unsustainable, but unquestionably promising for a season debut.
McGuire only stayed home and pass protected once—but it was a beautiful stunt pickup. This is some of the best pass protection you'll see from a running back. Seriously, I can't get myself to stop watching this. I wish the Jets' interior offensive line could show this level of awareness on stunts.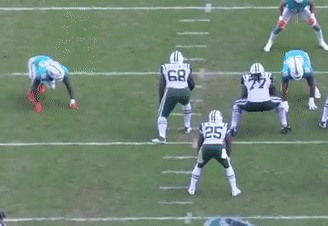 McGuire led Jets running backs playing 55 percent of the offensive snaps. If the Jets are smart, they'll continue upping that number throughout November and December to get an extended look at McGuire. He compares strongly to revered Jet Bilal Powell.
Powell was always very efficient and versatile. His biggest question was always health. McGuire can be the next Powell—potentially even better. The Jets need to play him as much as possible and see where he fits in this offense long term. With the team sore for offensive talent, they could be forced to make a highly risky investment in a player like Le'Veon Bell to patch up the holes on the offensive side of the ball.
McGuire can be special. The Jets are gradually pigeonholing themselves into needing to pay major dollars to acquire name talent in order to achieve legitimacy on the offensive side of the ball. Free agency is a side dish—never the main course. Especially at the running back position, the more prudent route is always to find a solution in the draft.
Each of the current top 12 scoring offenses in the NFL drafted their top RB.
The New York Jets need to find as many core pieces from within as possible over these next few months, and Elijah McGuire is one of their best candidates to become one.
They need to not only feed him—but stuff that ball down his throat.