New York Jets leader Jamal Adams uncharacteristically allows frustration to boil over in leading to showcasing the wrong message.

Very rarely can one get on Jamal Adams's leadership ability on and off the football field. For those who venture the New York Jets locker room on a consistent basis, it's clear who holds the crown as Florham Park's main attraction.
It's No. 33, the Jets stud strong safety.
It's also what makes the kid such a valuable asset in the NFL. Not only is he an All-Pro talent at the position, but he's also that dude who just craves winning while working hard to get there.
To nobody's surprise, losing has the guy infuriated, and that's OK. … that was, until, Tuesday came when he "liked" a tweet suggesting that the Dallas Cowboys make a run for his services come 2020.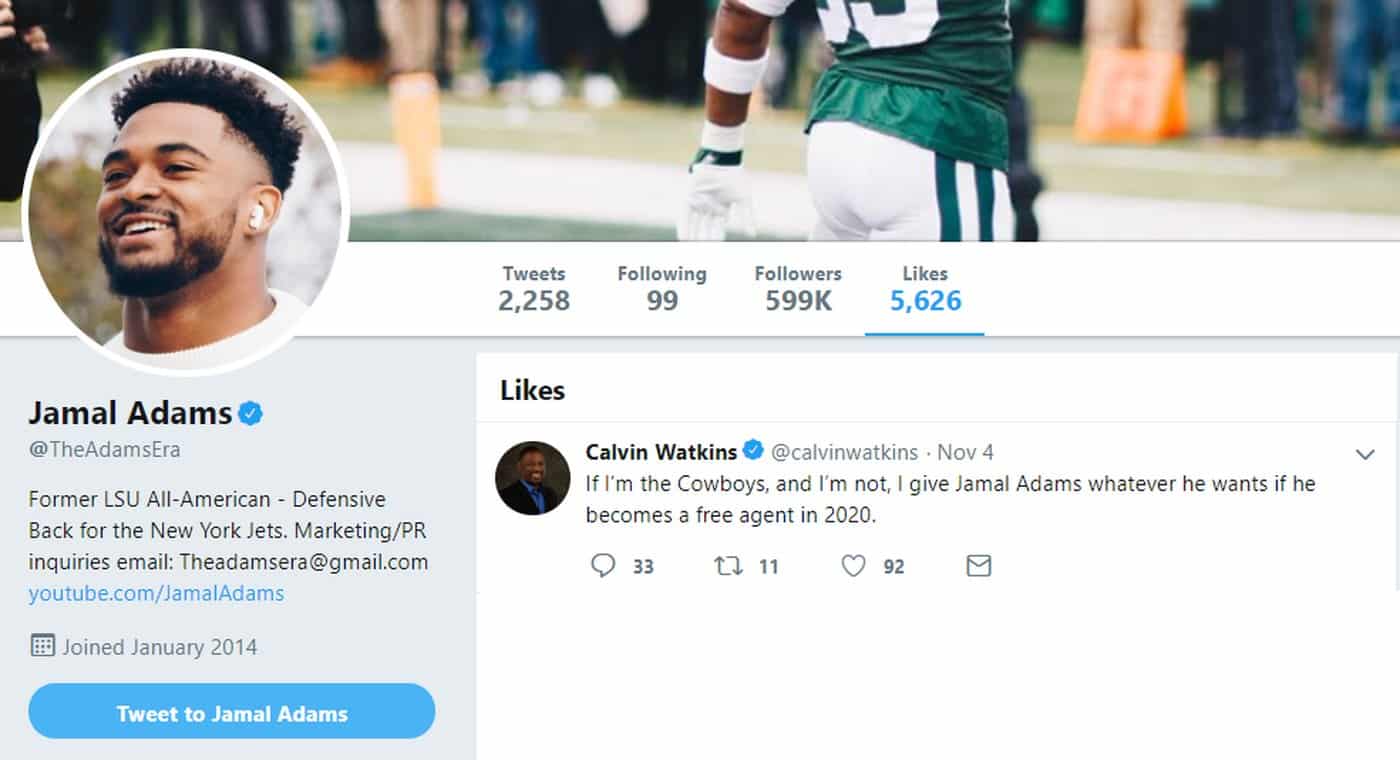 Jamal already tired of us lol. @nyjetsfansonly pic.twitter.com/ORRZ9HJt9c

— Frank (@FrankJDeNike) November 6, 2018
This is not a good look. It doesn't matter who you are.
Adams, 23, grew up near Dallas in Lewisville, Texas prior to attending LSU. Playing for the Cowboys is something he must have imagined growing up as a baller.
Quite frankly, it wouldn't matter if the Jets were 0-9 right now. No amount of losing justifies creating a silly ruckus via a silly tweet. No under-the-radar/cryptic messages are necessary when a leader goes about his or her business.
But like I already said, this one is uncharacteristic of the second-year pro.
After the Jets lost their third straight, Adams wore his emotions on his sleeve.
"It's the same, same, same stuff," said Adams, via ESPN. "It's frustrating. I'm not going to hold my tongue for anything anymore. I'm not a loser. I don't do this for fantasy points. I do this for the love of the game. I'm passionate about this team and I believe in this team.

"I'm sick of losing. Honestly, I'm sick of losing. I'm fed up with losing. … It pisses me off every time. I'm not a loser. I want to get back on the winning track. We've lost three straight? Come on, man."
Adams also showcased a tremendous job when sticking up for head coach Todd Bowles on Tuesday. Whether or not Adams personally likes Bowles or feels as though he's a solid NFL coach, his words are what make leadership tick, Adams proclaimed on CMB on WFAN, via Al Iannazzone of Newsday.
"I'm all about T-Bowles," Adams said during his weekly spot on WFAN's "Carlin, Maggie and Bart" show. "I don't think it's him. So all those speculations and people saying that Todd Bowles needs to be gone – no, that's not it.

"I'm for Todd Bowles. I'm with him through thick and thin, and I'm going to always support him. I think that he does a hell of a job preparing us as the coach of the team as well as our assistant coaches do a hell of a job. We just got to put it together. We can't make up excuses. We got to go out and execute."
All in all, the Twitter-like won't turn out as anything massive. It'll most likely turn out as a small blip on the radar (unless or until he signs elsewhere in 2020). Generally, the kid demonstrates solid leadership.
At the same time, fair is fair. He'd probably admit to himself that this one was a frustration move on his part that he probably should have stayed away from.
Liking a tweet suggesting another NFL team should take a run at you helps nobody while improving no situation.