This Sunday the New York Jets look to get back to .500 when they travel to Chicago to take on the Bears. Here are some things you need to know.
Last season, the New York Jets stood in the same position they are in now. After a home loss to Minnesota last Sunday, the Jets record stands at 3-4. In 2017, the Jets finished with just two wins in their final 11 contests.
The Jets travel to Chicago this week in their first of consecutive road games. Will they rebound from last week's loss or will they continue the familiar path to collapse that plagued them last season?
Here is what you need to know:
DARNOLD UP/DOWN
After combining to throw for 477 yards and five touchdowns while completing over 65 percent of his throws in wins over the Broncos and Colts, Darnold struggled against the Vikings (17-42, 205 yds, TD, career-high 3 INT).
Such is the life for a rookie quarterback learning his way around the NFL. The Bears present another tough opponent for Darnold, as they rank 12th in the NFL in total defense (350.0 yards per game allowed) and 11th in scoring defense (23.3 PPG).
Still, the first-year QB has done well in his initial go around the NFL. In comparison to other rookie quarterbacks in their team's first seven NFL games, only Deshaun Watson threw more TD passes (19) than Darnold's 10. He is struggling in other areas (completion percentage of 55.6 is the worst among the 14 qualifiers, while his QB rating of 74.3 is 12th), but overall he continues to show progress.
HOW DOES DARNOLD COMPARE TO OTHER JETS ROOKIES AT AB?
The last two quarterbacks to start Week 1 as rookies for the Jets were Geno Smith in 2013 and Mark Sanchez in 2009. Joe Namath did not start in Week 1, but did either start or play in each of the team's next six games.
Here is the breakdown.
Jets Rookie QB Comparison
| QB | Year | W-L | Pass Yards | TD/INT | Rating |
| --- | --- | --- | --- | --- | --- |
| Sam Darnold | 2018 | 3-4 | 1552 | 10/10 | 74.3 |
| Geno Smith | 2013 | 4-3 | 1723 | 8/11 | 74.3 |
| Mark Sanchez | 2009 | 4-3 | 1178 | 6/10 | 61.2 |
| Joe Namath | 1965 | 1-5-1 | 756 | 5/5 | 62.0 |
RUN GAME A FACTOR IN DARNOLD/TEAM SUCCESS
A considerable factor in Darnold's success this season has been the running game. In the Jets four games they have rushed for 100 or more yards, Darnold completed 62.5 percent of his passes (65-104), passed for 200 yards a game and threw seven touchdowns to five interceptions. The Jets are 3-1 in those games.
POWELL/MIDDLETON OUT FOR SEASON
RB Bilal Powell will be out the remainder of the season due to a neck injury suffered in the Jets 37-17 loss to the Vikings last Sunday. FS Doug Middleton tore his pectoral muscle against Minnesota and will also not return this season.
BEARS RECOVER AFTER HEART-BREAKING LOSS IN OPENER
After suffering a brutal Week 1 loss at Green Bay on Sunday Night Football where an injured Aaron Rodgers rallied the Packers from 20-0 late in the third quarter, Chicago rebounded.
The Bears won their next three games after losing to the Packers in Week 1, culminating with a 48-10 win over the Buccaneers at home in Week 4.
BEARS TAKING ON AFC EAST
Since returning from their bye week after defeating Tampa Bay, the Bears have lost two straight games against AFC East opponents. Chicago plays the Jets this Sunday and travels to Buffalo next Sunday.
Against the Dolphins in Week 6, Chicago allowed a late touchdown by Miami to tie the game, then lost in overtime, 31-28. Last week against New England, the Bears completed a hail-mary pass on their final play, but WR Kevin White fell one-yard short of the end zone which would have given Chicago a chance to tie the game with an extra-point. The 38-31 loss was their first home loss of the season.
Since the divisions were realigned in 2002, the Bears are 7-11 (3-6 at home) against AFC East opponents. The Jets are the one opponent they have had success against. Chicago has lost eight of their 11 games overall and six of their seven home games against the Patriots, Bills, and Dolphins while winning all four of their games against the Jets.
SERIES AGAINST BEARS
The Jets will be making their first visit to Soldier Field since 2010 when they lost 38-34. Jay Cutler threw for 215 yards and three touchdowns, while Matt Forte ran for 113 yards and a TD in a snowstorm.
Overall the Jets have lost four straight against the Bears and are 3-8 all-time against them. Going back to 1979, the Jets have lost four of their last five games in Chicago.
The last time the Jets defeated Chicago was at the Meadowlands in 2000. Vinny Testaverde threw for 215 yards and two TD as the Jets came away with a 17-10 victory.
These teams last met at MetLife Stadium on Monday Night Football in Week 3. Geno Smith threw for 316 yards but threw two interceptions as the Bears won 27-19.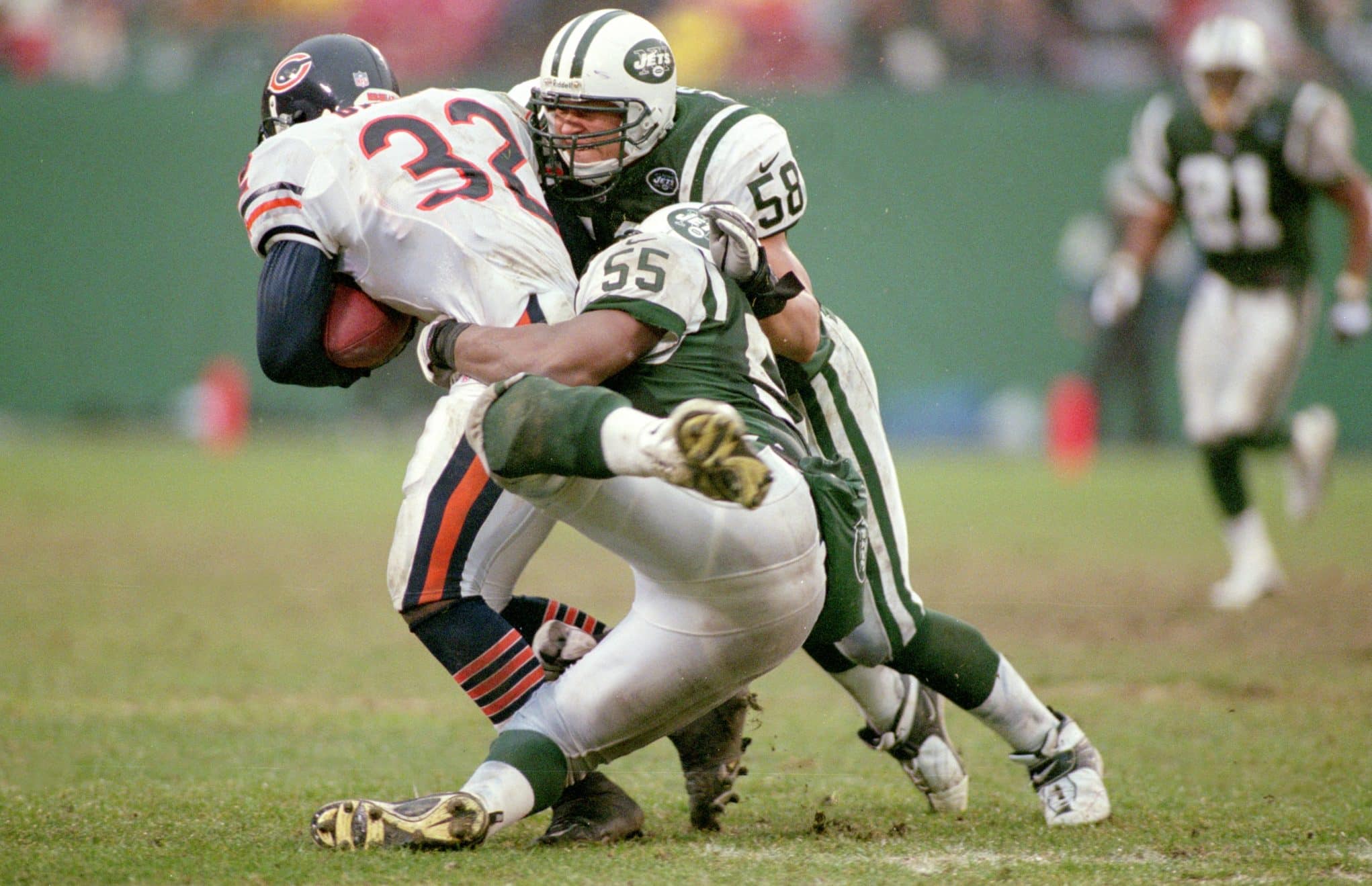 MITCH TRUBISKY HAS BEEN ON FIRE LAST THREE WEEKS
In his second season out of North Carolina, Mitch Trubisky has shown fantastic improvement. In the Bears last three games, Trubisky has thrown 11 touchdowns and just three interceptions while averaging 334 passing yards per game.
Trubisky has been efficient running the ball this season as well. Only Cam Newton has run for more yards (257) and touchdowns (3) among quarterbacks. Trubisky has 245 rushing yards and two touchdowns. He rushed for just 248 yards in 12 games last season.
BEARS TRYING FOR THREE STRAIGHT AT HOME
Chicago has scored 30 points in consecutive home games. The last time the Bears strung together three straight games with 30 or more points at home was 2011 when they had four straight. Since the AFL-NFL merger, Chicago has accomplished this just three times (2006 – four straight & 1995 – three straight).
BEARS DEFENSE
The Bears rank second in the NFL in turnovers forced this season (17) trailing only the Cleveland Browns (20) who have played one more game this season.
They rank fourth in the NFL in stopping the run, allowing 87.5 yards per game and are the only team this season that has yet to allow a rushing touchdown.
Opponents have only scored on 31.4 percent of their drives against the Bears defense this season which ranks 5th best in the NFL. The Bears opponents have also turned the ball over on 24.3 percent of their drives this season which is 1st in the NFL.
The Jets will have their work cut out for them as history and the Bears defense will be tough to overcome.