In the midst of a fire sale, the New York Giants have a perfect opportunity to temporarily right their ship against a familiar foe.

At first glance, Sunday afternoon's game at MetLife Stadium has the potential to get ugly. A divisional leader will take the field, but it certainly won't be the New York Giants, a 1-6 team that hasn't held a share of first place since Week 3 of the 2016 season. Instead, the first-place Washington Redskins (4-2) come to town riding high, fresh off one of the biggest victories in recent franchise memory.
Washington, currently a game and a half up on their non-Giants brethren in the East, has a prime opportunity to extend their lead further with the Dallas Cowboys on a bye and the Philadelphia Eagles facing a challenge from the Jacksonville Jaguars in London. That chance (1:00 p.m. ET, Fox) comes against a Giants team that only partially resembles the one that took the field less than a week earlier, with several crucial pieces either injured or off the team entirely.
To quote the decorated Admiral Gial Ackbar … it's a trap!
The Giants-Redskins rivalry hasn't carried the weight of their matchups in the 1980's, but there have been some great showdowns in recent years. The past five matchups have been decided by 10 points or less, and two of those meetings have held special meaning to the Giants, recent history that's no doubt on the minds of those dressed in burgundy.
It seems impossible to believe that the Giants could even be in this position so recently, but the 2016-17 regular-season finale on New Year's Day began with the Giants firmly entrenched in the NFL postseason. Washington, meanwhile, was in a must-win situation, needing a victory to keep their playoff chances alive. With the Giants resting a good portion of their starters, the odds seemed to favor a Washington playoff berth, but the Giants snatched victory away when Dominique Rodgers-Cromartie intercepted Kirk Cousins' pass on the would-be game-winning drive, the finishing touch on what became a 19-10 victory. It would be Rodgers-Cromartie's second interception on the afternoon.
Despite the second unit taking the spotlight in that victory, several Giants starters helped doom the Redskins' chances, starters that were relatively young and invested in the Giants future. Rodgers-Cromartie, the team's defensive elder statesman, had a third-down sack to accompany his turnovers. First-year Damon Harrison set the pace with a first-quarter sack. Rookie Eli Apple had four tackles on defense, while fellow first-year man Paul Perkins scored the first 100-yard game of his career (and the only such output for the Giants that season). Ereck Flowers started at tackle. Defensive Player of the Year finalist Landon Collins had eight tackles and a sack.
None of those players are with the Giants anymore, with the exception of Collins, whose own Giants fate has been in question this week.
But a matchup with the Redskins provides a brilliant opportunity for the Giants, a chance to, if ever so briefly, return to the vaunted ground of the NFL win column.
Dave Gettleman's general manager era began under a similar circumstance. Stepping into the role in late December, Gettleman was on hand to see a victory in his first game as overseer, a freezing 18-10 victory over the Redskins in the 2017 season finale. While both teams were long eliminated from the NFC playoff picture, the Giants victory, one that capped off a 3-13 season, was one that had the potential to symbolize hope, a victory on which that could look back on years later and view as a fond turning point.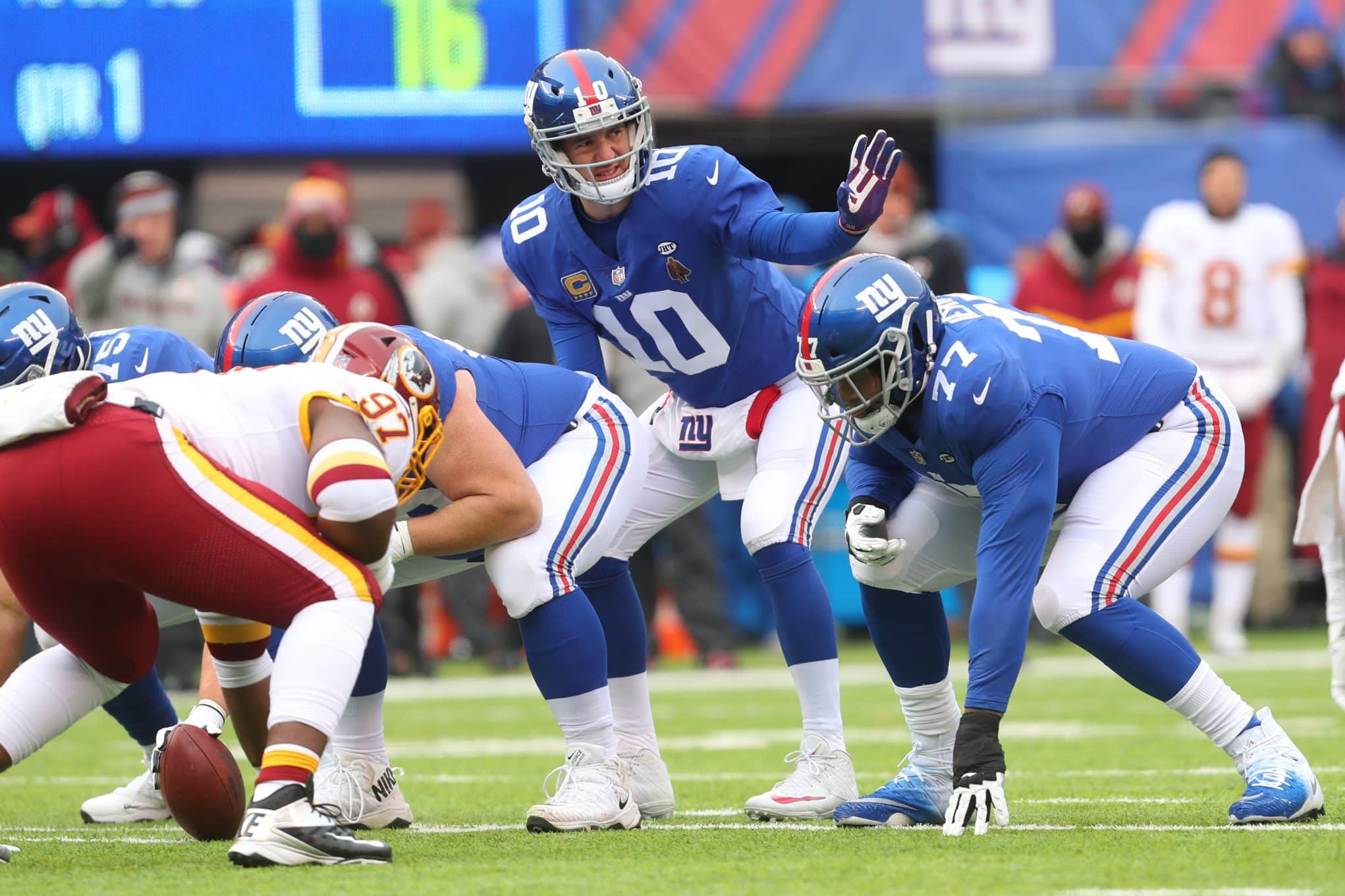 "It felt good just to get the win. After a tough year and a lot of tough games," Eli Manning said after the win. "It might not mean a whole lot when you look at it to get the third win, but it does mean something to the players. Guys have been working hard, they've been competing, they've been giving great effort all year and just to get a win and feel good in the locker room and have some cheers and have some hugs and kind of end this tough year on a good note is special."
Thus far, however, it's only a rare silver lining in a brutal stretch of football.
The Giants tried to have their cake, and then eat some later, building a team that could've made some noise immediately, while also stockpiling picks and prospects for the future. They became a team that was very top-heavy, renowned starters standing over inexperienced depth as 2018 opened. Another dreadful start, however, has caused the Giants to overhaul the whole operation. Apple and Harrison were respectively dealt to New Orleans and Detroit. Lineback acquisition Alec Ogletree won't play due to an injury.
Yet, the Redskins are not in a position to let their guard down, especially in the recent history of the rivalry and their key components.
Washington is likewise missing some key contributors from their 2016 squad, primarily the quarterback. Cousins has taken his talents to the South District of Minnesota, with Alex Smith the boss of the offense in his wake. For the second time in his career, the insipid, yet effective, Smith is getting a modicum of revenge on his doubters after he was cast out of his previous home in favor of a flashy, younger talent. He has since helped steer Washington to the East's driver's seat.
Yet, Smith, a quarterback who has lost his starting duties to younger, flashier talent twice, knows how quickly the good times can evaporate in the NFL.
Smith's final season in Kansas City opened with a 5-0 start, but the Chiefs would close out the year on a difficult 5-7 stretch, one that concluded with a heartbreaking AFC wild-card loss to the Tennessee Titans. Early in that stretch, Smith fell to a similar blue trap in November at MetLife Stadium.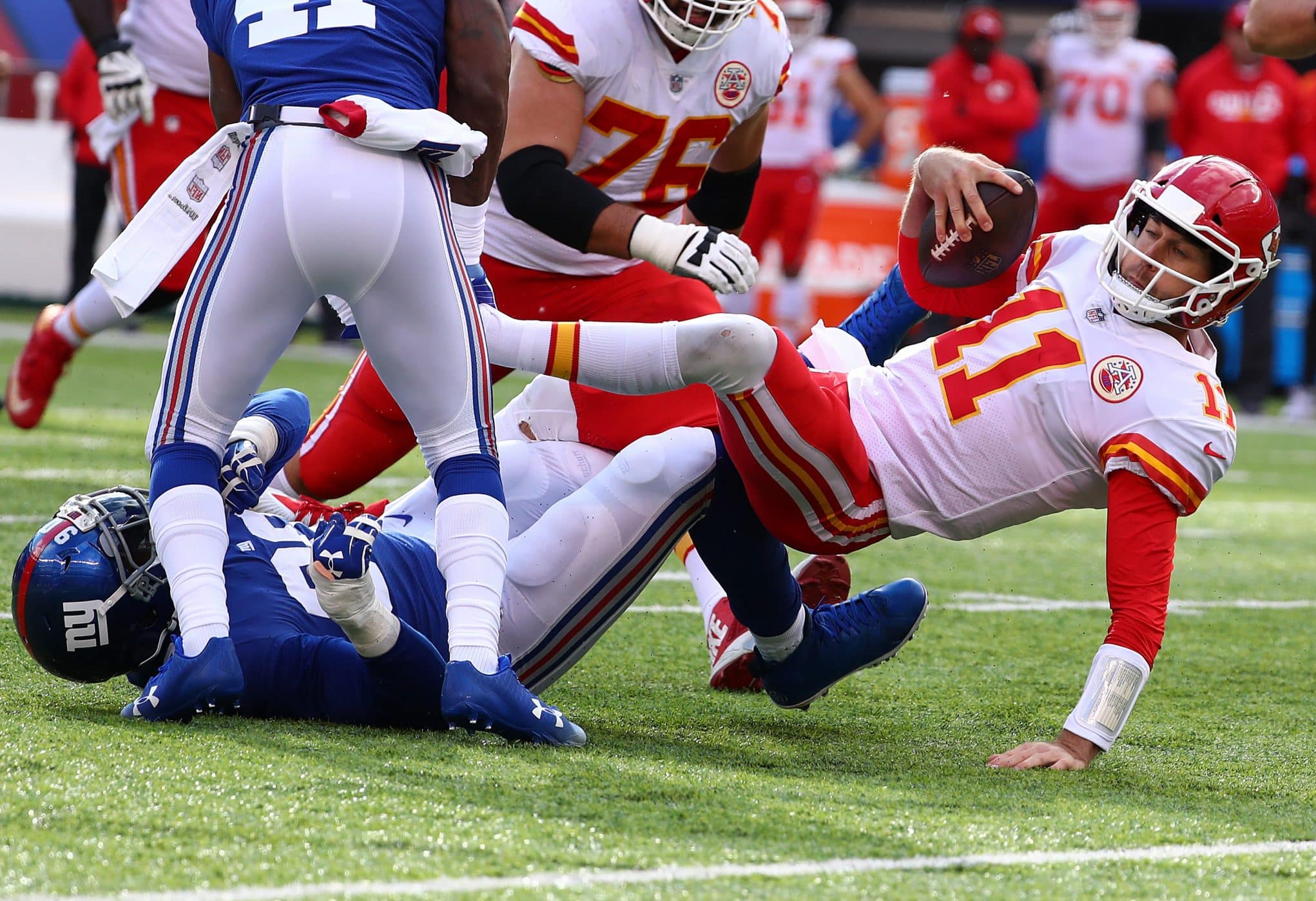 Then 6-3, Smith and the Chiefs ventured to East Rutherford to take on the Giants, reeling at 1-8. Entering the game with one interception, Smith wound up throwing two, accompanying just 230 yards on 40 attempts in an ugly 12-9 loss in overtime.
"I think the bunch of games they've been in, had chances to win versus really good football teams," Smith said in his weekly press conference according to Jake Kring-Schreifels of Redskins.com. "We'd be lying to ourselves if we didn't think this was going to be a physical test."
On the Giants' mini-fire sale, Smith even remarked "I'm not going to get too wrapped up in that. Who knows how they'll take it? Maybe it's going to fire them up if anything."
Smith and the Redskins are coming off one of the bigger wins in recent Washington football history. A 20-17 win over the Cowboys at FedExField was not only a win over a rival that has had their number in recent times but an announcement on an elevated stage, being CBS's premiere game in the 4:25 p.m. ET slot: a warning to the rest of the league that maybe, just maybe, they were ready to be contenders in the NFC. For a team that hasn't visited the divisional round of the playoffs in over a decade.
Surely at least a portion of those who cast aside a surprising win over Green Bay took notice after the win over Dallas. But the team knows that any good generated from that win will be rendered moot if they don't take the Giants seriously.
"Anytime you play in the NFC East on the road, it's going to be a tough game. You don't even look at the records," Redskins coach Jay Gruden said, according to Scott Jennings of Hogs Haven. "They're starting to play well together. They've been in some close games, lost some close games. You look at the NFL season and teams that are 1-6 and teams that are 4-2, a play here a play here. We could be 1-6. They could be… you never know."
From a New York standpoint, this could be another trip down memory lane for some of their top guys. Though his rivalry with Josh Norman has mostly cooled, missing both Washington games in an injury last season, a visit from his old rival could help Odell Beckham Jr. truly burst back onto the NFL scene.
Beckham has slowly started to resemble the game-changing receiver he once was, reaching a season-high 143 receiving yards in the Giants' most recent loss on Monday at Atlanta. Yet, his efforts have yet to lead to more victories. The Giants, for example, have not won back-to-back games since December 2016.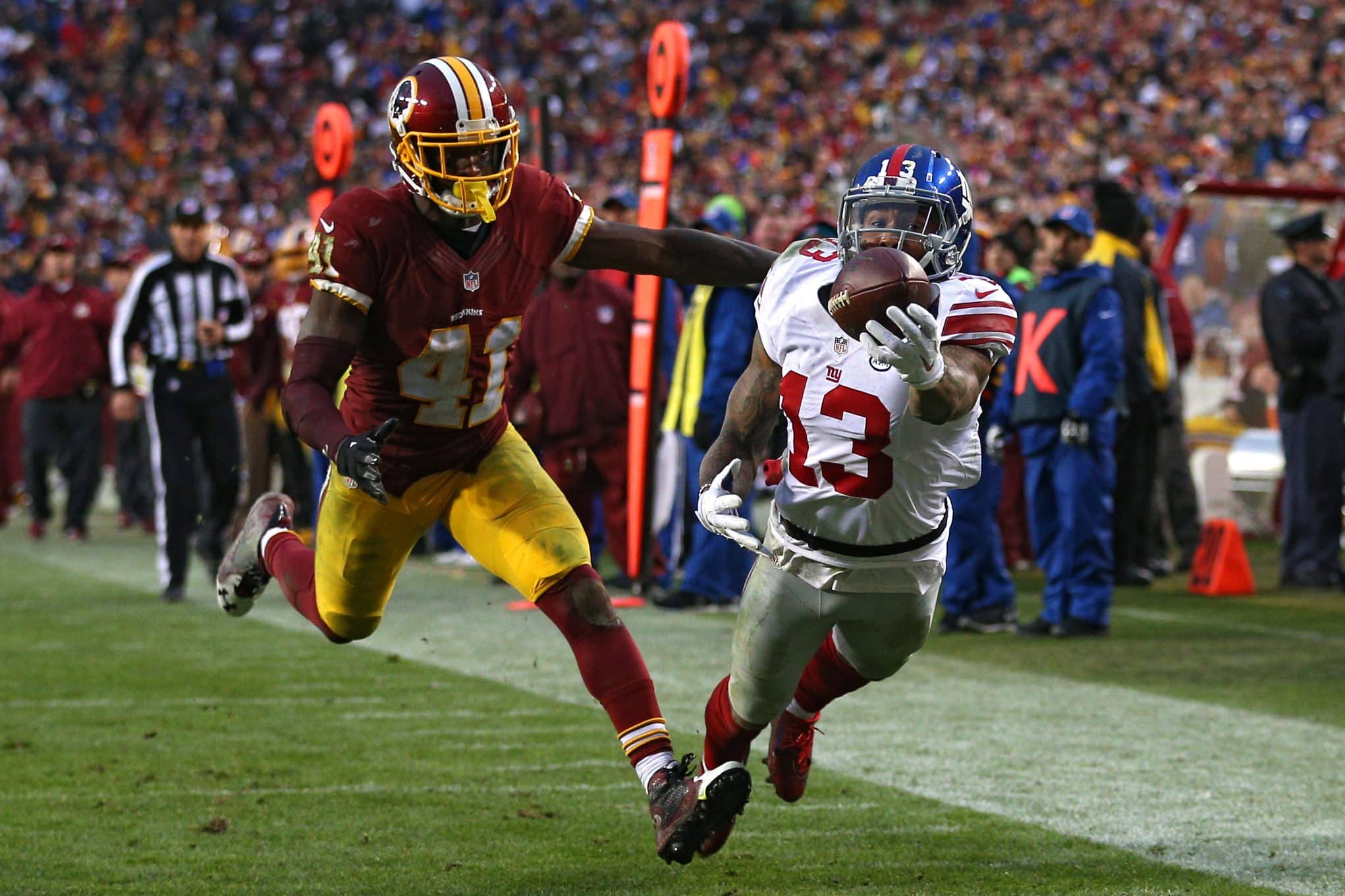 A strong showing against Norman, dormant as that personal vendetta may be, and the hated Redskins can rectify at least some of the early-season blues.
"As long as I'm here I'm always going to care. Sometimes the process is ugly but there will be better days, Beckham said, according to Pro Football Talk's Darin Gannt. "Obviously, this is not where we want to be but this is where we're at. We got nine more games to do something about it."
Eli Manning is another Giants leader that can right his ship against the Redskins. In his many victories, it's Washington that has been victimized the most, as Manning owns an 18-9 record against them. In hindsight, last year's finale might've been the perfect sendoff for Manning, who found since-departed receiver Hunter Sharp for a touchdown, the 50th receiver in Giants history to grab at least one touchdown pass from him. As the clock ran down, whatever Giants fans remained in frigid MetLife Stadium mustered a chant in Manning's name.
It obviously did not serve as the coda to Manning's New York tenure, but Manning knows what a win can do for morale.
"I'm thinking about playing for the Giants this week against the Washington Redskins. That's the mindset," Manning said of the Giants' changes, according to Art Stapleton of NJ.com. "It's our job as players to worry about this season and do our job, prepare each week and go win football games. That's all we can do. We're not worried about next year or next week. We're worried about today and these next couple days to get ready for Washington."
With Halloween quickly approaching, it's safe to describe the Giants' season as a Starburst packet crapped with orange and yellow chews. Sunday, however, can provide an ever-so-brief revert to endless reveals of pink and red, a rare treat in this endless stream of tricks.
"We're playing with effort, we're playing with heart, we're playing our butts off, we're believing in each other, but at the end of the day, we're not executing," running back Saquon Barkley said, according to The Trentonian's Greg Johnson. "If we can figure that out, our record would be a lot different right now. You can't control that, you can only control this week, and this week we got to come out against a very, very good defensive team."
Follow Geoff Magliocchetti on TWITTER