New York Giants quarterback Eli Manning somehow finding his way to the Jacksonville Jaguars would provide us with the perfect NFL narrative.

Appreciation. The universal definition of the word is ironclad. Levels for which the word reflects upon different aspects of life is wide-ranging. Within the northern swamps of New Jersey, there's one man who understands those levels better than anybody.
Twice, Eli Manning has been on top of the football world. Sprinkle in up-and-down, inconsistent play at times during the regular season and suddenly, one of the most underappreciated quarterbacks in NFL history is appropriately tagged.
Another monster has arrived in the category of Eli Manning appreciation in 2018 due to the New York Giants 1-5 start. Thanks to a cranky stud wide receiver, a terrible offensive line, and a new coach whose head-coaching credentials could never match his offensive coordinator column, the general and casual finger is firmly stuck pointing in the direction of the younger Manning.
Before we defend the man, let's admit one thing off the bat: he's not a perfect quarterback. In fact, nobody is. But it's true that Eli will miss a throw here and there at times. He's Tom Brady or Aaron Rodgers and this has been the case his entire career.
The difference today is that he's not receiving his fair number of opportunities to do damage. The O-line, the scheme, and, the dirty-little-secret that'll eventually leak out, Odell Beckham Jr. is not creating separation in coming back from that horrid season-ending injury a year ago. No QB can be graded appropriately while operating from such a built-in handicap.
In classic Eli form, we, once again, have it wrong … we think. To prove it, the narrative that is the Jacksonville Jaguars scooping up the veteran to make a Super Bowl run this winter must come to fruition.
Eli to Jax won't just allow the younger Manning another tournament shot, it'll allow every Giants fan an opportunity to see if Manning is, indeed, washed up or not (like so many are currently claiming).
The Giants Just Can't Protect This Man
It's obvious that this organization cannot protect Eli Manning. After years of dedicated service and two Vince Lombardi trophies, the Jints have paid the vet back by throwing out Ereck Flowers-led lines year after year.
The Jerry Reese years were insanity. This man wasn't even looking to upgrade the position. It almost felt like he thought he was the smartest man in the room and that O-line talent wasn't necessary for today's new high-flying league.
At least Dave Gettlemen understood the crippling deficiency. In overpaying for Nate Solder and drafting Will Hernandez, the old-school GM at least attempted to fix it in year one. While it hasn't been fixed—not by a longshot—Gettelman will, eventually, get it right.
Manning is just too far gone at this point. At 37-years of age, there's no point in continuing this madness week in and week out.
The Giants have failed in attempting to protect Manning. They can ship him off to the Jacksonville Jaguars—a line that will protect him (even without Cam Robinson)—to give him one more shot at an NFL tournament run.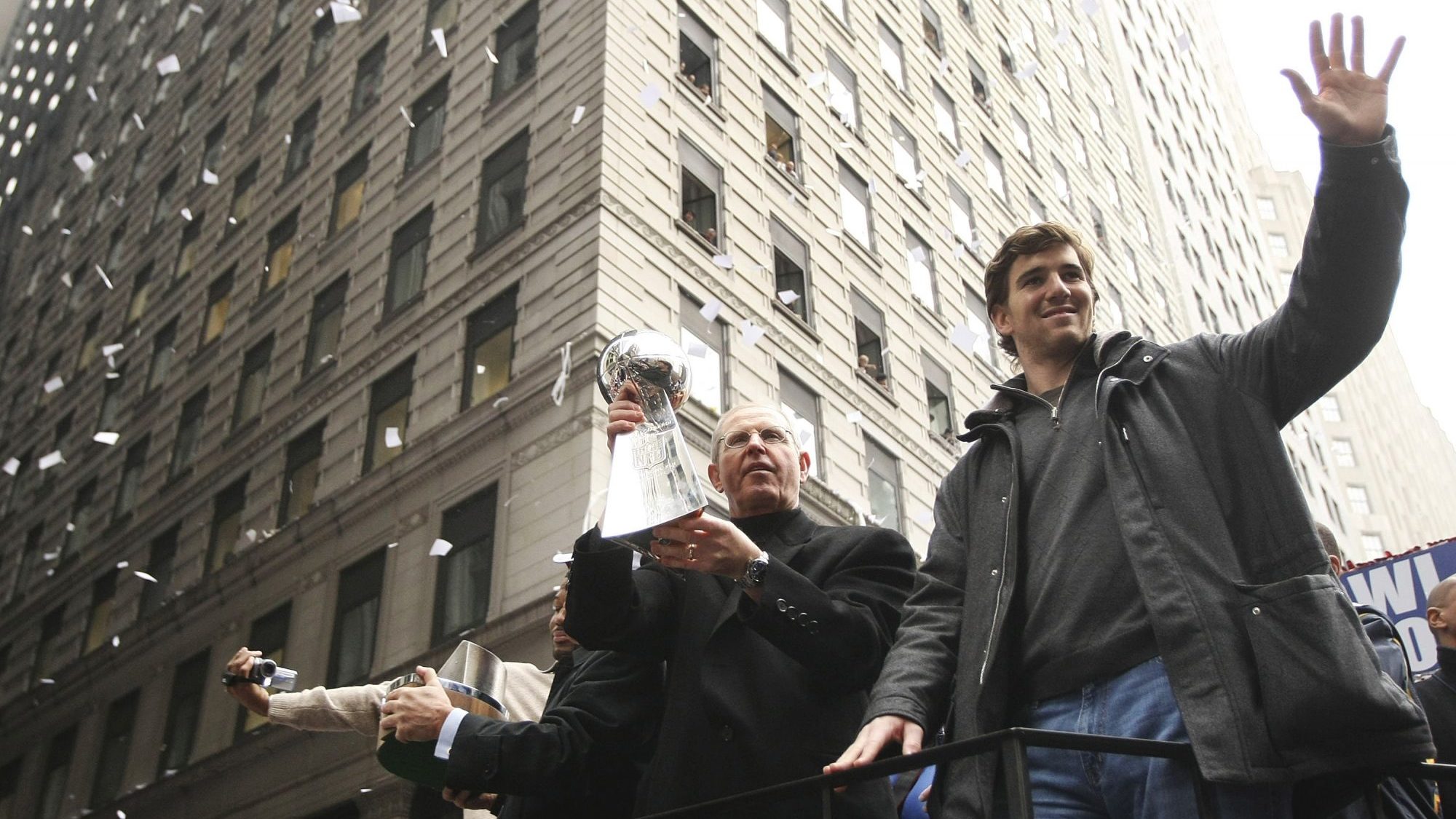 The Tom Coughlin Connection
Tom Coughlin runs the Jacksonville Jaguars. This isn't to discount general manager David Caldwell's imprints. It's simply to state that the old general runs the football side of the franchise.
The Jags have not looked great over the last two weeks of action. Since destroying the New York Jets, they've lost in terrible fashion to both the Kansas City Chiefs and Dallas Cowboys. The loss of Robinson for the season has hurt them badly. But the defense, despite the last two weeks, is still a top-notch unit. The quarterback spot leaves a lot to be desired.
Think about Manning taking over Blake Bortles's post. First and foremost, he'd have a legit O-line in front of him. He'd also have a legit rushing attack. It's not as great as it was a year ago (first in the NFL), it's still near the middle-of-the-pack in terms of YPC without Leonard Fournette's services.
Most importantly, he'd have the opportunity to run an offense that'd allow his style of ball to commence. Nathaniel Hackett is also a west coast mind, but is entirely more flexible than Pat Shurmur's quick-timing strategy. Moreover, Coughlin would know how to handle things with Hackett should a move be made.
Some are so down on Manning that they still believe Bortles is the better option. They'll rationalize that Bortles's legs offer the Jags more a chance.
I retort with this, "When was the last time legs at the QB position won a team the Super Bowl?"
Manning's veteran pocket presence would immediately do good within that Jax huddle and overall offensive attack.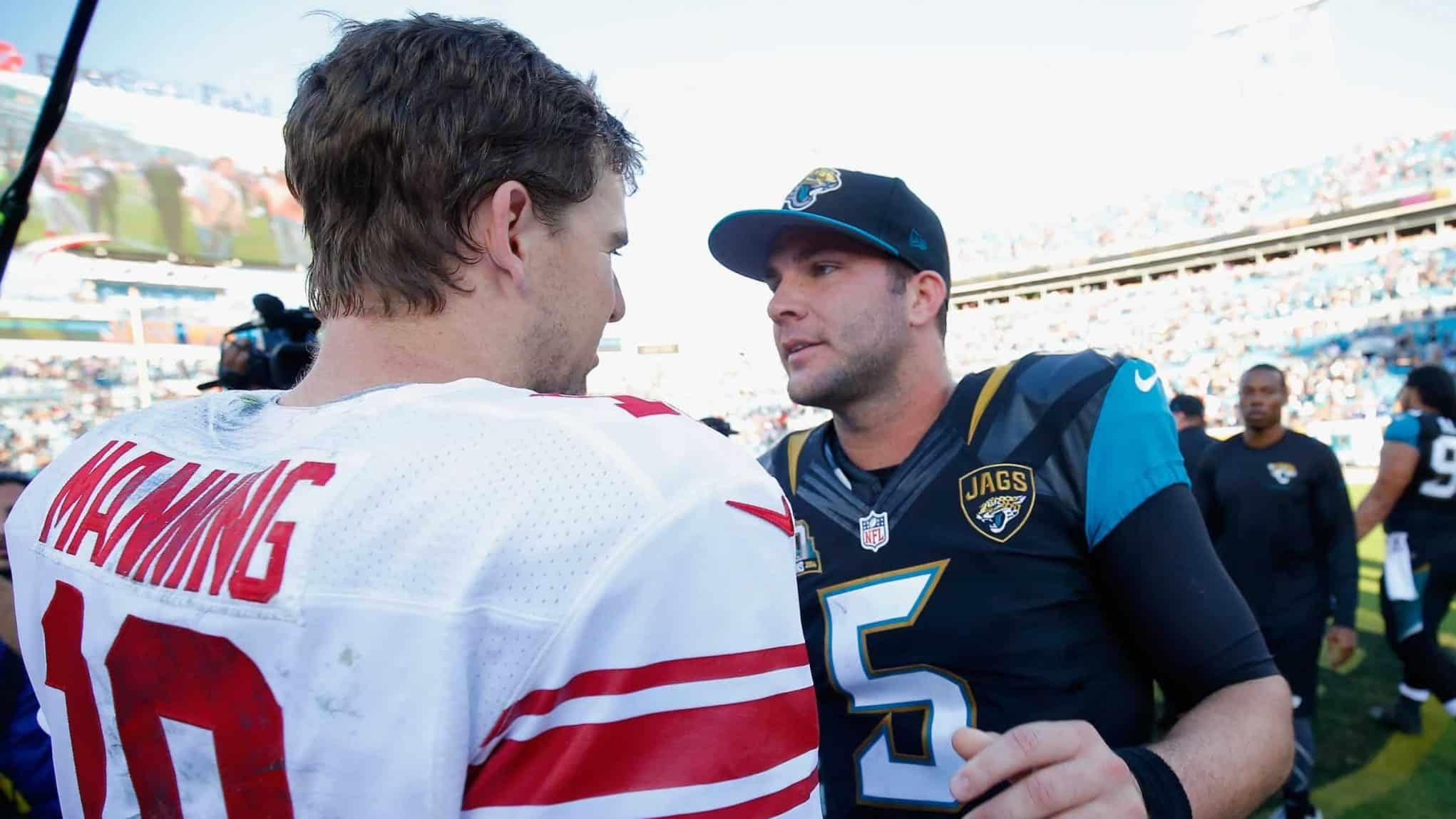 The Deal
What would it take to actually get Manning to Jacksonville?
First and foremost, he'd have to sign off on the deal as his no-trade clause is still a thing. The Jags would have to show interest, obviously. And the Giants would have to publicly announce that looking towards the future is the immediate goal.
Why not a straight swap of Manning for Bortles?
NYG Receive: QB Blake Bortles
JAX Receive: QB Eli Manning
Bortles, 26, is technically signed through the 2020 season, but there's no risk at all. The Giants could take on the former No. 3 pick in what could turn out to be a tryout for the rest of the 2018 season. Should he fall flat on his face, the Jints could cut him after the season and save money ($16.5 million, to be exact).
Manning is signed through 2019 and just like Bortles, brings no risk. The Jags would clear $17.4 million in cap space should they cut Manning prior to June 1, 2019.
The trade essentially amounts to one man's trash for another man's garbage with no baggage involved whatsoever.
The only thing that could hold it up is the Jags thinking more is needed for Bortles, a former No. 3 overall guy. If they hold stubborn to that notion, shame on them. Sometimes specific situations don't work out and a shake-up is necessary.
At 1-5, all it should take is one more loss for the New York Giants to fully implement future mode. Could this possibly include the movement of their two-time Super Bowl-winning quarterback?
For Eli Manning's sake, let's hope so.