This Sunday the New York Jets look to extend their winning streak to three games when they host the Minnesota Vikings. Here are some things you need to know going into the matchup.
When the New York Jets made their decision in training camp to start rookie Sam Darnold, they did so with the understanding that there would be ups and downs during the season.
After suffering through a three-game losing streak where the offense and defense looked flat, undisciplined and unprepared, the Jets have responded with consecutive strong efforts in wins over the Broncos and Colts at home.
Offensive Highs in Three Games
The Jets have outscored their opponents by 57 points (19 PPG). They have executed wonderfully on offense, averaging 412 yards per game. Their rushing attack has flourished, averaging 200 rushing yards per game.
The Jets have averaged 41.3 PPG in their three victories. Their offense has registered points on 21 of their 38 drives (55.3 percent).
Offensive Lows in Three Losses
While their offense has executed very well in their victories, they have done a complete 180 in their losses. The Jets have been outscored by 43 points (14.3 PPG). Their rushing attack has been invisible, averaging 61 yards per game.
Gang Green has averaged 10 PPG in their three losses, while their 39 offensive drives finished with just nine resulting in points (23.1 percent).
Darnold Picking Up The Pace
After completing just 53.8 percent of his passes while throwing two touchdowns and four interceptions during the Jets' three-game losing streak, Darnold has shown massive improvement.
In the Jets last two games, Darnold has completed 65.4 percent of his passes while throwing five touchdowns and just two interceptions.
Jets Own The Vikings At Home
This will be the sixth time that the Jets are hosting the Vikings. They have won all previous five games. In those games, the Jets have forced 19 turnovers while only committing three themselves (+16).
The Last Time
The last time Minnesota traveled to New York was on Oct. 11, 2010, on Monday Night Football. Former Jets QB Brett Favre returned to take on his old team.
Favre threw three INT, including the final one that was run back by Dwight Lowery for a touchdown to clinch a 29-20 win for the Jets.
Jets Defense Forcing Turnovers
The Jets rank second in the NFL, having forced 15 turnovers in their first six games (10 INT, 5 FR). Only the Browns have forced more with 16.
Jets Going For Perfect Homestand
The Jets have won the first two games of their three-game homestand. This marks the 16th time since the merger that the Jets have played three consecutive home games during the same season.
The Jets will be looking to win all three games for just the second time. In 1974 they defeated the Dolphins, Chargers and Bills in weeks 11-13.
The Jets will be trying for their first three-game winning streak at home since 2015.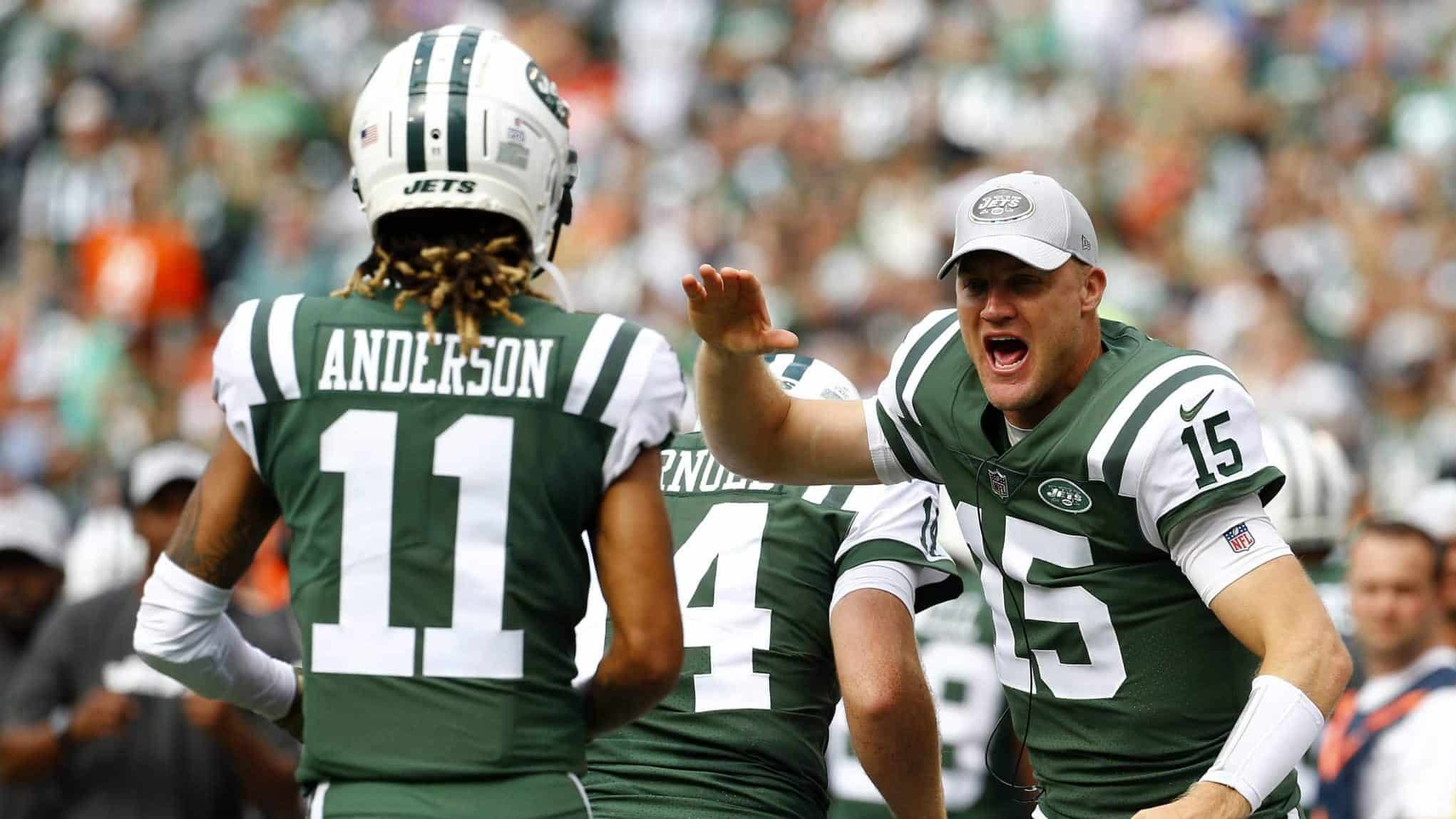 Jets Scoring 30+ In Consecutive Home Games
The Jets have scored 30 or more points in consecutive home games for the 10th time in franchise history. They have scored 30 or more points in three straight home games just once (they posted four straight 30-point games at home in 1998).
The Jets have scored 34 or more points in consecutive games for the 9th time overall and just the fourth time at home (1961 was only other time they did so in consecutive weeks). They have scored 34 or more points in three straight games just twice (2008 and 1988) and have never done so at home.
Jason Myers Looking Good
Jason Myers set a Jets record and became just the ninth kicker in NFL history to make seven field goals in a game.
Myers leads the NFL in field goals made. He has made 16-of-17 this season.
Breaking Down The Vikings
Minnesota enters Sunday winners of their last two games after starting the season 1-2-1. This will be the second game that the Vikings play against the AFC East. Earlier this season Minnesota played its worst game of the season, losing 27-6 to the Bills at home.
Against the Bills, the Vikings posted their fewest yards in rushing (14) and overall (292). Minnesota has averaged 26.8 PPG and 411 yards per game in their five other games.
Vikings Turnovers
The Vikings are one of five teams who has committed at least one turnover in every game this season (Broncos, Texans, Jaguars and Patriots). They are also one of just five teams in the NFL who have lost two fumbles this season.
Kirk Cousins
Everyone knows that the Jets were one of the teams vying for Kirk Cousins' services in the offseason. He has done well so far this season, ranking fifth in the NFL in passing yards (1,921) and tied for third in the NFC with 12 touchdown passes. Both his passing yards and touchdowns are a career-high through the first six games of the season. Cousins trails only Daunte Culpepper for the most passing yards in Vikings history through their first 6 games (1,949).
Cousins is one of four QBs (Jared Goff, Phillip Rivers and Matt Ryan) league-wide to rank in the top 10 in each of the following categories: completion percentage, passing yards and passing touchdowns.
This will be Cousins' sixth start against an AFC East team. He is 1-4 in his five previous starts with eight touchdowns, six interceptions and 1,244 passing yards (244.8 per game).
Adam Thielen On Record-Breaking Pace
WR Adam Thielen has 58 receptions (first in the NFL), the most in NFL history through the first six games of a season. Thielen's 712 receiving yards, also first in the NFL, is the ninth-highest total in NFL history and fourth-highest total since the AFL-NFL merger.
Danielle Hunter
Vikings Danielle Hunter is tied with J.J. Watt for the NFL lead with seven sacks. He is the only player who has recorded a sack in each of the six games played this season.
Vikings Vs. AFC East
Since the NFL introduced two new divisions in 2002 and realigned the league, the Vikings have struggled against the AFC East. Minnesota is 3-13 over that span against AFC East opponents, including having lost all eight road games.
The New York Jets definitely have their work cut out for them but all signs point towards a positive Sunday afternoon for the boys in green.