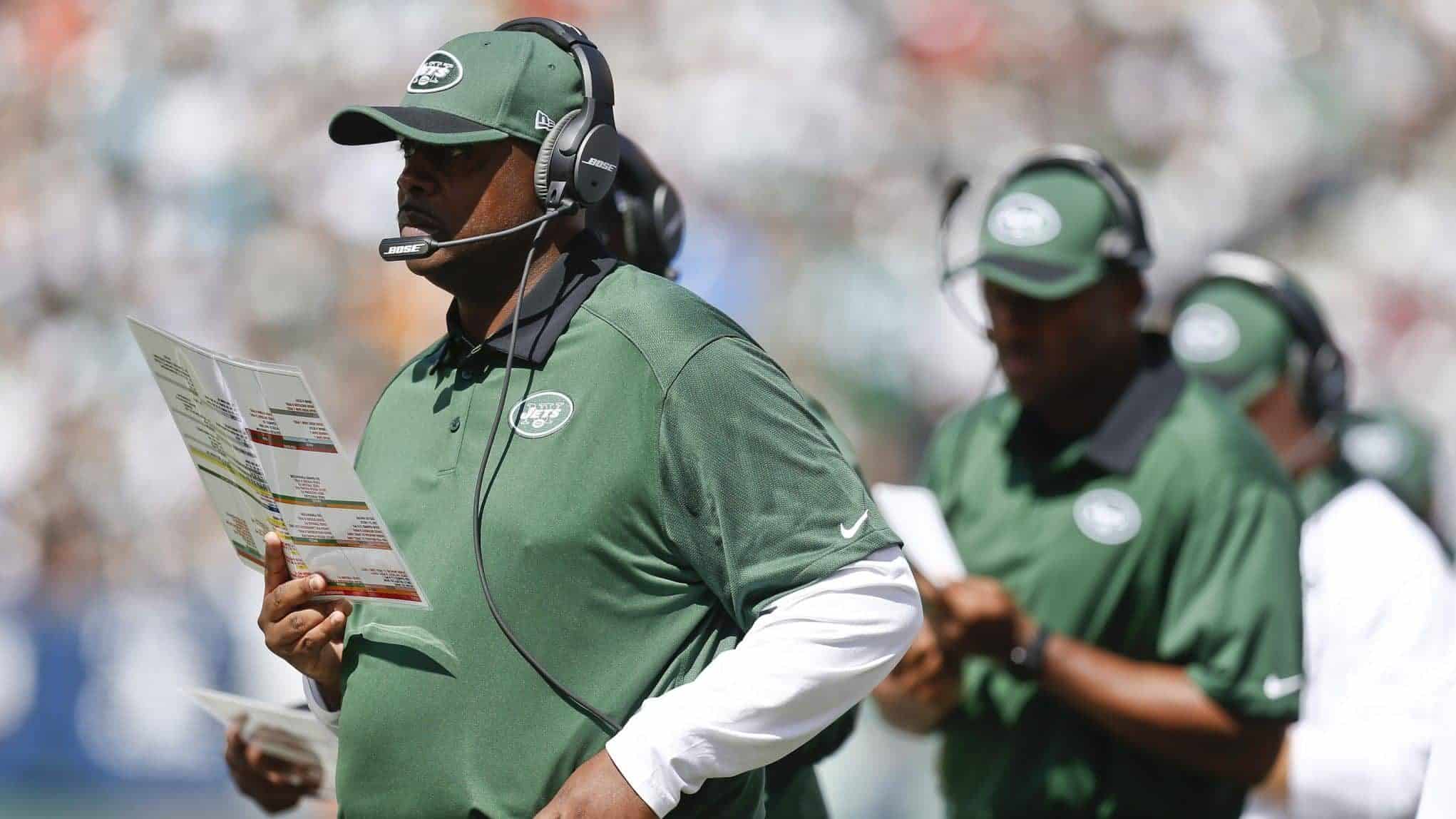 After watching his unit create four turnovers in a win over the Colts, the New York Jets' defensive coordinator will return to the sidelines.
Coach Rodgers in the house! #INDvsNYJ pic.twitter.com/mJrtaiCesP

— New York Jets (@nyjets) October 14, 2018
FLORHAM PARK, NEW JERSEY—The week has only just begun, but the New York Jets have already picked up two vital victories.
Defensive coordinator Kacy Rodgers took in Sunday's game, witnessing a 42-34 victory over the Indianapolis Colts. Battling an unspecified illness, Rodgers made his way to MetLife Stadium in an observer capacity. His prescience was warmly received in the locker room, where he helped break the team down.
"Just to see him walking is a blessing," cornerback Morris Claiborne said, according to NJ Advance Media's Darryl Slater. "When he came in, you could feel the positive vibes that arrived with him. I was just trying to feed off of those vibes when I saw him, and take it on the field with me."
Special breakdown from Coach Rodgers! pic.twitter.com/5Eeeuw3vcp

— New York Jets (@nyjets) October 14, 2018
Less than 24 hours after the Jets put finishing touches on their Sunday win, punctuated by four turnovers from the defense, head coach Todd Bowles revealed another victory in the form of Rodgers' recovery.
In a Monday afternoon conference call, Bowles revealed that not only was Rodgers cleared of his illness, but he will also partake in the Jets' next game as a coach, a Sunday visit from the Minnesota Vikings (1:00 p.m. ET, Fox).
"He's been cleared, and he should be ready to go," Bowles said. "Anytime you get somebody who gets sick or has some type of illness…the job doesn't matter. It's all about the person getting healthy. It's a big relief for us."
Bowles further stated he was not ready to discuss Rodgers' illness, leaving that to the defensive coordinator to elaborate on, should he choose to do so.
The extent of Rodgers' duties headed into Sunday have yet to be fully discussed. Bowles, himself a former defensive coach and coordinator, had taken over defensive playcalling duties in Rodgers' absence.
"We'll ease him in slowly, depends on how he feels, but he's been doing a lot better," Bowles said. "We'll see where he is health-wise, coming back and everything else and we'll try to play it by ear."
In terms of defense, the Jets might need all the help they can get for Sunday's tilt, The Vikings currently ranked 10th in the league with just over 391 yards per game.
All quotes obtained firsthand unless otherwise noted.
Follow Geoff Magliocchetti on TWITTER