Eli Manning has had a Hall of Fame worthy career and is a two-time Super Bowl champion, but his New York Giants career is coming to a painful and sad ending.

Everyone knows that all good things come to an end. Athletes may know this better than anyone as they can literally be the face of the franchise one minute and out the door the next minute.
After 15 seasons with the New York Giants in which he brought the franchise two Super Bowl titles and holds just about every franchise passing record, Eli Manning has to come to grips with the reality that his Giants career is just about over.
Many felt last season could have been Manning's final season with the Giants as the franchise suffered through its worst season with a 3-13 record, and John Mara and Steve Tisch made wholesale changes to the front office and coaching staff.
But the new regime of Dave Gettleman and Pat Shurmur believed that Manning still had something left in the tank and they went all in on Manning and tried to improve the offensive line, and drafted Saquon Barkley with the second pick in the draft.
Unfortunately, Gettleman and Shurmur's assessment of Manning was off as the 37-year-old quarterback is a shadow of his former self.
More than ever, Manning has been affected by the opposing team's pass rush. He's not surveying the entire field. His accuracy on mid-range and deep passes have been off. He doesn't step into his throws when defenders are near him, and often he's content with checking down to Barkley or throwing short passes to Odell Beckham Jr.
Not all of the blame can be pointed at Manning as the offensive line has been poor and the play calling has been questionable. But when you have playmakers the likes of Beckham, Barkley, Sterling Shepard and Evan Engram when healthy, that Manning would have more than six touchdowns through six games.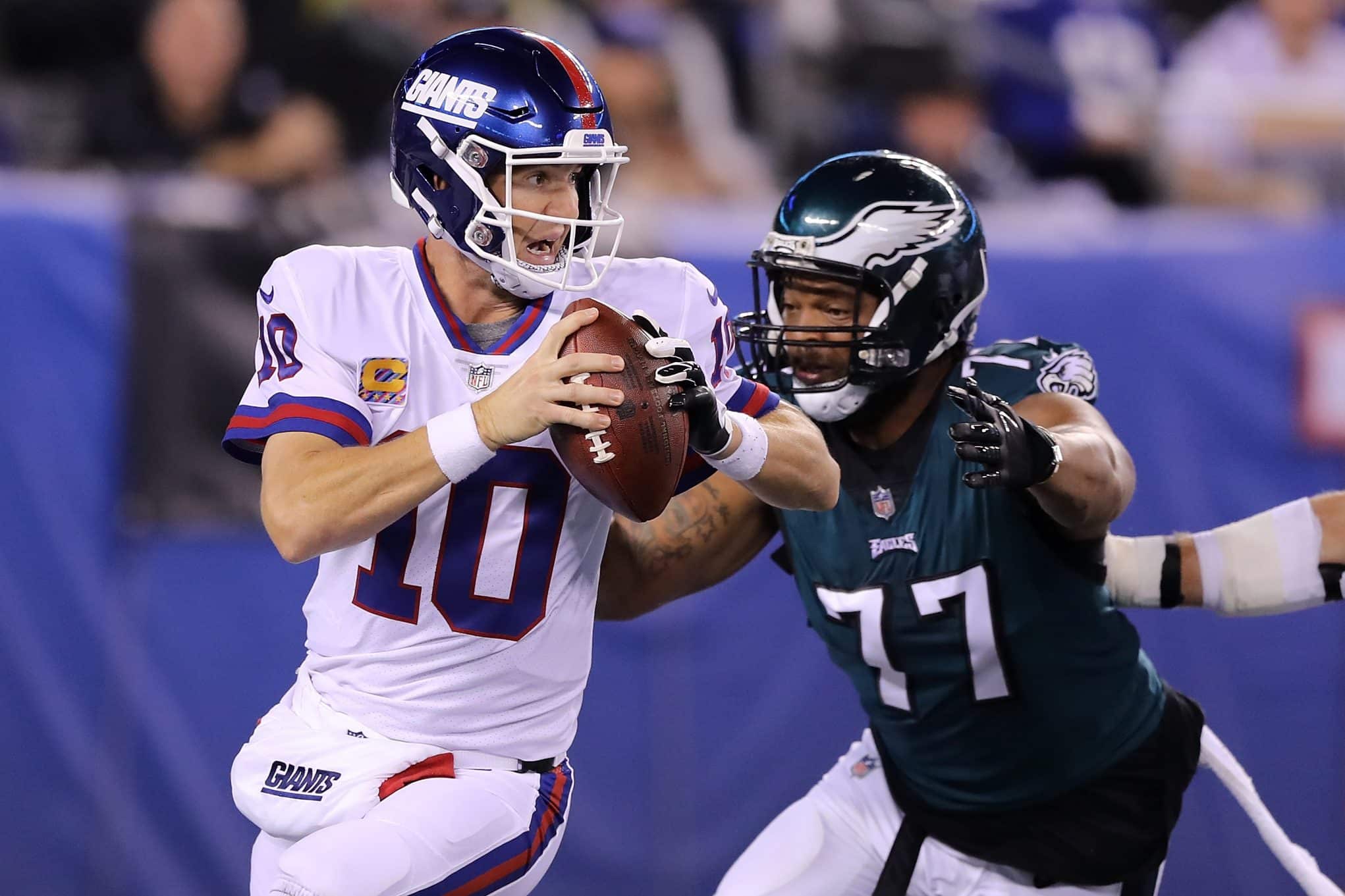 In two of the Giants games this year Manning has failed to throw a touchdown pass which seems unfathomable with the skill players that Giants have, and the way rules and officiating favors offenses.
The decline in Manning's play can be traced back following the 2015 season which was Tom Coughlin's final season as Giants head coach.
In 2015, Manning threw 35 touchdowns to just 14 interceptions and had a QBR of 60.5. Since then, Manning's QBR, completions, yards and touchdown passes have gone down every season.
| | | | | | | | | |
| --- | --- | --- | --- | --- | --- | --- | --- | --- |
| Year | Games played | Completions | Attempts | Comp % | TDs | INTs | Yards | QBR |
| 2015 | 16 | 387 | 618 | 62.6 | 35 | 14 | 4,432 | 60.5 |
| 2016 | 16 | 377 | 598 | 63.0 | 26 | 16 | 4,027 | 49.3 |
| 2017 | 15 | 352 | 571 | 61.6 | 19 | 13 | 3,468 | 45.4 |
| 2018 | 6 | 158 | 230 | 68.7 | 6 | 4 | 1,662 | 42.8 |
While Manning is completing a career-high 68.7 percent of his passes much of that is attributed to his ineffective check downs and as a result, he has a career-low 42.8 QBR.
.@Giants on 1-20 this is their offense. This is a 3 play series. I can't ever remember this Pillar of a Franchise looking so futile. #BaldysBreakdowns pic.twitter.com/K9eEkY1M91

— Brian Baldinger (@BaldyNFL) October 12, 2018
Nobody would expect, at 37, Manning would play at the same level he did when he was 30, but nobody could have predicted that he would fall off a cliff the way he has.
At 1-5 the Giants season isn't mathematically over, but realistically it is. The Giants are 4-18 over their last 22 games, so it's unfathomable to think they could win eight or nine of their remaining 10 games and have a realistic shot of making the playoffs.
Manning has been the one constant in the Giants missing the playoffs five of the last six seasons. The organization has been patient with Manning long enough and it's time they make the painful decision to part ways with the last quarterback of the Wellington Mara era.
Manning achieved a ton of success early in his career as the Giants reached the playoffs in each of his four years as a full-time starter. But have only reached the playoffs twice over his last nine seasons. That is simply not acceptable for one of the marquee franchises in the NFL.
Unlike last season the Giants won't let their season go down the drain without playing their rookie quarterback. So it's only a matter of time before Kyle Lauletta sees his first NFL action.
Seeing Manning on the sidelines will be an even more surreal moment for Giants fans than last season when he was benched for Geno Smith because the realization will kick in that Manning may have started his last game for the Giants.
Manning is under contract through the 2019 season. But after what's transpired over the last two seasons there's no way they can bring him back in 2019. So they'll have to cut him unless he decides to retire.
It's a sad way for Manning's legendary Giants career to end. He's responsible for some of the greatest moments in Giants history and has personified class on and off the field.
Not too long after his playing days are over he'll have his jersey retired and being inducted into the Giants Ring of Honor.
Over the last 20 years, only Derek Jeter and maybe Mariano Rivera have meant more to New York/New Jersey sports than Eli Manning. It's just a shame he won't get the storybook ending that Michael Strahan in closing out his career as a champion.