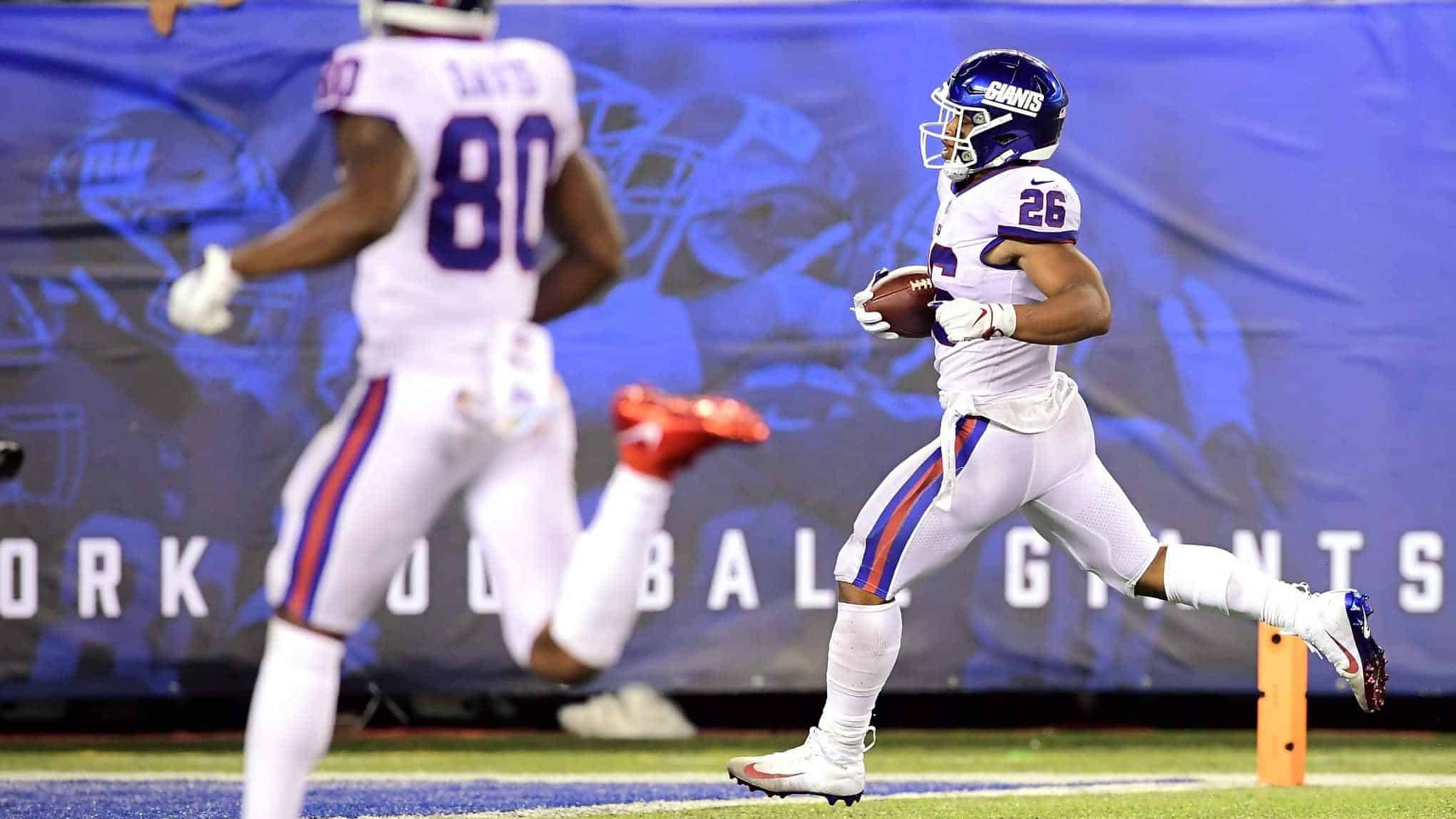 While things aren't looking great for the New York Giants at this point in the game, Saquon Barkley is making sure there are some highlights.
With the second pick in the 2018 NFL Draft, the New York Giants picked … a running back? Oh, but not just any running back.
They took Saquon Barkley.
While the move was questioned by many due to the excellent class of quarterbacks and the downhill career of Eli Manning, the Giants took their shot. While they aren't winning games, they've found their star of the future.
.@Saquon will not be stopped. #PHIvsNYG pic.twitter.com/1z3sLqAmxi

— New York Giants (@Giants) October 12, 2018
Barkley has yet to find the end zone during Thursday night's game but he has made some dazzling plays that are worthy of recognition.
After ripping off a 45-yard run earlier in the game, Barkley added a few more stellar runs to his resume for the Giants. One of those runs only amounted to nine yards but Barkley turned a potential loss of yardage into a huge gain.
Best 9-yard run you'll ever see?

?: @nflnetwork + @NFLonFOX
?+?: https://t.co/DJUityQHC9 pic.twitter.com/fbSXGmIRo4

— NFL (@NFL) October 12, 2018
I'm sorry, but WHAT? The tenacity he showed on that run was just phenomenal. He literally was playing the floor is lava and bouncing around, hurdling defenders like it was nothing.
Yeah, I think the Giants made a good pick snagging this guy with the second pick.
But that wasn't all and it definitely wasn't the most impressive showing from this rookie in the first half. No, he also took a screen pass from Eli Manning and took it 55 yards.
While avoiding every single defender on the field.
Barkley legitimately looked like a cheat code for a video game. He made these defenders look absolutely ridiculous…perhaps even more ridiculous than Ereck Flowers in his time on the squad (may he rest in peace).
Not only that but Barkley already has made history with his early performance in Thursday's game. According to multiple reporters, Barkley already has 100+ yards from scrimmage in his first six games, one game behind Kareem Hunt's streak.
.@saquon has 100+ scrimmage yards in each of his first six games. In NFL history, only Kareem Hunt (with seven) had a longer streak. #PHIvsNYG

— Kimberly Jones (@KimJonesSports) October 12, 2018
Giants fans, it may not be fun watching your team right now but hang in there! Maybe Saquon Barkley has some quarterback skills.