In light of Thursday night's matchup, here are the five best Eli Manning performances anytime his New York Giants took on the Philadelphia Eagles.
In his storied 15-year career, New York Giants quarterback Eli Manning has obviously faced the division rival-Philadelphia Eagles more than enough times. Through good games and bad, Eli has seen it all with this NFC East battle.
Therefore, in light of their matchup this Thursday night, here are five of Manning's best performances vs Philadelphia:
5.  2009 Week 14 45-38 Loss
In a battle of two narrow teams that season, the Giants and Eagles faced off on a Sunday night prime-time game at the old Giant stadium. Eli Manning vs. Mike Vick. And boy was it a shootout.
Manning and Big Blue dominated the air attack all night long. The Giants quarterback finished with 391 yards on 27-28 passing. He also had thrown for three touchdown passes and zero interceptions that game as well. Known for throwing many interceptions throughout his long career, Eli was more than careful with the ball and read the Philadelphia secondary perfectly all game.
However, the Giants defense was horrific that year. Led by former defensive coordinator Bill Sheridan, the Giants defense was toyed by Vick and the Eagles offense all game. Thus, they allowed 45 points in their own stadium. Any team that puts up 38 points should be able to win the football game. However, that just wasn't the case with the G-Men here.
4. 2017 Week 15 34-29 Loss
A season that was more than disappointing for Eli and the Giants had a bright spot offensively in this matchup. Despite losing the game to the eventual Super Bowl champion Eagles, Eli led a dominant air attack all game.
Thirty-five of fifty-seven passing with 434 yards, three touchdowns, and one interception. Eli was on fire all game, and although in his 14th season, proved he can still put up big numbers against the division rival. With two touchdowns to former Giants receiver Tavarres King, the Philadelphia secondary just couldn't seem to figure out Eli and his make-shift group of receivers for the most part.
However, the defense just couldn't pull through for Big Blue, and the Giants eventually lost their second game against the Eagles that season.
3. 2016 Week 9 28-23 Win
The last time the Giants won a game vs. the Eagles came in this Week 9 matchup at MetLife Stadium.
Manning and the Giants started out hot. With two interceptions on the first two defensive drives for the Giants, Eli was able to be set up for two early touchdown passes. The first one to Odell Beckham Jr., with the second one being to former Giants wide-out Roger Lewis Jr.
Later on, the game got closer as Carson Wentz and the Eagles were able to figure out the Giants defensive scheme. However, Eli did have two touchdown passes after those early scores, another one to Beckham and the fourth one to then-rookie Sterling Shepard. Eli finished with 257 yards on 22-36 passing, with four touchdowns and two interceptions.
Yes, the two interceptions are definitely a downside, but Manning was able to lead Big Blue to victory in the end. The final score was 28-23, bringing the Giants to 5-3 that season and an eventual playoff berth as one of the wild cards in the NFC.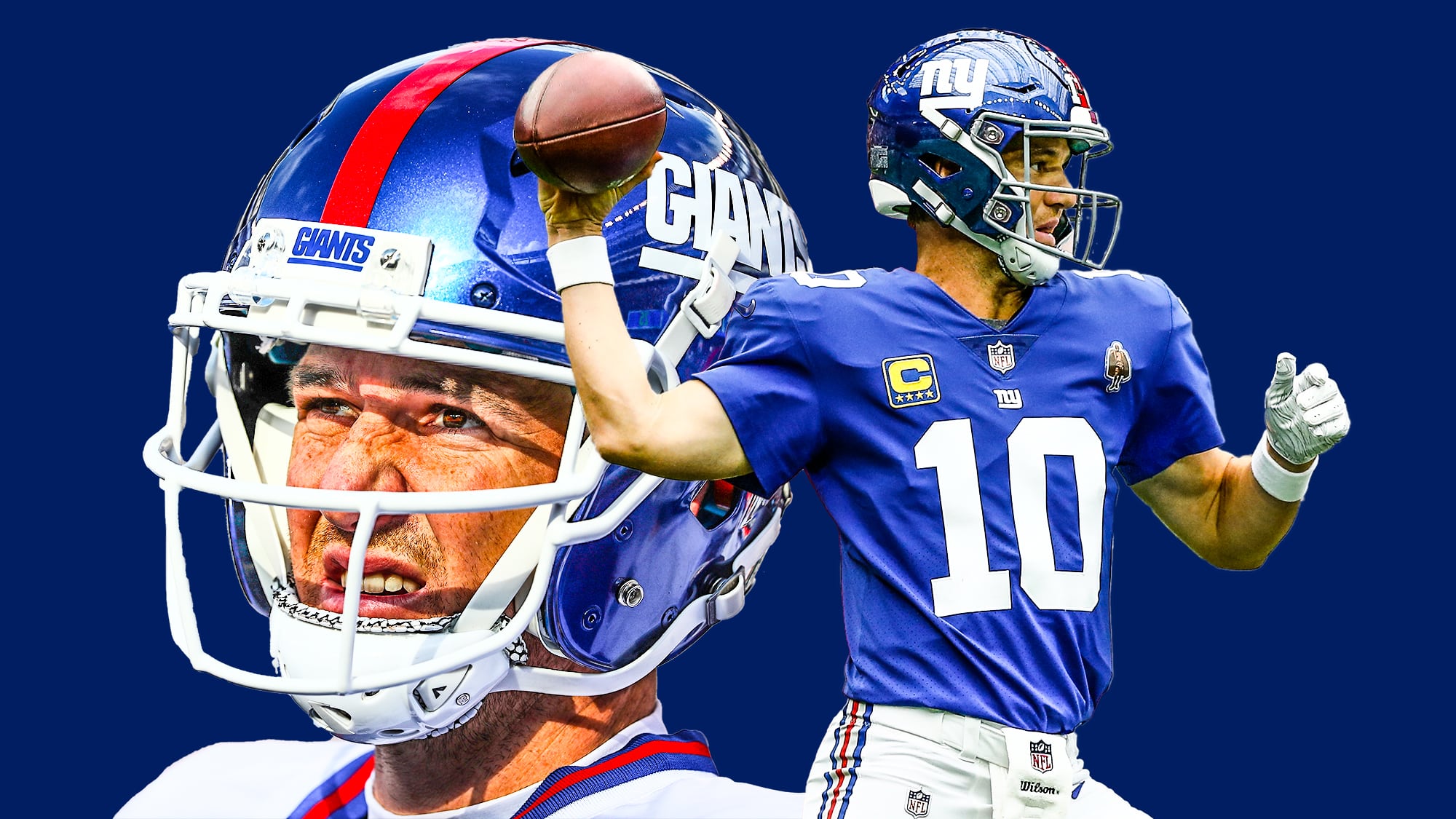 2. 2011 Week 3, 29-16 Win
A game where many eyes were on former Giants receiver Victor Cruz (who had two scores), many overlooked the play from the quarterback. The Giants came into Lincoln Financial Field in Philly, looking to play a tough division matchup against the team that was dubbed the "dream team" by many that year. And they got it done.
With four touchdown passes and 245 yards on 16-23 completions, Eli was able to lead the Giants to a 29-16 victory. Eli was also very careful with the ball that game, throwing zero interceptions on the day. Although early in the year, it solidified the Giants place in the NFC East, as they overcame the "dream team" drama and eventually won the division that year and of course, Super Bowl XLVI.
1. 2006 Week 2 30-24 Comeback OT Win
Down 24-7 in the second half was no problem for a young Eli, who was only in his third NFL season at the time. Overcoming adversity, Eli was able to toss for 371 yards and three touchdowns, on 31-43 passing.
Two touchdowns to Amani Toomer and a touchdown in overtime to Plaxico Burress to win the football game. It was a terrific matchup for Manning, who got a lot of criticism to start his NFL career. However, he showed the league how clutch he could be late in games with this performance.
And as we all know, he's been clutch late in games for his entire career. However, this was one of the first ones ever, showing fans exactly what he can be made of in those types of situations.