If the season spirals out of control, the New York Giants can spare Eli Manning and right one of 2017's many wrongs by starting Kyle Lauletta.
Yogi Berra was certainly not referring to the 2018 New York Giants when he said "it gets late early out there", but one of the most famous Yogisms certainly applies to the latest edition of the New York Football Giants. This Yogism rings so true for Big Blue that they may start considering Kyle Lauletta in the coming weeks.
Any goodwill potentially gained from a Week 3 victory over the Houston Texans was casually strewn across Route 3 on Sunday, in the form of 33-18 loss to the New Orleans Saints, a game whose final score was probably closer than it had any right to be. After a week's reprieve, the Eli Manning critics returned in full force, and it was hard to deny them their space. Unlike previous weeks, where Manning was constantly under siege thanks to poor showings from the blockers in front of him, the offensive line enjoyed a bit of improvement in the latest defeat, with head coach Pat Shurmur calling it "their best game" in his weekly radio spot with WFAN's Mike Francesa.
Instead, the brunt of the latest offensive no-show went to Manning, whose crucial misfires again opened the floodgates for critics, free to croon about how the Manning era is over and it's time for the Giants to move on.
Difficult as it is to imagine, the idea of someone other than Manning quarterbacking the Giants on a full-time basis has become more common with the general acknowledgment that the 37-year-old is entering the twilight of his career. The earliest permanent transition would perhaps come in 2020, the season after Manning's current contract expires, a deal currently equipped with a no-trade clause that he has shown little keenness of waiving. The final stanza of Manning's career, however, has been marred by brutal, low-scoring losses, as the Giants are just 4-16 in his 20 starts, and have failed to reach 30 points in over a calendar year, a death sentence in today's offense-glorifying NFL.
At 1-3, the Giants' season could be metaphorically over before the Knicks' opening tip-off for the second straight season. Two games await over the next calendar week, as the Giants travel to Charlotte to play a Carolina Panthers team coming off a bye on Sunday (1:00 p.m. ET, Fox) before hosting a primetime Thursday night divisional match with the defending Super Bowl champions, their rivals from Philadelphia. Despite 11 days off, the task of recovery gets no easier with a Monday night visit to Atlanta, and a pre-bye week slate concludes with a visit from Washington on Oct. 28.
Awful as these seasons may be to endure, a twisted blessing arises in the form of free research and development for the future, in essence, a free preseason slate to determine who will survive the inevitable purge of the Giants roster. Faced with this cruel gift from the football gods for the second consecutive season, the Giants need to right one of the innumerable wrongs of 2017, a rectification that could that could steady the team's future ship. Simply put, if the losing continues, Manning must be spared from the disaster. In his place, even if it's only for one week, must stand Kyle Lauletta.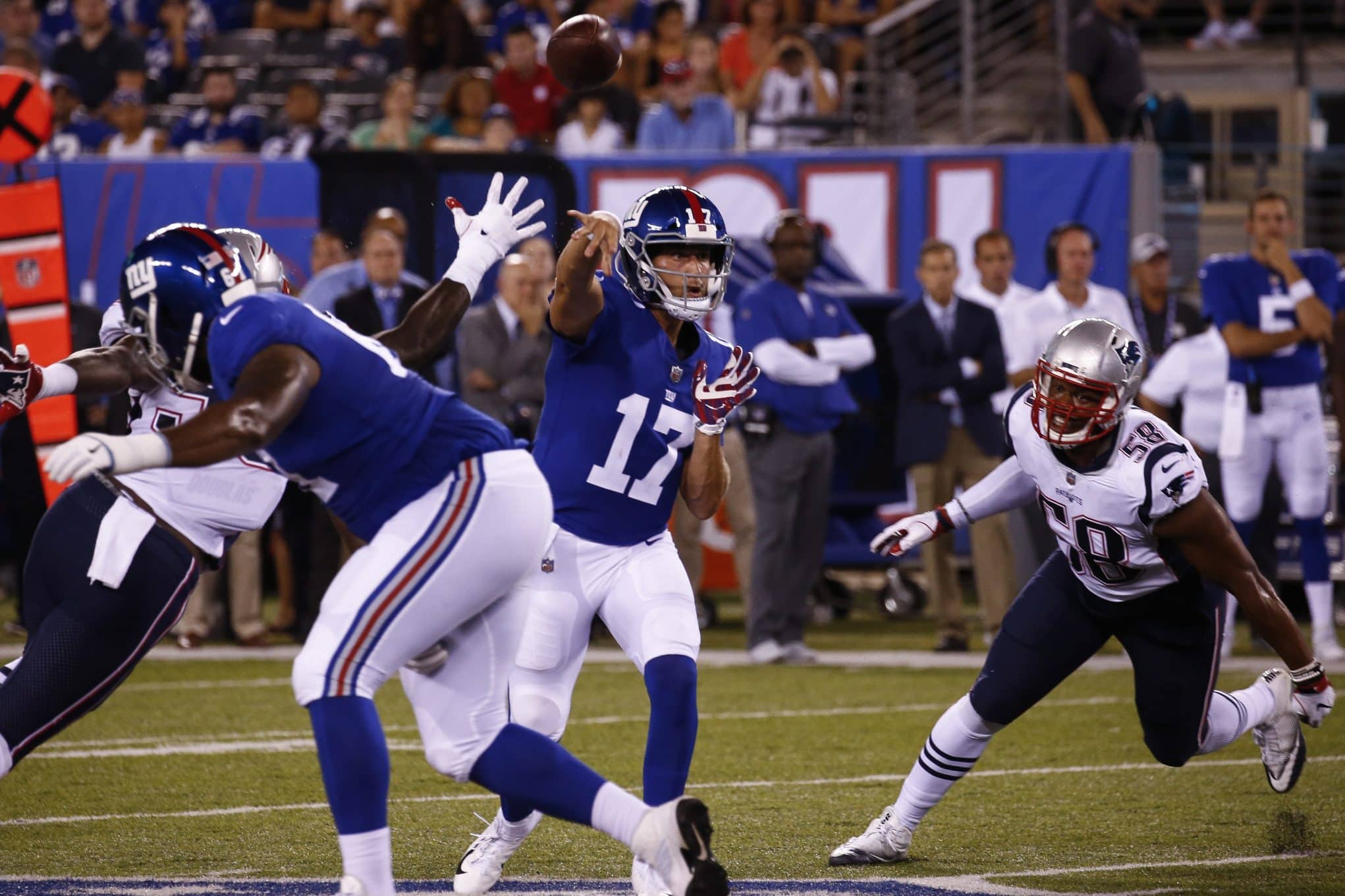 At this moment, Lauletta is the future franchise quarterback in blue. A surprise fourth-round selection in last spring's draft, Lauletta beat out the previous year's third-rounder, Davis Webb, for the title. Webb's release, leading to a practice squad invitation from the New York Jets, was seen controversial by many Giants fans, a good number of whom had endeared themselves to the Texas Tech and Cal-Berkeley alum as the next great Giants quarterback.
That was the Giants' own fault.
The backlash against Manning's controversial benching last fall could've been avoided entirely if the Giants inserted Webb for a meaningless visit to Oakland, rather than Jets retread Geno Smith. After the leadership clean-up that followed Smith's lone start, one that bid farewell to head coach Ben McAdoo and general manager Jerry Reese, the Giants had four further chances to put Webb into games that would've been quickly forgotten after the final gun sounded.
Instead, Webb only dressed for a single game, an 18-10 win over the Washington Redskins that might've served as a peaceful farewell to Manning if the latter showed any intentions of retirement. In the end, Webb not only was Webb in street clothes for 15 games, but he wasn't even taking second-team reps.
A temporary gesture of goodwill to Manning gave rise to the cult of Webb, separating the Giants into factions for civil war. With Webb being the highest quarterback taken in the draft since that legendary afternoon in 2004, a historic trade sending fourth overall selection Phillip Rivers to the artists formerly known as the San Diego Chargers, many fans wished to at least see what he had. Webb's reaction to a de facto redshirt rookie season was exemplary, broadcasting only a desire to learn from two veteran quarterbacks, and he had a strong showing in minicamp, but that still didn't stop the Giants or their fans from thinking about other options.
The draft featured several polarizing quarterback prospects, including USC's Sam Darnold, Wyoming's Josh Allen, UCLA's Josh Rosen, and Louisville's Lamar Jackson, all of whom were available went the Giants were picking second overall on the draft's first day. Instead, Penn State running back Saquon Barkley was the name attached to the Giants' selection, sparking endless debates that could take a decade or more to fully resolve.
The arguments could've been avoided entirely with a few Webb regular season snaps.
Contrary to the claims of Manning's harshest critics, he's not the only reason the Giants are in their rut. There are plenty of reasons the Giants have struggled, reasons that can be erased in the 2019 draft. Headed toward yet another high pick, there will be another chance to take a quarterback, and several fans have already taken a liking to Justin Herbert of Oregon. On the other hand, the offensive line still needs work to remain consistent, and the Giants are in desperate need of depth on defense.
This time, however, there cannot be a debate.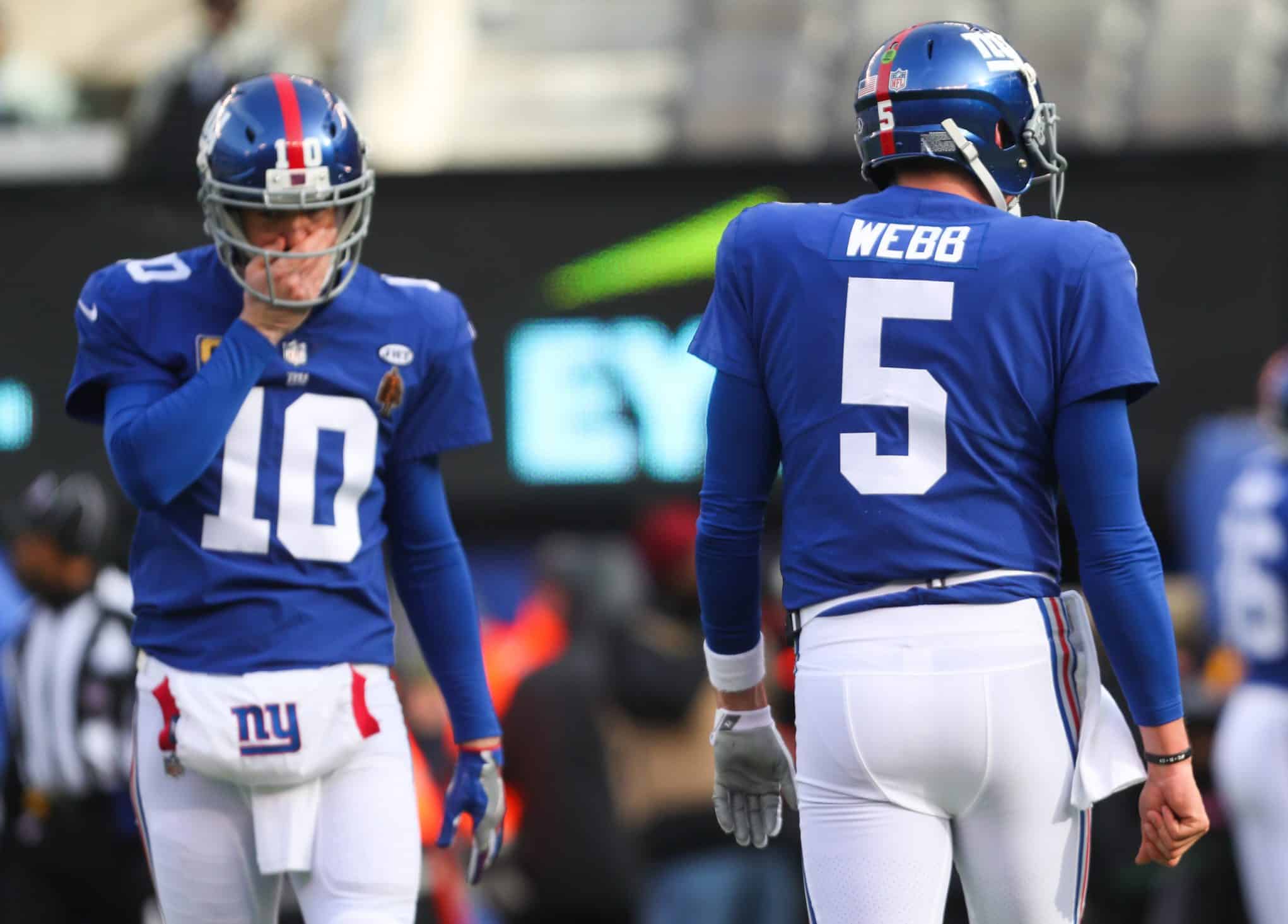 It is imperative that the Giants enter the 2019 regular season with an heir apparent to the Manning throne. Lauletta showed some promise this preseason, but it's clear the Giants don't fully trust him yet. The physical evidence of that is in the form of Alex Tanney, the personified definition of a journeyman quarterback. If the Giants were to make a change, the current replacement would be a quarterback who has almost as many NFL teams (the Giants are his eighth) as he does career completions (ten).
Even if Tanney were to have a Tony Romo-like rise to glory, he wouldn't be the long-term solution with a 31st birthday looming next month. The Giants need a young option, be it Lauletta or a current college star, to be in the spot under Manning, and the sooner the better, as the need becomes more desperate with the potential surplus of offensive weapons currently wallowing in mediocrity with Manning's diminishing range.
Inserting a rookie quarterback into the mix, at least at this point, would not be like last season. Last year, injuries forced Manning to make the most of undrafted rookies and journeymen skill players, training camp castaways thrust into larger roles. Inserting Lauletta now gives him a chance to work with his potential helpers for years to come. Nothing more needs to be said about Odell Beckham's new deal, nor about the progress of Barkley. Sterling Shepard continues to improve. If he manages to consistently stay healthy, 2017 first-rounder  Evan Engram can morph into a versatile tight end/third receiver option. The longer Lauletta gets to know his future teammates, who will need something to play for if the postseason is out of the question, the better.
In regards to Manning, if anyone can set the Giants back on course immediately, in terms of wins and losses, it's probably him. The whole reason Giants fans are so reluctant to move on from him in the first place, no matter how dire his statistics may be (he currently ranks 24th in yards per attempt with 6.9), is his uncanny ability to perform when the odds are stacked against him, when half his faithful wants to drag him out of town.
That resiliency has led to two Super Bowl titles that have become the extremist Eli apologist's first line of defense. Giants fans, or at least a certain faction of them, need to learn that constructive criticism of Manning is not a statement of disregard for his prior accomplishments. If they care about the long-term future of the franchise, they should welcome a Lauletta opportunity with open arms. Otherwise, they're not Giants fans, but fans of Manning and Manning alone.
Having the 2018 draft quarterback debate at this point is meaningless. Barkley is doing what he can (his 453 all-purpose yards ranking fifth amongst all running backs), and those the Giants passed on are struggling, but these selections were made with a long-term outlook in mind. There's no use in looking back on the past, be it last season, be it the draft, but there's always time for forgiveness, a chance to mend old fences and past mistakes.
New York has seen its legends depart in less-than-desirable situations, even when they leave with a win. Derek Jeter's final hit in the Bronx, for example, was his last hit in the Bronx because the Yankees were in the midst of a rare playoff drought. Unlike his brother's career, Manning's NFL tenure probably won't end with another Super Bowl ring. If the reigns are, even temporarily, turned over to Lauletta this season, Manning's sure-to-be-bittersweet exit could gain an extra modicum of pleasantness, whether Lauletta succeeds or fails.
Follow Geoff Magliocchetti on TWITTER