A pair of New York Jets defenders used their lone day off to do some good in the community, visiting a New Jersey high school on Tuesday.

EDISON, NEW JERSEY—On their lone day off this week, a pair of New York Jets defenders kept active and encouraged dozens of their new best friends to do the same.
Linebacker Brandon Copeland and safety Doug Middleton descended upon Benjamin Franklin Elementary School in Edison, NJ on Tuesday, commemorating the school's participation in the NFL's Play60 initiative, promoting 60 minutes of daily play for its younger fans.
"From a selfish standpoint, it's fun to get out here to the schools and play with the kids," Copeland said. "It kind of takes your mind off of football and where you're at in the season for a minute, just remind you where you came from."
In keeping with the hour of play pledge, the two guys in green captained teams of BFES students, clad in special Jets jerseys, partaking in several competitions, including basketball shooting, scooters races, football catching, and more. Middleton's teams wound up with more victories in the friendly competition, causing Copeland to jokingly call out his teammate for cheating and setting a bad example for the kids.
"I'm not going to make excuses, but at the end of the day, I'm just thinking that we need to rewind the tape," Copeland said in a tongue-in-cheek manner. "He might need to be suspended for what he was doing, what he was teach those kids!"
Confronted about his supposed trickery, Middleton only replied, "Winners win!"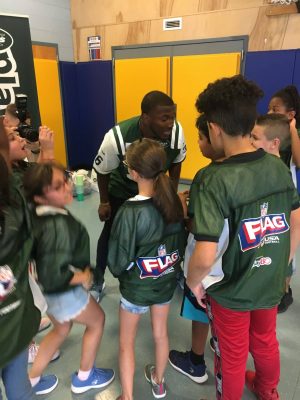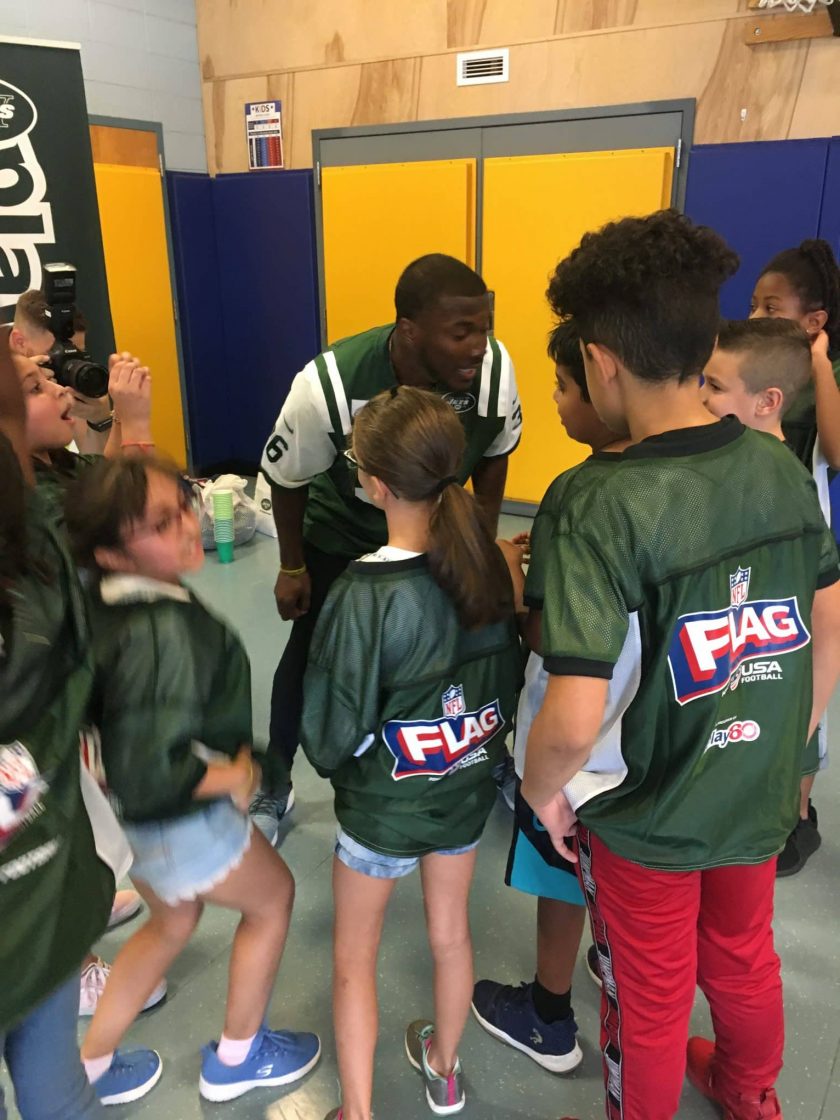 BFES is one of eight schools in New Jersey to work with the Jets in the initiative. Tuesday's event was organized by the school's physical education teacher, Gerald Tenebruso, who worked alongside the American Heart Association to brighten up a Tuesday morning early in the school year in the form of two local football stars.
"The kids that are a part of this program are part of our student leadership club … to seem them get a chance to meet the players, to see their hard work put into it, it's a great reward to them," Tenebruso explained. "The Jets are fantastic. They supply the players, they invited some of our kids to the home opener, honored them on the field. The Jets are definitely a first-class organization. They do right by the kids. That's why we're very willing to keep participating with them."
"The kids will remember this interaction that they had today with professional football players more than they'll remember their math lesson or their social studies today," BFES principal Steven Preville added with a smile. "I think that's really important as we continue to build well-rounded students, to understand that community, giving back, participation, and leadership of these football players is so important."
The players each acknowledged the impact of the Play60 initiative and expressed joy and fulfillment in being able to give back to their communities.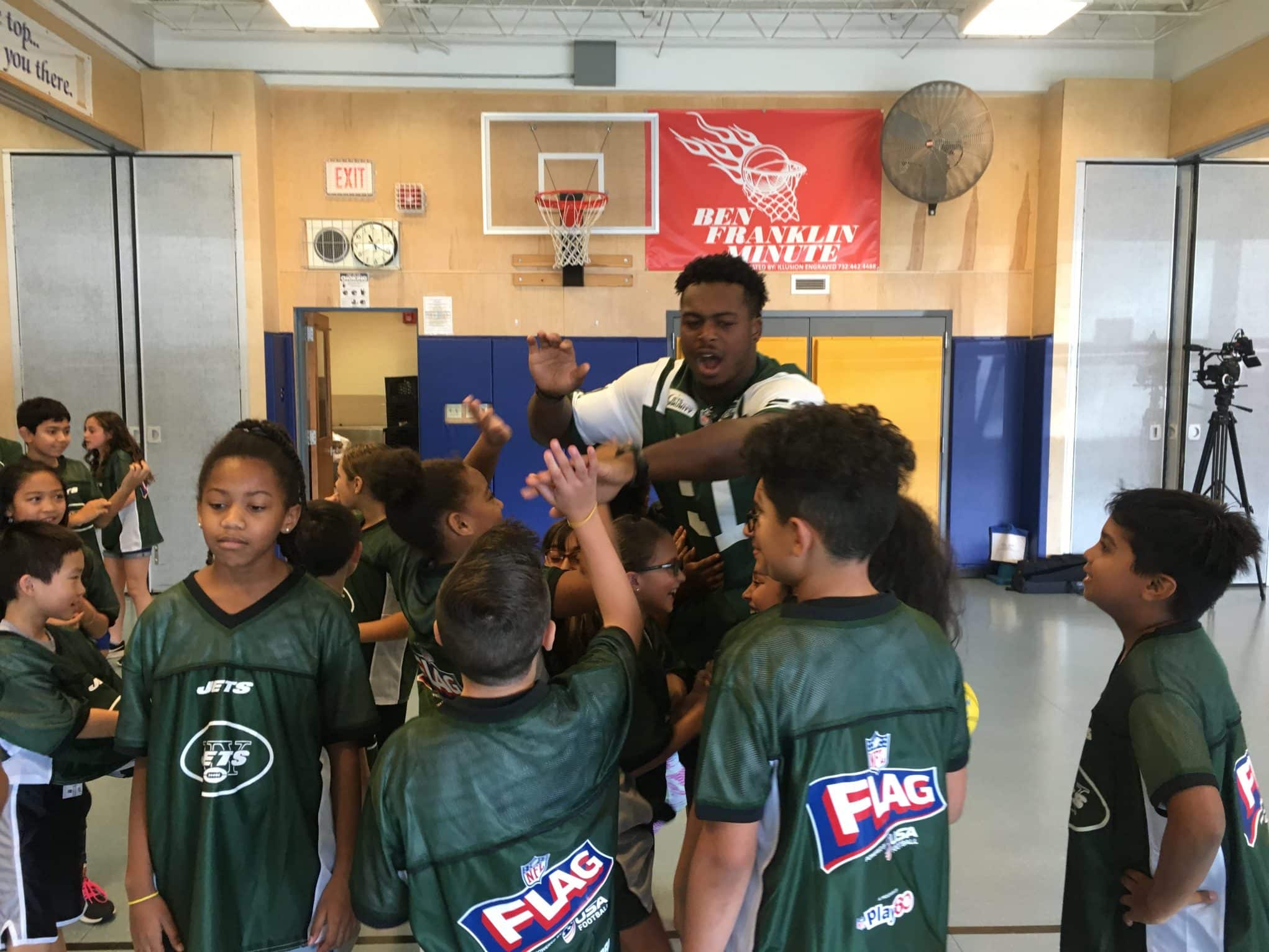 "I'm hoping this is a memorable and impactful experience for these kids, something that they'll remember for the rest of their lives," Copeland said. "To be able to be a part of that is very humbling. If they ever debate about being a Jets or Giants fan, I'm sure they'll go with the guy that came to their school and ran around with them a little bit."
"This movement is very important just make sure kids stay active, staying involved in their community, playing recreation sports," Middleton said. "I had a lot of fun, especially with the kids. I'm glad they had fun. It was a good day."
Thus far on the season, Middleton ranks third on the team with 24 tackles, while Copeland has tallied on nine stops, including one sack. The Jets return to action on Sunday afternoon, taking on the Denver Broncos at MetLife Stadium (1:00 p.m. ET, CBS).
Follow Geoff Magliocchetti on TWITTER