New York Jets HC Todd Bowles is a defensive-minded teacher whose conservative style is handicapping his squad during an aggressive NFL era.

There was only one way to combat the feisty, aggressive Jacksonville Jaguars defense. Attack, attack, and attack some more. Loosen it up early in order to dare dream about winning on first down via the rushing attack.
In Sunday's embarrassing 33-12 defeat, Todd Bowles's New York Jets, of course, didn't opt for this strategy. In fact, they continued down the conservative path that is barely getting by offensively while hoping the defense can win the game.
It's a severe issue hamstringing the franchise. Todd Bowles currently lives in the same decade he won a Super Bowl with the Washington Redskins while coaches like Doug Pederson are winning chips courtesy of aggression and a pair of iron-created balls. (Could you imagine Bowles opting for the Philly Special on fourth down?)
The Jags defense is nasty. It's also well-known that they play one of the most aggressive single-high (safety) looks across the land. It's basic football offense. When a defense is overly aggressive, stretching the field in the attempt to loosen it up is necessary. Then, and only then, can running the ball actually commence.
On Sunday, Jeremy Bates's offense didn't even attempt to stretch the field until they were forced to late in the second quarter.
The following is the exact play-call chart on Sunday. What we're looking for here are standard five-to-seven-step drops that allow Darnold a chance to scan the entire field and attack downfield.
Drive No. 1
1st-and-10: Singleback (1 RB, 2 TE, 2 WR), RB Screen left (Procedure penalty)
1st-and-15: I-Formation (2 RB, 1 TE, 2 WR), Zone run (Stretch) to the left (Facemask penalty)
1st-and-10: Singleback (1 RB, 2 TE, 2 WR), Bootleg right
2nd-and-10: Singleback (1 RB, 2 TE, 2 WR), Zone run (Stretch) to the right
3rd-and-10: Shot Gun-Empty (1 RB, 1 TE, 3 WR), Standard 5-to-7 step drop
Defensively, the Jags showcased a single-high look on all but the 3rd-and-10 play, meaning the Jets offense played right into the Jags hands.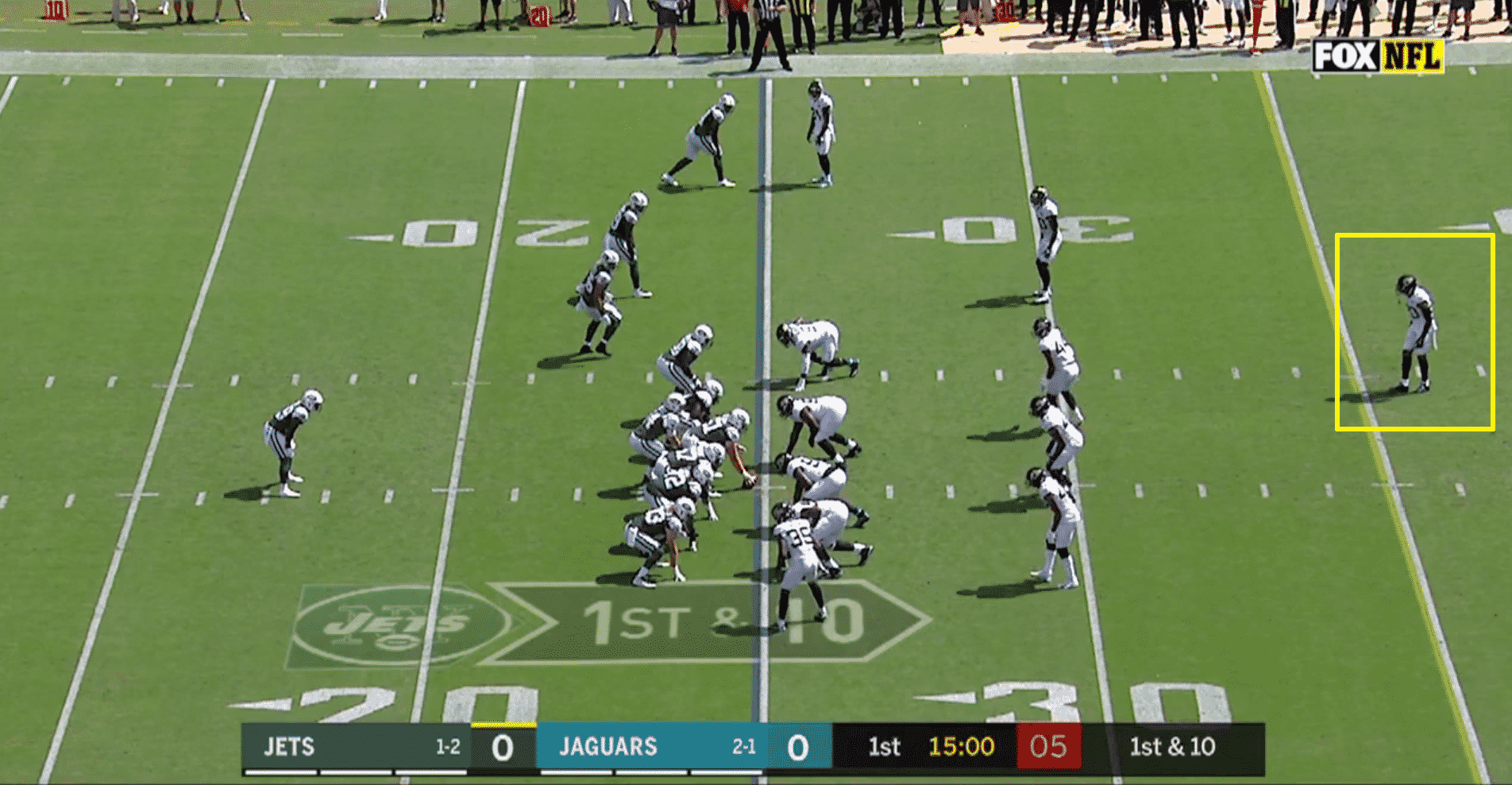 To not allow the young QB a chance to take advantage of one-on-one matchups on the outside on early downs is to put him in a terrible situation on 3rd-and-long. It's insane to believe the Jets O-line is going to win on first and second down against the Jax front on early downs. Thus, it was critical that the Jets stretch the field early to loosen them up.
Of course, aggression is not what this team is all about and they didn't even think about downfield until they were forced on 3rd-and-10.
Drive No. 2
The Jets took the ball for their second drive after the Jags marched the ball down the field for over eight-and-a-half minutes. Miraculously, they started the second drive on the right path with a quick three-step drop that gained positive yards.
1st-and-10: Shot Gun-Empty (1 RB, 1 TE, 3 WR), 3-step drop
After a nice six-yard gain on first down, the following is a brilliant example of when the Jets really could have struck for a big chunk.
The Jags come out in an extremely aggressive single-high look with a terrific possibility of a run blitz. In addition, Darnold knows it's zone due to the left-side corner staying left even though the Jets line up a slot to the other side. (With the linebacker lined up on the slot receiver, it's an easy zone giveaway.)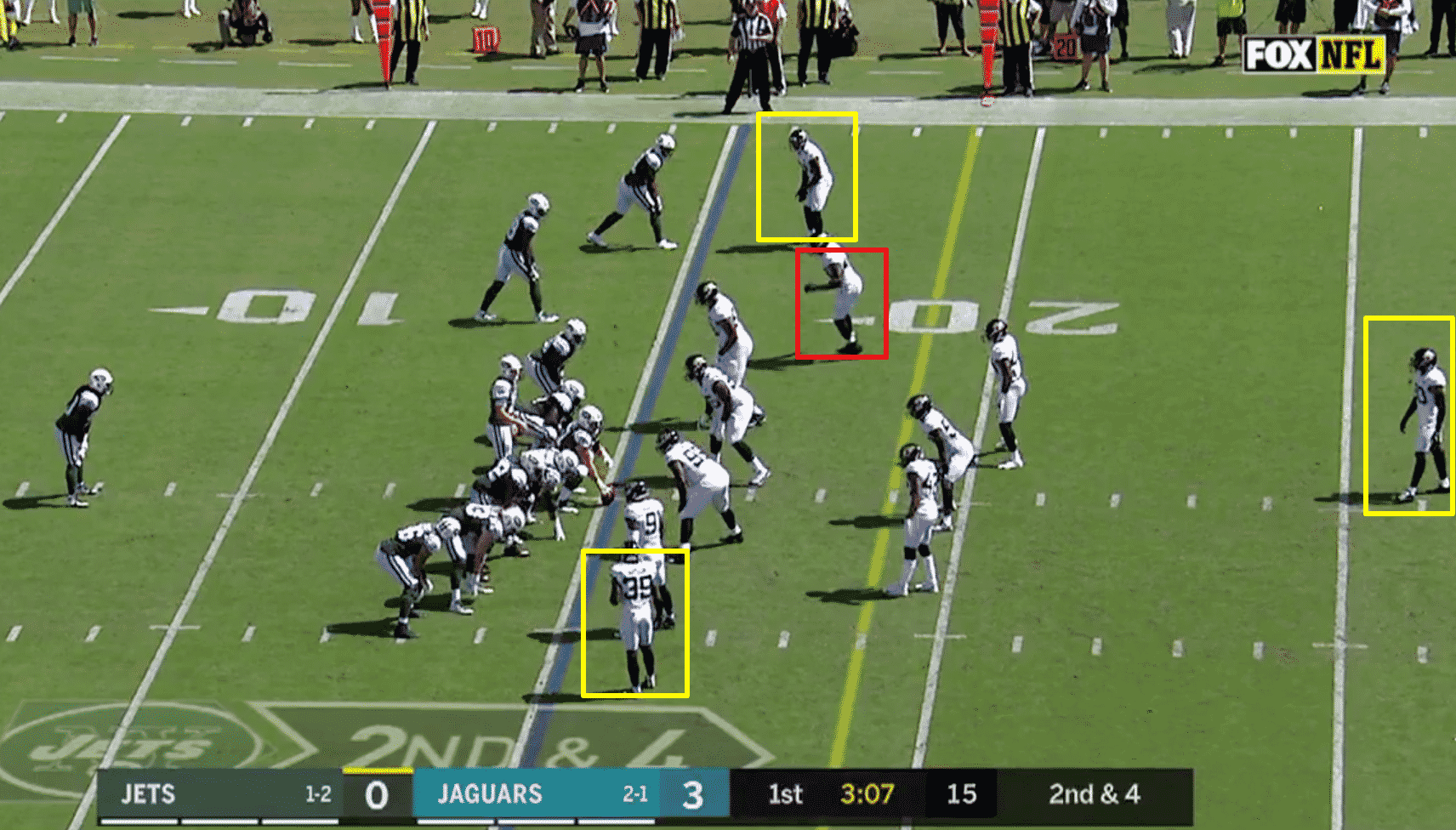 To run the ball into this look is a huge opportunity missed for young Sam Darnold and the offense. It's a Todd Bowles mentality basically saying this to the defense, "You know we're going to run the ball and we'll run the ball regardless to impose our will."
That was a terrific coaching mindset in the 1980s and could possibly work now (if the talent is there), but Bowles doesn't have the talent on the O-line to get that done especially in today's NFL in which passing the ball is easier than it's ever been.
2nd-and-4: Singleback (1 RB, 2 TE, 2 WR), Zone run (Stretch) to the left
Again, on the following play, the Jets don't attack where the defense is vulnerable. The Jags show another single-high. One-on-one situations are available with space for days, yet the Jets run the most conservative play there possibly is on a 3rd-and-6, a wide receiver screen.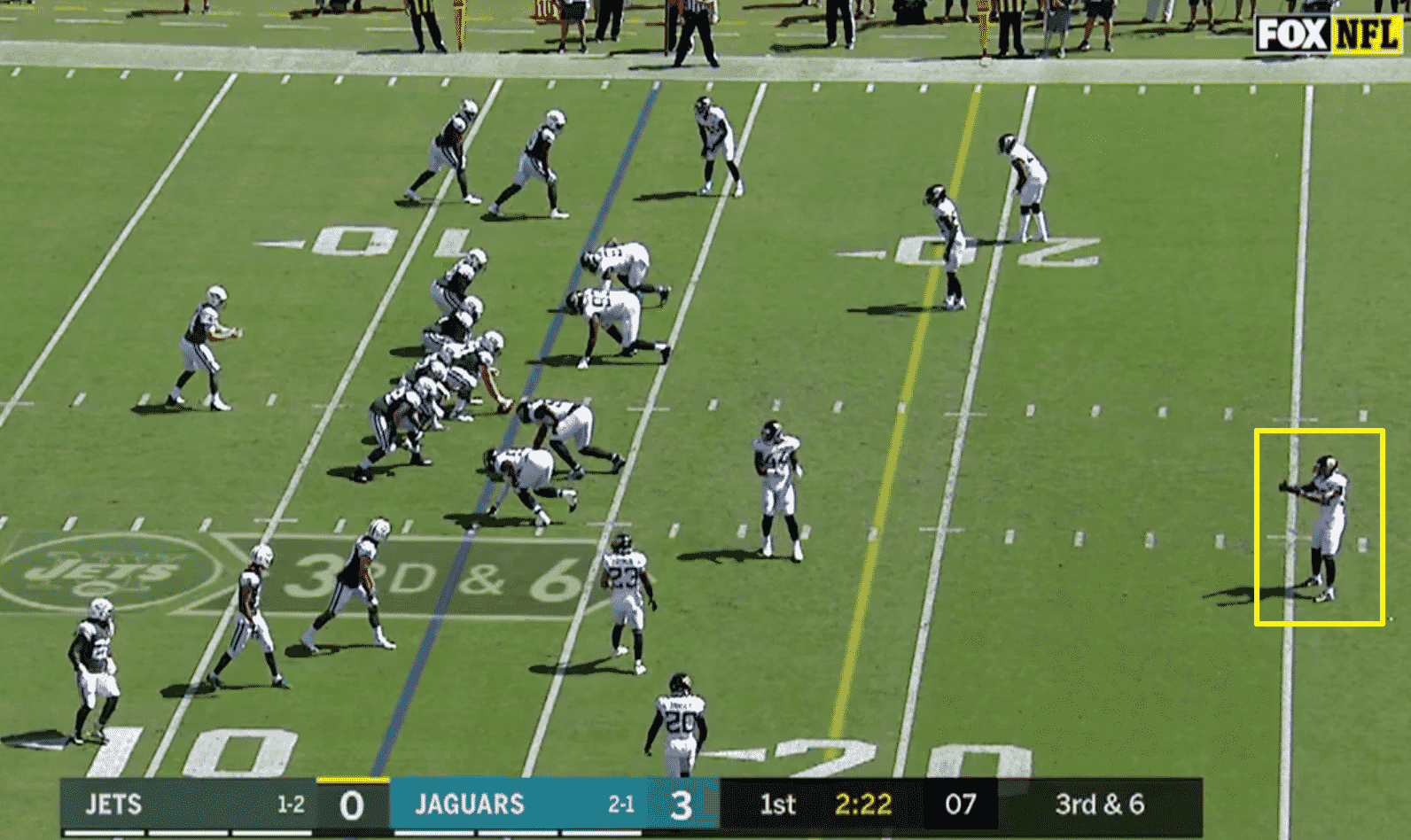 3rd-and-6: Shot Gun, Empty (1 RB, 1 TE, 3 WR), WR Screen
What Bates is counting on here is a blitz from the Jags. Still, even if Jax does blitz, a WR screen on a 3rd-and-6 is a losing play in this NFL against a single-high aggressive look. There's too much space in the secondary to not attack via a standard drop.
Drive No. 3
To begin the third drive, Jeremy Bates did the right thing. He allowed Darnold to sling it on a standard drop back and he hit Quincy Enunwa for 16 yards on the moderate dig.
1st-and-10: H Weak-I (1 RB, 1 TE, 3 WR): Playaction 5-step drop
1st-and-10: Shot Gun, Empty (1 RB, 1 TE, 3 WR): Standard 5-to-7 step drop
2nd-and-5: Singleback (1 RB, 1 TE, 3 WR): Zone run (Stretch) left
1st-and-10: Shot Gun, Empty (1 RB, 1 TE, 3 WR): Standard 5-step drop
Check it out, folks. Bates is starting to give Darnold a shot. He's starting to allow the kid to progress through actual reads and it's working. The Jets are moving the ball.
On the following play, the porous offensive line comes to bite the offense in the rear as Chris Herndon's miraculous catch (and the first shot play of the afternoon for New York) is called back due to an Eric Tomlinson holding call.
2nd-and-7: Singleback (1 RB, 2 TE, 2 WR): Playaction 5-step drop
2nd-and-17: Shot Gun (1 RB, 1 TE, 3 WR): Standard 5-step drop
3rd-and-12: Shot Gun, Empty (1 RB, 1 TE, 3 WR): Standard 5-to-7-step drop
Of course, a sack ends the drive. Spencer Long, this time, represents the culprit as a simple stunt couldn't be handled.
Drive No. 4 and 5
By the time the Jets received the ball for their fourth drive, under two minutes remained in the half. A few completions were had by Darnold, but nothing materialized.
Drive No. 6
The sixth drive, New York's first of the second half, is what really put the final nail in the coffin.
Starting the drive at their own 2-yard-line, the entire building knew the conservative call coming. Todd Bowles's offense would run the ball and there'd be no doubt about it. The only question would surround how they'd run the ball.
1st-and-10: I-formation (1 RB, 3 TE, 3 WR): Inside zone run
Look at the Jags defense: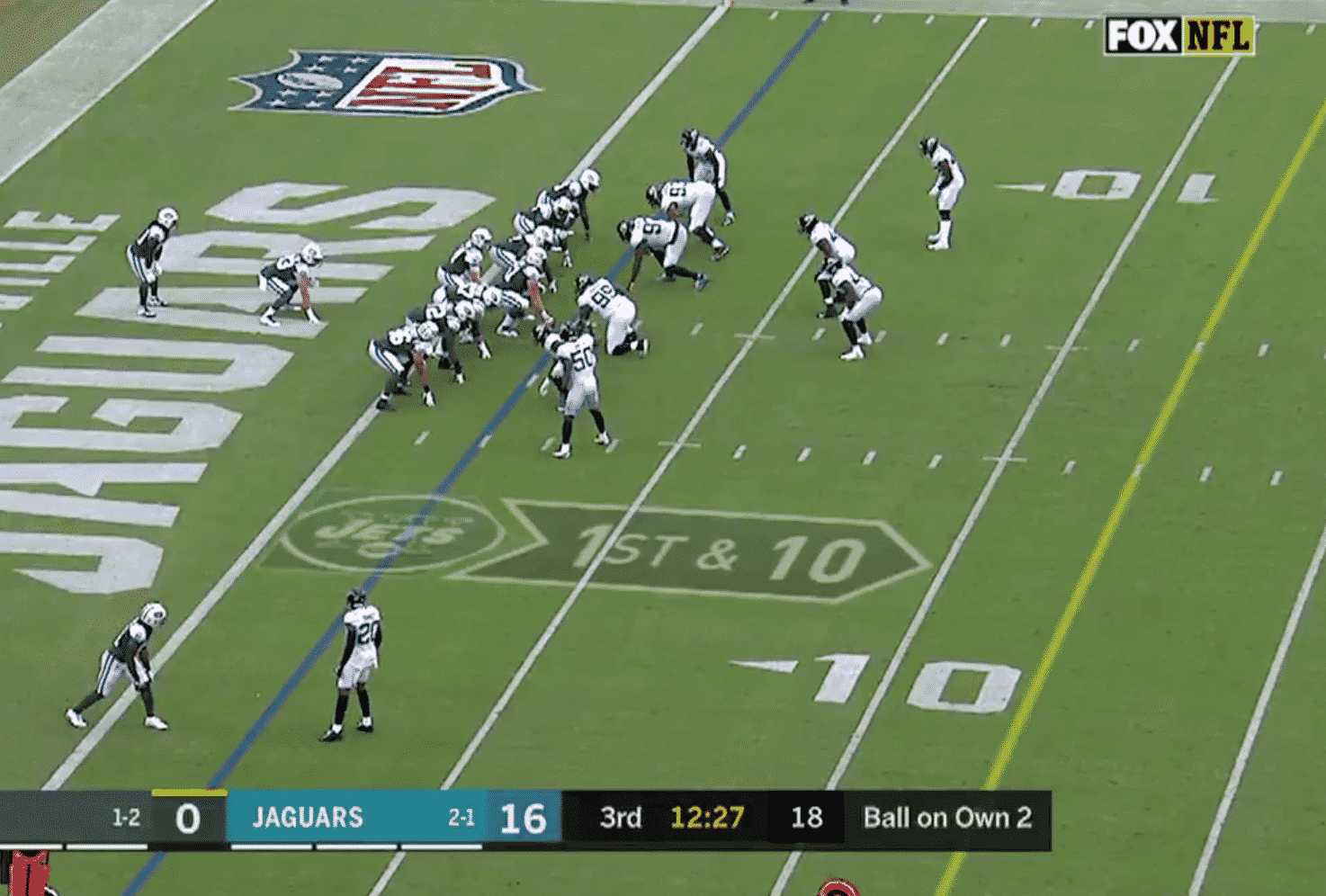 I first believe going with just one receiver is a mistake. Not leaving the threat of a wideout on both sides allows the defense to pack it in a bit more. (The reason Bates goes with a two tight end, one receiver look is because the Jags won't pull a cornerback off the field and thus, a blocking mismatch should be present.)
Of course, despite any mismatch favoring the Jets, the O-line can't even produce a no-gain.
But forget running the ball here for a moment. Down 16-0, the aggressive play-callers who win in today's NFL see all of the space available against this single-high look. Are we really coddling Sam Darnold to the point that he can't hit Enunwa on a slant or Robby Anderson on a go route if given max protection here?
Unfortunately, offensive play-calling is just the tip of the conservative iceberg. Remember John Morton, the OC who helped journeyman Josh McCown through a career year with a bad O-line? A year ago, Anderson was actually utilized. Can we name one nine-route attempt to Anderson after Week 1 in Detroit?
That's a sin. Deep incompletions serve a purpose if only to loosen up the defense.
It feels like Morton was scapegoated due to his aggressiveness and Bates is a Bowles soldier. How could anybody think anything different after what we've seen and after this head coach decides to punt the ball late in the fourth quarter down multiple possessions?
Bowles needs to look north for a little guidance. Once Bill Belichick realized he could no longer win football games with a nasty defense while playing safe on offense, he went out and snagged Randy Moss, Wes Welker, and turned the overall aggression to an unheard degree. No longer would he hold Tom Brady back. That AFC Championship Game loss to Peyton Manning in 2006 was the turning point as the once defensive-minded head coach turned into a spectacular aggressive teacher who adapted to the current times of free-flowing offensive football.
Until Todd Bowles figures out the NFL in 2018 is a completely different game than 1984 showcased, Sam Darnold and the New York Jets have no legit shot of developing.