Rutgers Scarlet Knights head coach Chris Ash is looking for progress from a young roster as eight weeks of Big Ten play open vs. Indiana.

Last November, the Rutgers Scarlet Knights lost a rain-soaked shutout to the Indiana Hoosiers on the road. A 41-0 walloping was made all the more painful by the fact they had to go through a lightning delay in its midst, allowing 503 yards in defeat, the most they had allowed all of last season other than a 628-yard output from Ohio State, then ranked 11th in the College Football Playoff rankings.
The Hoosiers, fresh off their first shutout of a fellow Big Ten opponent since 1993, improved to 5-6, but saw bowl play removed from their conversation when they lost a de facto play-in game to Purdue, also at 5-6, a week later.
Somehow, that probably doesn't even crack the top three when it comes to ranking the most embarrassing losses for the Rutgers football program.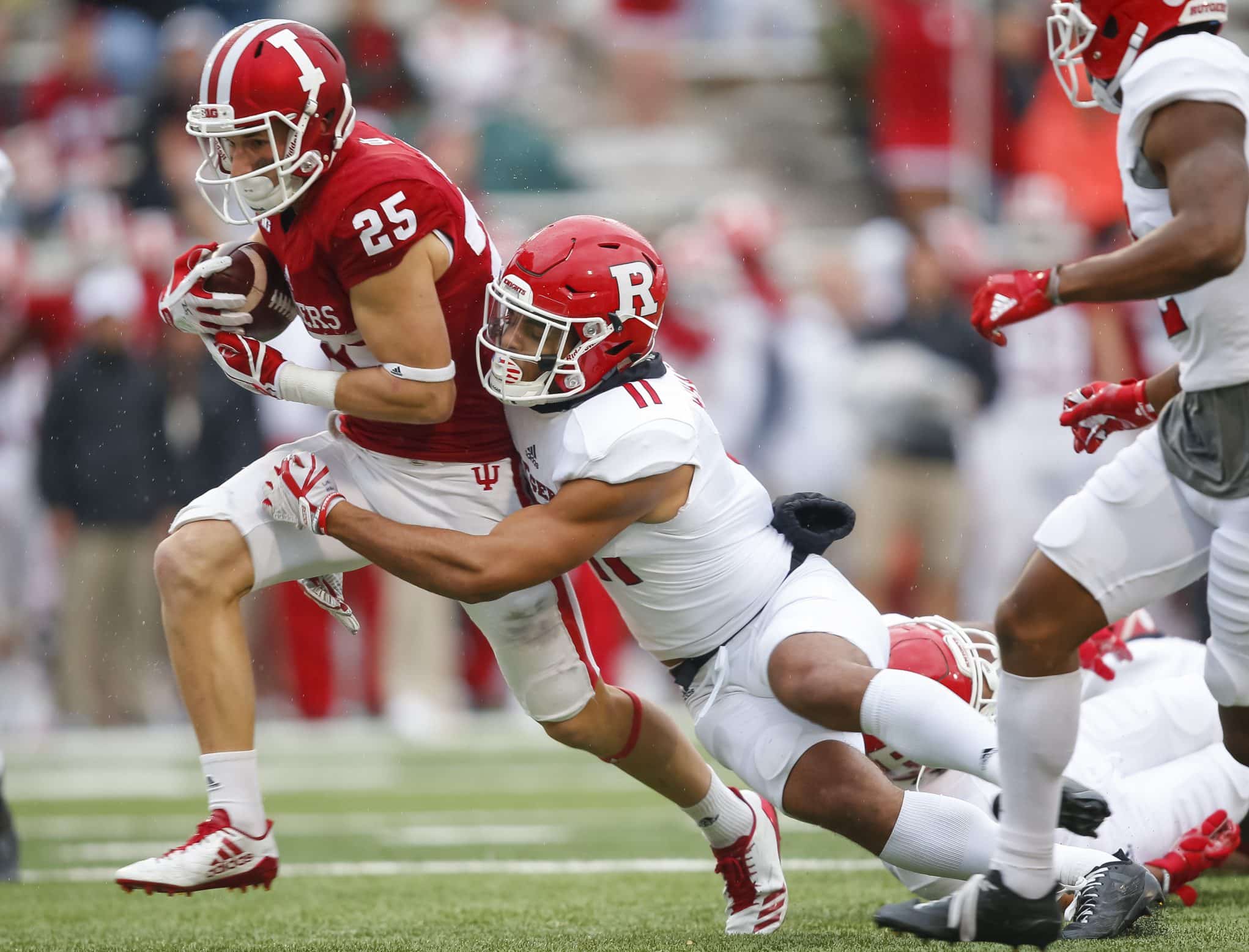 To say Rutgers is reeling entering Saturday's showdown with the Hoosiers in Piscataway (12:00 p.m. ET, BTN) would perhaps be the understatement of the college football season thus far. No one was expecting much from a visit to Columbus three weeks ago, and the Knights played down to the lack of anticipation in a 52-3 defeat to aforementioned Ohio State. But the past two defeats have been downright humiliating. Nothing more needs to be said about the disastrous visit to Lawrence, as Kansas briefly became a football town in a 55-14 shellacking, but the lead-in to Indiana's visit was perhaps more humiliating.
Sure, the University of Buffalo has become one of the hotter mid-major gems in the country, averaging over 40 points game thus far this season to kickstart a 4-0 start, but the fact remains that a Big Ten team shouldn't be losing to a historically mediocre MAC team by more than four touchdowns.
With their remaining slate featuring conference clashes, the final four games against teams currently ranked, the potential is there for eight more weeks of disaster for the Scarlet Knights. Rutgers management, however, sees this only as a blank slate, a chance to potentially make a few things right.
Speaking during the Indiana lead-up, head coach Chris Ash, who owns a 3-17 mark in Big Ten play, says there have been little changes in preparation, despite emerging from a stretch featuring three winnable games with a 1-3 standing.
"There's nothing to do differently. It's like anything else – the more you do something, the better you get at it," Ash said, according to Brian Fonseca of ScarletNation.com. "That's really where we're at. For some individuals, it's just more reps, more reps until they get really comfortable with all the scenarios that can take place on gamely and that's it. We made some minor tweaks and adjustments to practice but nothing in terms of things that are going to change the execution on game day other than more reps."
When tough times hit, fans often focus their blame on the head coach, but, whether the Piscataway faithful likes it or not, Ash is probably here for the long haul as the November signer of an extension set to keep him in Piscataway through 2021. As such, Ash is seeking to gain experience and familiarity with the younger Scarlet Knights as the season moves forward. A majority of the Scarlet Knights' roster consists of freshmen and sophomores, the youths getting a rude welcoming to college football over the past three weeks.
With the experienced holdovers from previous coach Kyle Flood's class, Ash admitted earlier this week that he hasn't held up his end of the bargain so far when it comes to his own recruits.
"We are depleted from an experience standpoint, and that's not an excuse," he said, according to NJ Advance Media's Keith Sargeant. "I'm not going to make any excuses for the mistakes that we have made in the last two (games). We have to coach that better. We've got to execute better."
The youth is on full display at the most important position on the field. Ash announced that Art Sitkowski's reign as the starting quarterback job will last for another week, the closest thing he has offered to a vote of confidence since the Buffalo defeat. Sitkowski has completed just 38 percent of his passes since the season-opening win over Texas State, accompanying that line with no touchdowns and four interceptions.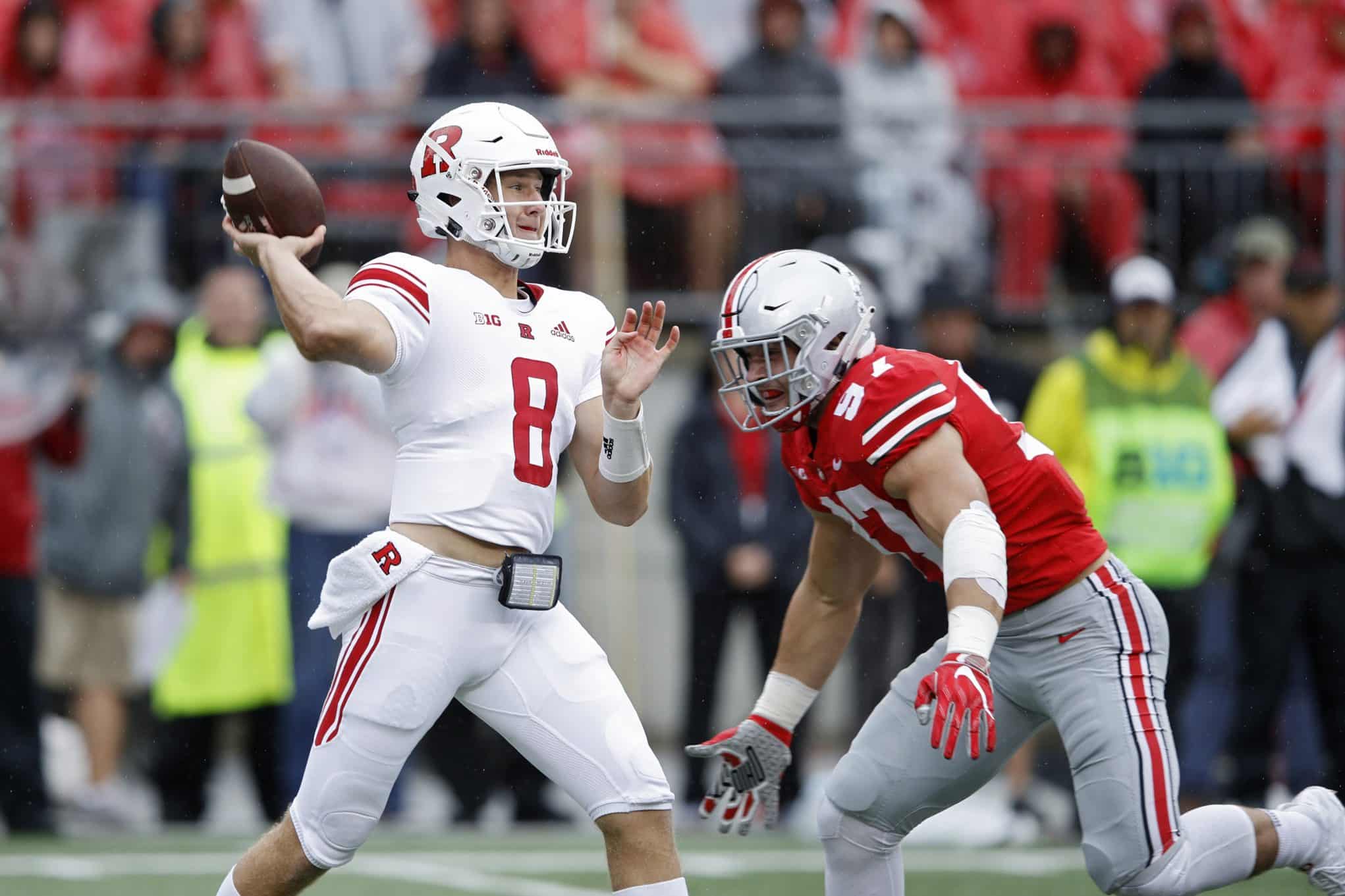 Though admitting there would be some evaluation after the Buffalo game, in which Sitkowski was relieved by senior Gio Rescigno, Ash set a firm commitment to the rookie this week.
"The quarterback is a more high-profile position, but Art is our guy," Ash said, per Josh Newman of the Asbury Park Press. "Art's been our starter, we named him our starter for Week 1, he has started every game. We will continue to evaluate all positions. We evaluate our defensive line, when we're not playing well, when we're not rushing the quarterback. We always have to evaluate who are the guys that give us the best chance to win."
A rare silver lining for the Scarlet Knight does come in the form of another first-year man, running back Isaih Pacheco.
A Vineland, NJ native, Pacheco has been slightly overshadowed by incumbent rusher Raheem Blackshear and graduate transfer Jonathan Hilliman, as well as a beleaguered offensive line that has given the group little or no room to run. He stole the show against Texas State, ending the game as the team's leading rusher with 76 yards on 10 carries, but has struggled to see the ball since.
Turning down Pittsburgh, Syracuse, and Connecticut to join the Knights, Pacheco gained attention early in training camp, displaying an ability to initiate contact and create space. Though the lack of rushes can be frustrating, as he didn't see the field in the Kansas loss, Pacheco is ready if and when his number is called during Big Ten play.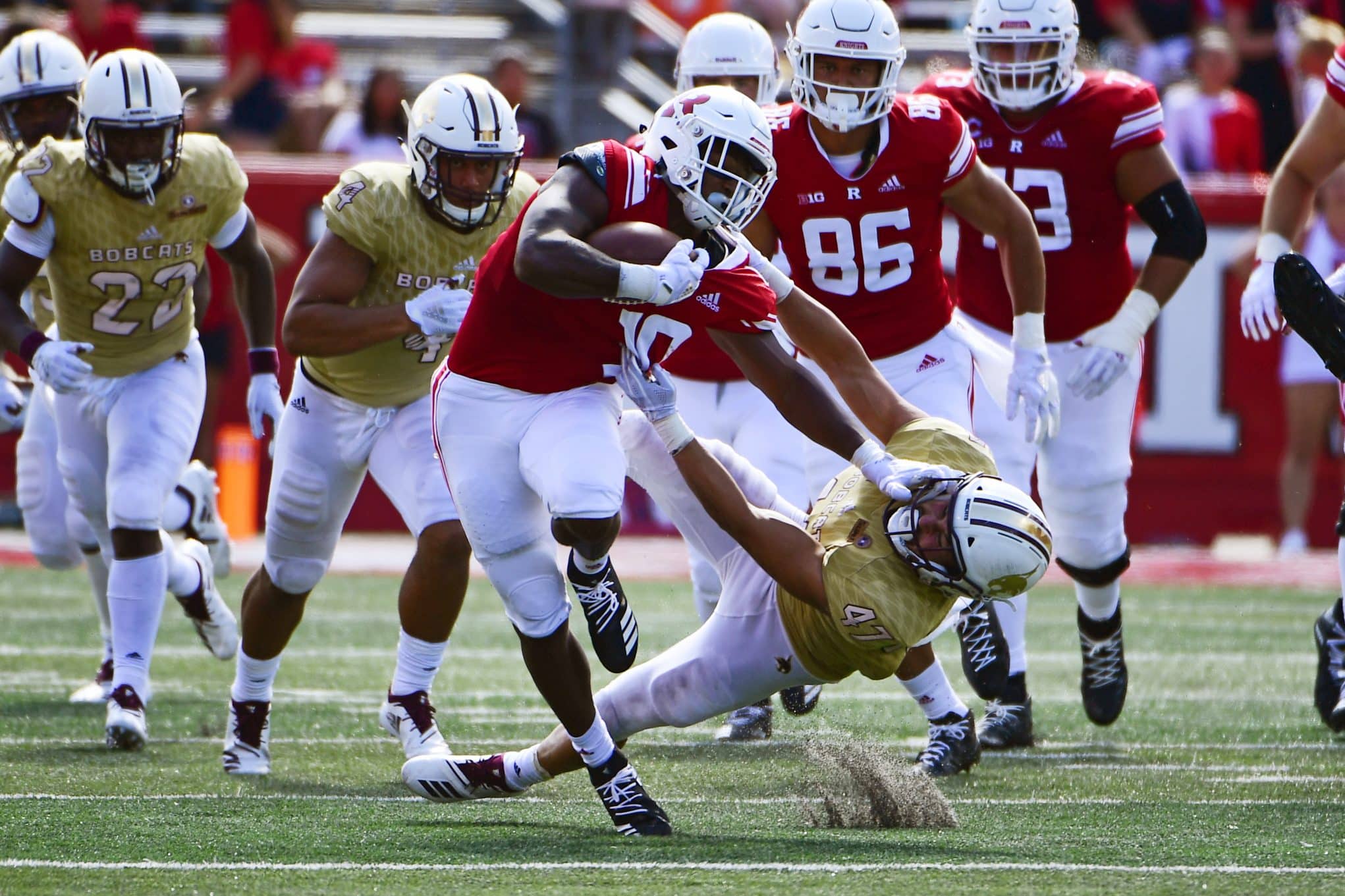 "I play hard because I love the game a lot. When I run hard, it just shows people this is what I love to do. When my line is helping me out, giving me a little opportunity, a little crease, I'm going to take advantage of it and get up field," Pacheco said, per Newman. "I'm just the player, and I'm just grinding every day, working hard to finally get the starting position, hopefully in a couple of years. Whatever it takes. I'm just working hard to be me."
Pacheco's 28-yard run, obtained in the fourth quarter of the 35-7 win over the Bobcats, has been the second-most profitable play from the Knights so far this season.
If there are going to be more explosive plays, time will only tell how many of the Piscataway faithful will emerge to see them. Last Saturday's attendance at HighPoint.com Stadium was listed at 34,574, but that likely already-exaggerated number significantly dipped once it became clear the game would end in the Bulls' favor.
True freshman cornerback Avery Young has been another one of many youngsters forced to take on a leadership role, with experienced colleague Blessuan Austin suffering a season-ending knee injury. Young showcased his leadership skills on the pixelated field of Twitter this week, addressing concerns of the scarlet-clad supporters.
There is beauty in the struggle. RU fans please don't stop believing it only takes a handful of plays.

— Avery Young (@Azy_02) September 22, 2018
When one fan claimed support was with the players, but not with Ash and his coaching staff, Young showed solidarity and support.
"Coach Ash doesn't strap up the helmet and play we (the players) do," he posted. "And we want the credit if We're losing or We're winning [sic]."
Likely set to oversee the attempt to pull Rutgers out of the Big Ten's depths, Ash couldn't promise an instant return to decent football, but did vow a search for a solution.
"I understand the frustration. I've been in this long enough to understand the frustration," Ash said after the Buffalo game, according to Sargeant. "I feel really good about our future with our team. We've got a lot of young players, and by no means is that a disrespect to our older players. We've got a bunch of really good older players, too, senior captains that absolutely love and have fought their tails off for this program, this university. We'll keep working and do everything we can to keep getting better."
Follow Geoff Magliocchetti on TWITTER