Several players stepped up on Sunday in the New York Giants 27-22 victory over the Houston Texans and deserved game balls.
The New York Giants got their first win of the season on Sunday as they defeated the Houston Texans 27-22 at NRG Stadium.
Nobody on the team would admit it, but Sunday's game was a must win and the Giants played like it, especially in the first half taking a 20-6 lead at halftime.
Players from the offense, defense and special teams all stepped up in what was truly a team win. But, only a few players can get game balls.
Here are the players that earned game balls on Sunday.
1. Eli Manning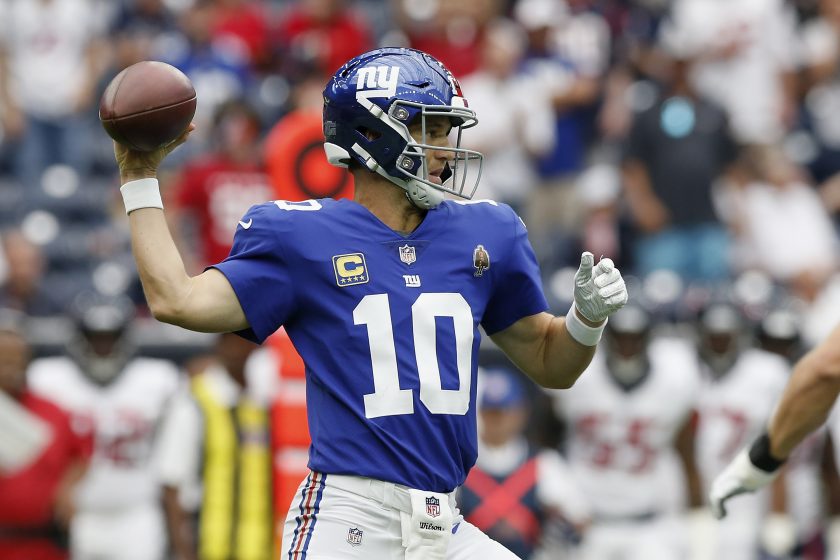 If the Giants are going to win, they needed a big performance from their future Hall of Fame quarterback, and Manning delivered with one of his best performances in years.
He completed 25 out of 29 passes for 297 yards, two touchdowns, and more importantly did not turn the ball over. His 86.20 completion percentage was the second best of his career.
After the Texans kicked a field goal on the opening possession of the game, Manning led the Giants on a 10 play, 75-yard touchdown drive to give the Giants their first lead of the season.
For at least one week, Manning silenced his detractors.
2. Odell Beckham Jr
Beckham was exceptional on Sunday catching nine out of his 10 targets for 109 yards. Anytime the Giants needed someone to step up and make a play, Beckham was there to make it.
ICYMI: @OBJ set up that #NYGiants TD with this YAC showcase #NYGvsHOU pic.twitter.com/nuDHQ3IN16

— New York Giants (@Giants) September 23, 2018
He was also able to keep his cool when being goaded by Texans defenders on a few occasions. Beckham has yet to find the end zone this season, but he proved on Sunday that he hasn't lost a step after fracturing his ankle last season.
3. Kerry Wynn
Wynn is having one of the best starts to a season in his five-year career.
Against the Texans, he had six tackles, knocked down a pass, and forced a key fumble on Lamar Miller in the third quarter at the Giants 27-yard line that was recovered by Donte Deayon.
#NYGiants D forces another 3 and Out, Watson taken down by Kerry Wynn, Giants Ball. #NYGvsHOU pic.twitter.com/XCSWWJTMuW

— New York Giants (@Giants) September 23, 2018
Although he did not sack Texans quarterback Deshaun Watson, he pressured him often and forced him to move outside the pocket.
4. Saquon Barkley
Barkley scored the first touchdown of the game on a 15-yard touchdown run to put the Giants up 7-3, and a lead they would not relinquish. He finished the game with 82 yards on the ground on 17 carries, and also had five receptions for 35 yards.
.@SAQUON to the end zone! #NYGiants lead 7-3 #NYGvsHOU pic.twitter.com/Jo9SaEdcAT

— New York Giants (@Giants) September 23, 2018
So far he's been the dynamic every down back the Giants thought he was when they took him with the second overall pick in the draft.
5. Sterling Shepard
Shepard had just 72 receiving yards in the first two games of the season.
Against the Texans, he had 80 yards on six receptions and scored his first touchdown of the season. He was the reliable second receiving option after tight end Evan Engram left the game due to a knee injury.
Eli hits @sterl_shep3 for another Big Blue TD! #NYGvsHOU pic.twitter.com/CHZpdeYfWD

— New York Giants (@Giants) September 23, 2018
The way he stepped up on Sunday, he definitely deserves a game ball.
Honorable Mentions
Chad Wheeler– Wheeler got the start at right tackle in place of Ereck Flowers who continues to struggle. Although Wheeler had a tough second half going up against J.J. Watt, he started the game solid and the line looked cohesive for the first time this season.
Alec Ogletree– Ogletree made the defensive play of the game early in the fourth quarter with the Giants up, 20-9 when he intercepted a Watson pass that was intended for Miller in the end zone. He also had five tackles and had one pass defense.