After a strong Week 1 performance, New York Jets fans once again feel the sting of humiliation and what looked like a new beginning seems like old times.
Someone has to say it. I don't mind being the bad guy. Enough is enough with this franchise.
Real fans of the New York Jets saw Thursday night coming a mile away. They couldn't predict how it would happen, but the script they wrote in primetime was totally perfect for pure torture.
Leading 14-0, the Jets were embarrassed by a quarterback who had never thrown a pass in the NFL. Baker Mayfield might as well have been Dan Marino, Tom Brady or Peyton Manning. How this coaching staff could have zero idea of how to defend a rookie who never played before is beyond my comprehension.
I want real Jets fans to think about this for a moment. Do you realize that their coaches actually get paid? Their general manager actually makes millions of dollars. For what? … so his draft picks can be cut? The sad thing is that they conned us into thinking they deserved another chance to rebuild this franchise after failing miserably in their first attempt.
Mike Maccagnan, arguably, should never get another draft to ruin. Of his 28 draft picks, only three have done anything remotely positive in their time with the Jets. Leonard Williams, Jamal Adams and Marcus Maye have been somewhat competent. Darron Lee, Jordan Jenkins, Nathan Shepherd, ArDarius Stewart, Lorenzo Mauldin and Devin Smith were all players taken in the first three rounds. Outside of Lee intercepting two passes in their season opener, he has been totally invisible. Jenkins has been serviceable, but far from an impact player. Shepherd is the latest third-round pick and the jury is still out on him. Devin Smith, Stewart and Mauldin have all been cut.
Sam Darnold looked exactly like other number 14s in Jets history. Richard Todd, Ryan Fitzpatrick (the one who played 2016 with the Jets, not the one who has found his groove leaving this organization), Neil O'Donnell and Glenn Foley all would be so proud of Darnold. He has kept the inept play of that number alive and well in his last two starts. One thing was common for all those quarterbacks. When the game was on the line and they needed to pick up the team, they failed miserably. Well, welcome to the New York Jets, Sam.
Before anyone thinks I'm being too harsh, I have some choice words for them. Over the last 50 seasons, Jets fans have supported this franchise despite their ineptitude. Sunday against the Dolphins was the perfect example of how they continue to destroy Sunday's for fans that waste their hard earned money and time getting excited, only to leave the stadium and sit in traffic in utter rage.
Imagine a father getting his son up and dressing him in a Darnold jersey for Sunday's game. Before the game, they enjoy some tailgating and talking with other totally desperate fans that it's only a matter of time before the Jets rule the AFC East. Before the game starts, they join the rest of the fans, waving their Jets banners while joining in on the epic J-E-T-S, JETS, JETS, JETS chants.
Like lambs being led to the slaughter, they realized three hours later that nothing has changed. The same Jets showed up. The same Jets that blew a 20-10 lead to Cleveland in the 1986 divisional playoff game. The same Jets who blew two field goals in the last two minutes to lose in overtime to the Steelers in the 2004 divisional round.  The same Jets who, four times, have blown leads of 21 points at home. The same Jets who turned a 5-1 start in 2000 into a late-season collapse. The same Jets who with a Hall of Fame quarterback lost four of their last five games to miss the postseason in 2008. The same Jets who gave us the "butt fumble." The same Jets who lost 45-3 on Monday Night Football, twice.
Another amazing thing is how these guys respond to players who disrespect the game and screw their teammates. The junk that Isaiah Crowell pulled after scoring the last touchdown should have never been tolerated. His butt should have been riding the bench and he should be released. What kind of message are you sending when you allow your player to do that?
What about Trumaine Johnson? This is someone they brought in and paid good money for. If it wasn't bad enough that he was shaking his finger after he was badly burnt and saved by Tyrod Taylor under throwing his wide receiver, he would have cost his team a touchdown. He then cost the team getting the ball back after they stopped the Browns on third down by incredibly shoving the football in the stomach of a Browns wide receiver for an unsportsmanlike conduct penalty that extended the Browns drive. Why on Earth was he allowed to stay in the game? Is there no team-imposed penalty for acting like a jerk?
Thursday night was the 33rd time in history that they blew a lead of 14 or more points. It was the 23rd time that it has happened since 1990. It was the eighth time it has happened in this millennium. When will things ever change? For Jets fans, Week 1 seems like it never happened. Perhaps the Lions thought it was still the preseason. Since scoring 31 points in the third quarter, the Jets have scored just 29 points in their last nine quarters. After being outscored 20-0 in the first half against the Dolphins, they were outscored 18-3 in the second half against the Browns.
While we are talking about incompetence, here is another amazing stat. Going back the last 30 seasons, since 1988, the Jets, including the postseason, have played in 498 games and won 222. Tom Brady himself, including postseason, has won 224 and started just 290 games. So…Brady has won more games in 208 fewer starts than the Jets since 1988. Just think about that. That is one player against an entire franchise. Why do I mention Brady? Because he is the Jets chief competition. How sad is that?
What else is left to say? I take zero joy in writing this article. I take zero joy in exposing the incompetence of this organization time and time again. I take zero joy in understanding that the owners of this franchise, whether Leon Hess or The Brothers Johnson have no clue how to build a winning organization.
Enough is enough. Hiring incompetent general managers and coaches cannot continue. You have good, solid general managers like Ozzie Newsome, Kevin Colbert and Ted Thompson that have proven they know how to draft and put together consistent winners. Why weren't they negotiated with? Why do the Jets always have to think they need to find the next guy?
The only time this franchise was respectable was after they hired Parcells. I don't care what it takes. Offer Bill Cowher part of the ownership. Give him carte blanche to do whatever he wants to rebuild this franchise. Let him inherit the salary cap space and a top-five draft pick.
What should happen the rest of the season is to see exactly what Darnold will become. Honestly, I don't like what I've seen so far. If he couldn't make enough plays to lead them when they had a 14-0 lead against a team that hadn't won since Barack Obama was in office, then something isn't right. I'm not writing him off, but if you are going to play him, then let him play. If the Browns can trust a quarterback that never played before, the Jets can trust someone they think is their guy. The play calling in the second half was so embarrassing.
One thing is for certain. We will all find out just how much intestinal fortitude Darnold has. I'm a nobody in the writing world, so my opinion doesn't matter much, but how is he going to take the scrutiny from the press and fans that is coming if they continue to lose and he doesn't play well? How will he handle another multi-pick game where he is sacked 5-10 times and doesn't throw a touchdown pass?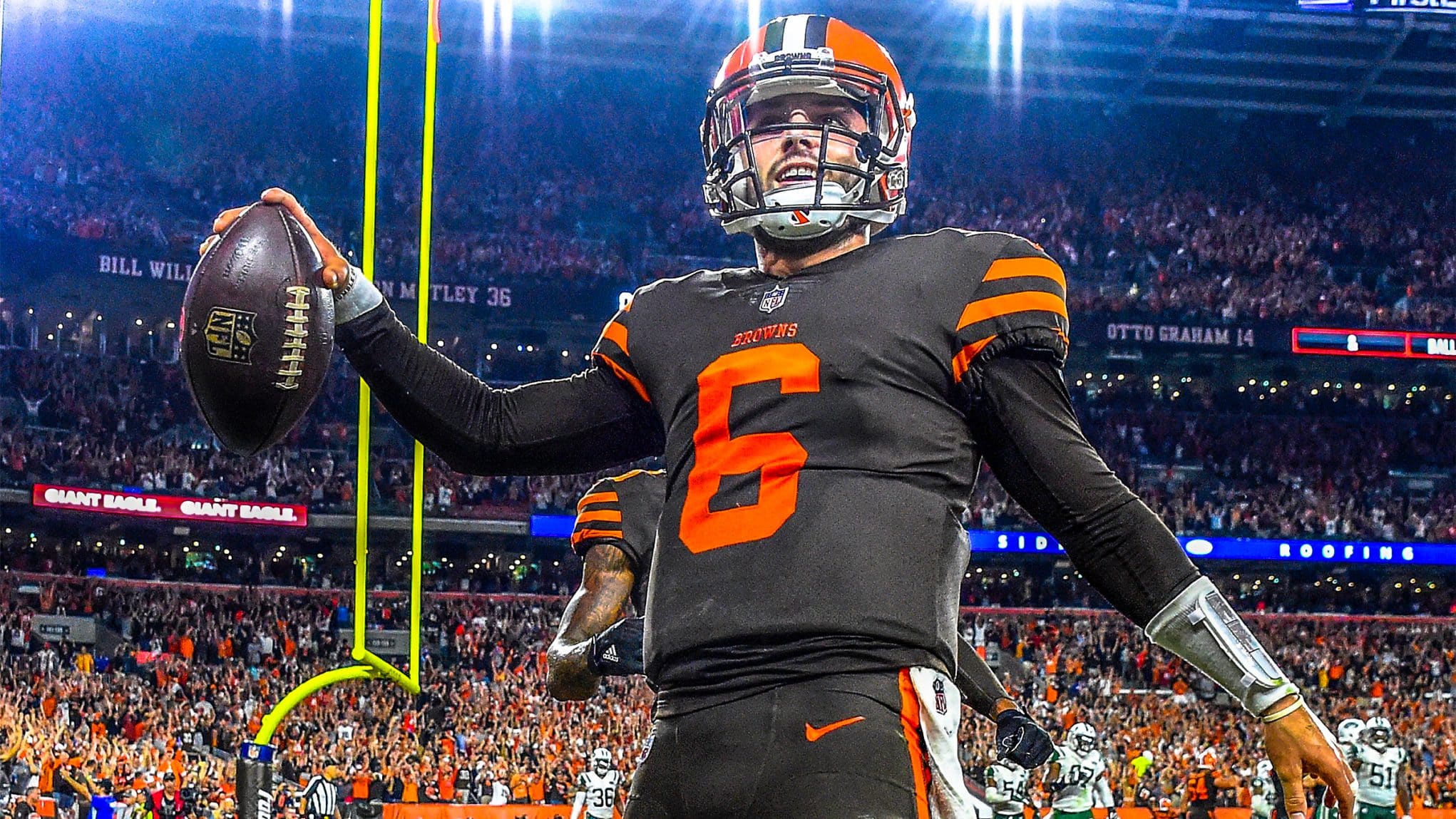 I feel bad for Darnold. He seems like a nice kid who means well. However, he had no idea what he was getting into. Jets fans have had enough of false prophets. They have had enough of incompetence. If Darnold is going to be the guy to lead this franchise, he is going to have to shoulder the load of expectations by himself, cause with every loss and poor performance it is going to get significantly worse. For a kid who comes from California and isn't used to all this negativity and "the sky is falling" attitude of long-suffering Jets fans, this could be too much for him to handle.
The Jets had their chance to sign an accomplish quarterback that had thrown for 4,000 yards and 25 TD in each of the last three seasons, but they didn't ante up. Then they made a smart move in bringing in Teddy Bridgewater. However, in typical Jets fashion, they sold way too early and decided to put all the pressure on a kid that had no idea what he was in for.
The schedule doesn't get any easier. They should easily be underdogs in each of their next six games. The only two games I can see them winning the rest of the season are against the Bills. Are they better than the Vikings, Colts, Titans, Texans, Packers, Broncos, Patriots? If they can't beat a very mediocre Dolphins team and a team that had found a way to lose 35 of their last 37 games, then how can they expect to beat proven NFL winners?
If Hue Jackson can outcoach Todd Bowles, what will Super Bowl winning coaches do? Bowles is heading straight for his third straight season of double-digit losses. Through three games, the Jets look significantly worse than they did last season, and that was against mediocre competition. The same things continue to haunt the Jets under Bowles. Bad penalties and key sequences of the game. Missed opportunities. Bowles talks tough with the media, but it doesn't look like his players respect him enough to get their act together.
I will be happy to admit I was wrong if this team pulls its head out of its butt and actually shows heart and grit, something Jets teams never show. Why? I don't know. Why do they always fold? Why no matter who the coach is or who the players are, they produce the same exact results? I could rewind the seasons back to each of the last 50 and I will show you this game over and over.
In 1983, it was them blowing a 21-0 lead at home to Steve Bartkowski and the Atlanta Falcons. In 1993, it was Bubby Brister coming in for an injured Randall Cunningham to erase a 21-0 lead at the Meadowlands. Just a week later in Los Angeles, it was 38-year old Vince Evans replacing Jeff Hostetler and leading the Raiders back from a 17-0 deficit. In 1995, it was the Colts erasing a 24-3 second half deficit at the Meadowlands. In 1996 it was the Patriots rallying down 21-0 at the Meadowlands to win. In 2002, it was Tim Couch leading the Browns back from down 21-3 at the Meadowlands. In 2004, it was Kyle Boller leading the Ravens from down 14-0 to win in overtime at the Meadowlands.
I will be very happy to eat these words, but I'm offering this pathetic franchise a challenge. What exactly are you made of? To the coaches who get paid an egregious amount of money to come up with game plans that are supposed to win and expose the other team's weaknesses: do your job. I promise you Todd Bowles, Jeremy Bates, Kacy Rogers and the rest of the helpless staff that has watched this team fold like a cheap tent the last few weeks, you will be out of a job very soon.
More than any other sport, the NFL comes down to preparation and coaching. Playtime is over. Suffering humiliation is over for these poor, helpless fans. These fans support you and spend their hard-earned money to continually be disappointed. It's time to show you care about the fans whose hearts you break with every mind-numbing collapse and lifeless effort.