The New York Giants are finally bearing the brunt of a catalytic downfall long in the making. Who, among the participants, deserves the most blame? 
Cracks that were bullishly broadened across a 3-13 2017 are beginning to gape and expose a period of poor decisions from the organization's brass in its entirety.
It's no coincidence that Big Blue has slipped to 0-2 for the fifth time in the past six seasons, with the mistakes of previous coaching and management catching up with them in damning fashion.
The looming debate over where to direct the blame always threatened to resurface when the Giants opted to select Saquon Barkley instead of a quarterback with the No. 2 pick in the draft. That isn't to say he can't become a superstar in New York. His skill set suggests he most certainly can.
This just served as confirmation of a 'win-now' attitude that general manager Dave Gettleman had refrained from admitting but clearly alluded to following his appointment.
A belief that Eli Manning still had years left in the tank to mount another Super Bowl charge has proven horribly misguided. Whilst there has been an undeniable regression in his productivity, any remaining value has also been hauled down by a frightening lack of protection from his offensive line.
Selecting Manning with the first pick of the 2004 draft was in view of the Giants' success in 2007 and 2011, not immediate impact. The same anticipation of and preparation for the next era has since been non-existent on all fronts.
Former GM Jerry Reese believed the Giants' offensive line was comparable to that of a number of teams across the league heading into the 2017 season. He supported an argument that Ereck Flowers still possessed the talent and potential to justify being taken No. 9 overall in 2015. He was wrong.
Reese overlooked then 35-year-old offensive tackle Andrew Whitworth in free agency—not to mention a number of other capable options—and instead expressed his desire for youth throughout the roster. Cue wide-spread confusion when he went on to sign 33-year-old wide receiver Brandon Marshall, who played just five games for the Giants.
Speaking at the time, Reese told NJ.com: "We want to be a younger football team. We looked at all different situations with all the offensive linemen available. We stayed with what we had."
He and the rest of the Giants' hierarchy were kidding themselves to think mass change wasn't still needed after a first playoff appearance in four seasons in 2016. A revamped defense spearheaded that charge for all to see. There was no excuse not to upgrade the offensive line in any way.
To favor developing young linemen over adding proven quality was simply illogical with a now 37-year-old Manning nearing his last legs.
A string of lackluster drafts across Reese's tenure not only neglected the offensive line, but also left the Giants' linebacker unit dangerously weak for far too long.
Thirteen defeats and an ugly deterioration under Ben McAdoo later and the Giants teased signs of the drastic restart that was needed. In comes Gettleman and head coach Pat Shurmur in what should have been a preview of ruthless change.
The Giants made 30-year-old Nate Solder the highest-paid offensive lineman in the NFL and forked out big money for Alec Ogletree in an attempt to rectify their woes at linebacker. Combine both with the 'win-now' acquisition of veteran running-back Jonathan Stewart and suddenly there is little left to spend on addressing voids for the long-term benefits elsewhere on the team.
Center Jon Halapio's recent season-ending injury has posed further questions over the surprise decision to trade Brett Jones to the Minnesota Vikings.
A glistening array of offensive weapons has been unable to disguise the holes beneath them and the fear that the Giants are years behind where they need to be as an organisation only continues to grow.
Taking all offseason moves into consideration, it's difficult to ignore Manning's $23 million cap hit and the difference it could have amid the current refurbishment. Even then, is there enough trust in those at the helm yet to dedicate such funds to shaping long-term success? Perhaps not.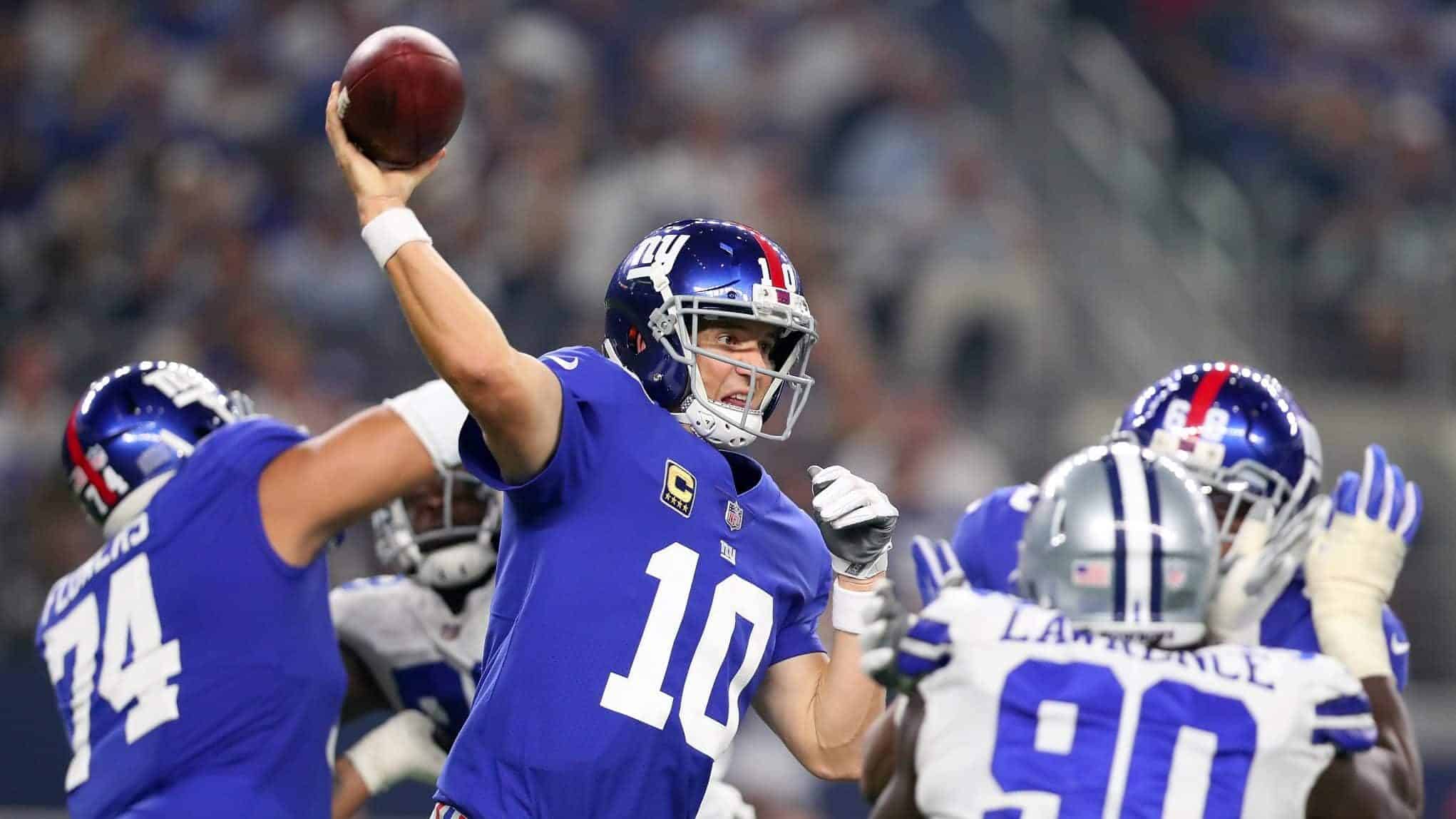 As for the Barkley debate, it can swing both ways.
He'll be awesome to watch. One of the league's swashbuckling entertainers and the most electrifying running back Giants fans will have seen in an awful long time. There is, however, always the risk he becomes wasted because of the decision to bring him into such an unbalanced team.
The same also arguably applies to a rookie quarterback. Would Sam Darnold suffer behind this offensive line? Most probably. Would he suffer as much as Manning, though? Most would argue no.
Sunday's defeat to the Dallas Cowboys saw amateurish communication, organisation and technique equate to a failure to fulfil basic blocking assignments. No. 10 is helpless in the pocket, as he has been for some time.
Thirty of Manning's passes against the Cowboys were for five yards or under. Checkdown after checkdown reflected unrelenting pressure in his face, but also missed opportunities on his part. Barkley's service as a short pass option represented Manning's security blanket more than it did a game plan.
Wide-spread perceptions of Barkley as help for Manning and a ploy to prolong the two-time Super Bowl winner's career is making the decision to overlook Darnold increasingly alarming.
Colonel Checkdown pic.twitter.com/kJpCAIIoQy

— Will Brinson (@WillBrinson) September 17, 2018
By this point, Giants fans are watching through their fingers and wondering whether Manning could still flourish behind adequate protection. They're left wondering whether a more mobile Darnold without a habitual expectation of instant pressure would evade six sacks. The fact is, Giants fans shouldn't have to be wondering either. Quarterback was the direction to take in Texas back in April.
The search for blame has to start at the catalogue of errors at the top. The Giants have had valuable opportunities to avoid this rut.
For the purposes of this season alone, Manning can do more, the play-calling can be a lot better and the Giants receiving weapons can be doing more to get open.
Unless the offensive line improves, this season will become a write-off.